Posts tagged
George Clooney
There are two stories about George Clooney's thoughtful generosity circulating today, including one with the equally-generous Amal Clooney!
George seems like the type of extra-kind friend who would loan you his car so you could drive to the marina and rip around in his boat. Well did you know that George is also the type of friend to dump a suitcase stuffed with 20s in your lap? According to George's best buddy Rande Gerber, he is.
During an interview with MSNBC's Headliner's (via UsWeekly), Rande explained that he and George are part of a friend group nicknamed "The Boys." Back in 2013, George assembled 14 of The Boys at his home for a surprise. Once there, they were met with 14 black leather suitcases. George reportedly told them:
"Listen, I want you guys to know how much you've meant to me and how much you mean in my life. I came to L.A., I slept on your couch. I'm so fortunate in my life to have all of you and I couldn't be where I am today without all of you. So, it was really important to me that while we're still all here together, that I give back. So I want you all to open your suitcases."
Inside each suitcase was $1 million in $20 bills. Rande says that everyone was so shocked and surprised, as some of The Boys were living paycheck-to-paycheck at the time and were struggling to get by. George also paid the taxes on everyone's million so that no one would receive a rude awakening from Uncle Sam's grabby paws after they declared his gift.
Rande – who is captial-R rich – informed George he wasn't gong to take the money. But still, George forced him to take it, telling the rest of The Boys that if Rande didn't keep the million, no one got to keep it. All that money is nice, but the way he gifted it was kind of a dick move. Has George ever tried to deposit a duffle bag containing $1 million in 20s? That's the kind of thing that would make someone call the cops and report a possible bank robbery. Forget taxes, I hope George put aside some money for bail and defense attorneys.
Onto George's latest act of kindness. Page Six says that George and Amal were recently on a flight home from Los Angeles to London with their 6-month-old twins Alexander and Ella. George distributed Casamigos-branded wireless noise-cancelling headphones to all his fellow first class passengers. TMZ says the headphones were from George and Rande's "House of Friends" – exclusive limited-edition swag handed out to special people. Luckily, no one had to use them, because Alexander and Ella didn't cry once.
Again, that's very nice of George and Amal to be so considerate, but those headphones are a bit misguided. First of all, noise-cancelling headphones can't protect against the sound of baby crying. Nothing can; I'm pretty sure you can hear baby cries from space. And just the first class passengers got them? What about the poor souls in coach!? George part-owns a billion-dollar tequila company. Forget the headphones; the next time he wants to win points with his fellow airplane passengers, he needs to bring aboard a case of booze.
Pic: Wenn.com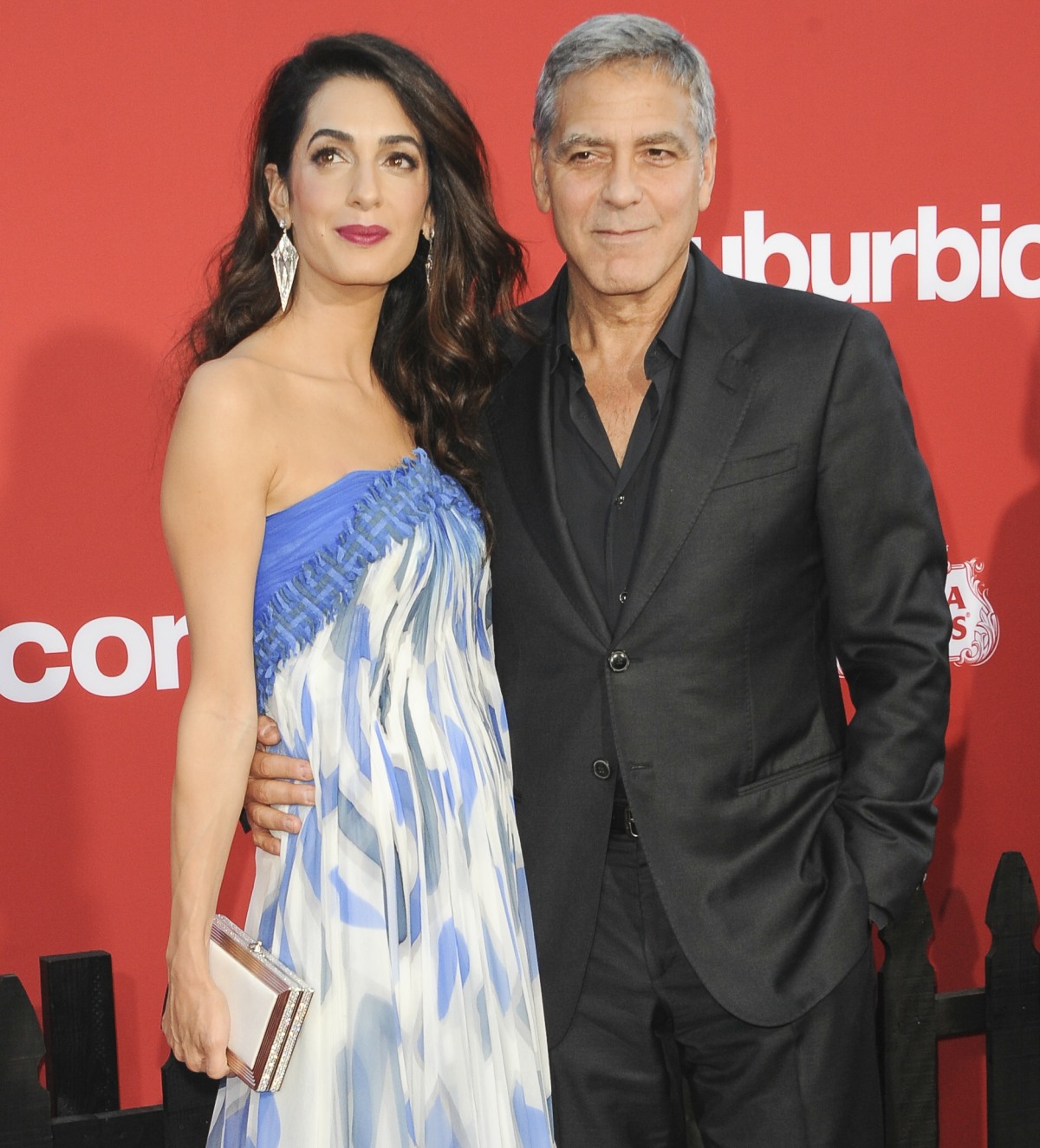 There are two new suspiciously nice stories about George Clooney today. If it was just one story, I would think "oh, that's interesting." But two stories? It's almost like something bad is about to come out about George Clooney and he's trying to get some good points before everything turns to sh-t. First up: George and Amal were worried about other passengers on their flight to the UK. Specifically, they worried that the Clooney twins were going to cry the entire time, so George and Amal gave everyone noise-canceling headphones:
New dad George Clooney figured out a way to ingratiate himself with passengers on a flight with wife Amal and their newborns. Spies said the star, "On a trip home to the UK with his twins, gave all the first-class passengers noise-canceling headphones."

They had the logo of his Casamigos tequila and came with a note "apologizing ahead of time" if the twins cried.

"Even Quentin Tarantino, who was onboard, wore the headphones," a spy said. But "the babies didn't make a peep!"
There are noise-canceling headphones branded with the Casamigos logo? So it wasn't so much "concern for fellow passengers" as "George shilling his tequila." No, I'm not being fair. It was both. Good for them. As for the second story… George once gave away $14 million to his friends:
It pays to be pals with George Clooney… literally. The A-list movie star's best friend Rande Gerber revealed on a recent episode of MSNBC's Headliners that back in 2013, George not only paid 14 of his closest friends' taxes for the year, he gave them $1 million each. One. Million. Dollars. As Gerber recalled, "There's a group of guys that we call 'The Boys.' George had called me and 'The Boys' and said, 'Hey, mark September 27, 2013 on your calendar. Everyone's going to come to my house for dinner."

When George's dinner guests arrived they found black suitcases at each of their spots around a table, and the Suburbicon director shared a special message to the men who helped him early in his career. Rande (who is married to Cindy Crawford and is a part-owner of Clooney's Casamigos Tequila company) explained, "George begins to say, 'Listen, I want you guys to know how much you've meant to me and how much you mean to me in my life. I came to L.A., I slept on your couch. I'm so fortunate in my life to have all of you and I couldn't be where I am today without all of you.'"

"'So,'" Rande said Clooney shared, "'it was really important to me that while we're still all here together, that I give back. So I want you all to open your suitcases.'"

Inside was $1 million in $20 bills. As Gerber remembered it, "Every one of us—14 of us—got a million dollars. Every single one of us. We're in shock. Like, what is this? He goes, 'I know we've all been through some hard times, some of you are still going through it. You don't have to worry about your kids, you don't have to worry about, you know, school, you don't have to worry about paying your mortgage.'"

"One was working at a bar in Texas at the airport, trying just to support his family," he added. "Rides a bicycle to work every day. I mean these are guys that took care of George and now he's giving it all back. And George said, 'Not only that, I have paid everyone's taxes so this million dollars is yours.'"

And even when Rande, who is a successful entrepreneur, told George he could never accept the generous gesture, the actor had quite the response.

"I pull him aside and said, 'I absolutely am not taking this million dollars,'" Gerber said. "Immediately George goes, 'I'm just going to make one announcement. If Rande doesn't take the million dollars, nobody gets it.'" (For the record, Gerber complied but donated the hefty gift to charity.)

Gerber described this never-before-heard story as a testament to Clooney's character, adding, "This is who George is. That was September 27th, 2013. Now September 27th, 2014, he marries Amal. Now that's good karma right there."
I did have a moment of thinking "does George not have any close female friends?" It's well known that George has "the boys" – his very close friends, the men he's known for decades, who have had his back since before he was famous. So he counts 14 men as his nearest and dearest friends… and no women? Alright. All that being said… it was a nice thing for George to do. I'm still feeling cautious though… what's about to break about George Clooney this week?