Posts tagged
fashion
I don't understand why so many fashion houses are making so many terrible decisions all at the same time. Was there some sort of Fashion Council meeting where they all decided to provoke stupid controversies to get attention? Is this the plot of Zoolander 3? Well, the latest is from Burberry. Burberry had their big London Fashion Week show this week, and one item stood out in the sea of dull browns: a gold "noose" necklace. Gross. Everybody's apologizing:
Burberry has issued an apology after one of their models walked the runway wearing a sweatshirt with strings tied in the shape of a noose around the neck. The designer brand received a lot of backlash following their decision to showcase the controversial design during their Autumn/Winter 2019 fashion week show in London earlier this week. In the apology issued to CNN, Burberry's Chief Executive Officer Marco Gobbetti said the company regretted the design and would be removing the item from their collection.

"We are deeply sorry for the distress caused by one of the products that featured in our A/W 2019 runway collection," Gobbetti said. "Though the design was inspired by the marine theme that ran throughout the collection, it was insensitive and we made a mistake."

In addition, Burberry's Chief Creative Officer Riccardo Tisci, who also served as the designer of the show, issued an apology on behalf of the fashion brand.

"I am so deeply sorry for the distress that has been caused as a result of one of the pieces in my show on Sunday," he said, according to CNN. "It was never my intention to upset anyone," Tisci continued. "It does not reflect my values nor Burberry's and we have removed it from the collection. I will make sure that this does not happen again."
To give you some idea of how idiotic these people are, model Liz Kennedy – who walked in the Burberry show but did not wear the noose necklace – posted this on Instagram, where she talks about how she saw the problem immediately during the Burberry fittings and tried to speak out but was shut down (she tags both Burberry and Tisci in her post):
Suicide is not fashion. It is not glamorous nor edgy and since this show is dedicated to the youth expressing their voice, here I go. Riccardo Tisci and everyone at Burberry it is beyond me how you could let a look resembling a noose hanging from a neck out on the runway. How could anyone overlook this and think it would be okay to do this especially in a line dedicated to young girls and youth. The impressionable youth. Not to mention the rising suicide rates world wide.

Let's not forget about the horrifying history of lynching either. There are hundreds of ways to tie a rope and they chose to tie it like a noose completely ignoring the fact that it was hanging around a neck. A massive brand like Burberry who is typically considered commercial and classy should not have overlooked such an obvious resemblance.

I left my fitting extremely triggered after seeing this look (even though I did not wear it myself). Feeling as though I was right back where I was when I was going through an experience with suicide in my family. Also to add in they briefly hung one from the ceiling (trying to figure out the knot) and were laughing about it in the dressing room.

I had asked to speak to someone about it but the only thing I was told to do was to write a letter. I had a brief conversation with someone but all that it entailed was "it's fashion. Nobody cares about what's going on in your personal life so just keep it to yourself"

well I'm sorry but this is an issue bigger than myself. The issue is not about me being upset, there is a bigger picture here of what fashion turns a blind eye to or does to gain publicity. A look so ignorantly put together and a situation so poorly handled. I am ashamed to have been apart of the show. #burberry. I did not post this to disrespect the designer or the brand but to simply express an issue I feel very passionate about.
I'm glad she's calling them out so publicly and correctly identifying it for the kind of dumb stunt-queenery it is. I think that's what most of the recent racist fashion scandals have been too: of course there were people who spoke up and said "wait a second, this isn't right," but all of those people were told to STFU because the labels wanted the attention and controversy.
Photos courtesy of Instagram, Getty.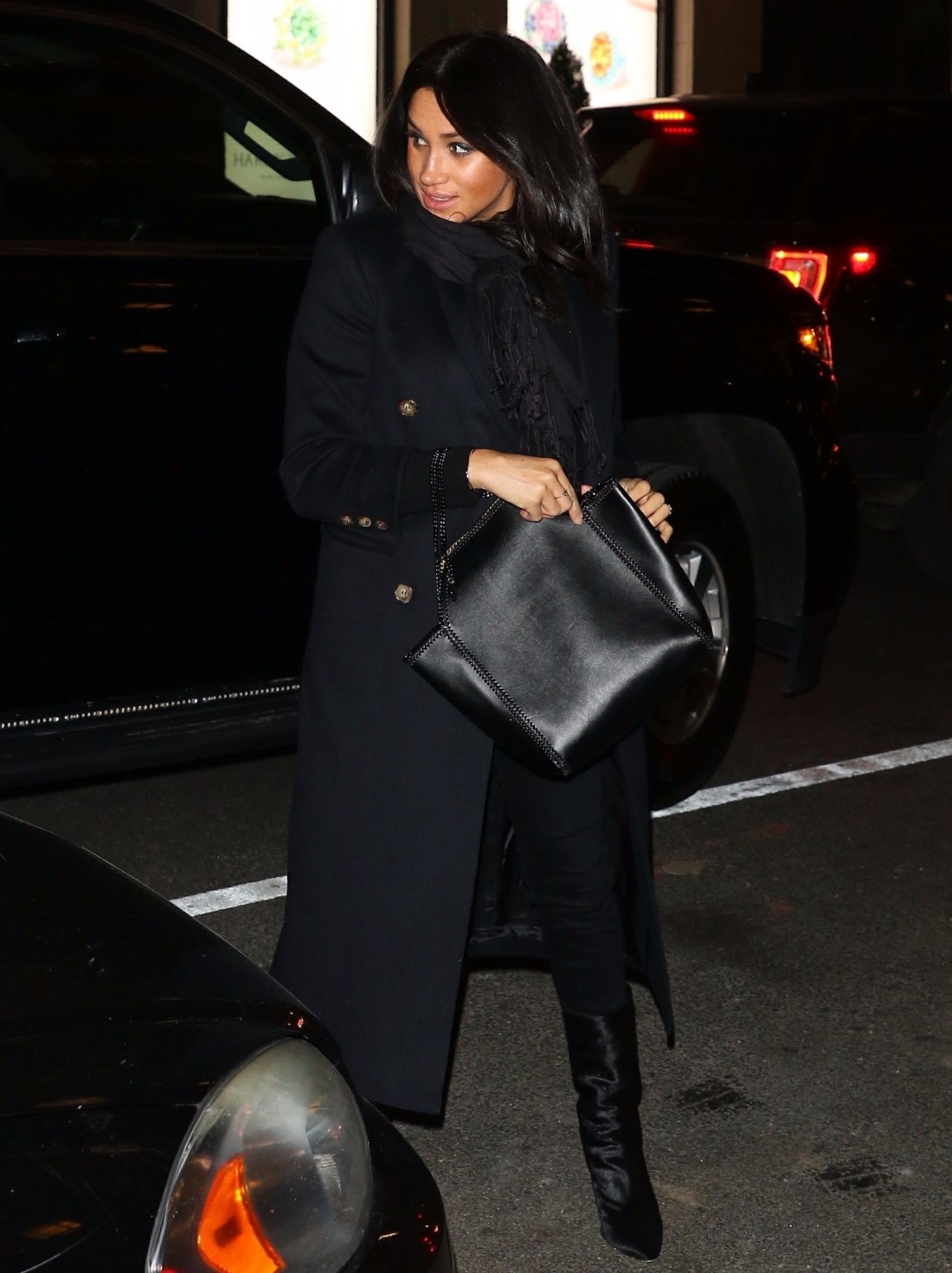 The way I figure it, the Duchess of Sussex got three solid days of low-key time with her girlfriends in New York. No one snitched on her location, people respected her privacy. Then people started leaking. To be fair, much of it was to be expected – Meghan can't and wouldn't ask her friends to basically go into hiding when they're in New York. She and her friends are just living their lives, and of course people eventually found out. So by Monday, we knew she was in New York. Tuesday was the baby shower, which was full of Meghan's friends, many of whom flew into New York just for this. Then a few hours later, Meghan and some of her peeps hit up The Polo Bar.
First of all, I'm sure Ralph Lauren is beyond thrilled that Meghan and her peeps hit up his branded restaurant. RL loves royalty, and he was disappointed in the past by how little face-time he got with the Duchess of Cambridge. If this was a low-key spon-con, then it was a smart move. As for her peeps, Meghan was seen with her dear friend Markus Anderson, Jessica Mulroney and Serena Williams.
For this outing, Meghan wore a pair of Hatch Maternity jeans which are possibly the same pair from earlier in the day. She paired them with a black blouse (ID unknown), her navy Victoria Beckham coat (which she wore for Christmas at Sandringham) and shiny black Tamara Mellon boots. Her black bag is Stella McCartney. Good blend of designers.
Meanwhile, details about Meghan and Harry's itinerary for their Morocco trip were released – they arrive in-country on Saturday, and they have a jam-packed scheduled through Monday. You can read more here.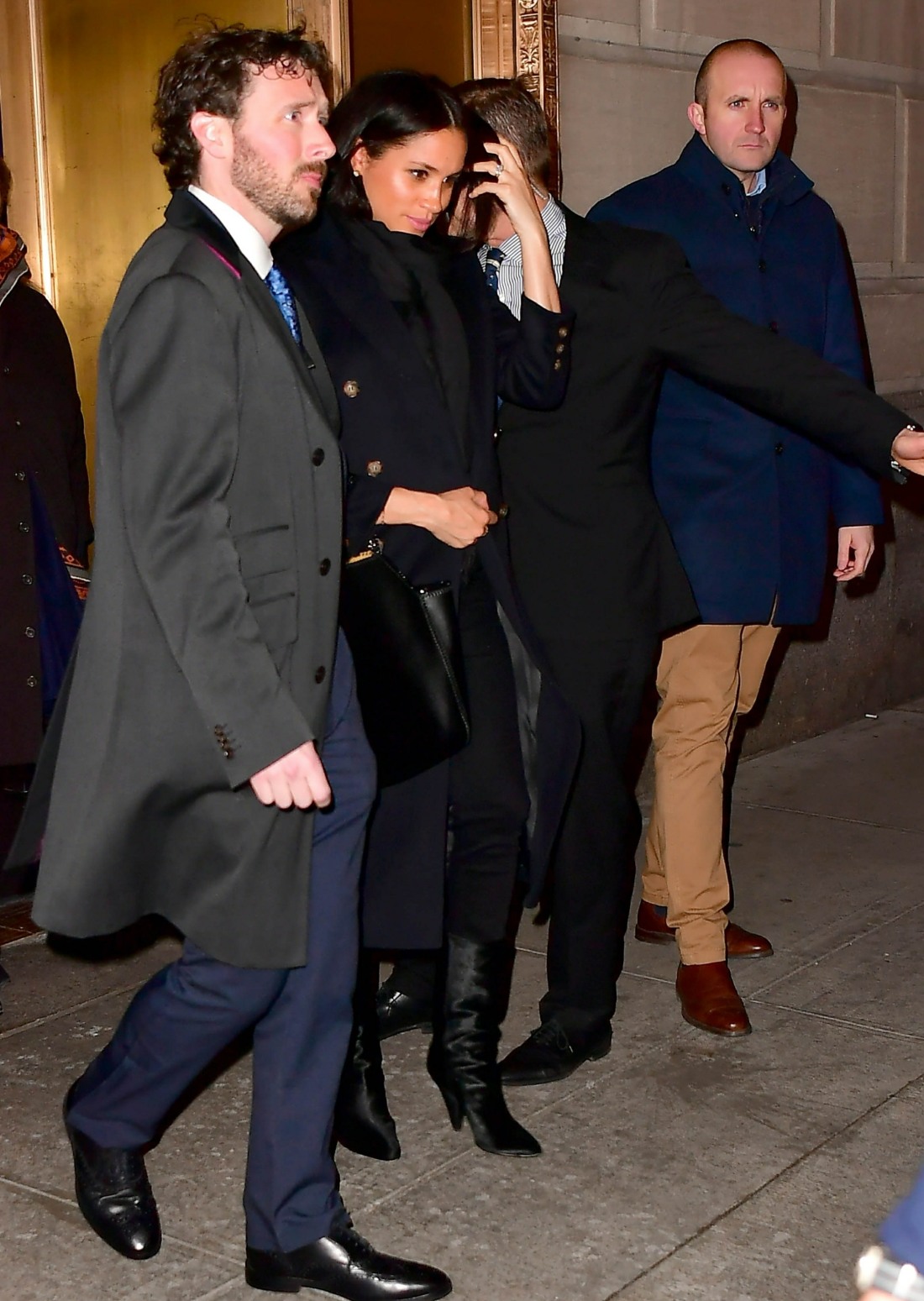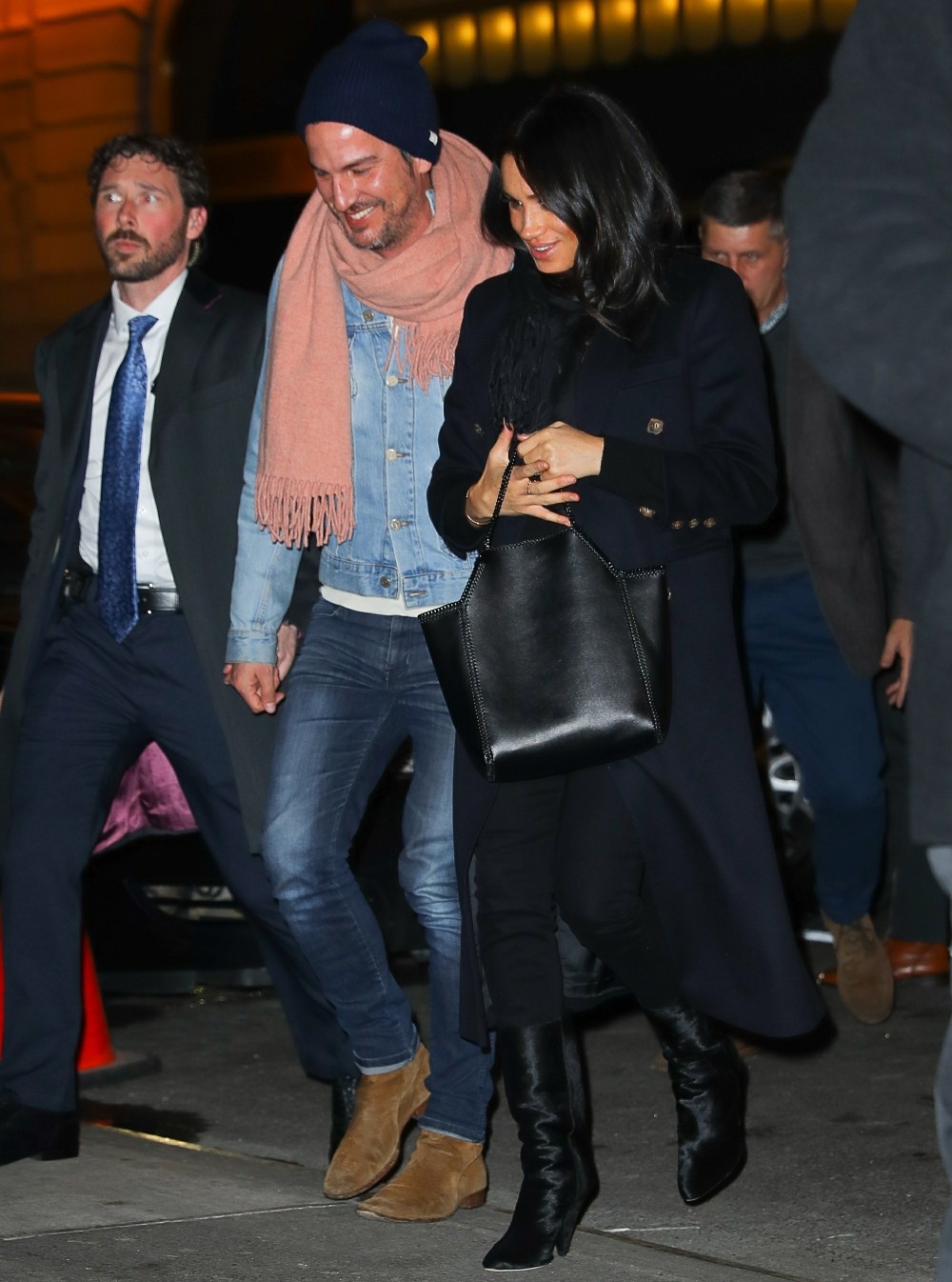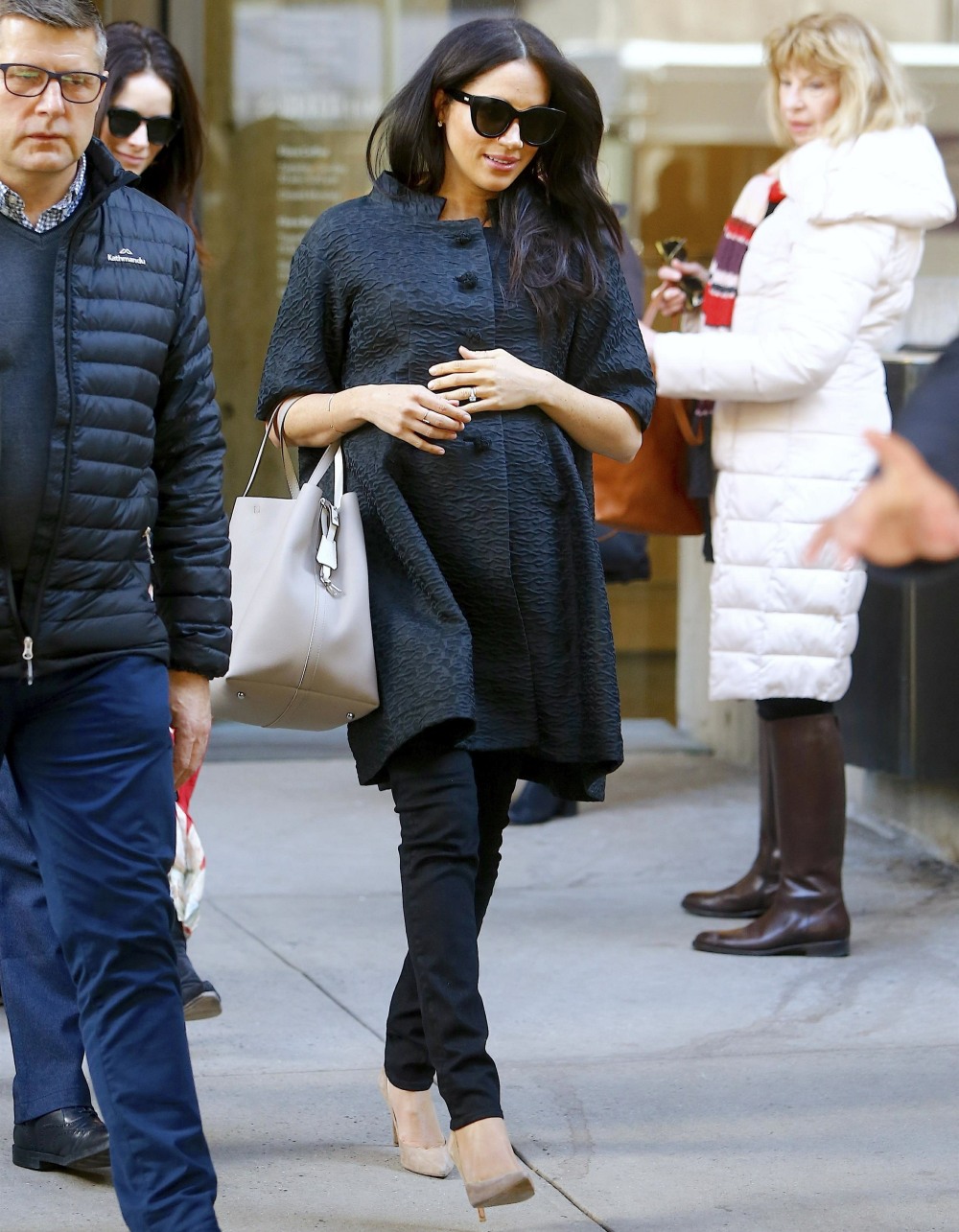 Since I'm making the effort to ignore the British tabloids now that our "American princess" is on American soil, I really don't know how the British media are handling the Duchess of Sussex's trip to New York. My guess is "not well." Meghan reportedly flew out of London last Friday, and she's been spending all weekend and into this week with her girlfriends. On Tuesday, her friends threw her a big baby shower at The Mark.
Meghan got pap'd like crazy going into the baby shower and coming out. It wasn't the first time she was photographed on this trip, but these were the clearest photos and she wasn't hiding. I feel like the paparazzi really did just know where to go and where to position themselves. And that's fine? She's not hiding. She's not doing anything shameful. Guests at the baby shower reportedly included Abigail Spencer (from Suits), Jessica Mulroney, maybe Mischa Nonoo. There were reports that Serena Williams would attend, and I doubted those reports, but Meghan stepped out with Serena later on Tuesday, so probably.
For this photographer-friendly outing, Meghan looked super-cute in a business-casual sort of way. She wore Hatch Maternity jeans, a vintage coat by Courrèges, and Carolina Herrera heels and tote. I actually love the vintage coat, it looks very "Meghan" and classic. Meghan looked great, and the time in America seems to have really agreed with her. Just wait until she pops that baby out and takes on ten new international charities and she travels to New York with regularity.