the walking dead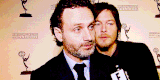 The Walking Dead features two of the hottest men on television - yes, we're talking about Andrew Lincoln and Norman Reedus. Besides the fact that they're both sexy in their own right, their epic friendship is yet another reason fans can't help but feel all "heart eye emoji" for these two. Keep reading to see 14 times Norman and Andrew's bromance was very much alive.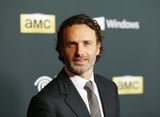 When Andrew Lincoln isn't fighting zombies on The Walking Dead, he's making us swoon with his gorgeous appearances. The English actor has sported many different looks over the years, including both a clean shave and a salt and pepper beard, but it's his piercing blue eyes that really send us over the edge. From his red carpet appearances to his fan convention interviews, it's clear why fans are obsessed with his character, Rick Grimes. He's a walking, talking hottie!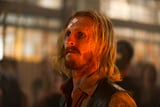 The Walking Dead stars clean up pretty nicely when they're not covered in blood and grime, and such is also true for Austin Amelio, who plays Dwight on the show. At the end of season seven, we discover that Dwight has plans to get revenge on Negan after serving as one of his henchmen for most of the season. That means he will likely play an even bigger role in the upcoming "All Out War" between Negan and Rick for season eight. It all makes sense, considering the fact that Negan is the one who gave Dwight his conspicuous burn scar by putting a steaming-hot iron to his face to punish him.
It's easy to forget that we did get a glimpse of Dwight's face without the burn scar when he's first introduced to us in season six, but in case you needed a refresher that Amelio looks nothing like his character on the show in real life, we've rounded up a few photos of Amelio's surprisingly smooth face without the prosthetic. See them ahead.