Taylor Swift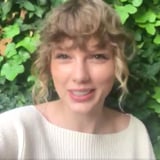 .@taylorswift13 sings Russell's praises! #0urMVP pic.twitter.com/5HgKeVrMsi
- OKC THUNDER (@okcthunder) June 27, 2017
Taylor Swift has been busy working on her next album, but she recently took some time off from songwriting to send a sweet message to Russell Westbrook. During the NBA Awards on Monday, the "Bad Blood" singer gushed about her "friendship" with the Oklahoma City Thunder point guard after he won the title of MVP. "Russell, it's Taylor. Remember? I was the one who taught you how to play basketball," she joked, showing off her natural curls in a pretaped video. "I remember the first time you beat me at basketball and I was very upset, and you said - if you remember correctly - you said, 'You just have to shake it off.' And I had an idea . . . ," she continued, referring to her hit single "Shake It Off."
Of course, the whole thing was a spoof as she admitted the two have never actually met, but she was happy for him anyway. Was this her way of extending him an invite to her infamous squad? Guess the ball is officially in Russell's court.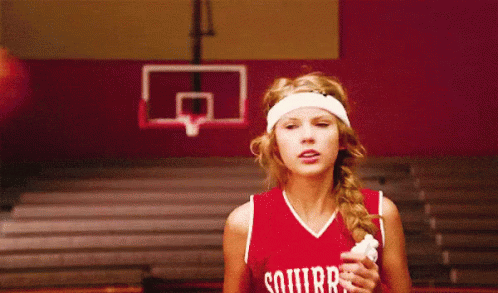 If you've been wondering where Taylor Swift has been, wonder no more. She, like the rest of the sports world, has spent the last few months watching Russell Westbrook record triple-double after triple-double on the basketball court.
Last night, Westbrook rightfully took home the NBA MVP award. And, much to the surprise of everyone, Swift sent in a congratulatory video.
TAYLOR IS BACK.
✨
@taylorswift13 wishing @okcthunder's Russell a huge congratulations for being #0urMVP! pic.twitter.com/PKi4qGVWT0
— Taylor Swift Updates (@SimplySFans) June 27, 2017
Fans might be confused by this, but trust me when I tell you that it makes sense. As a Thunder/Westbrook and Swift fan, these two have a long history despite having never met. Here are multiple videos of Westbrook jamming out to Taylor.
It looks like his persistence paid off. Getting Swift to send in this video might be Westbrook's biggest accomplishment this year.
Now that she's out of hiding, hopefully, this means new music in on the way. If Westbrook's season didn't inspire her to write the greatest album ever, I don't know what will. Katy Perry has already apologized. She's dating some guy who lives with his parents. This album better be called Triple Double or I'm going to be very upset.
Taylor Swift has been on a popular girl hiatus for the past few months. Nobody has really heard from her or seen her in public, save for a few grainy pap shots of her boarding a private jet with her latest boyfriend, or her extracting petty revenge on Katy Perry by releasing her entire catalogue on streaming services. Every evil deed requires a kind one to balance everything out, and she recently did a nice one for Oklahoma City Thunder point guard Russell Westbrook.
While looking like Sandra Bullock auditioning for a Mia Farrow biopic, Taylor filmed a short video in front of a hedge to congratulate Russell on being named the NBA's 2016-17 MVP. Taylor jokes that she taught Russell how to play basketball and that he was the inspiration for Shake it Off before admitting they have never even met each other.
.@taylorswift13 sings Russell's praises! #0urMVP pic.twitter.com/5HgKeVrMsi
— OKC THUNDER (@okcthunder) June 27, 2017
According to Billboard, Russell is a bit of a Taylor fan. So that makes at least one person who probably wasn't cringing over Taylor's attempt at comedy.
BAD BLOOD!!!! @taylorswift .. Banger!!!!!
A post shared by Russell Westbrook (@russwest44) on May 22, 2015 at 3:06pm PDT
That video accomplished two things. One, she got some much-needed attention by surprising one of her fans (very on brand for her). Two, she introduced herself to new wallets…I mean, a new audience. Congrats, Taylor!
Pic: Twitter