Red Carpet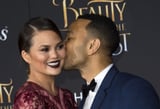 Chrissy Teigen and John Legend love showing PDA, but this year, they really took things up a notch. Whether they were on a red carpet or enjoying a romantic vacation across the globe, Chrissy and John did not hold back when it came to flaunting their love for one another. John even opened up about how he's been by Chrissy's side during her battle with postpartum depression, telling People, "For me as a husband, it was my job to do the best I could to support her and understand what she was going through and do whatever I could do to help her. I feel like that's the least I could do." Honestly, Chrissy and John will forever be "relationship goals."
Jennifer Lawrence
looked good in a black dress on the red carpet for
ELLE's 24th Annual Women in Hollywood Celebration
in
Los Angeles
!
View the pictures (Via DListed)