Red Carpet
Lily Rabe and Hamish Linklater first met on the set of the 2010 production The Merchant of Venice, but it wasn't until four years later that they began dating. Since then, they have costarred in four additional plays, including the upcoming production A Midsummer Night's Dream. In March, the pair welcomed their first child together, a baby girl, and while the couple is usually pretty private when it comes to their romance, they frequently show PDA on the red carpet. As if that wasn't cute enough, the American Horror Story actress often posts photos of them together on Instagram. In honor of their time together, take a look at their sweetest moments.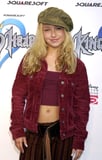 Hayden Panettiere may only be 28 years old, but she's already solidified her status as a Hollywood mainstay. After getting her start as a child actress on ABC's One Life to Live, Hayden went on to take the acting world by storm, starring in hits like A Bug's Life, Malcolm in the Middle, Heroes, and her most recent, Nashville. Along the way, Hayden also welcomed her first child, a baby girl named Kaya Klitschko, with fiancé Wladimir Klitschko.
Of course, the road wasn't always easy; in October 2015, she entered treatment for postpartum depression just 10 months after giving birth, but she has managed to come out on top and speak candidly about her battle saying, "I was always so terrified that people weren't going to accept me." Take a walk down memory lane and look back at Hayden through the years.