Princess Diana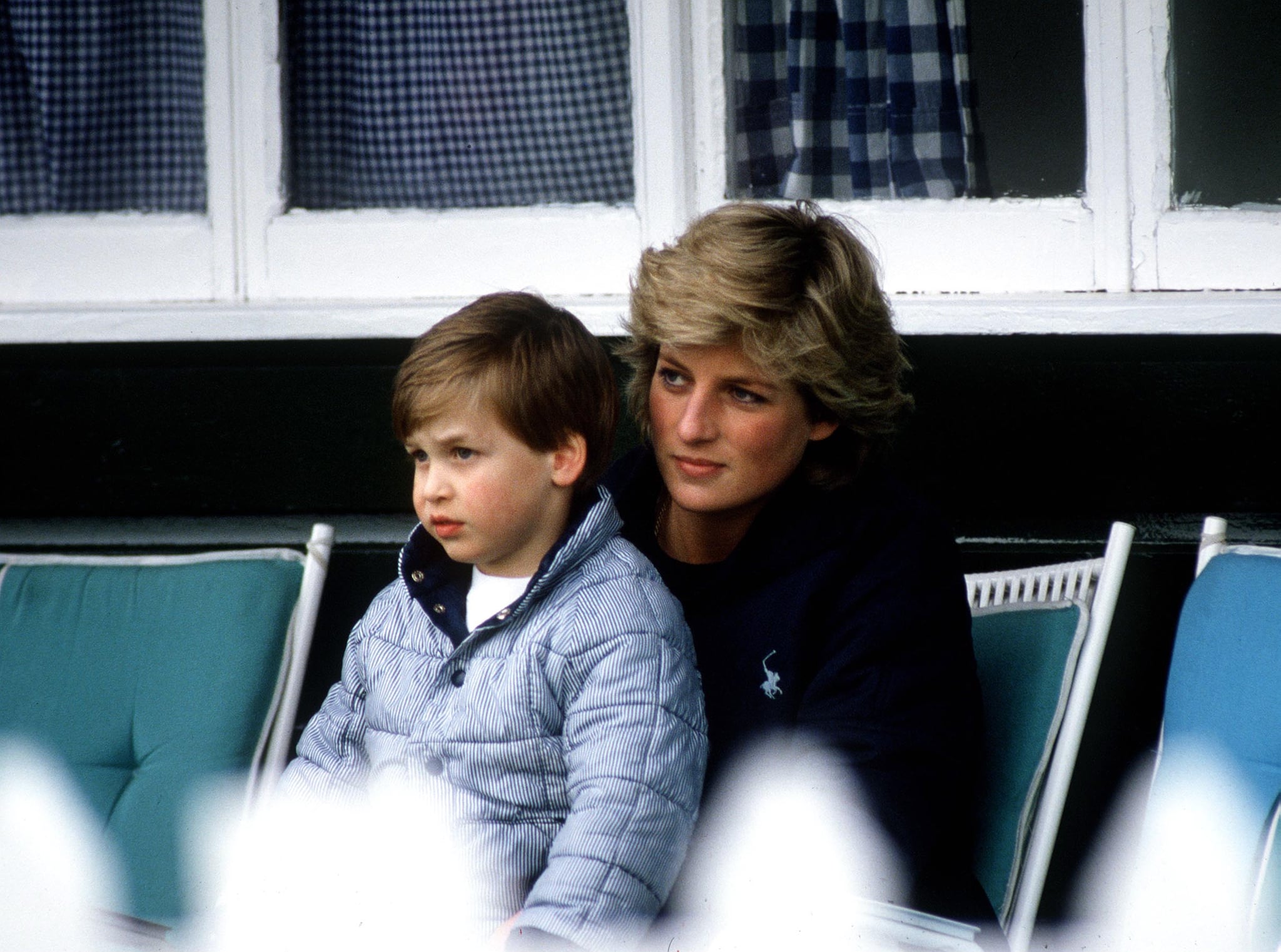 Prince William had an especially close bond with his late mother, Princess Diana, and has talked openly about their close relationship in recent months ahead of the 20th anniversary of her tragic death. While William hasn't been quite as outspoken about the impact that his parents' divorce had on him and his brother, Prince Harry, there are a few instances that likely influenced and cemented the connection he had with Diana at the time.
Diana and Prince Charles separated in 1992 amid rumors of infidelity on both sides, but particularly concerning Charles's ongoing affair with former girlfriend Camilla Parker-Bowles. It was in 1986 that Charles rekindled their romance, and when Diana caught wind of it, she didn't back down; the normally shy princess pulled a badass move when she confronted Camilla (at her sister's birthday party, no less) about the affair, destroying what little harmony was left in her marriage. By 1995, Diana made another brazen gesture when she did a sit-down, televised interview with BBC's Martin Bashir. In it, she not only made the infamous quote, "There were three of us in this marriage, so it was a bit crowded," but she also revealed that she told William, then 13, about his father's extramarital affair. "I told William, 'If you find someone you love in life, you must hang onto it and look after it,'" Diana said. "'And if you are lucky enough to find someone who loves you, then you must protect it.'"
She went on to admit that she didn't want to end the marriage, saying, "I don't want a divorce, but, obviously, we need clarity on a situation that has been of enormous discussion over the last three years," adding, "I await my husband's decision of which way we are all going to go." In an unprecedented move, the queen sent letters to Diana and Charles requesting that they divorce immediately. The divorce was finalized on Aug. 28, 1996, and Diana was killed in a car accident almost one year later. And judging by William's picture-perfect relationship with wife Kate Middleton, we have to imagine that he has taken his mother's advice to heart.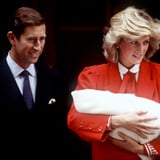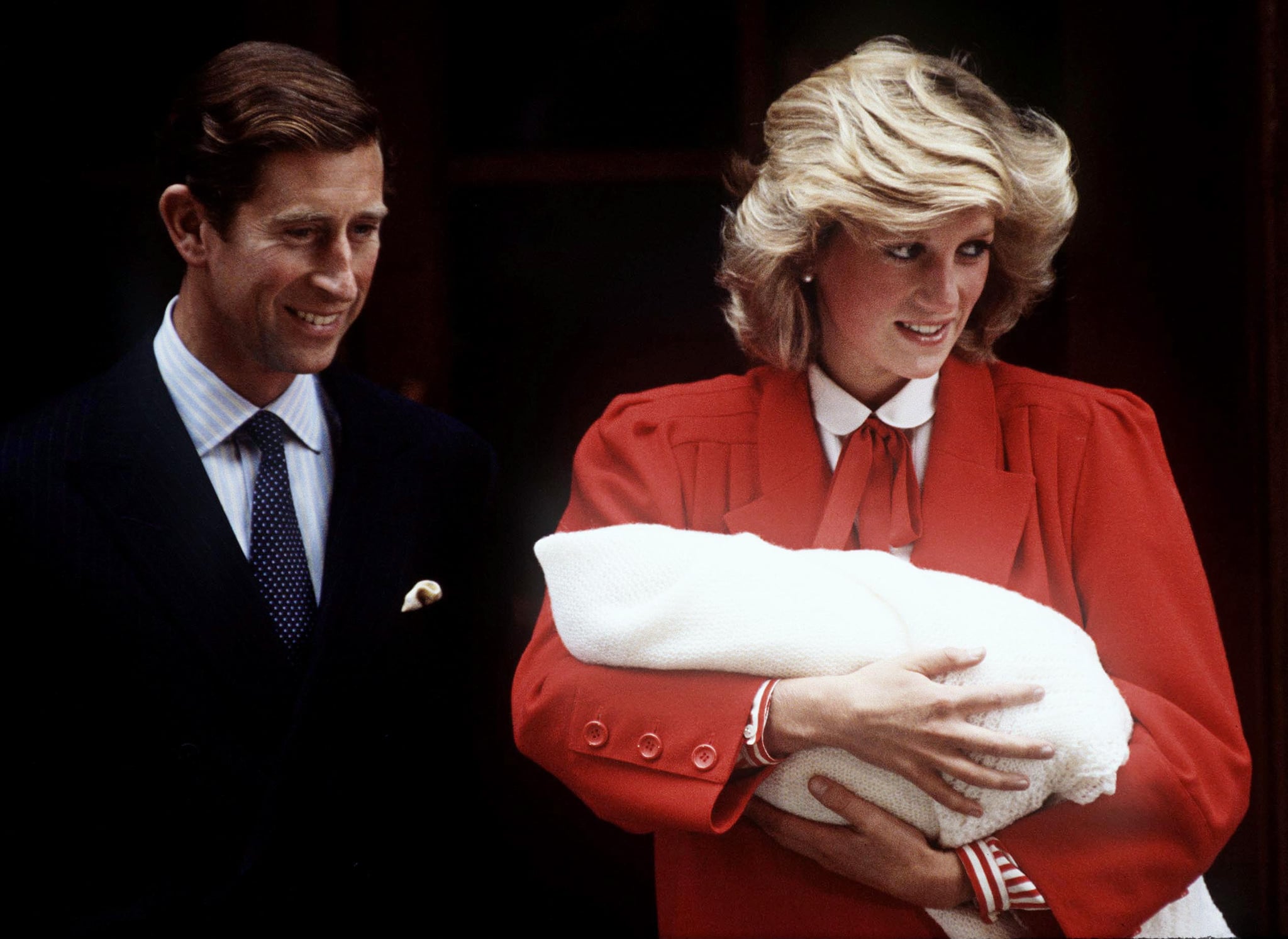 Princess Diana was many things to many people, but above all else, she was an adoring and doting mother of two sons, Prince William and Prince Harry. While much is known about Diana's special connection with her boys, there's one thing people may not know about Harry's birth in particular: Prince Charles "desperately" wanted a little girl, and Diana, knowing that she was carrying a baby boy, kept the secret from her husband throughout her entire pregnancy.
About a year after Prince William was born in June 1982, Diana was under pressure to produce a spare to the heir. In September 1983, Buckingham Palace announced that Diana was pregnant for a second time, but sadly, she suffered a miscarriage later that week while at the Balmoral estate in Scotland. Cut to early 1984, when Charles and Diana found out that they were expecting again. During her difficult pregnancy, Diana told friends, "I don't think I'm made for the production line, but it's all worth it in the end."
In September 1984, Diana gave birth to a baby boy, Henry Charles Albert David Mountbatten-Windsor, after nine hours of labor and zero drugs. In Andrew Morton's Diana: Her True Story, the princess revealed her husband's "dismay" after welcoming their second child: "Charles always wanted a girl," she said. "Harry was a boy. His first comment was, 'Oh God, it's a boy.' His second: 'And he's even got red hair.'" Charles discounted the comment as a joke, but Diana was extremely hurt and offended: not only had she just endured nine f*cking hours of natural birth, but her older sisters and younger brother, Earl Spencer, all happen to have red hair, a trait that runs in the Spencer family. What's worse, at Harry's christening in December, Charles reportedly told Diana's mother, "We were so disappointed - we thought it would be a girl."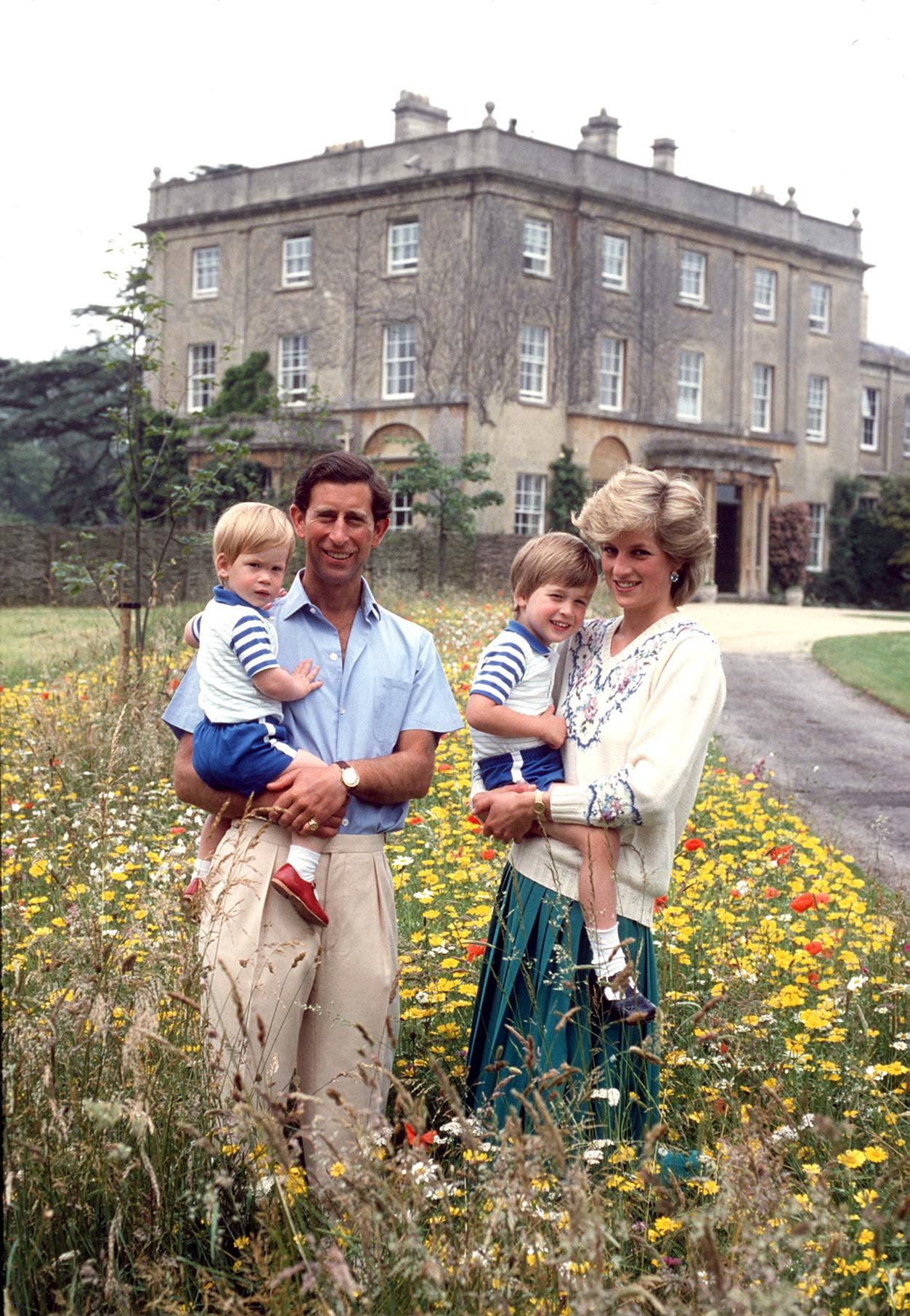 Diana went on to explain that she and Charles were "the closest we've ever, ever been and ever will be" in the weeks before Harry was born, adding, "Then, suddenly, as Harry was born, it just went bang, our marriage. The whole thing went down the drain." She went on to admit that "something inside me closed off," after Harry's birth - especially because Charles had picked up his longtime affair with Camilla Parker Bowles. "By then, I knew Charles had gone back to his lady," she said of the rekindled romance.
Harry's red hair led many to believe that his biological father was actually James Hewitt, an English Army captain who was hired to teach Diana, William, and Harry horseback riding. While Diana and James did carry on an affair in the late '80s, they didn't meet until two years after Harry's birth. And Charles's desire for a baby girl has held strong after all these years, as evidenced by his excitement over the birth of Princess Charlotte in 2015. "I was hoping for a granddaughter - someone to look after me when I am very old," he told reporters during a public engagement that year. "I am really rather thrilled."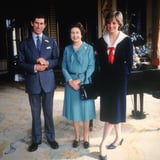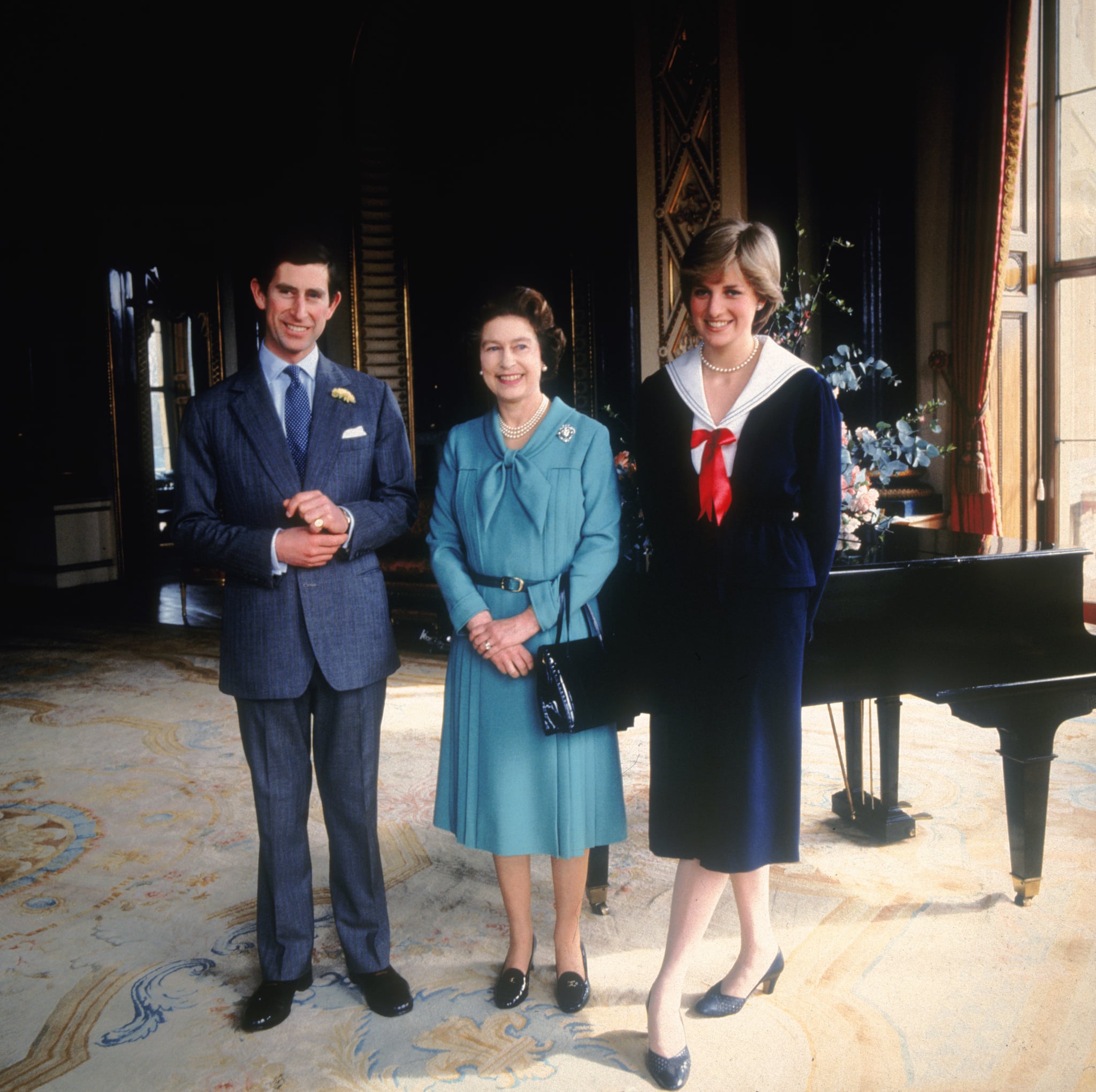 Prince Charles and Princess Diana pose with Queen Elizabeth II at Buckingham Palace in March 1981, shortly after their engagement. Image Source: Getty / Hulton Royals Collection
With the 20th anniversary of Princess Diana's tragic death approaching, interest in her life - and especially her marriage to Prince Charles - has piqued in recent months. The relationship between Charles and Diana was tumultuous, to say the least; they met after Charles first dated Diana's older sister, Lady Sarah McCorquodale, and only went on 12 dates before getting engaged in February 1981 and tying the knot five months later. By late 1992 (after collective affairs and embarrassing leaked audio conversations), Charles and Diana's 11-year marriage was a disaster - and the royal family couldn't hide it anymore.
Charles's parents, Queen Elizabeth II and Prince Philip, met with the couple for an intervention of sorts. Philip and Diana exchanged heartfelt letters that Summer in which he expressed his disappointment at both her and Charles's extramarital affairs and asked her to see both of their slip-ups from the other's point of view; at one point he seemed ready to give up, writing, "I will always do my utmost to help you and Charles to the best of my ability. . . but I am quite ready to concede that I have no talent as a marriage counselor." Their attempts at reconciliation were unsuccessful, and that December, Prime Minister John Major publicly announced the pair's "amicable separation," reading an official statement from the royal family.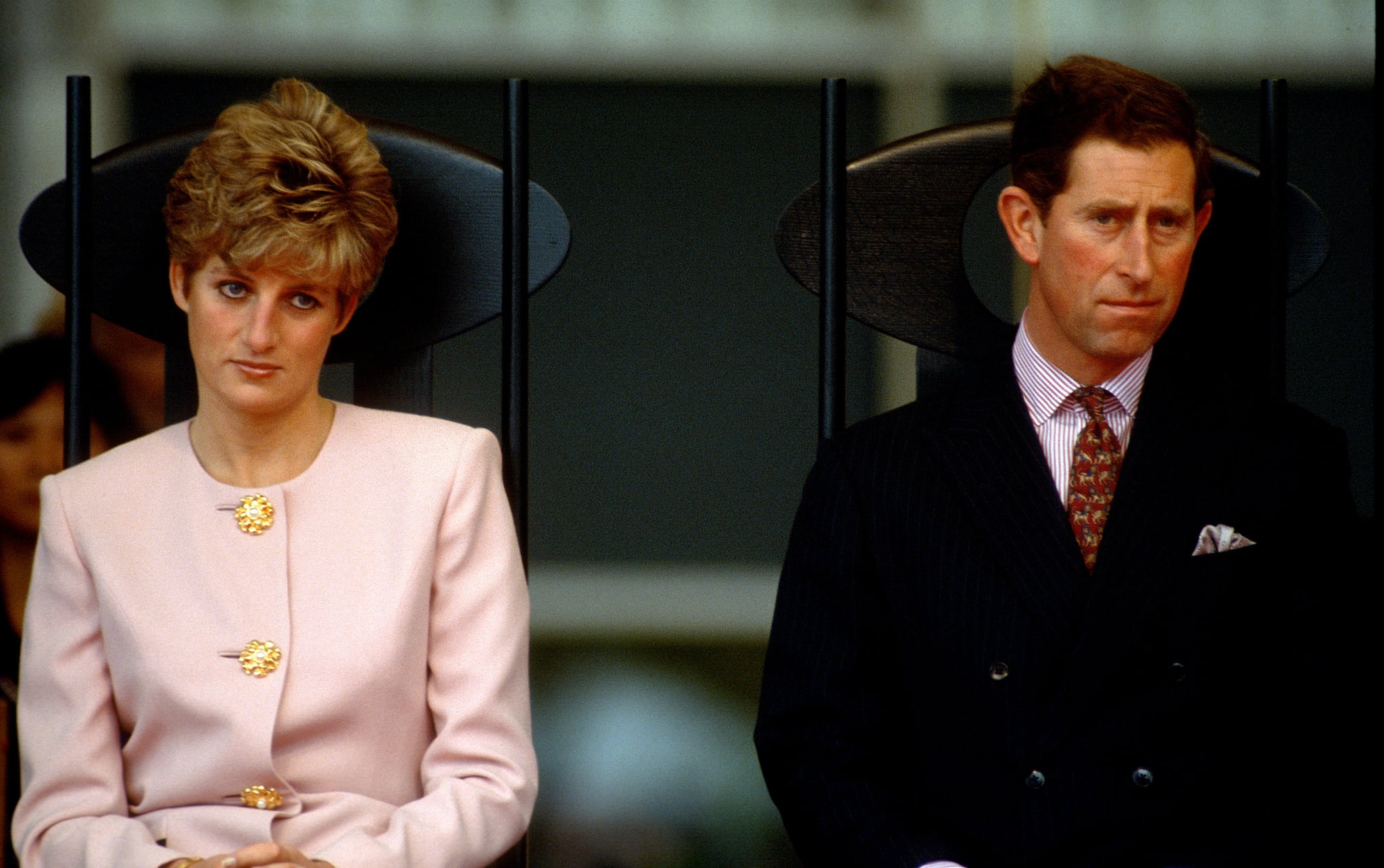 Diana and Charles looked less than enthused during their royal tour of Canada in October 1991. Image Source: Getty / Anwar Hussein
After their separation, more rumors of cheating emerged, and Diana conducted a tell-all interview with the BBC's Martin Bashir in which she disclosed details about her own infidelity and struggle with bulimia as well as Charles's affair with Camilla Parker Bowles, making the famous quote, "There were three of us in this marriage, so it was a bit crowded." Ultimately, Elizabeth gave up too - likely fed up with doing damage control for Charles and Diana's cheating scandals and the blowback from Diana broadcasting their business, she sprung into action. On Dec. 20, 1995, Buckingham Palace announced that the queen had written separate letters to the couple ordering them to divorce ASAP, an unprecedented move at the time. "After considering the present situation, the queen wrote to both the prince and princess earlier this week and gave them her view, supported by the Duke of Edinburgh, that an early divorce is desirable," a palace statement said. It added that both Elizabeth and Philip would "continue to do all they can to help and support the Prince and Princess of Wales, and most particularly their children, in this difficult period." Charles agreed formally in writing soon after, but it took Diana until February to announce her agreement after negotiations with Charles and representatives for Elizabeth and until July for the couple to agree on the terms of their divorce.
Queen Elizabeth reportedly wanted to let Diana keep the style of her royal highness, but Charles was "adamant" that she give it up.
Their divorce was finalized in August 1996, but some drama surrounding her title ensued. Queen Elizabeth reportedly wanted to let Diana keep the style of her royal highness, but Charles was "adamant" that she give it up - instead, she was given the title Diana, Princess of Wales. The loss of the honorific separated Diana from the rest of the family in such a way that she had to curtsy to those that had it, including her own children. Heartbreakingly, a 14-year-old Prince William is said to have comforted his mother after the loss of her title by saying, "Don't worry, Mummy, I will give it back to you one day when I am king."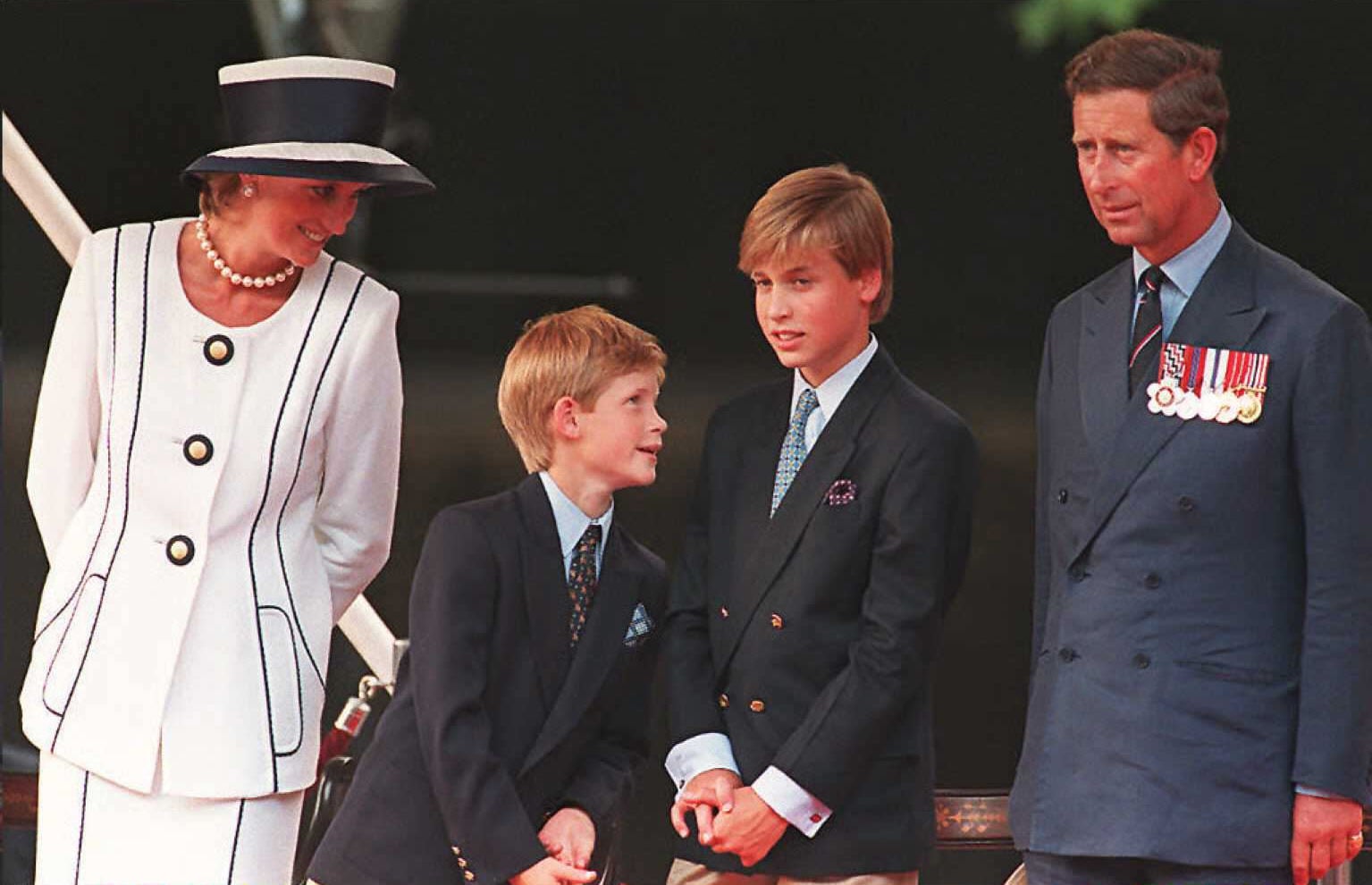 Diana, Harry, William, and Charles watch a parade in London in March 1995. Image Source: Getty / AFP
Diana was allowed to keep her apartment at Kensington Palace - which now serves as the official residence of William, Kate Middleton, and their two children - as "a central and secure home for The Princess and the children." She was given access to the royal family's jets and was able "to use the state apartments at St. James's Palace for entertaining," as long as asked the queen's permission first. She was also permitted to keep all the jewelry she amassed during her marriage, with the exception of the Cambridge Lover's Knot tiara, which Elizabeth gave to her as a wedding present after only wearing it once. It was lent to Kate Middleton in both 2015 and 2016.
Buckingham Palace publicly stated that as the mother of heirs to the throne, Diana would continue to be regarded as a member of the royal family and "will from time to time receive invitations to state and national public occasions" at the invitation "of the sovereign or the Government." She and Charles were granted equal access to Prince William and Prince Harry, who were 14 and 11 at the time, respectively, and the boys alternated holidays with each of their parents when they weren't attending boarding school. Things seemed to be civil between Charles and Diana as they worked together to coparent their boys after the divorce and up until Diana's death in August 1997. During an inquest into the tragedy in January 2007, Deputy Coroner of the Queen's Household Baroness Butler-Sloss said, "I am satisfied that at her death, Diana Princess of Wales continued to be considered as a member of the Royal Household."