Prince Harry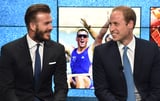 The British royal family meet a LOT of people, and while there is usually plenty of smiling and polite conversation, they seem to have an extraspecial rapport when it comes to sports stars. It may have something to do with the fact that the family are active and sporty themselves, or maybe they're just big fans of the star athletes they meet, but one thing's for sure - there have been plenty of interesting exchanges over the years. Some of the meetings have even led to friendship and, on one occasion, even more, so keep reading to see them all now.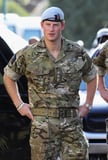 Yes, Prince Harry is great with kids, an attentive boyfriend to Suits star Meghan Markle, and a shining ambassador for the royal family, but one of the most important things to him is the time he spent in the Armed Forces. His love of all things military-related started surprisingly young, and with his passion project the Invictus Games going into its fourth year, it looks set to continue throughout his life, so what better way to celebrate than to take a look at all the most significant times that Harry has worn a military uniform?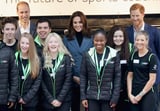 The British royal family has been extremely busy this year, and they're showing no signs of slowing down. On Wednesday, Prince William, Prince Harry, and Kate Middleton were front and center at the Coach Core graduation ceremony in London. Coach Core, which was launched by Will, Kate, and Harry's Royal Foundation in 2012, is an apprenticeship program that trains young adults who are not enrolled in school or are unemployed to be sports coaches. Prior to the ceremony, the royals joined 150 of the apprentices in a coaching master class that included advice from Olympic gymnast Max Whitlock and tennis coach Judy Murray.
The trio's philanthropic outing comes just two days after they met up with the cast of Paddington 2 at London's Paddington Station and a day after Will and Kate formally confirmed that their third child is set to make its debut in April 2018. We can't wait for the little one to arrive!