News
Another woman has come out with claims about Matt Lauer's conduct while working on TODAY for NBC.
Addie Zinone, a woman who began her career as an intern at The Today Show before being promoted to a PA, claims she had a sexual relationship with Matt Lauer.
In an essay published by Variety,  Zinone says she went to lunch with Lauer in July 2000 to ask him for job advice. She says at this time, Lauer began to aggressively hit on her. When the two returned to work, he sent her a message that read: 'meet me'.
Text messages seen by Variety shows that Lauer telling Zinone to head to an empty dressing room above Studio 1A so the two could have sex before he left at 3pm. Lauer sent that text at 2:42 PM. Lauer was just two years into his marriage with second wife Annette.
via Variety:
In 1999, Addie Collins arrived at NBC's "Today" as a young intern with big aspirations. A few months later, she landed her dream job as production assistant, forming close bonds with her new colleagues Katie Couric, Ann Curry and Al Roker. But Matt Lauer kept more of a professional distance—until Collins (who now goes by her married last name Zinone) was ready to leave the show.

One day in July 2000, he invited her to lunch, which Zinone thought would be a chance to ask him for career advice. Instead, Lauer, who was in his 40s and newly married, started to aggressively hit on the 24-year-old employee. Zinone felt dumbstruck and numb. Intimidated by his stature, she gave in to his flattery, and she entered into a month-long relationship with Lauer, who would arrange to secretly meet her in his dressing room.

Although Zinone's situation was consensual, she saw parallels between her own story and several accounts from the unnamed victims. Her situation is different than other allegations against Lauer, which involved unwanted advances. But it illustrates what can happen when a prominent person brings sex into the workplace, and there's an imbalance of power. For Zinone, Lauer's behavior had a devastating and lasting effect on her personal and professional life
Soon after this incident, Zinone left her media job and decided to enlist in the Armed Forces.
You can read the transcripts of the text messages over on Variety.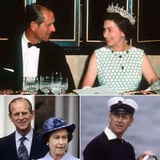 Before Princess Elizabeth became Queen Elizabeth, she married the handsome foreign Prince Philip from Greece, who also happens to be her third cousin. According to Sally Bedell Smith's biography titled Elizabeth the Queen, Philip came from a tumultuous background despite his lineage. Born in 1921 on the island of Corfu, he moved to Paris at age 1 with his parents, Alice Marie and Prince Andrew of Greece. By age 8, he'd headed to England for boarding school. With generous good looks and confidence, Philip made his way to England with the help of royal relatives. He would later be invited to have lunch with the royal family, and that's when Elizabeth reportedly fell for him. During World War II, Philip served in the Mediterranean and Pacific, and he and Elizabeth wrote each other letters. By 1946, he was back in London and making regular visits to Buckingham Palace. During that Summer, he spent a month at the royal family's Balmoral Estate, where he proposed. Their wedding was held at Westminster Abbey on Nov. 20, 1947.
During their 70 years of marriage, most of them during Elizabeth's reign as the monarch, Prince Philip has been as constant as the queen herself, although he's a bit more controversial, making a few insensitive gaffes. But when he's not giving the press an unfortunate quote to run, he's either by the queen's side, working as a patron for several charities, or, until recently, enjoying carriage racing. Let's look back at pictures of Prince Philip over the years, then see the facts about the British royal family every diehard fan should know.