Movies
VIEW GALLERY
Swedish actor Michaeel Nyqvist passed away Tuesday at the age of 56. He's most known for his lead role in The Girl With The Dragon Tattoo and as the villain in John Wick. Three films, starring Nyqvist are scheduled to come out: Hunter Killer in 2017, Radegund and Kursk in 2018.
Nyqvist has spent over three decades in the film industry. He began his acting career in 1982 and has since developed into a world renowned movie star. Look below and you will know Michael Nyqvist's words of wisdom…
"I think the whole mission of being here on Earth is to accept what you have, and my journey was to accept my own life and not pretend anything else. I think that's what we all struggle with." "Now I have a very good life and I am very proud of my work." "I was not allowed to talk about being adopted when growing up. I walked around feeling like I was going to explode." "If I compared myself to my kids, they know everything, and they're like small little hackers. I feel also that my identity can be stolen; I'm very paranoid about it compared to other people in the younger generation." "Canada was for me very much Sweden, you know? Very much open people, that they read books, they go see films. I felt at home in Canada. And also, you speak French." "Where I come from, it's a little bit like England. We start from the theater, and we do films a bit on our free time. The history of making films in Scandinavia is so old, it's like the oldest. The Nordic film industry started before Hollywood in Stockholm in Copenhagen." "Sweden is a great country. What is not so great is that we have a society that, in a way, says it's great if you don't look right, if you don't look left, if you just look straight forward." "David Fincher is one of the best directors I know, so I'm really curious to see it. Really curious, and I want to hear Daniel have the Swedish accent."
Michael Nyqvist Dead: Full Story & Must-See DetailsMichael Nyqvist, star of The Girl With The Dragon Tattoo and John Wick died onCLICK HERE TO READ MORE →
Hot on the heels of the announcement that he's done with acting, Daniel Day-Lewis has started to open up about his future career. The thespian is one of the most famous method actors of all time, and it seems he's finally found a role that he's gotten lost in. No, it's not being the U.S. president, unfortunately. It's his latest, and last, role.
Day-Lewis's next film is Phantom Thread. "Set in the fashion world of 1950s London, a dressmaker is commissioned to design for members of high society and the royal family." Friends of Day-Lewis say he's been waiting to go out on a high note, and this is it. Apparently.
"He's so method, it takes him three years to prepare for a role," one friend said of him. "He was telling friends he really wanted to go out with a bang."
It sounds like Day-Lewis wants to get lost in that world of dressmaking for the rest of his life. Uh, good on you dude. I guess. He did work as a shoemaker for a bunch of years, so him taking time off isn't without precedent. I guess it made him happy, and he wants to go back to those days. Still, the mind of this guy is completely alien to me. But you do you boo.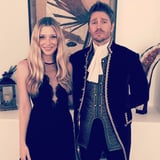 I waited for a prince and he took me to my 1st prom. 👑@chadmurray15 #CHOC #prom #austinames
A post shared by Sarah Roemer (@rooeemer) on Jun 26, 2017 at 9:32pm PDT
Austin Ames, is that you?! In one truly incredible blast from the past, Chad Michael Murray sported his costume from 2004's A Cinderella Story this week to take his wife, Sarah, to a prom at the Children's Hospital of Orange County. The 35-year-old actor shared a video from their night out on Instagram, writing, "Brought Austin Ames out of retirement, I mean Hey it's Prom! Met the best kids & got to dance with my Wife at her 1st Prom." Calling out his costume and giving a nod to his character's screen name, he added, "Thank u @warnerbrosentertainment for letting me take the wardrobe out for a night. Big win- IT STILL FITS! #cinderellastory #AustinAmesLives #PrincetonGirl #Nomad #prom."
RelatedChad Michael Murray and Sarah Roemer Welcome a Daughter!
Meanwhile, his wife posted a picture of the couple all dressed up, saying, "I waited for a prince and he took me to my 1st prom." No word on whether they kissed in the rain (#iconic scene, right?), but he definitely recognized his date this time and the pair's picture makes for an epic side-by-side mashup.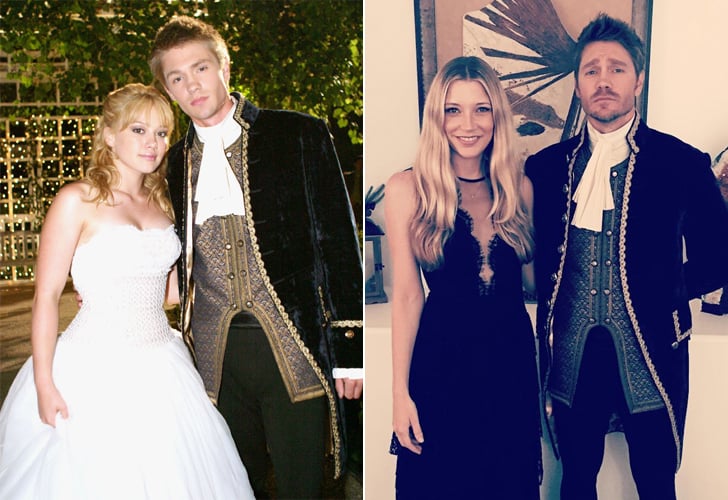 Had the amazing pleasure of attending the #CHOC Prom last night. This is one of 4 or 5 rooms they decorated. It was incredible. I Brought Austin Ames out of retirement, I mean Hey it's Prom! Met the best kids & got to dance with my Wife at her 1st Prom. Thanku @warnerbrosentertainment for letting me take the wardrobe out for a night. Big win- IT STILL FITS! #cinderellastory #AustinAmesLives #PrincetonGirl #Nomad #prom
A post shared by Chad Murray (@chadmurray15) on Jun 25, 2017 at 8:01am PDT