Khloe Kardashian
Based on a new first-hand account, Tristan Thompson still cannot keep his hands to himself.
As a result, many of us in the celebrity gossip game are left to wonder:
Has he been keeping his penis to himself?
We ask this question because it's been five months since Thompson was caught cheating on Kardashian...
... and it appears as if he hasn't exactly changed his ways. Not entirely, at least.
On the night of September 20, multiple outlets have alleged that Thompson was out and about at a nightclub in Los Angeles called Warwick.
We previously wrote about this incident, detailing how Tristan was spending a lot of time that night with a minimum of two women, neither of whom was his baby mama and long-time girlfriend.
You can relive the sketchy elements from this evening out below:
But now an insider has told Us Weekly even more about Thompson's behavior a few days ago at this establishment.
"Tristan and a girl were chatting and flirting throughout the night," an onlooker tells the tabloid, adding:
"They were very touchy-feely. He had his hand on her butt."
Yikes, right?!?
Even if Thompson didn't go home with this woman... even if he hasn't stepped out on Kardashian ever since the couple got back together... you'd hope he would know better, wouldn't you?
Is it really so hard to simply NOT flirt at a nightclub?!?
It seems as if Khloe and Tristan are aware that there are rumors out there about Tristan maybe cheating again; hence why the couple just shared a new, intimate, sort of gross photo together.
It features Thompson licking his lover's face.
That'll show the critics!
No way could Thompson be sticking it to random Instagram models again when he's placing his saliva all over Khloe's face!
Seriously, though, it doesn't seem to matter what anyone out there says about Thompson or what he may or may not do when Khloe is home with their daughter.
Khloe is not about to end this romance.
"Khloe believes every word Tristan tells her," claims a source close to the mom of five-month old True. "They'll stay together."
Not only will they stay together, according to recent reports, Kardashian will move halfway across the country for her dishonest man.
With the NBA season set to start again in just a few weeks, and with the Cavaliers unable to dump Thompson's huge salary on any other team, Khloe is allegedly moving to Cleveland with Tristan.
On purpose.
The stars spent a great deal of time together this summer, often hanging out at home with True but also taking off on occasion to rekindle the spark in their relationship.
In the picture immediately above, for example, Thompson and Kardashian are in Mexico on vacation.
They probably had a lot of sex during this adventure as well, considering the way in which Khloe can't resist her boyfriend's dong, insiders have said.
"Khloe and Tristan are finally back on track," Hollywood Life hilariously wrote this summer. "And having the best sex of their relationship while on their vacation."
Heck, Khloe even "tells her sisters that [Tristan] is the best lover she has ever had," this article added at the time.
Makes sense.
The guy has practiced his lovemaking A LOT.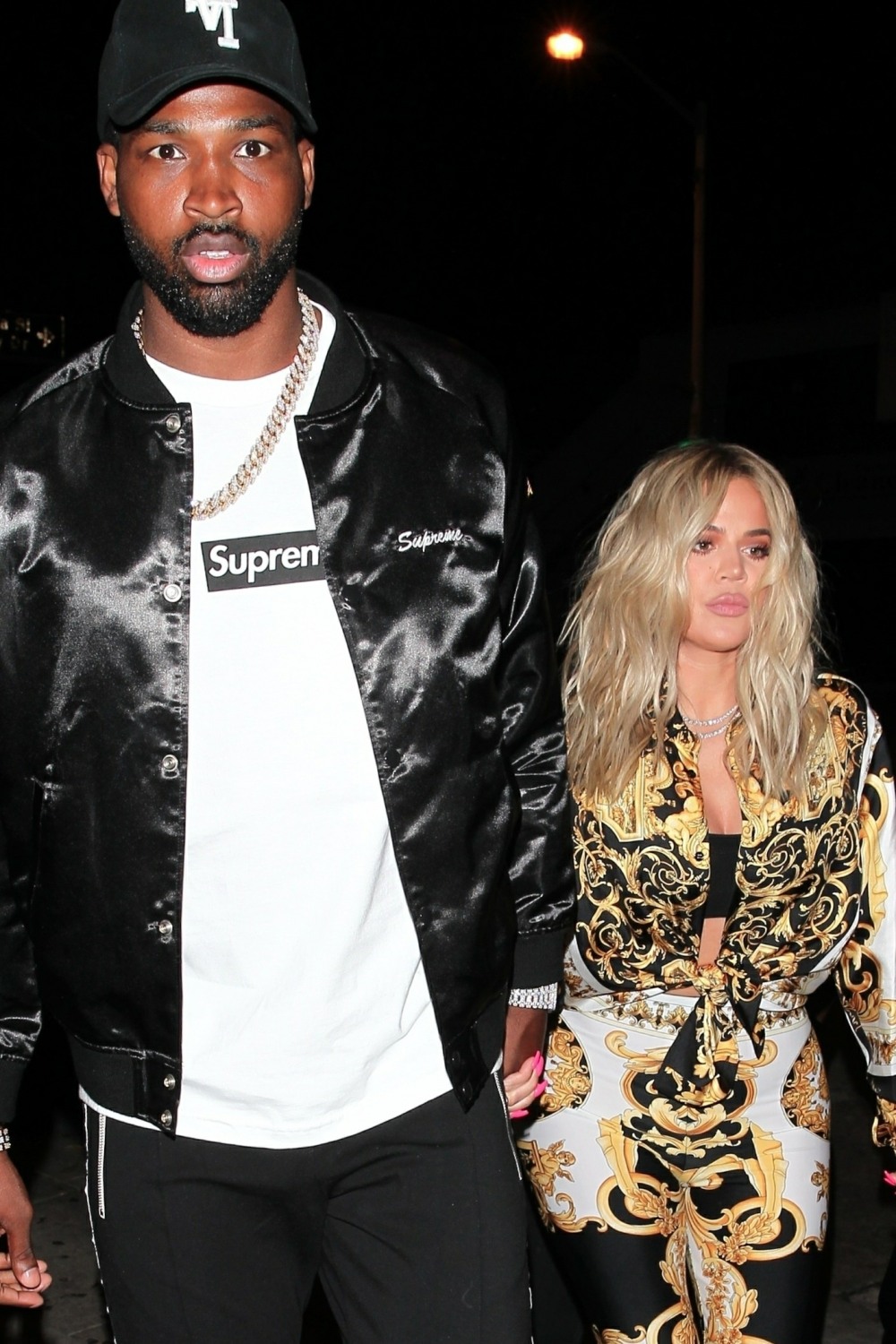 I totally forgot about the story which broke ("broke") late last week: apparently, Tristan Thompson was seen partying with two brunette ladies in LA. He was at Warwick nightclub last week with some bros, and of course he seemed to hit on two ladies. This was right after Khloe Kardashian let people know that she planned to move back to Cleveland with him so they can be a happy family, and that Tristan had "promised" not to cheat on her again. LOL. Well, now Us Weekly says that for sure, Tristan was hitting on those ladies and groping them too. Because of course he was.
Tristan Thompson can't seem to keep his eyes solely on girlfriend Khloé Kardashian. Five months after he was caught cheating on the then nine months pregnant reality star, the Cleveland Cavaliers center, 27, was spotted getting close with a mystery woman at L.A.'s Warwick nightclub September 20.

"Tristan and a girl were chatting and flirting throughout the night," a partygoer reveals in the new issue of Us Weekly. "They were very touchy-feely. He had his hand on her butt."

For her part, however, Kardashian is standing by her man. "Khloé believes every word Tristan tells her," says a source close to the mom of daughter True, 5 months. "They'll stay together."

In fact, they'll even go the distance. When basketball season begins in October, the 34-year-old Good American designer will once again pack up her Calabasas, California, home and head to Cleveland to support the NBA star.

"Everyone is flabbergasted, but her family has learned to keep their opinions quiet," reveals the insider. "People underestimate the threshold of what she'll put up with for love."
"People underestimate the threshold of what she'll put up with for love." Is it that, or is she just a doormat? I'm not even entirely sure that Khloe "loves" Tristan, are you? I think she for-sure loved Lamar Odom. He was her great love. But the guys after Lamar, especially Tristan and French Montana, just seem like dudes she's wasting time with because she doesn't want to be alone. Does that make it more infuriating? I think it does – she's being a fool, a doormat, a delusional idiot just because she can't be alone, and she can't admit that Tristan has been trying to weasel out of this relationship for a solid year. He's literally cheating her on constantly. Ugh.