Kaiser
This user hasn't shared any profile information
Home page: http://www.celebitchy.com
Posts by Kaiser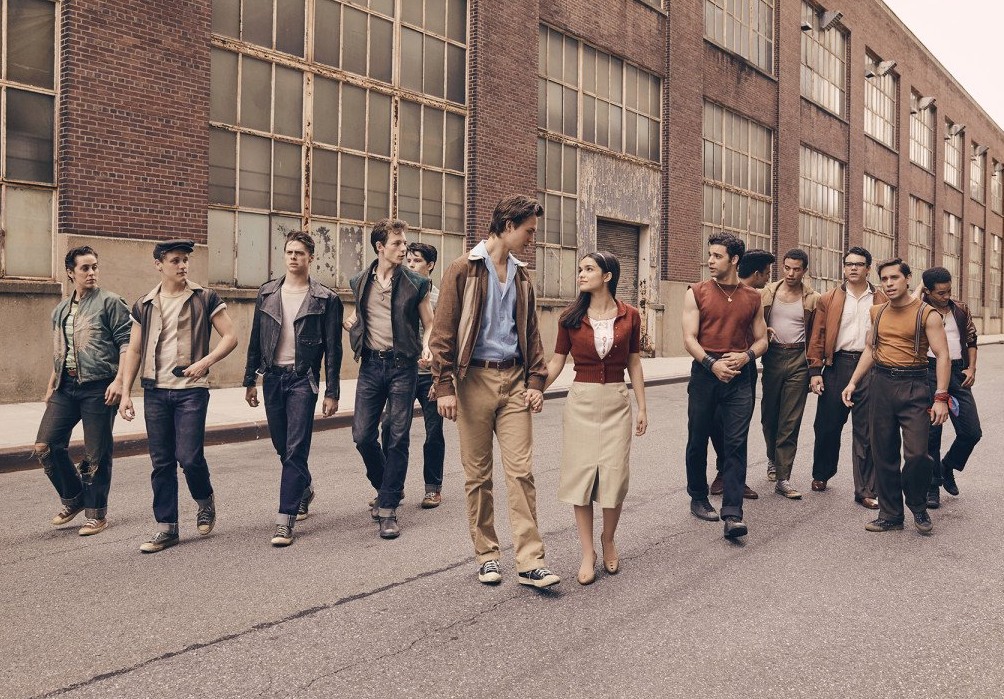 OMG, Ansel Elgort is in the West Side Story remake and I can't. [Dlisted]
Jenelle Eason's sister called Jenelle "trailer trash." [Starcasm]
Gabrielle Union looked amazing in Monte Carlo. [Red Carpet Fashion Awards]
Harvey Weinstein's lawyers keep quitting, lol. [The Blemish]
Yes, Taylor Swift's whole message these days is a mess. [LaineyGossip]
Green Book didn't win any MTV Movie Awards, so there. [Pajiba]
I can't even follow this train of thought, it gave me a headache. [Towleroad]
Zendaya is so much more dressed-up than Jake Gyllenhaal & Tom Holland. [Tom & Lorenzo]
Kirsten Dunst's new show looks amazing & weird. [Jezebel]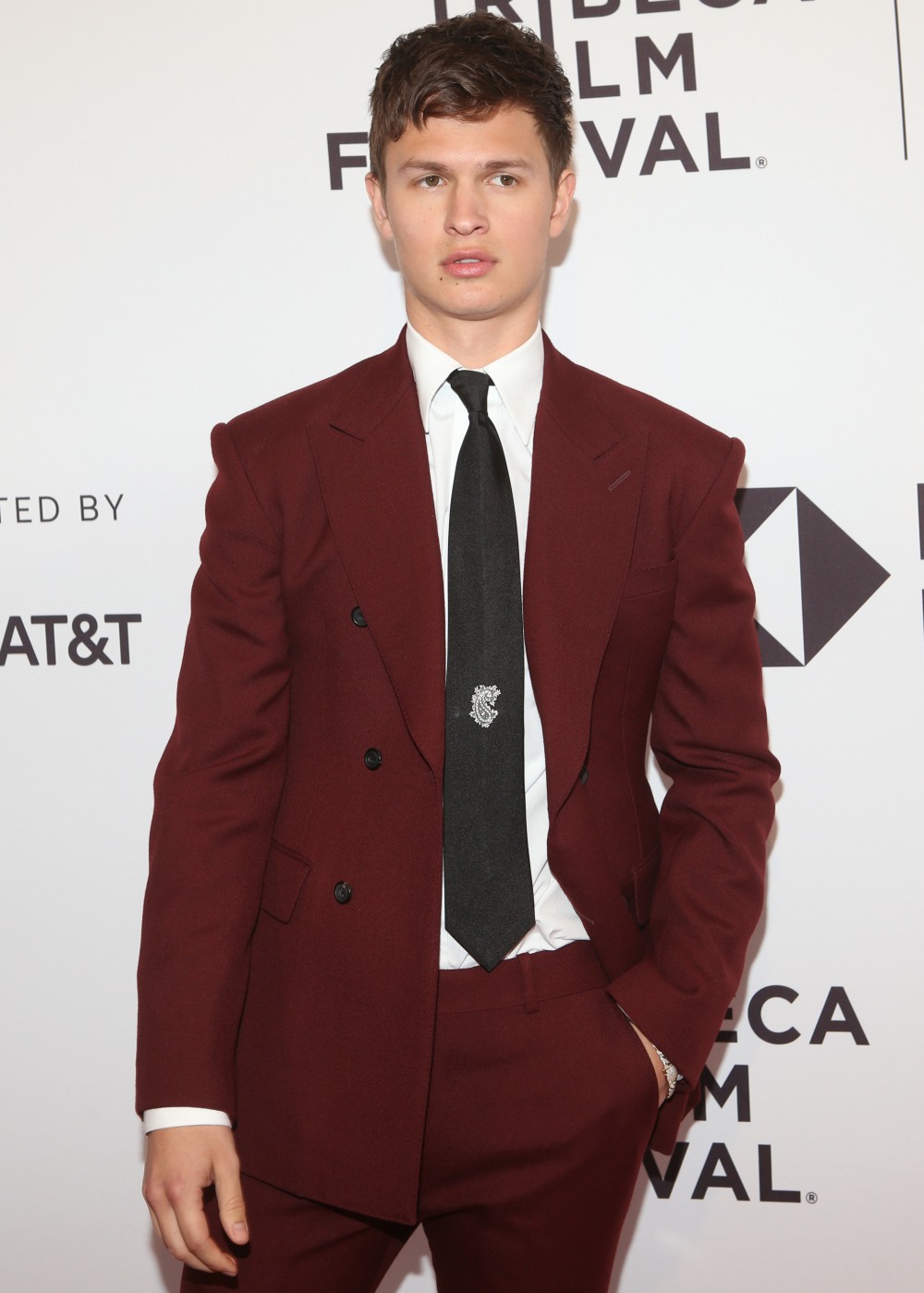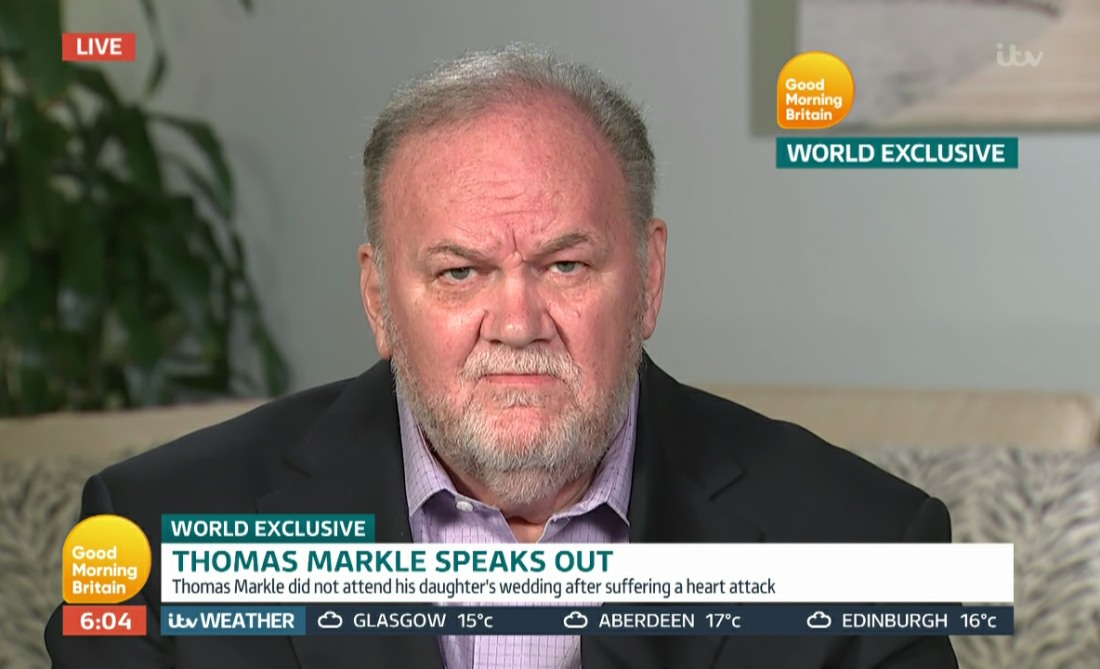 Yesterday, I tweeted about this Daily Mail story because I didn't intend to write about it. I truly thought that at this point, we had all collectively decided to ignore Thomas Markle and his many toxic shenanigans. Turns out, people still want to talk about it, mostly in the context of "I can't believe the Daily Mail is still running these kinds of stories." They are. It seems that Toxic Tom decided to organize another "candid" photoshoot, just like he did before his daughter's wedding, and just like he's been doing this whole time. Thomas organized the photoshoot at Home Depot, where he wandered around the store alone, buying himself Father's Day gifts this past Sunday. The Daily Mail wants to paint you a picture:
Thomas Markle Sr seemingly spent Father's Day alone as his daughter Meghan celebrated husband Harry with a sweet snap of him and baby Archie. The Duchess of Sussex's estranged father was spotted shopping at a Home Depot hardware store in Rosarito, Mexico, on Sunday without the company of any of his three children.

Meanwhile, Meghan enjoyed her first Father's Day since welcoming baby Archie, sharing the adorable sepia-tone photo of the six-week-old in Harry's arms. Archie Harrison Mountbatten-Windsor is to be christened in Windsor next month. It remains unclear whether the baby's maternal grandfather has been invited to the affair at the same chapel where Meghan and Harry wed last year without Thomas in attendance.

He purchased what appeared to be a Karcher pressure washer, some cleaning solution and a TV cable. The retired TV lighting director has three children, Thomas Markle Jr and Samantha Markle from his first marriage to Roslyn Loveless and Meghan from his second marriage to now ex-wife Doria Ragland.

Meghan's estranged half-sister Samantha Markle spoke out last month about how devastated her father was when the first photos of his grandson emerged.

'Being excluded is like a dagger through his heart,' Samantha told The Mirror. She said she hopes motherhood helps 'soften Meghan's feelings', so that Archie can get to know his grandfather.
Thomas has other children and grandchildren too. Funny how he didn't spend Father's Day with any of them, yet it doesn't occur to anyone in the British press that maybe that's a clue that HE is the problem, that no one in his family wants to deal with his sh-t and it's not just Meghan. Anyway, spare me the "sad, lonely Home Depot photos." He did it to himself.
he did it to himself 💅🏽https://t.co/Sg70PDlYAM

— Kaiser@Celebitchy (@KaiseratCB) June 17, 2019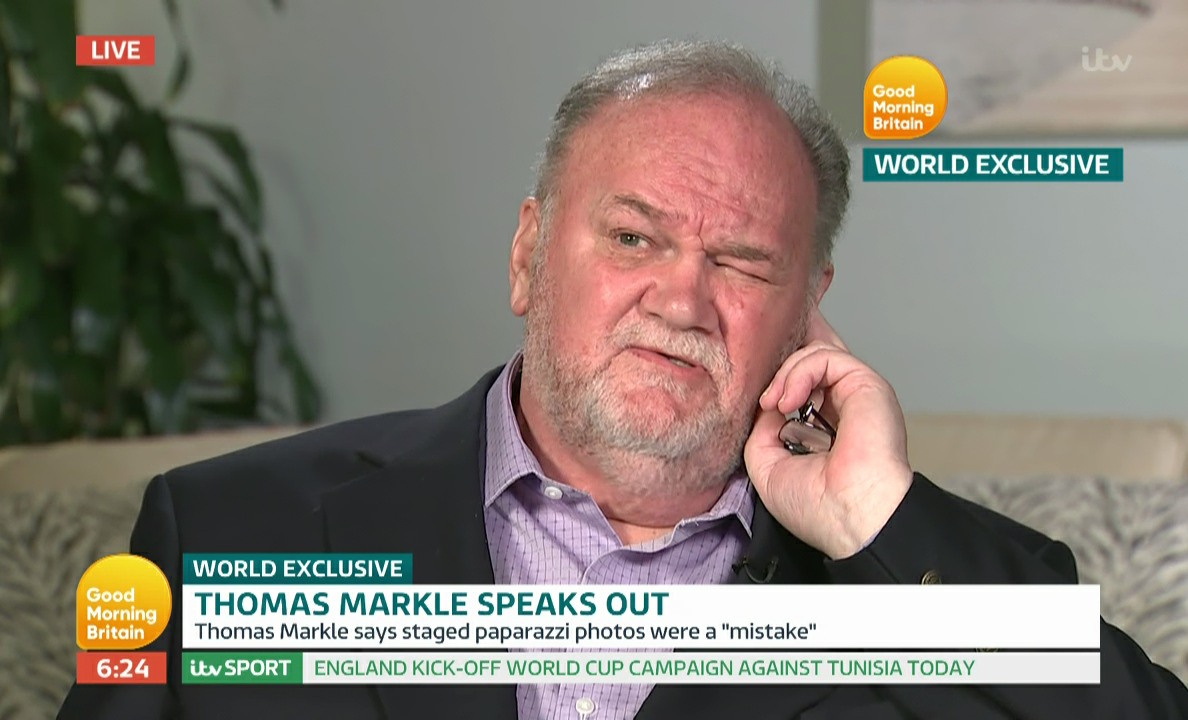 Well well, the Duchess of Cambridge has done two fancy events in two days' time, make a note of it on your calendar. In truth, all of the royals are pretty active this time of year – May and June are big months on the calendar because of royal garden parties, Trooping the Colour, Order of the Garter, horse shows and of course, Royal Ascot. This year, Duchess Kate stepped out for the first day of Royal Ascot. She was joined by the Duchess of Cornwall, Princess Eugenie, Princess Beatrice, Prince Charles, Prince William and the Queen. Also in attendance: Queen Maxima and King Willem-Alexander of the Netherlands, who are apparently enjoying a nice few days of British society.
Kate wore a new frock and my lord, I will never understand her choices for Royal Ascot. Remember when she wore two really similar white lace dresses in consecutive years, one more "doily" than the other? So, she deserves a golf clap for at least not wearing another white lace dress. But this Elie Saab look… well, it's on-brand for Kate. I actually love the color, I just think the sheer with the lace with the bow with the polka dots with the high collar is all too much. It's Edwardian cosplay. Maybe she's just really excited about Downton Abbey. Her hat is by Philip Treacy.
Wow, everyone but Camilla wore blue this year. Did the Queen send a memo or something?
Photos courtesy of Getty.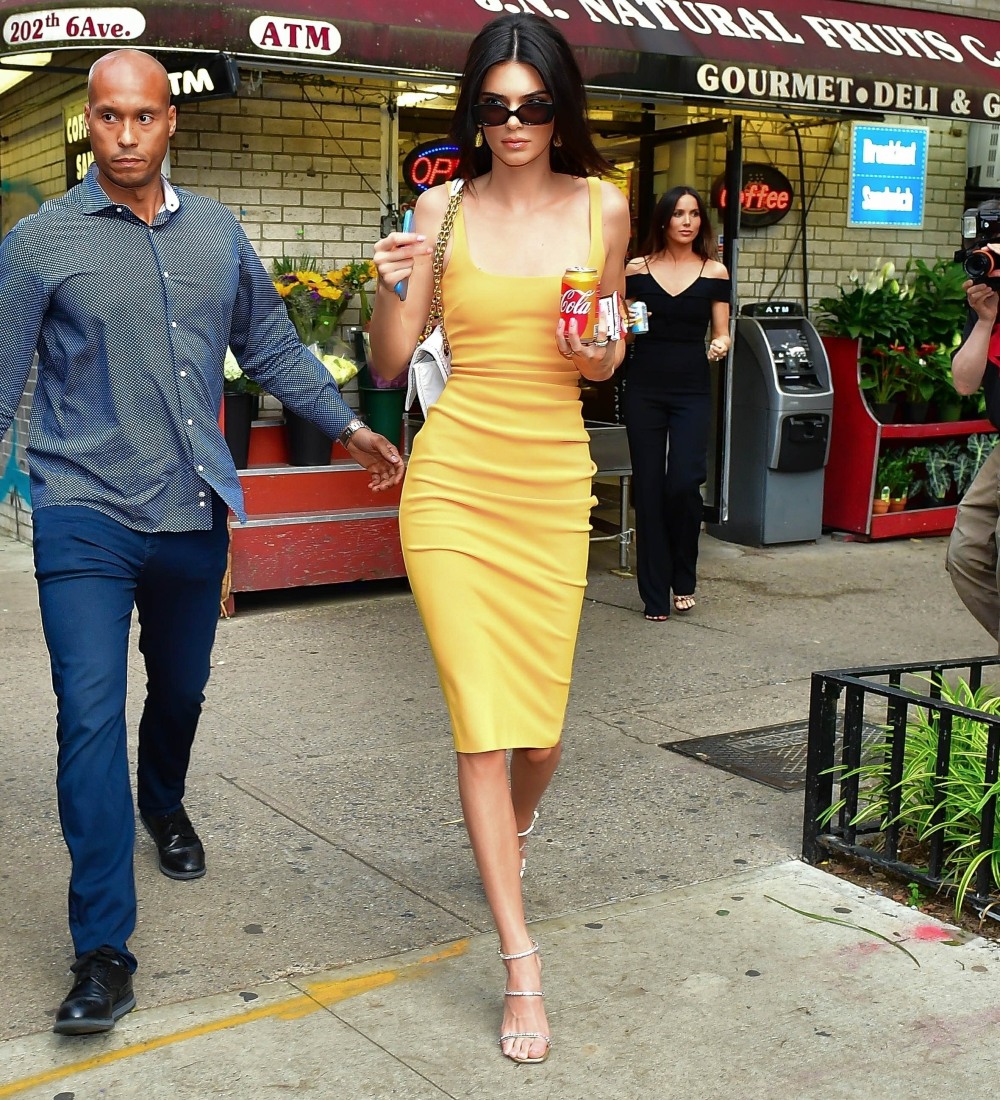 Back in 2017, Kendall Jenner was paid a fortune to appear in a Pepsi commercial. The hype around the commercial – before it aired – was that this was going to be Kendall's big Cindy Crawford moment, that the commercial would be super-iconic. Well, it was iconic… an iconic moment of stupidity and offensiveness. It involved Kendall and Pepsi co-opting protest culture and solving, like, Black Lives Matter by handing a Pepsi to a cop. I maintain that it wasn't solely Kendall's fault – Pepsi should take a lot of the blame, but Kendall should have known better too, let's be real.
Why bring this up? Because two years after the Pepsi debacle, it looks like Kendall is getting paid to promote Coke. OR MAYBE SHE WAS PROMOTING COKE THE WHOLE TIME. Seriously, that would be a next-level move in the Soda Wars: Coke secretly hires Kendall Jenner, encourages her to take a Pepsi endorsement and manipulates it so that Pepsi does a really stupid and offensive commercial. Kendall is a Instagram influencer SPY.
Anyway, yes, Kendall stepped out yesterday in New York in what was clearly a pap stroll designed to promote Coca-Cola. She went to a bodega and bought an Orange Coke, while she wore an orange dress, and she made sure that the label was facing out for the photographers. This should be a bigger conversation: Kendall tanked the Pepsi ad, and she's been working for Coke this whole time.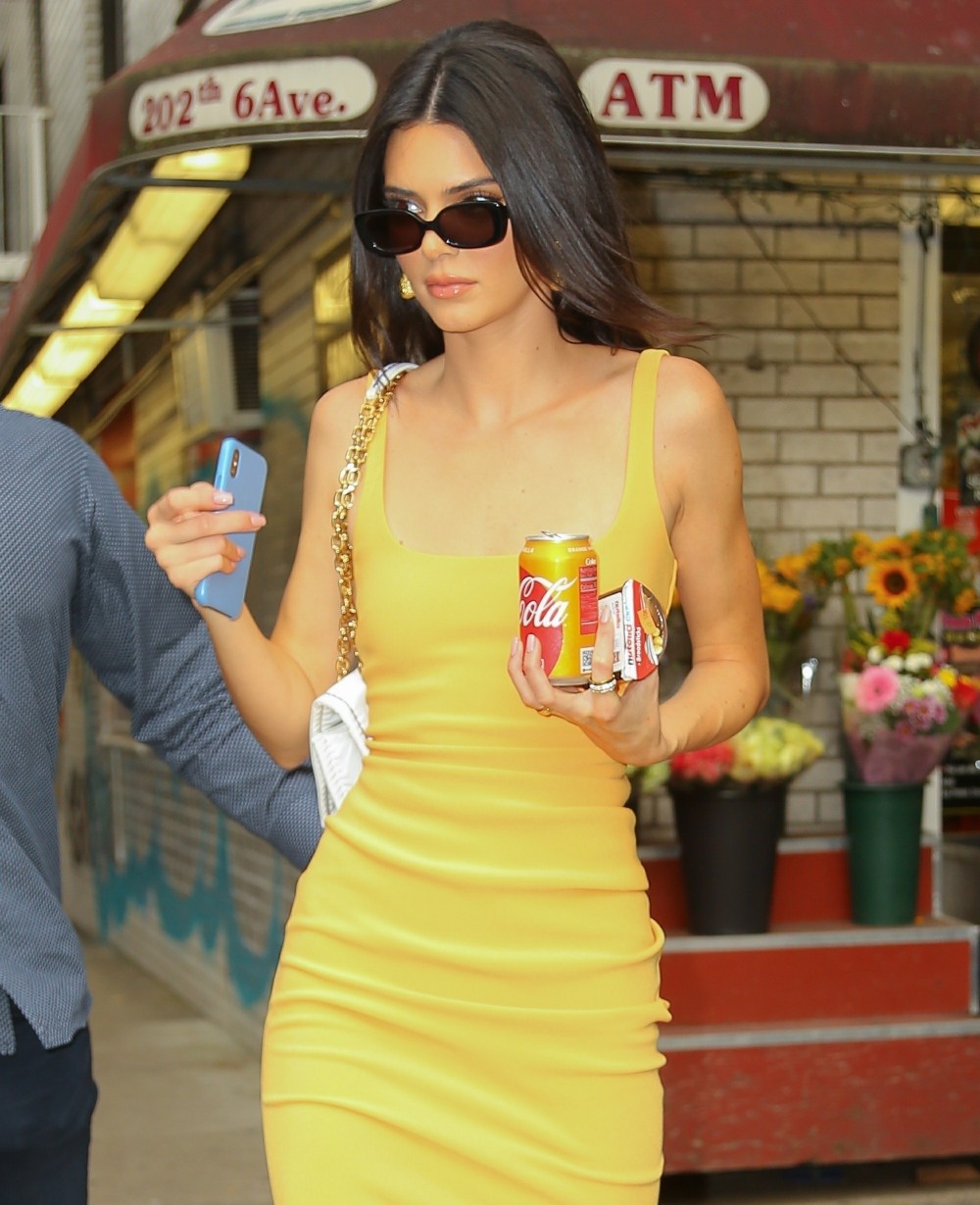 She even 'grammed this sh-t.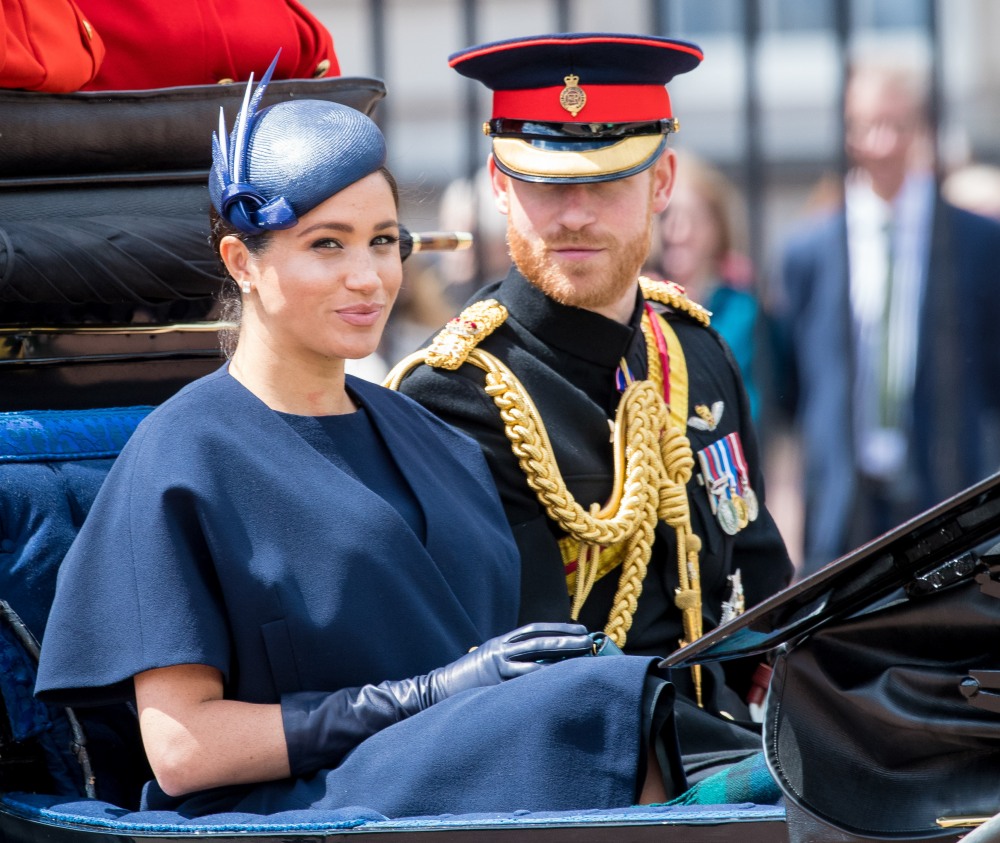 As we discussed earlier, this week there's a lot of talk about the Royal Foundation, which is/was shared by the Duke and Duchess of Cambridge and the Duke and Duchess of Sussex. The ground-zero gossip for this round of rumors seems to have originated in the Sunday Times, the same publication which broke the "William wants to exile Meghan and Harry to Africa" story a few months ago. It's not a tabloid, and I feel like someone important is leaking some interesting stuff to them. So, yeah, it feels like the Sunday Times got things moving and now other sites are picking up the story. It seems there are several gossip morsels which the tabloids have run with, like Prince Philip didn't want Harry marrying an actress, and William was happiest when he could control Harry. But the big story is that the Sussexes will exit the Royal Foundation THIS WEEK.
Prince Harry and Meghan Markle's split from the Royal Foundation — the charitable initiative they ran with Prince William and Kate Middleton — will come Wednesday, sources told Page Six. It was rumored that Harry and Meghan will exit the foundation after reports of a royal rift between the couples. The foundation will continue without them, and the news will be announced after a board meeting this week.

A source told us: "It's not an easy time right now at the foundation . . . Everybody is massively stressed ahead of this meeting."

A spokesperson said: "We announced earlier this year the Royal Foundation was reviewing its structures . . . Any announcement regarding this review will be made in due course."
Just three weeks ago, the Sun broke the news about the Royal Foundation split, only their sources said at the time that William and Kate were basically pushing the Sussexes out. A source said at the time: "The couples have been given two options – the first is to leave things as they are and the second a complete split. Nothing has been formally ratified but all the mood music is suggesting the Sussexes will break away. The Sussexes weren't in a rush to make any changes, but the Cambridges were." Which means that the next month of reporting will be about how DIVA MEG and Hen-pecked Harry demanded to leave the Royal Foundation, I'm absolutely sure. Speaking of, the Sunday Times also had this item:
Meghan Markle has been nicknamed "the degree wife" by a senior royal, as they think her marriage to Prince Harry will "only last three years". According to The Sunday Times, this is the latest unflattering moniker given to the Duchess of Sussex, 37, since she married Harry last May.

It was previously reported that Meghan was given the nickname "Me-Gain" at Kensington Palace due to rubbing staff up the wrong way. She has been called "Duchess Difficult" for sending emails in the early hours of the morning and for "yelling at someone for suggesting she wear 'garbage' tights from M&S".

A palace source is also said to have commented on why Harry's long-time pals – such as Eton pal Tom "Skippy" Inskip and PR guru Astrid Harbord – have been excluded from Harry's circle. The insider told the publication: "Anybody who voiced any kind of reservation about Meghan has been sidelined."
I laughed out loud at the idea of Meghan "yelling at someone for suggesting she wear 'garbage' tights from M&S." I'm sorry, that's one of the funniest quotes I've ever read. Clutch your pearls if you want, but I sort of hope Meghan has actually bitched out some staffer for daring to suggest she wear "garbage tights from M&S." As for Meghan being a Degree Wife… well, here in America, it generally takes four years to get a degree. We won't know until we know, but I think it continues to be really rude and nasty that all of these publications and "sources" continue to push this narrative that Meghan will eventually leave Harry, and all they have to do is bully her out of the country and out of her marriage.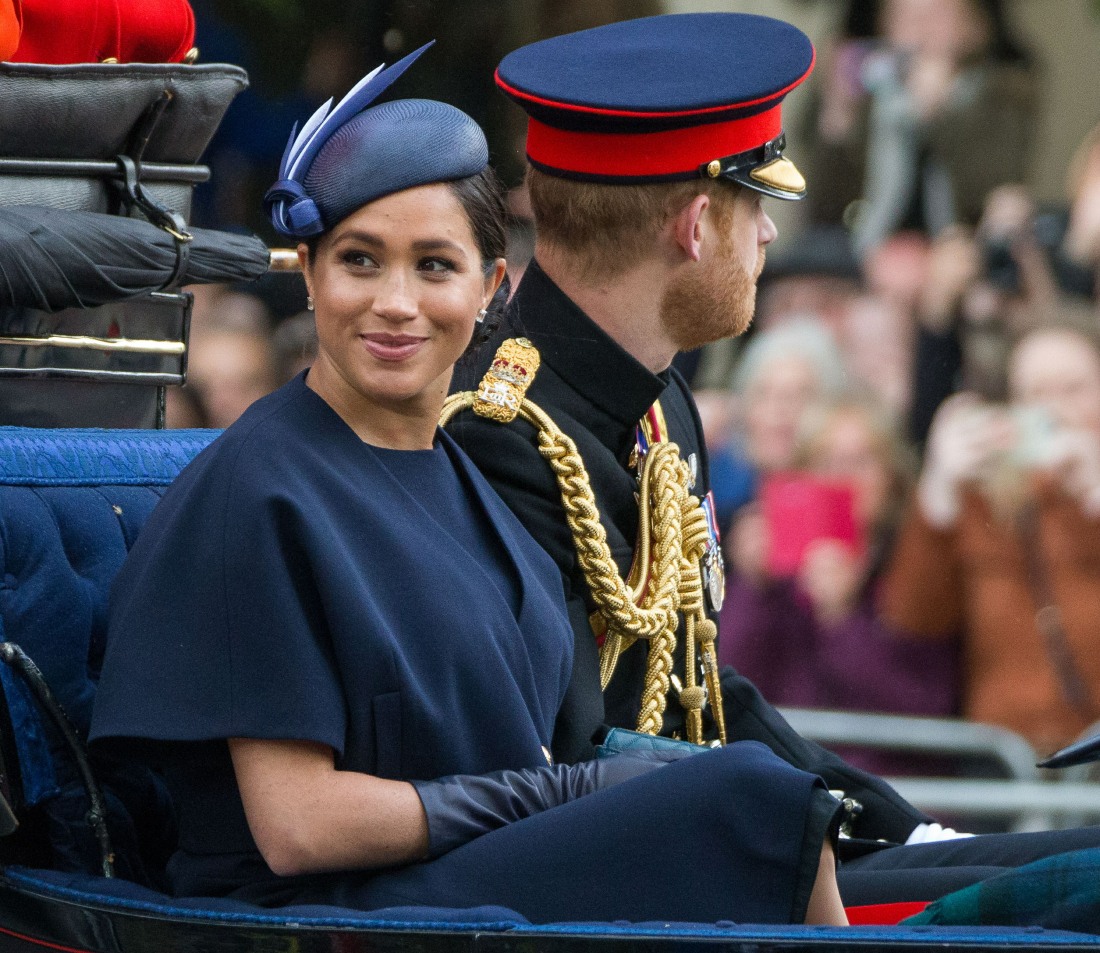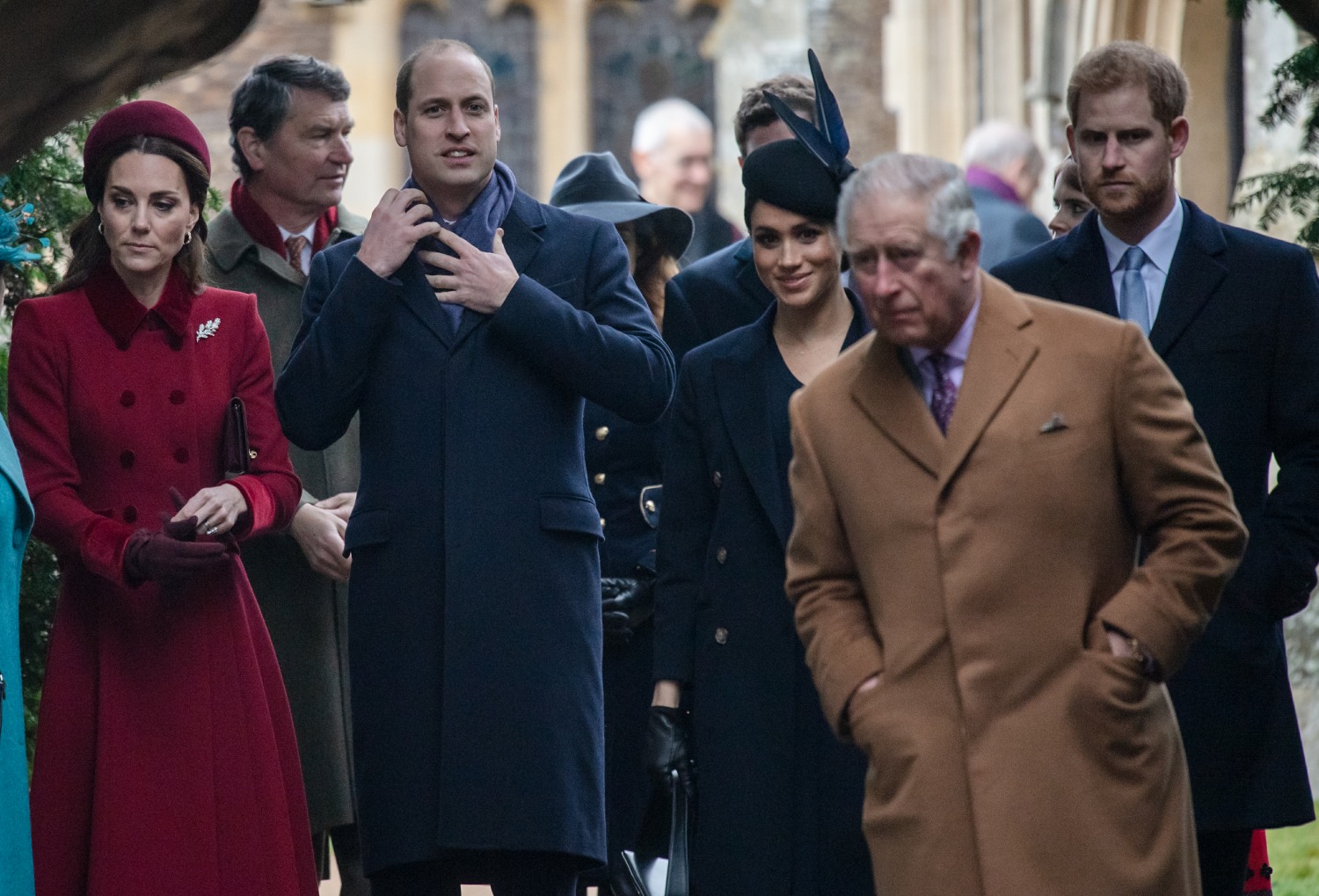 Several weeks ago, we discussed the confirmation from The Sun that the Sussexes and Cambridges were pulling the plug on their jointly operated Royal Foundation. It wasn't surprising at all and had in fact been largely expected for months. Prince William and Prince Harry have had a significant falling out and it doesn't even appear that they've substantively buried the hatchet. Harry and Meghan want to do their own thing as well, and according to the Sun's sources, William and Kate were basically like "you need to make your minds up right now about the future of the foundation" and the Sussexes were like "give us some time, we're still figuring it out" and the Cambridges pulled the plug. Well, a new Sunday Times piece basically regurgitates the story with very few new pieces of information. I did find these quotes interesting though:
Now Harry and Meghan's office is being moved to Buckingham Palace so the Queen can have more oversight over what they are up to, it is claimed. An insider who used to work for the Prince of Wales told the Sunday Times: "William's quite controlling, and he was in control when it was just the three of them, but now he's not. I personally wouldn't overegg Meghan's role in this because it's unfair, but equally she knows what she's doing as an actress from Hollywood."
That came from a Charles-insider huh?? I don't think William is "controlling" in the sense that he wants everything done a certain way and he has to micromanage everything. I think he's too lazy for that. What he does want is to control Harry and Meghan though and that's pretty awful. I also have no idea what this is about: "I personally wouldn't overegg Meghan's role in this because it's unfair, but equally she knows what she's doing as an actress from Hollywood." Hollywood actresses being notorious for… like, royal Cain and Abel bullsh-t, I guess. Speaking of weird shade for Meghan's "actress" career, the Sunday Times also included this:
Prince Philip warned Harry against tying the knot with Meghan Markle by telling him: 'One steps out with actresses, one doesn't marry them', it is claimed. The Duke of Edinburgh, 98, is believed to have made the outspoken remark to his grandson when it became clear the couple's whirlwind romance got serious. But Harry, 34, ignored the advice and proposed and tied the knot with the former Suits actress, 37, in May last year.

It is also claimed that Prince William gave his own piece of relationship advice, asking his brother 'Are you sure?' shortly before the Duke of Sussex proposed in 2017.
If I'm being honest, this is the whole reason why I initially didn't believe that Harry and Meghan were really serious about one another, when we first learned about their relationship. The royals have many "rules" about which girlfriends are appropriate and which girlfriends are not, and the Windsors have always been prejudiced against actresses. I thought that even if Harry cared for Meghan, it wouldn't last because his family would put an end to it, or they would put pressure on Harry OR Meghan (or both) to break up. But yeah, Philip has known a lot of actresses in his day. He reportedly had a fondness for the blonde ones.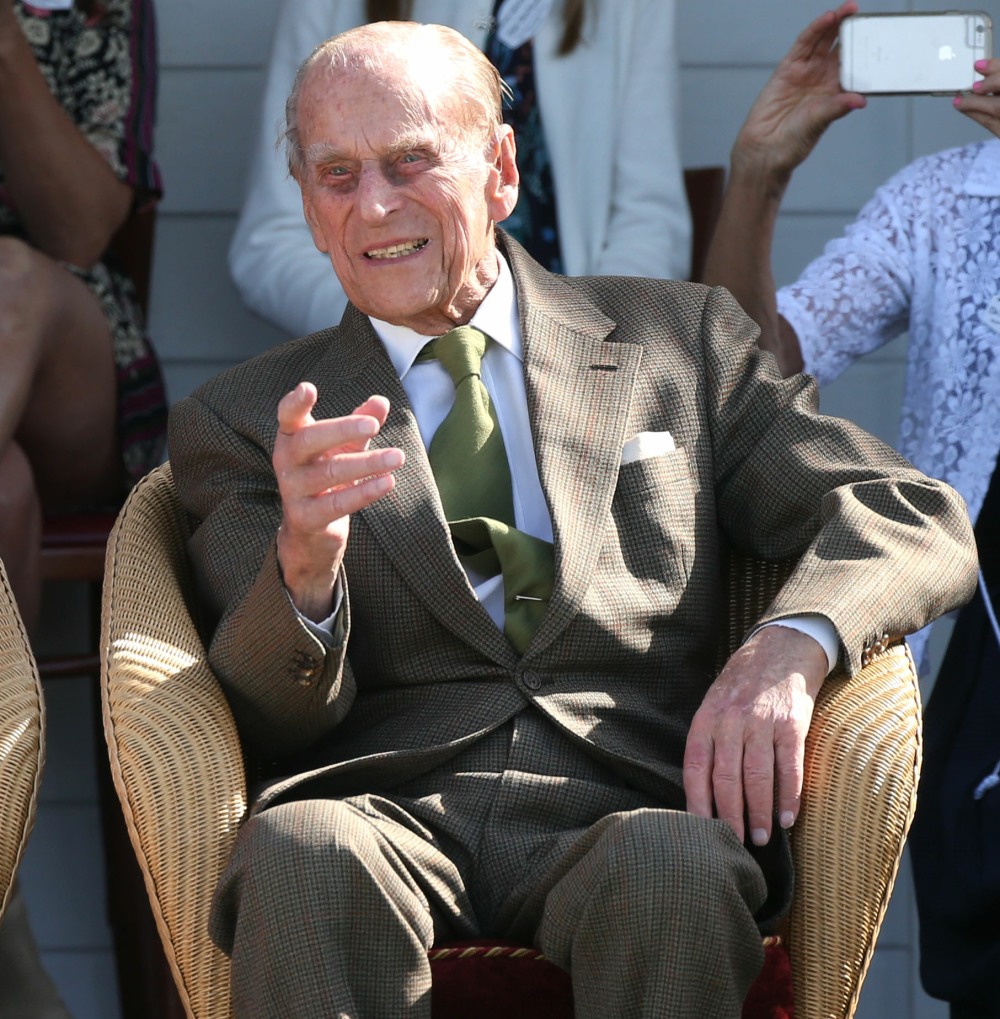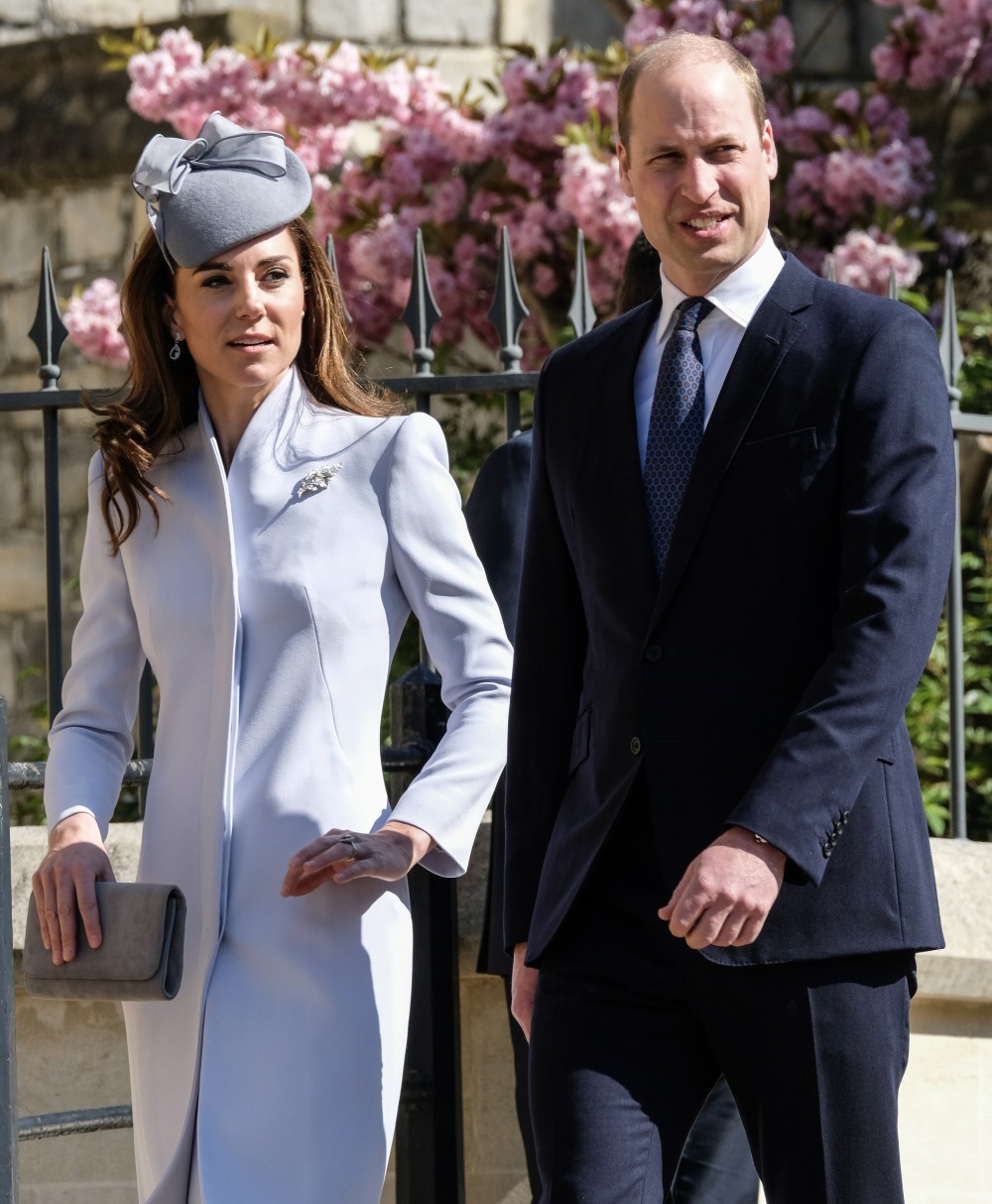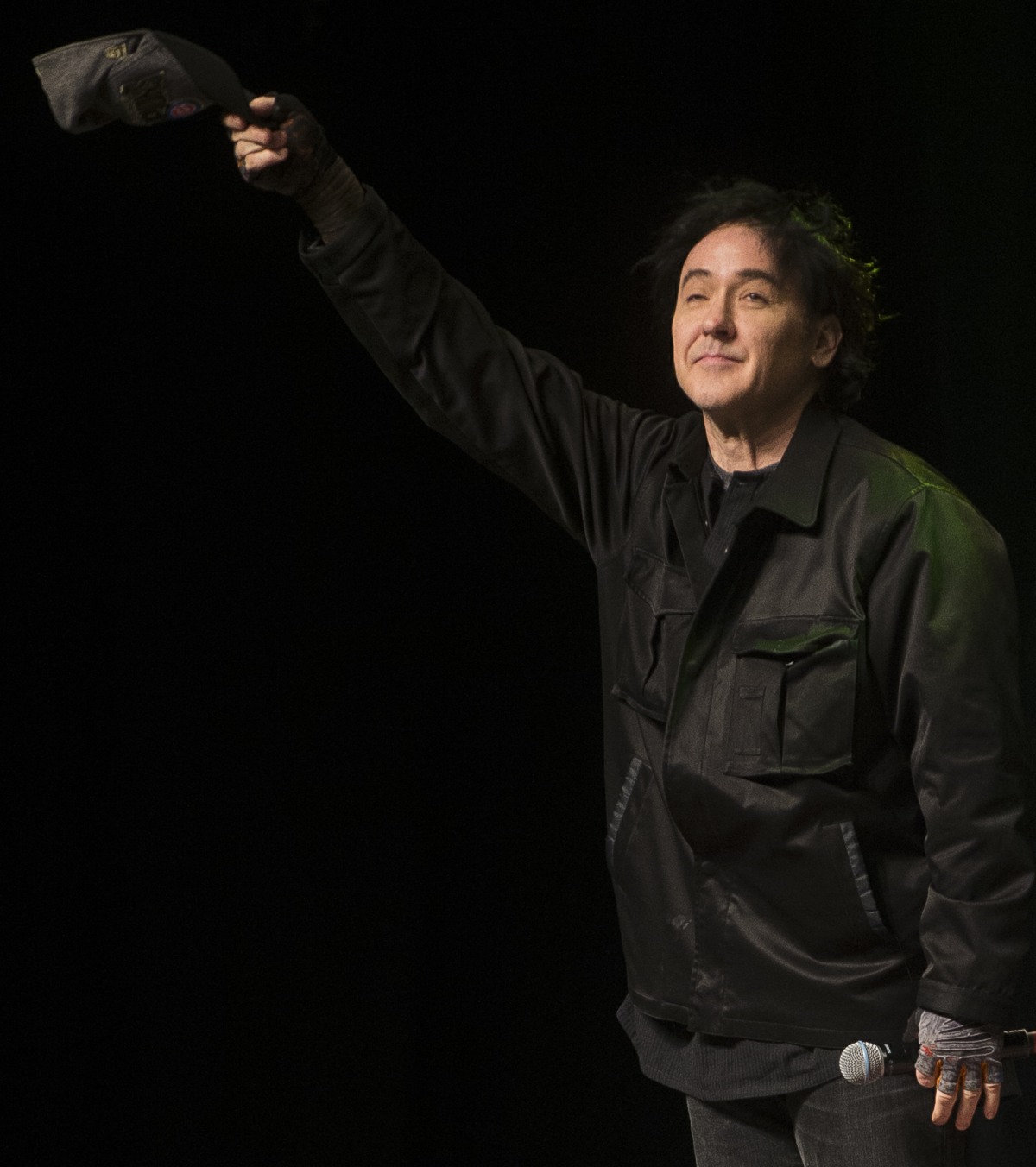 During the Keanu Reeves Renaissance (the Keanaissance), I described him as the only unproblematic dude from his generation of actors. It's true though. Name another actor between 45 and 55 who has such a great, unblemished reputation professionally and personally. Well, add another one to the Problematic Pile, because John Cusack insists on being the worst. Cusack used to have a Keanu-like reputation back in the day – great guy to work with, not a lot of drama in his personal life. But the years have not been kind to John Cusack. He's one of those guys who used to be genuinely progressive and anti-Establishment and then the sh-t just got crazy and racist and anti-Semetic as he got older.
Yesterday was a new low for Cusack. He decided to retweet an anti-Semitic cartoon which looks like the kind of thing that would have been published in the Berlin Gazette in 1935. I'm not going to even publish it here, but you can see it on this thread. After Cusack retweeted the cartoon with the message "Follow the Money." Because I guess the anti-Semitic image wasn't enough, he had to go deep on the racist trope. After that, Cusack tweeted several defenses of his retweet, and then the sh-t continued to hit the fan, so he then claimed that a "bot" got him:
4. See what I mean? Why do his tweets look this way? pic.twitter.com/iBC4TNvPPy

— Yashar Ali 🐘 (@yashar) June 18, 2019
Which makes no sense, since he was literally defending his "follow the money" tweet anyway. Also: I just spent about three minutes on his Twitter feed and I seriously got a headache from it. I think I knew that he's a Bernie Sanders supporter, but his feed really does look like one of those rando Russian-bot accounts made to stir division about race wars and sh-t. Could it be that a "bot" didn't hack Cusack's Twitter? Could it be that Cusack is himself a shadowy Russian bot?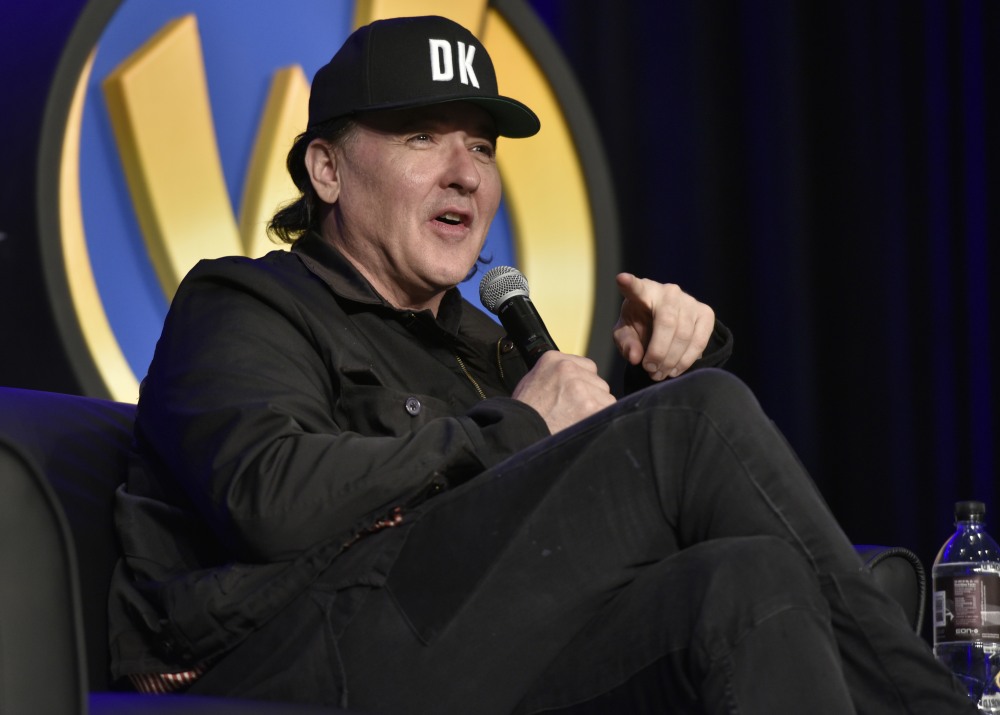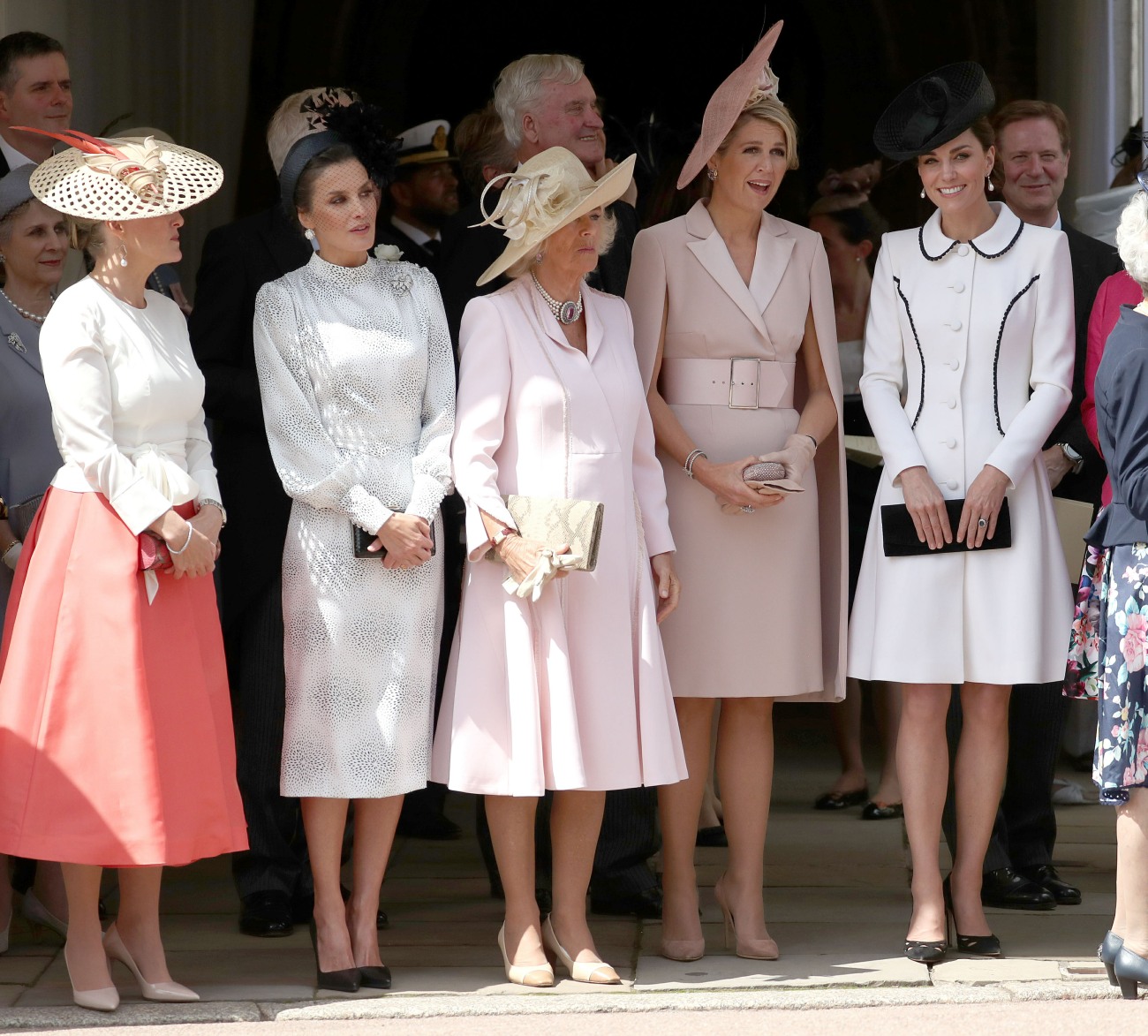 As promised, here are some photos from the annual Order of the Garter event in Windsor Castle. This year was more hyped than previous years, because the Duchess of Cambridge made an appearance to support her husband (who is a Knight of the Garter), and Queen Maxima and Queen Leitizia were also in attendance because their husbands were being made Stranger Knights of the Garter. I did some coverage yesterday with the photos we had at the time. Thankfully, more pics came in throughout the day, so here we go.
Duchess Kate wore a new ensemble – a coatdress, shocking! – by Catherine Walker, and paired it with a Lock & Co hat which I'm sure we've seen before. I dislike the coat – the black piping plus the collar just makes this too cute, too dolly, too buttony. Like, Queen Letizia is almost a decade older than Kate, and Letizia looks so much better and more sophisticated in her Cherubina dress. Queen Maxima also looked amazing in her pink caped-sleeve look.
As for the body language, it genuinely seemed like Maxima and Kate got along quite well – Maxima couldn't stop laughing out loud at her husband in that gaudy velvet ensemble required of all Knights of the Garter. Kate looked like she was giggling too. But Queen Letizia didn't seem that amused. Maybe it was because Kate seemingly broke protocol and didn't acnkowledge her with a courtesy curtsy? And before everyone starts yelling at me or each other, just pretend for a minute this was Meghan ignoring a foreign queen and refusing to curtsy in public. Imagine how many hateful essays Piers Morgan would write. Imagine all of the Protocol Police Officers flashing their badges and telling us how Meghan is WRONG and a DIVA.
👀👀👀🤣🤣🤣🤣 pic.twitter.com/shMvfUq0HV

— ⭐️ Just Juliette ⭐️ 🇫🇷🇮🇩 (@RoyalDetective8) June 17, 2019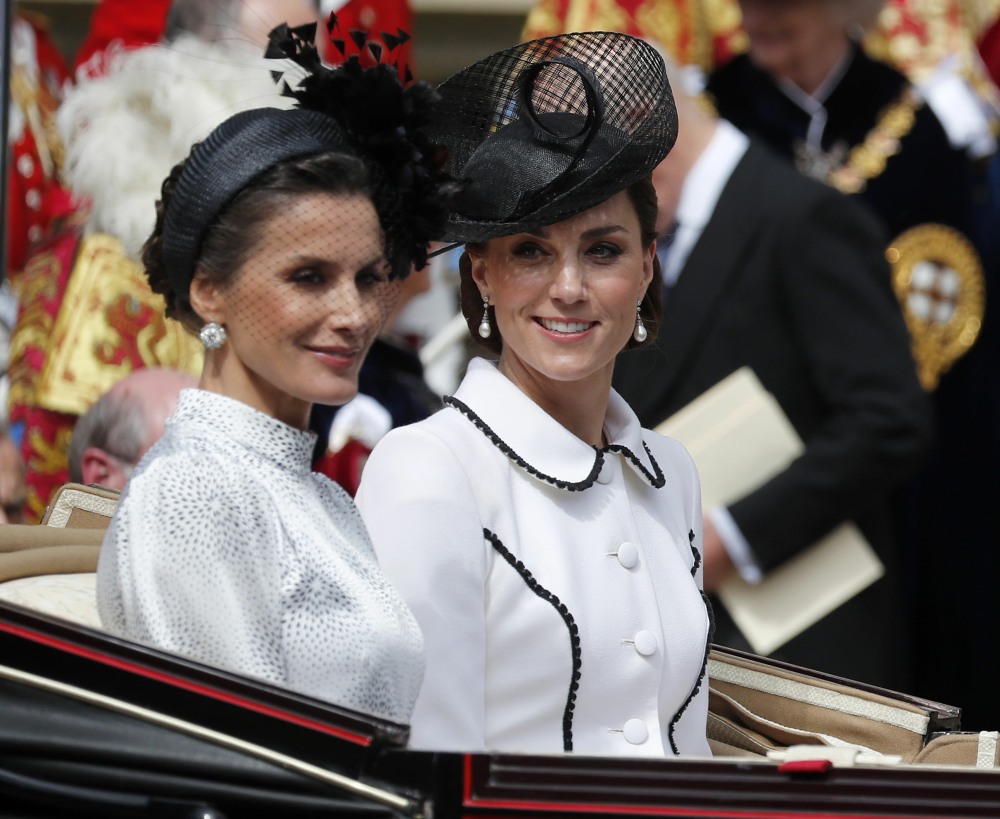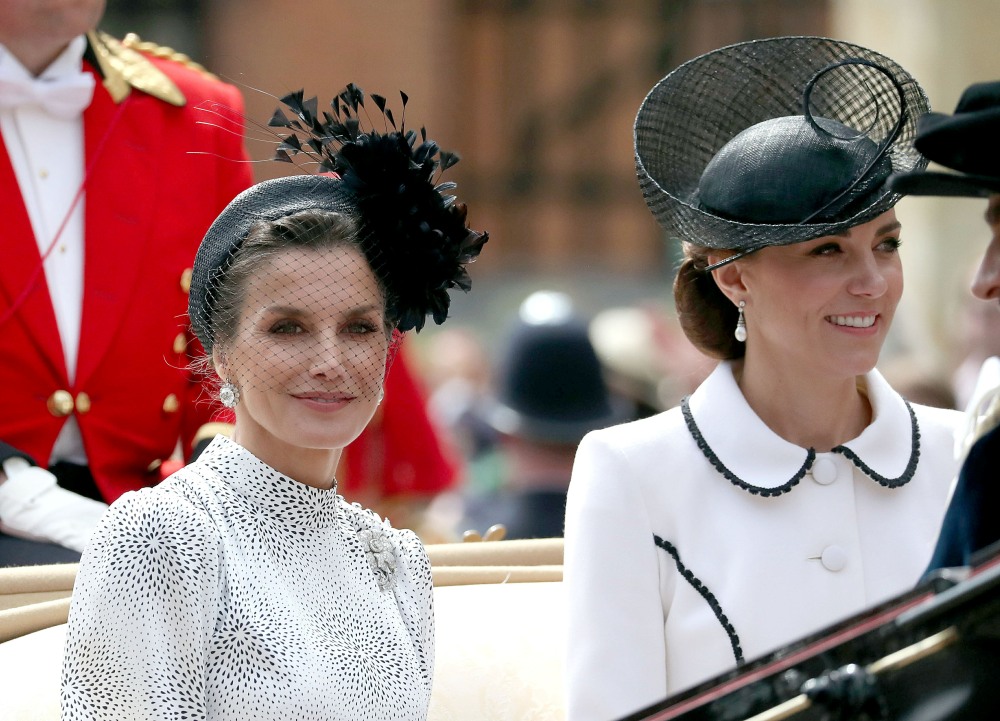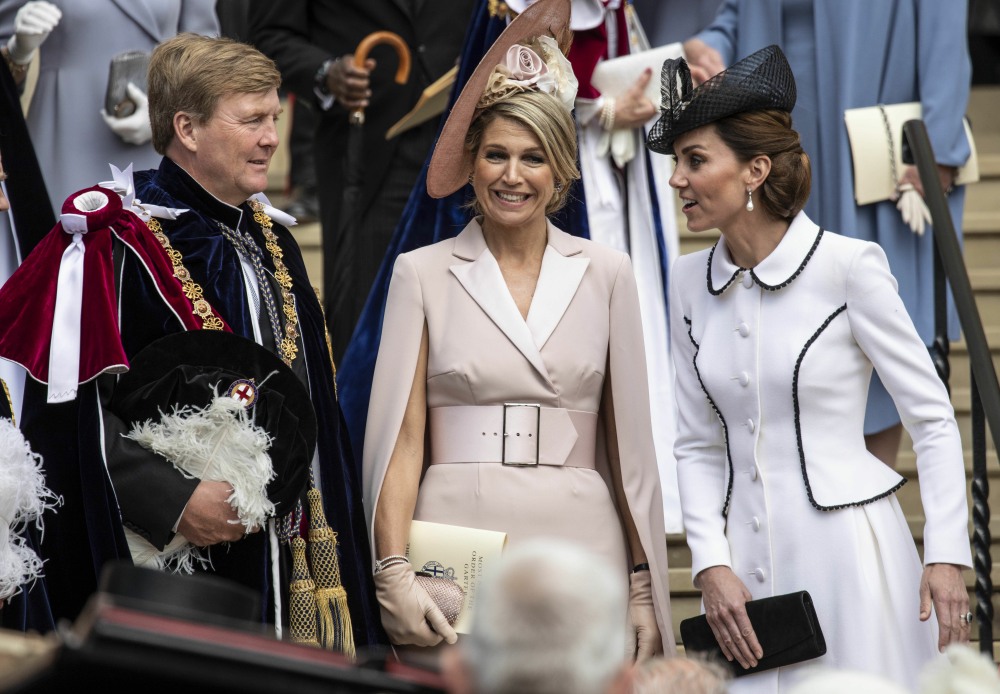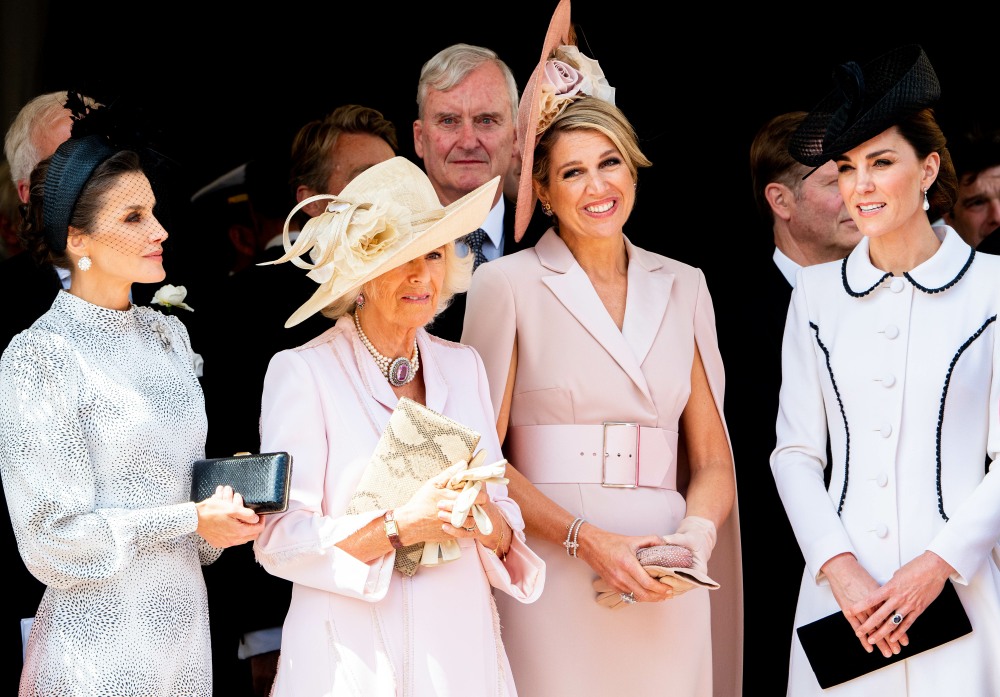 Something I continue to find interesting about Taylor Swift's evolution is how little she actually evolves, and how much the conversation around her has genuinely evolved. If she had released the "You Need to Calm Down" video four years ago, I think people would have been too scared of her power to say sh-t about the queerbaiting, the stereotyping and the genuinely questionable lyrical composition to boot. One could argue that Taylor is just trying to be an ally and for that alone, we shouldn't criticize her. One could also argue that she's only coattailing onto a widely popular cultural issue (gay rights) after years of silence, and what's worse, she's equating her own detractors with violent homophobes. And she's the one profiting from it all and doing it all to sell music. Basically, I don't think "You Need to Calm Down" was the slam-dunk she thought it was. Which is probably why she wants us to focus on the Katy Perry aspect of it. Taylor spoke to a radio show yesterday about burying the hatchet with Katy:
There's no more "Bad Blood" between Taylor Swift and Katy Perry. Following the release of her music video for "You Need to Calm Down," in which Perry, 34, makes a cameo, Swift, 29, updated fans about their reconciliation after having a complicated relationship for years that seemingly inspired their songs "Bad Blood" and "Swish Swish."

"[Katy] and I have really been on good terms for a while," Swift told the U.K.'s Capital Breakfast radio show about putting an end to their feud last year. "She sent me a really nice note and an olive branch — like an actual olive branch — to my tour when it started, the Reputation Stadium Tour, a while ago. From that point on, we've been on good terms."

The pop star, who recently revealed the name of her upcoming album Lover, recalled how she and Perry made peace, something Perry made a reference to when she shared a photo of a plate of chocolate chip cookies with the words "Peace at last" written in red icing above the treats.

"We saw each other at a party and walked up to each other and hugged it out and talked about things. Then saw each other again and hung out at another party," Swift shared. "It was just like something felt so much lighter about my life when things became really good between us."

The singer also revealed that she and Perry have been on good terms for a while but wanted to make sure they were "solid" before announcing their reconciliation to fans.

"You know, she and I have been fine for a while and really on good terms but we didn't know if we were ever gonna really tell people about it. We wanted to make sure that was solid between us before we ever made the public aware," Swift said.
You know what? I'm still f–king mad on Katy's behalf. Katy didn't do ANYTHING. She didn't do anything but have good friends who were backup dancers, and those dancers chose to work with Katy rather than Taylor. And that's why Taylor began her years-long campaign to malign Katy and to show the world that she (Taylor) has more friends than Katy. And then Katy went through that peace & love phase where she didn't want all of that petty bullsh-t in her life, and so she apologized to Taylor just to get the ball rolling. And Taylor forgave her (FOR WHAT?) and then made Katy wait more than a year to confirm that they were no longer beefing? Once again, Taylor waited until it was convenient for her, until she found some way to profit from it. Just like her LGBTQ+ allyship.
Just like my life, this video was co-executive produced by @todrick 😸 pic.twitter.com/AObdtkYl0w

— Taylor Swift (@taylorswift13) June 17, 2019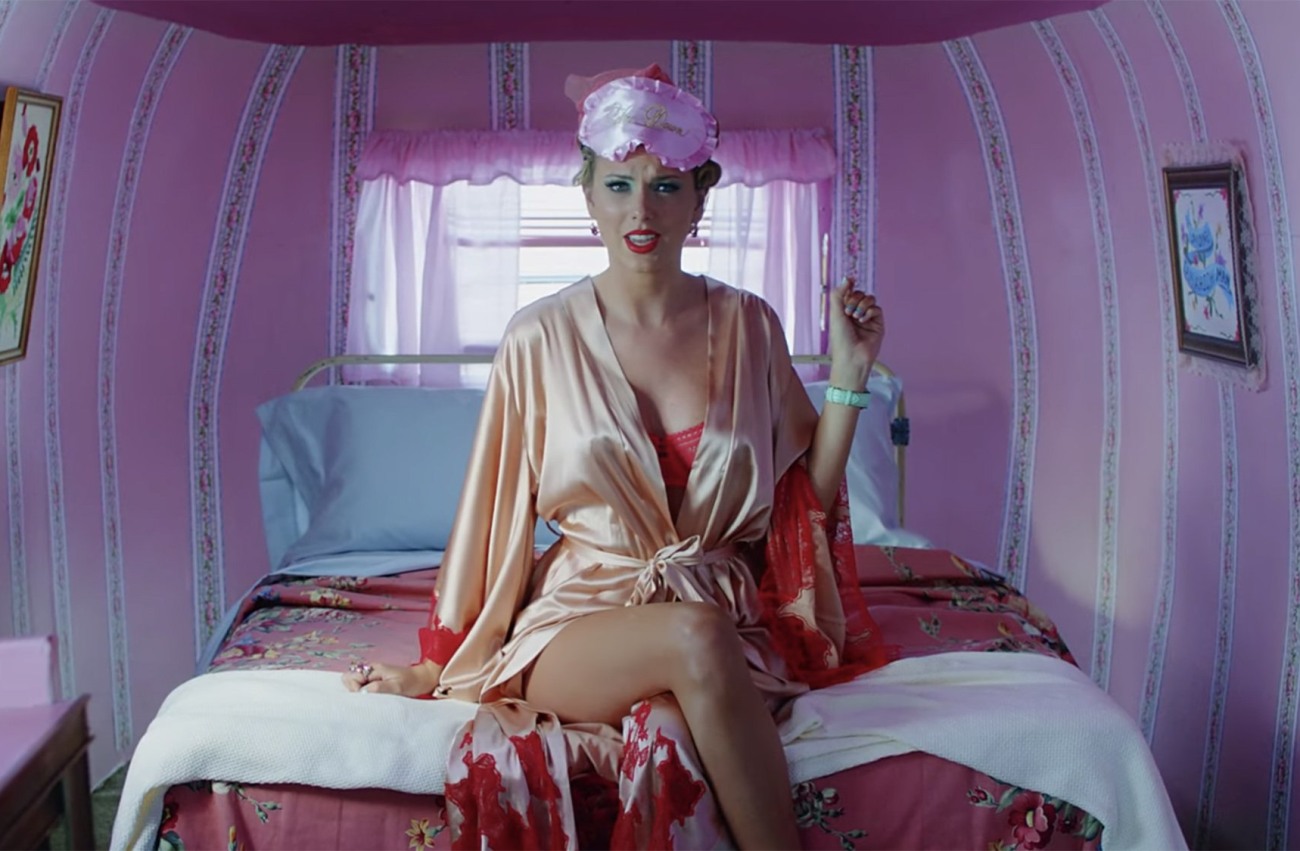 Photos courtesy of Taylor's Instagram, video.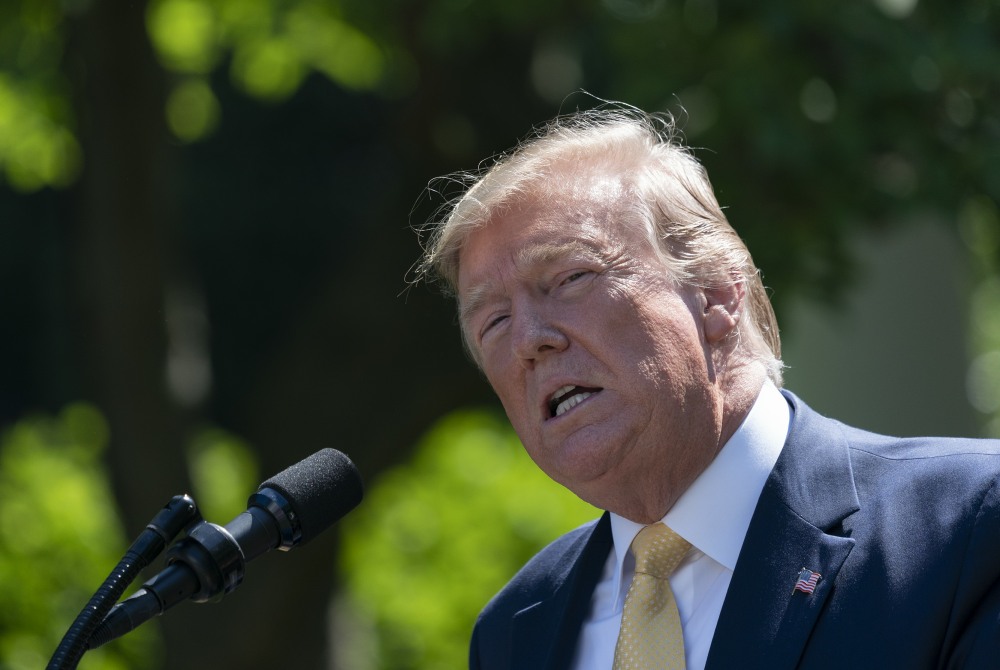 I'm actually pro-campaign finance reform, I just don't consider it one of the most important issues of any election cycle. There's too much immediate sh-t to deal with than to get into some kind of political navel-gazing debate about dark money, lobbyists and corporate interests. Plus, I've always felt like if people were dumb enough to vote against their own interests because of a corporate-sponsored campaign, then we all get what we deserve. Also, if we're going to have a conversation about campaign finance reform, we should also have a larger conversation about how the media has utterly abdicated their responsibility to promote and conduct substantive conversations on the issues.
Major media outlets would rather spend the money on polling two years away from a presidential election than spend money on real reporting. And politicians follow suit – it's profoundly stupid to think that "the polls" right now, mid-June 2019, will have anything to do with the political situation in September 2020, which is when most people will actually make their voting decisions. All of which to say, I f–king hate talking about polling, especially at this point. But we are. And it's predictably dumb – Donald Trump fired his pollsters after they found that his re-election campaign is struggling.
President Donald Trump's re-election campaign is cutting ties with some of its own pollsters after leaked internal polling showed the president trailing former Vice President Joe Biden in critical 2020 battleground states, according to a person close to the campaign. The move comes after NBC News obtained new details from a March internal poll that found Trump trailing Biden in 11 key states. Portions of the campaign's expansive March polling trickled out in recent days in other news reports.

But a person familiar with the inner workings of the Trump campaign shared more details of the data with NBC News, showing the president trailing across swing states seen as essential to his path to re-election and in Democratic-leaning states where Republicans have looked to gain traction. The polls also show Trump underperforming in reliably red states that haven't been competitive for decades in presidential elections.

A separate person close to the Trump re-election team told NBC News Saturday that the campaign will be cutting ties with some of its pollsters in response to the information leaks, although the person did not elaborate as to which pollsters would be let go. The internal polling paints a picture of an incumbent president with serious ground to gain across the country as his re-election campaign kicks into higher gear. While the campaign tested other Democratic presidential candidates against Trump, Biden polled the best of the group, according the source.
Biden polls the best because of name-recognition and the fact that the only thing media people want to talk about IS THE POLLING. It's self-fulfilling prophecy at this point. But still, I guess it's funny that Trump fired his pollsters. It's funny that he's that much of a thin-skinned despot who can only listen to praise and lies. It's funny that he's going to shop for pollsters who will tell him what he wants to hear. But as I said, if you want to believe that Trump's numbers are struggling, you also have to believe that Biden has the best shot at the Dem nomination. And I refuse to accept that.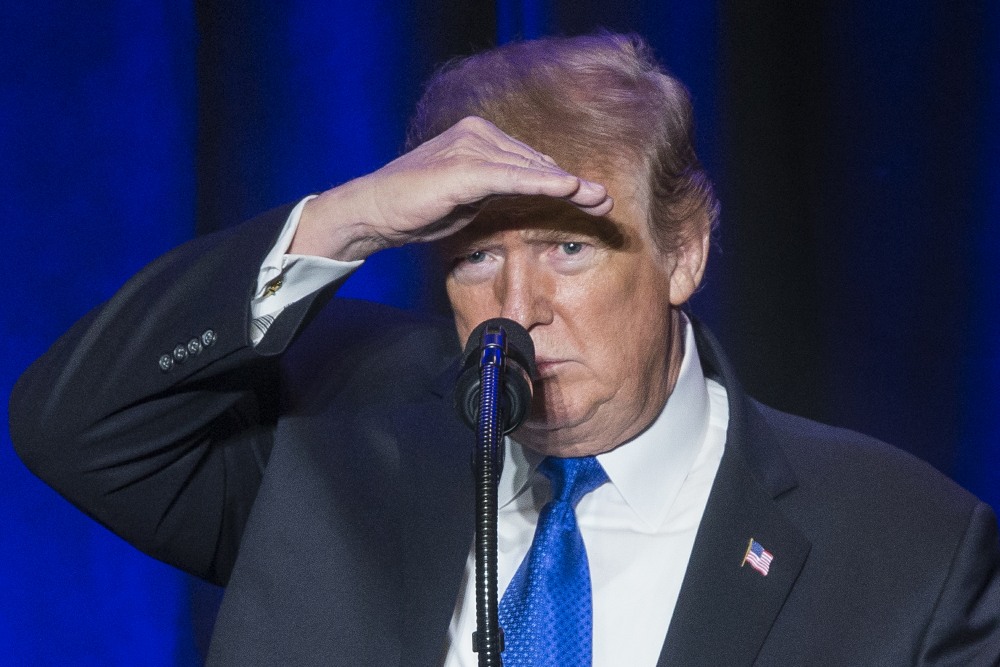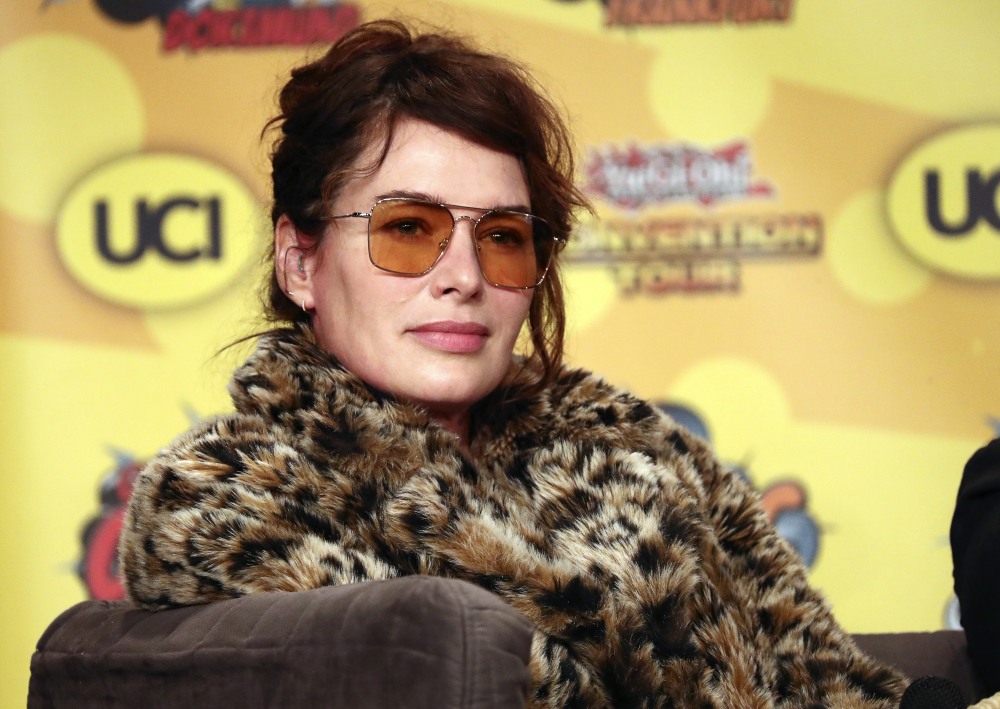 Lena Headey has a new interview in The Guardian to promote her latest film, The Flood, about the refugee/migrant crisis in Great Britain. But because her promotion for this film is happening so soon after Game of Thrones ended, much of the interview is about that. Lena remains pretty classy about the last season, perhaps choosing to focus on all of the good work she did on the show and not on the terrible final season where she basically just stood around smirking (and getting paid $1 million per episode to do so). She doesn't throw anybody under the bus, but she does admit to… wishing for a better death for Cersei. Hard agree. You can read the full piece here. Some highlights:
On the final season & why she thought it fell apart: "No, listen. I invested as a viewer and I have my favourite characters. And I've got a few of my own gripes. But I haven't sat down drunkly with David [Benioff] and Dan [Weiss] yet." What will she say when she has that drink? "I will say I wanted a better death. Obviously you dream of your death. You could go in any way on that show. So I was kind of gutted. But I just think they couldn't have pleased everyone. No matter what they did, I think there was going to be some big comedown from the climb."

The Thrones cast is on WhatsApp: "We're all on a giant WhatsApp group which is a daily pile-on. It's hilarious. You can tell who's been drinking on that one."

How she felt at the end of the show: "It was amazing. And things end and you move on. When I was much younger I would weep every time I ended a job, and I would take everybody's phone number, every single person I'd ever said hello to, because it had been such an intense experience. And then you get older and you have more of those experiences and they become less intense. I think the guys who grew up on that show, they probably formed really deep friendships that will carry them through. But most of us have our own kids. If kids don't balance you, then nothing does."

She got the on GoT because of Peter Dinklage: "We were doing this little indie in LA called Pete Smalls is Dead. And we were all sharing like one square of a hot caravan. Pete said you've got to read this. I love Pete. I think he's wonderful and so I was like: 'Oh, if Pete's reading it, it must be f–king great.' That was my measure."
One of my favorite things about Game of Thrones is the fact that Peter Dinklage and Lena were, like, BFFs off the set. They were good friends before they were even cast in GoT and they spent a lot of time together during the decade of filming. I think that's so cool. But yeah, I mean, what can she say? "The last season was dreadful, I hate what Dan and David did to it"? She could say that, but she would get bashed for telling the truth. And yes, Cersei needed a better death. I feel like David and Dan completely misread the audience there – I'm not saying Cersei needed the most grisly death ever (although it wouldn't have hurt), but she DID NOT deserve the "heroine's death" they gave her with the swelling music, dying in Jaime's arms. Enough.
Meanwhile, check out this "deepfake Jon Snow" apologizing for the last season: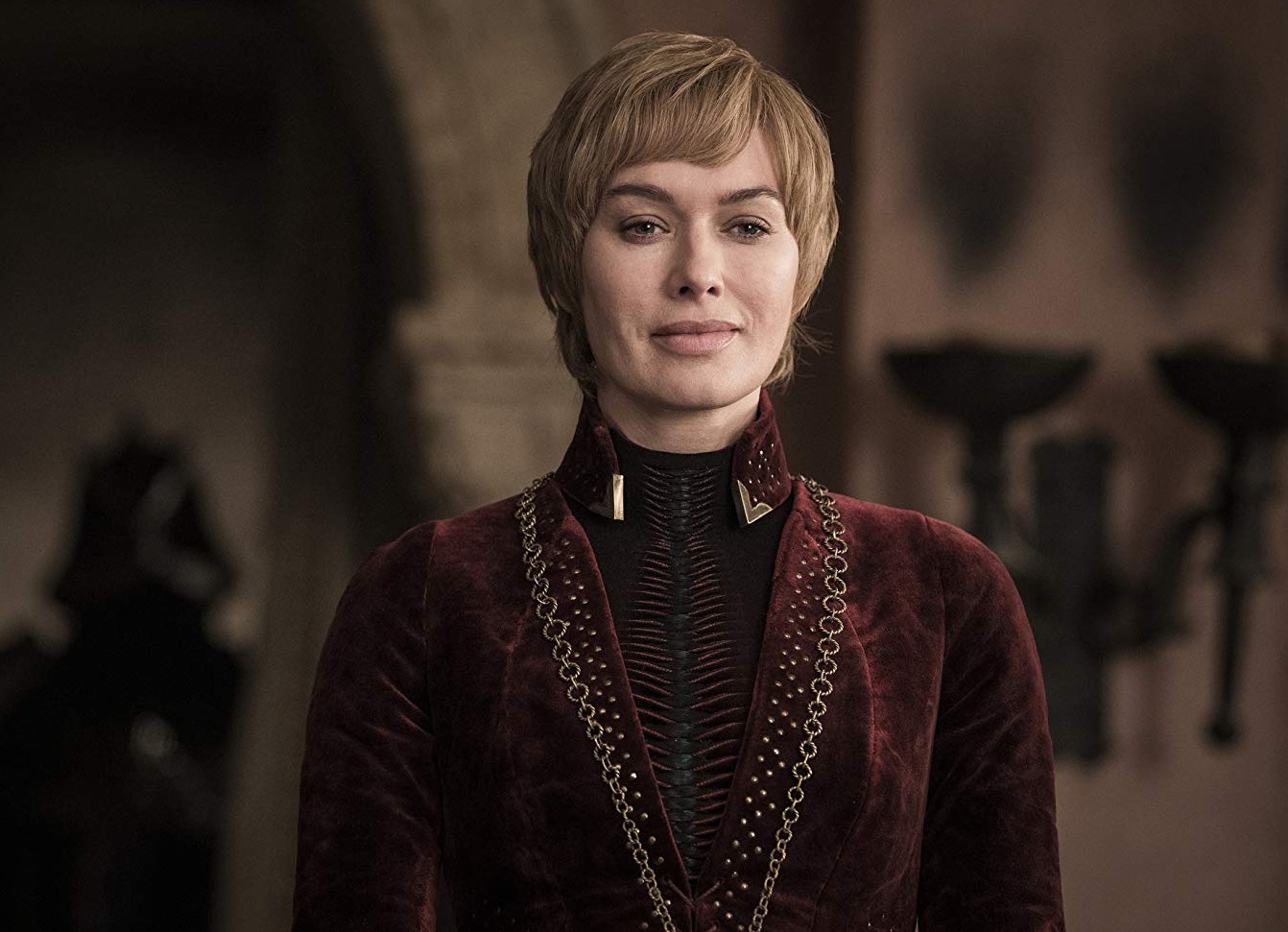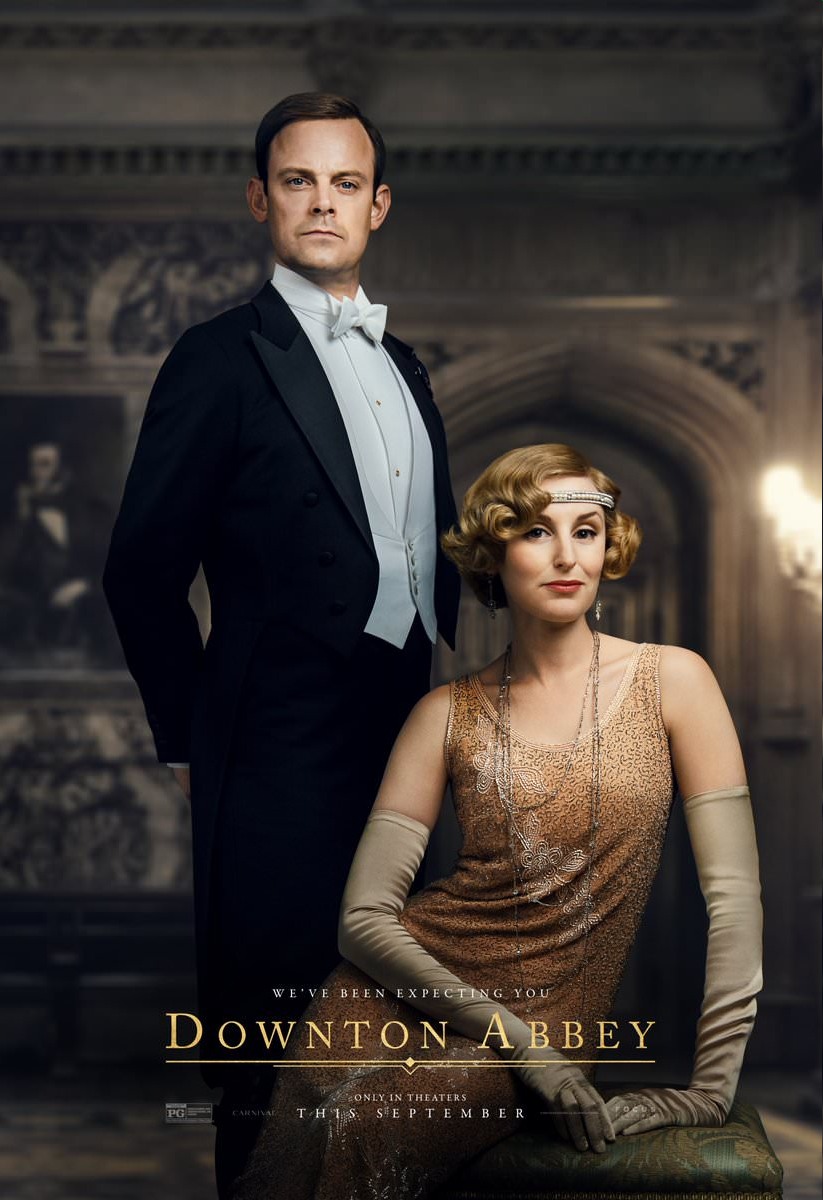 When the full-length trailer for the Downton Abbey movie came out a month ago, I found myself getting into it yet again. I watched all of the original DA television show, and while I maintain that it was mostly a bitchy, overwrought soap opera with costume p0rn and English estate p0rn, I find that I still have so much affection for many of these characters. Edith was such a lost soul, always the "ugly sister," and then she found a nice guy and it turned out that he inherited some fancy-pants Scottish title and now she lives in a castle bigger than Downton. Lady Mary was such a mega-bitch throughout the series but after Cousin Matthew's death, I softened on her a tad (she was still a mega bish though). And now she's married to… the owner of a garage. Seriously.
Anyway, the point is that I find myself truly looking forward to the movie and I am here for any hype about it. The new character posters were just released this week and I LOVE THEM. I find the pairings very interesting…why not Matthew Goode with Lady Mary, why is Mary paired with the Dowager Countess? And my lord, EDITH LOOKS AMAZING. The film is set in 1927, the height of the Roaring Twenties, when that flapper style was simply everywhere. It's some kind of petty justice that Mary looks like ten kinds of hell with her trendy '20s hairstyle and Edith looks like the chicest flapper ever.
Do you want to watch another trailer? I haven't seen this one before, this must be the UK trailer edit. It explains more about the flurry of activity around the king and queen's visit to Downton. Who's playing King George V?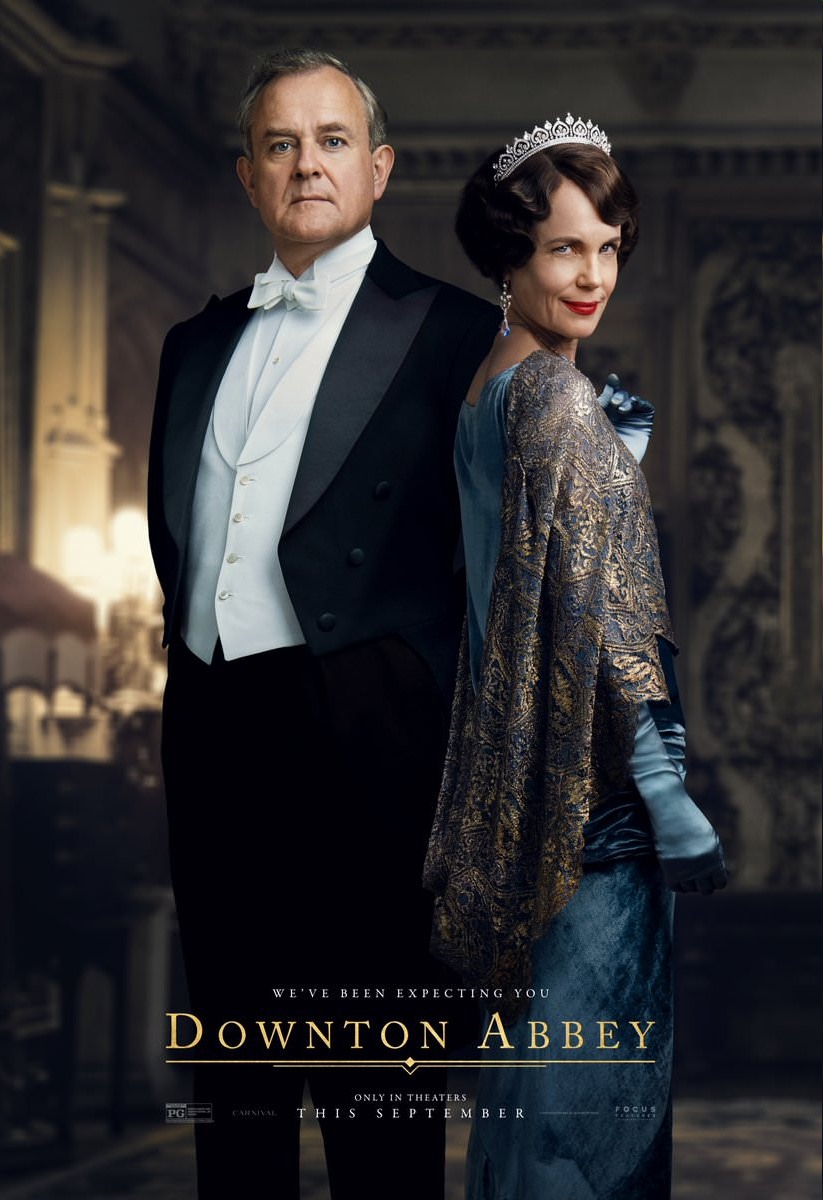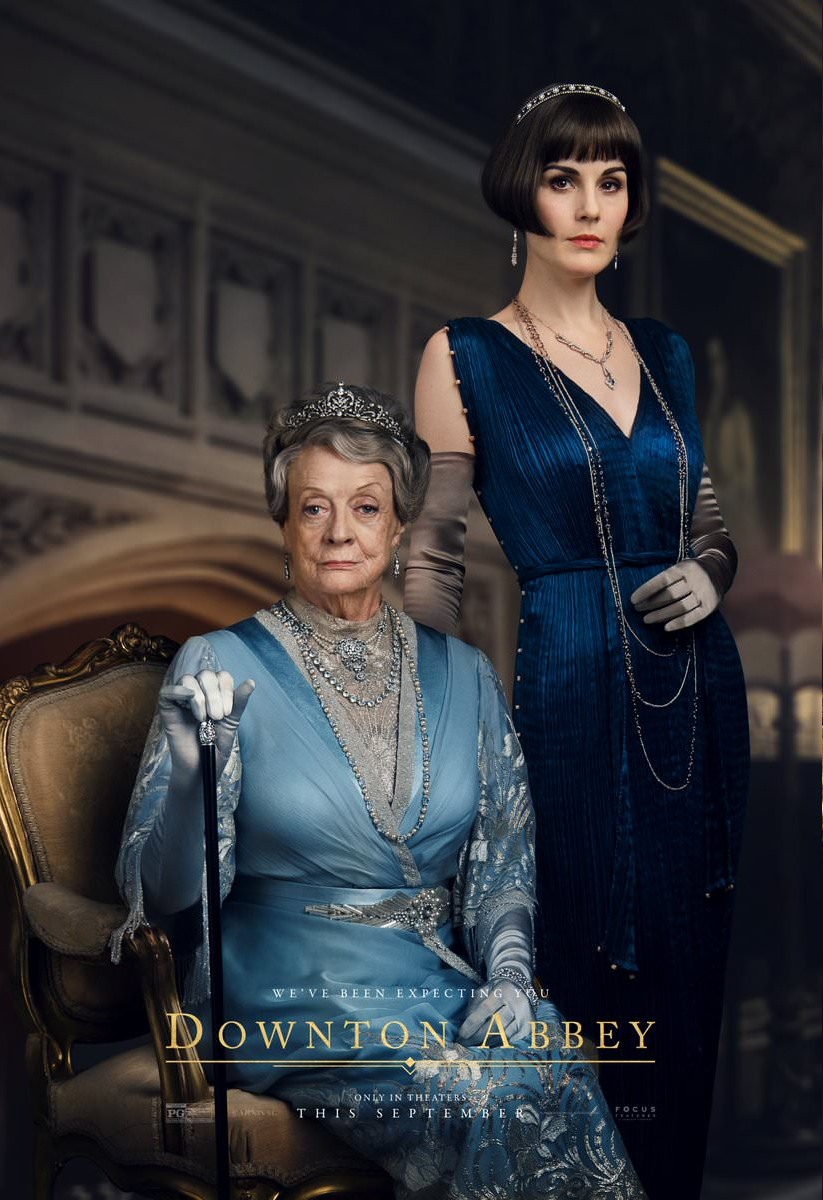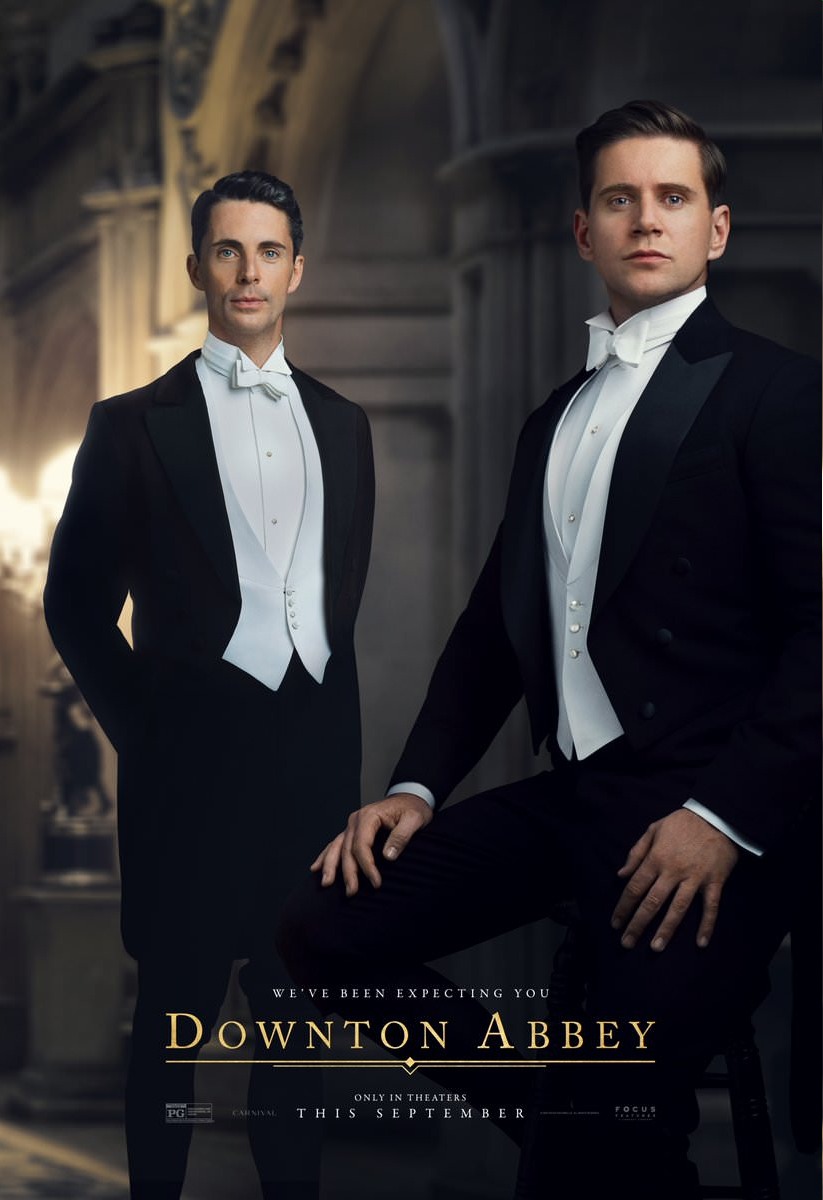 Kaiser's RSS Feed