Kaiser
This user hasn't shared any profile information
Home page: http://www.celebitchy.com
Posts by Kaiser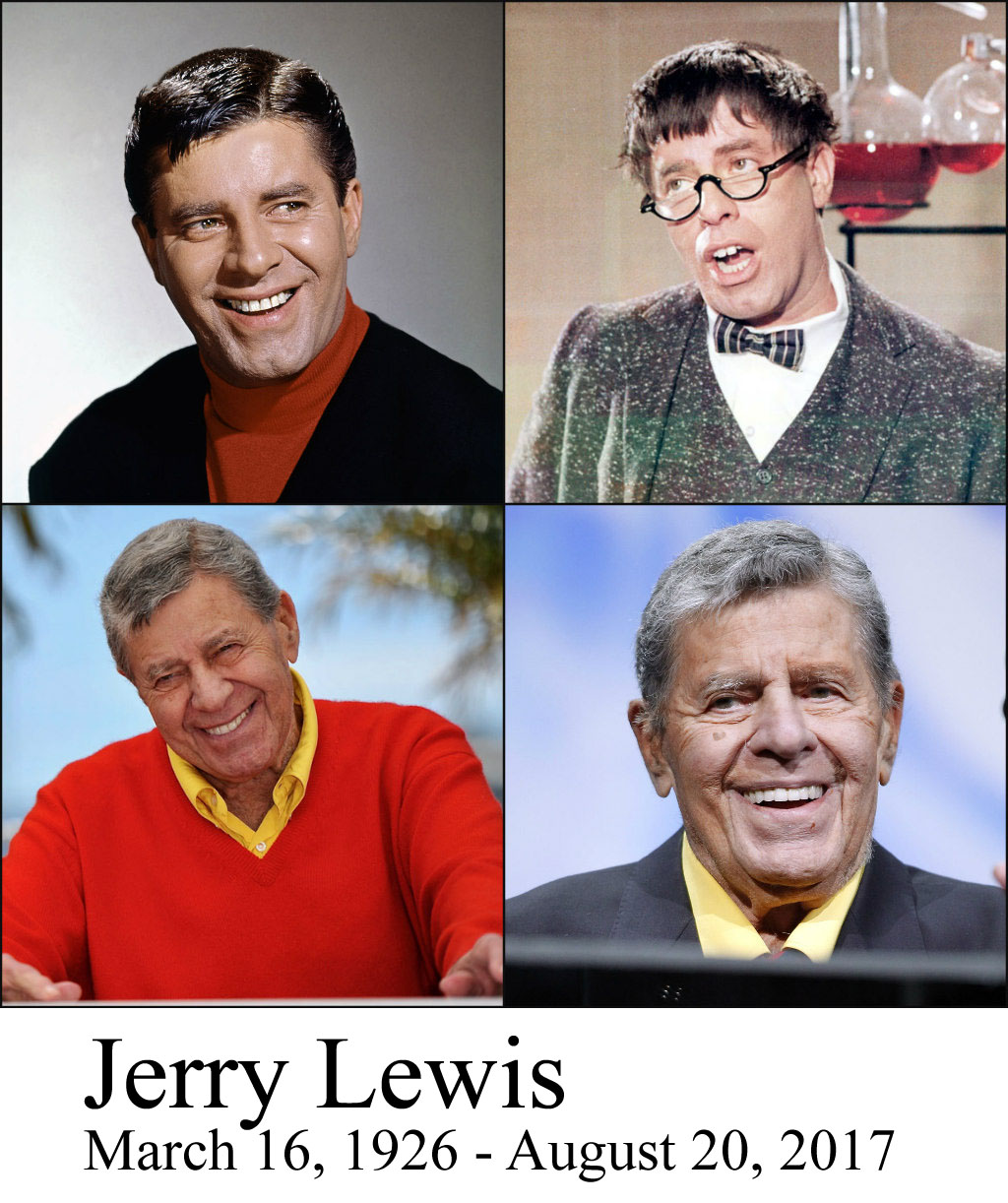 Comedy icon Jerry Lewis has passed away at the age of 91. [Dlisted]
So did Steven Soderbergh write Logan Lucky or what? [LaineyGossip]
I loved that the little Danish prince had a little cry on the first day of school. [GFY]
Rest in peace, Dick Gregory, another comedy/civil rights icon. [Jezebel]
John Oliver talks about nuclear waste. [Pajiba]
Kate Upton is really into necklaces right now. [Popoholic]
Anna Duggar is apparently pregnant again, for real. [Starcasm]
Tyler the Creator had a boyfriend when he was 15. [OMG Blog]
Lily Sheen looks a lot like her mom, Kate Beckinsale. [Celebslam]
A grandmother is now married to a carrot, I think. [The Blemish]
I feel like shaking every person on 90 Day Fiance. [Reality Tea]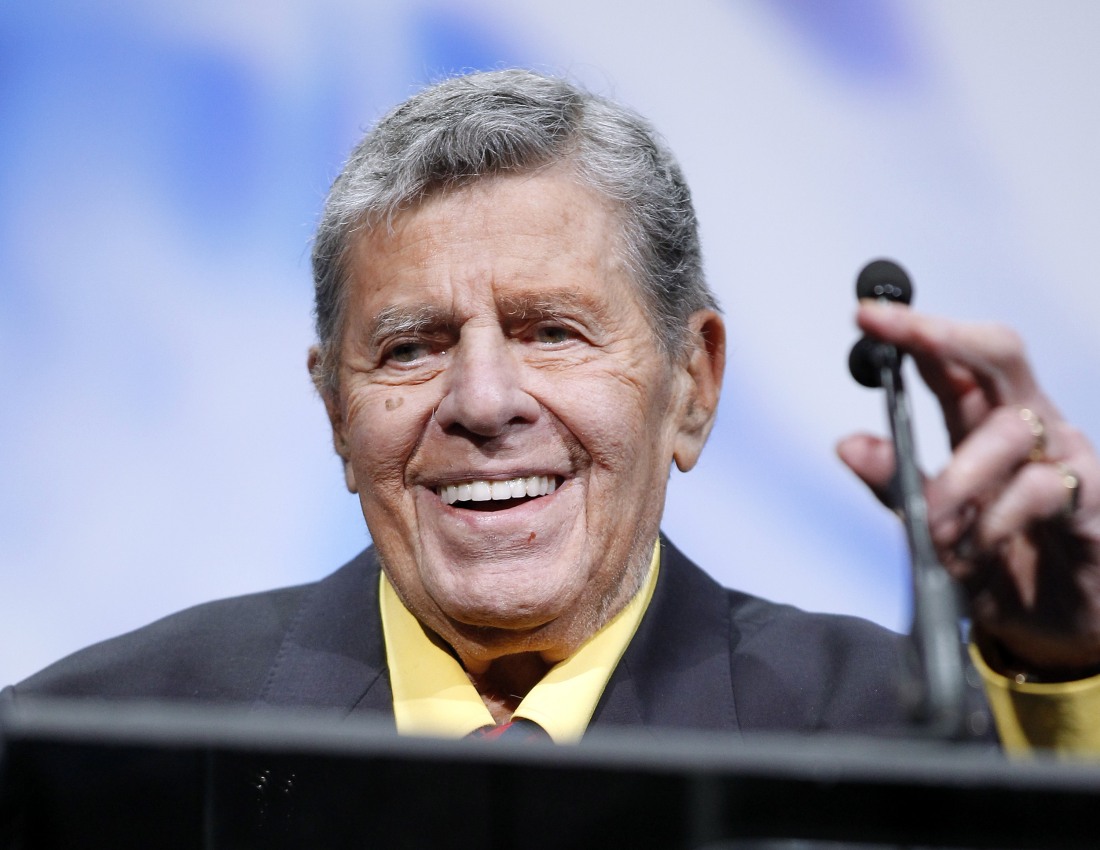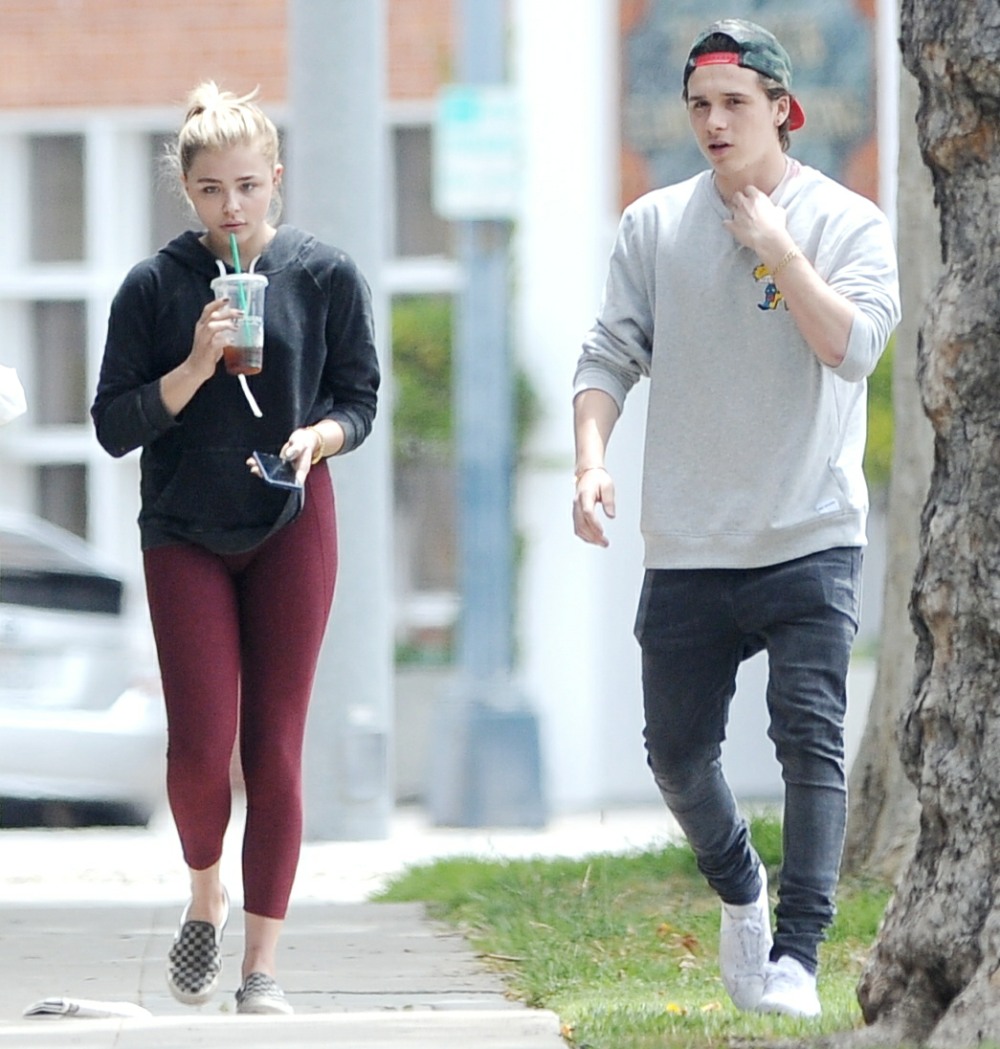 For about five months or so in 2016, Chloe Grace Moretz and Brooklyn Beckham were a thing. They dated and it was intense, and it was pretty public too – they were photographed all over the place, walking around LA, going on dates, etc. Chloe made references to her "boyfriend" in several interviews and there didn't seem to be much secrecy around them. I kind of liked how open they were about it – instead of seeming like famewhores, they just seemed comfortable with each other, and like they weren't taking themselves too seriously. By the end of the summer, Brooklyn and Chloe were over though. It's been about 11 months, and Chloe, I assume, has been dating, although maybe not anyone serious. Brooklyn has been dating around too. But it looks like they're getting back together!
Brooklyn Beckham has got back together with Chloe Grace Moretz almost a year after they last split up. The pair attended a party together in Los Angeles last week where she openly told fellow guests they were giving their relationship another go.

The eldest son of David and Victoria dated the Kick-Ass actress for a year before splitting in 2015, before they reunited for five months last summer. Now they are back together and she has re-followed him on Instagram.

A party insider revealed: "Brooklyn and Chloe arrived together and she was chatting with other guests about how they had got back together. She was much more open about their relationship than him. They seemed very comfortable together. It was quite a wild party but they were both being quite chill and low key."

Their reunion comes just weeks before his move to the US to begin a photography course at university in New York. However, Carrie actress Chloe, 20, is currently based in Los Angeles, where she bought a home last year. She has stayed single since they parted ways last August. But Brooklyn, 18, has since been linked to numerous stars, including Pussycat Dolls star Ashley Roberts, 35, who he cosied up to at a Brit Awards after party in February. More recently, he has been spotted kissing US singer Madison Beer, 18, but she denied they were an item.
I said in the breakup story that these kids – generally, the teenagers and early 20s – seem to go through a lot of breakup-and-makeup cycles, and that Brooklyn and Chloe would probably end up getting back together. And here we go. Brooklyn is going to be in New York, and apparently he is going to formally study photography (which is good, because he's a terrible photographer right now), and Chloe is LA-based. So it probably won't last – bicoastal relationships are usually pretty tough. But I'm happy for these kids. Have fun!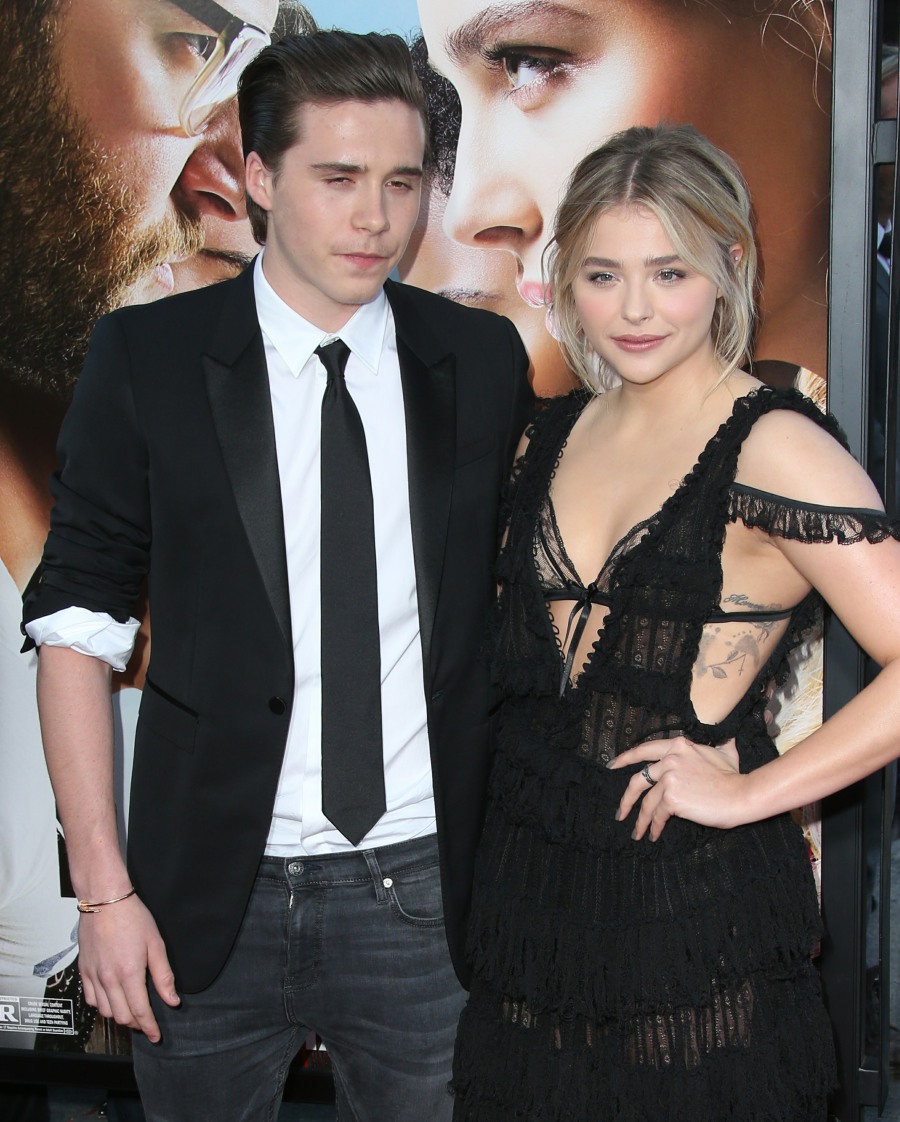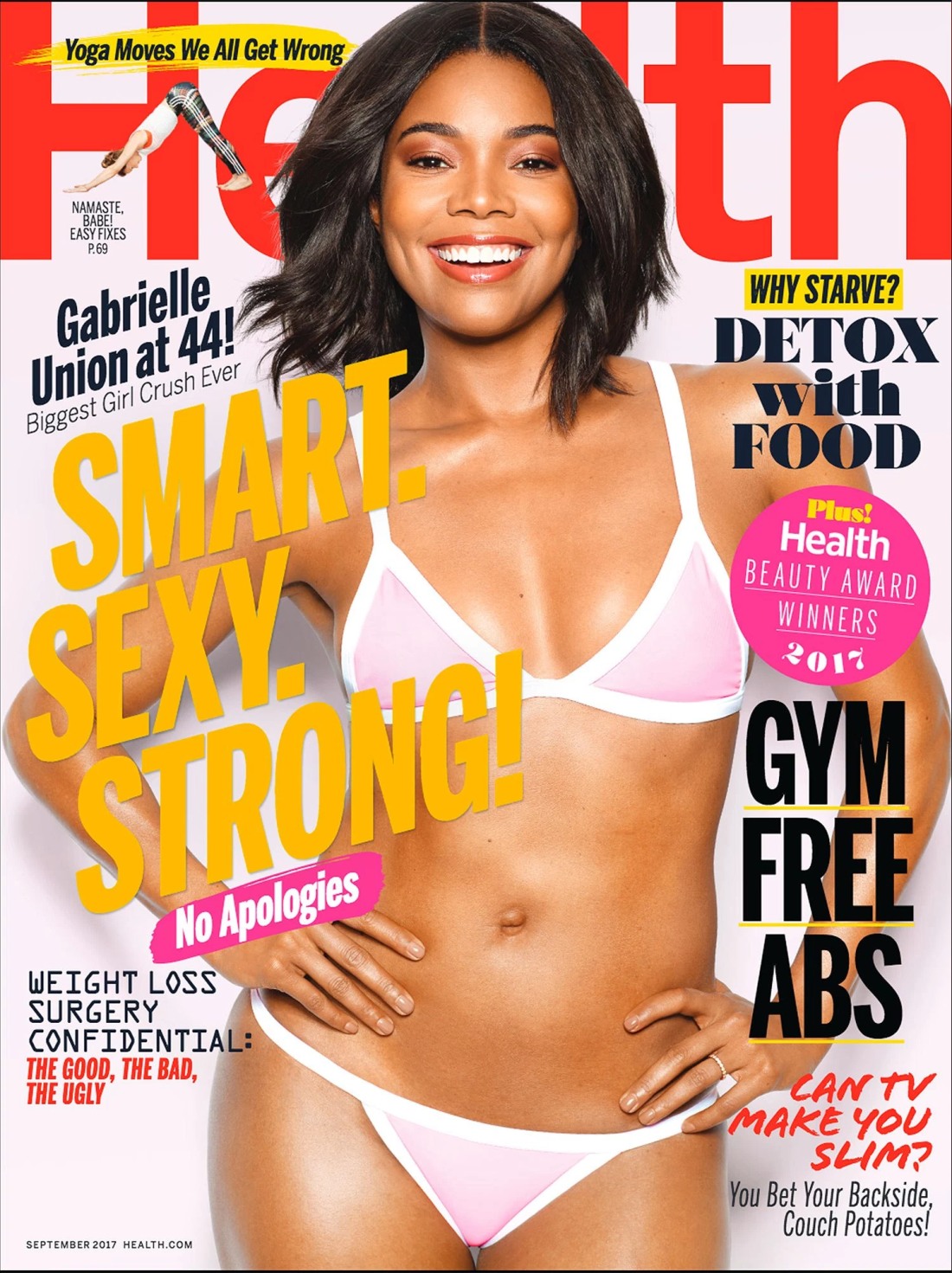 If I had Gabrielle Union's body, I would wear the crap out of this bikini. I would wear it everywhere. I would wear it to the gym. I would wear it to dinner at fancy restaurants. I would wear it to the Golden Globes. This is a seriously cute bikini. Gabrielle covers the September issue of Health Magazine, and I was expecting some boring "this is what I eat, just steel-cut oats and some carrots I dug out of my private garden" nonsense. But Gabrielle is realer than that. She would happily sleep in and eat pancakes every day if only she was never photographed. Some highlights:
On whether it's possible to have it all: "I don't think so. A mother, to have it all, has to somehow also provide a check, also be superfreak Kama Sutra down to the ground, be a size double zero, be super present in the PTA but still putting in extra hours at work. It is impossible. There are literally not enough hours. To me, having it all is not having it all and it being OK."

On social media haters: "If it kinda strikes a nerve, I need to know who said it. I deep dive into their social media. No one who's ever said anything super negative to me has an amazing life. Once I realized that, it's different than, like, J.Lo saying, 'Her squat form wasn't right.' Because she would know. But you, in your mom's basement, really?"

On workouts with her husband, NBA star Dwyane Wade: "[W]e like to walk through the neighborhood. Mainly because we're nosy. We want to see what houses are for sale."

On whether she likes working out: "I do not. I'm not one of those people, like, 'I can't start my day without it.' Nope. I can actually start my day beautifully, sleeping in, eating some pancakes."

On what keeps her motivated to work out: "Knowing that there are people who cannot wait to circle your fat and draw an arrow to it keeps me in the gym….. So between fearing health issues and fearing 'Stars, they're just like us! Look at their cellulite!'—that keeps me in the gym. Then when I get in there, I get competitive and won't leave. I basically have the Olympics happening in my mind with strangers. They don't realize we're competing, but I usually take gold. Mainly because they've left."

Her philosophy on living well, including drinking and eating bacon: "You know, my grandma lived to be 110, and she drank alcohol, like, every day. I don't drink every day. But if somebody's like, 'Shots!' I'm like, 'Yes!' If someone says, 'Bacon!' I'm like, 'Yes!' She lived. I definitely live."

On learning to not feel guilty: "We put guilt on ourselves because people are judging us. I have figured out how to say no and create comfortable spaces where I have real joy in my work, in my home, in my marriage, with the kids."

On when she feels sexiest: "Out there on the deck, when I have a bikini on, holding a cold beer, and my husband's there. I'm not in hair and makeup. I'm just chilling at home."
While I know this is just a version of the Cool Girl Bible – that you can look this beautiful at 44 and still drink beer and eat bacon – I actually sort of believe it with Gabrielle Union. I too would love to eat bacon and have a stiff drink every day, but that's not going to happen. Part of it is genetics, but part of it is that Gabrielle actually works for what she has and she isn't afraid to talk about that work and how we, as a society, have unrealistic expectations about "having it all" and how women are supposed to be all things to all people.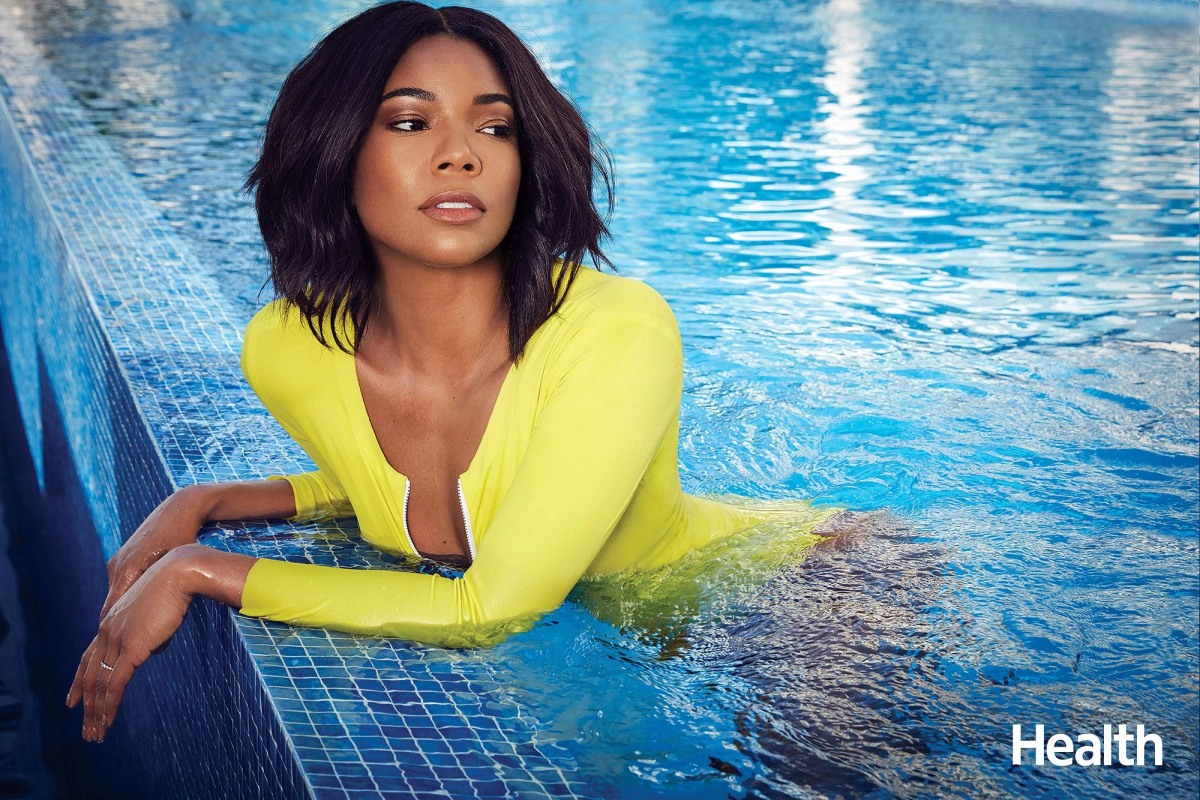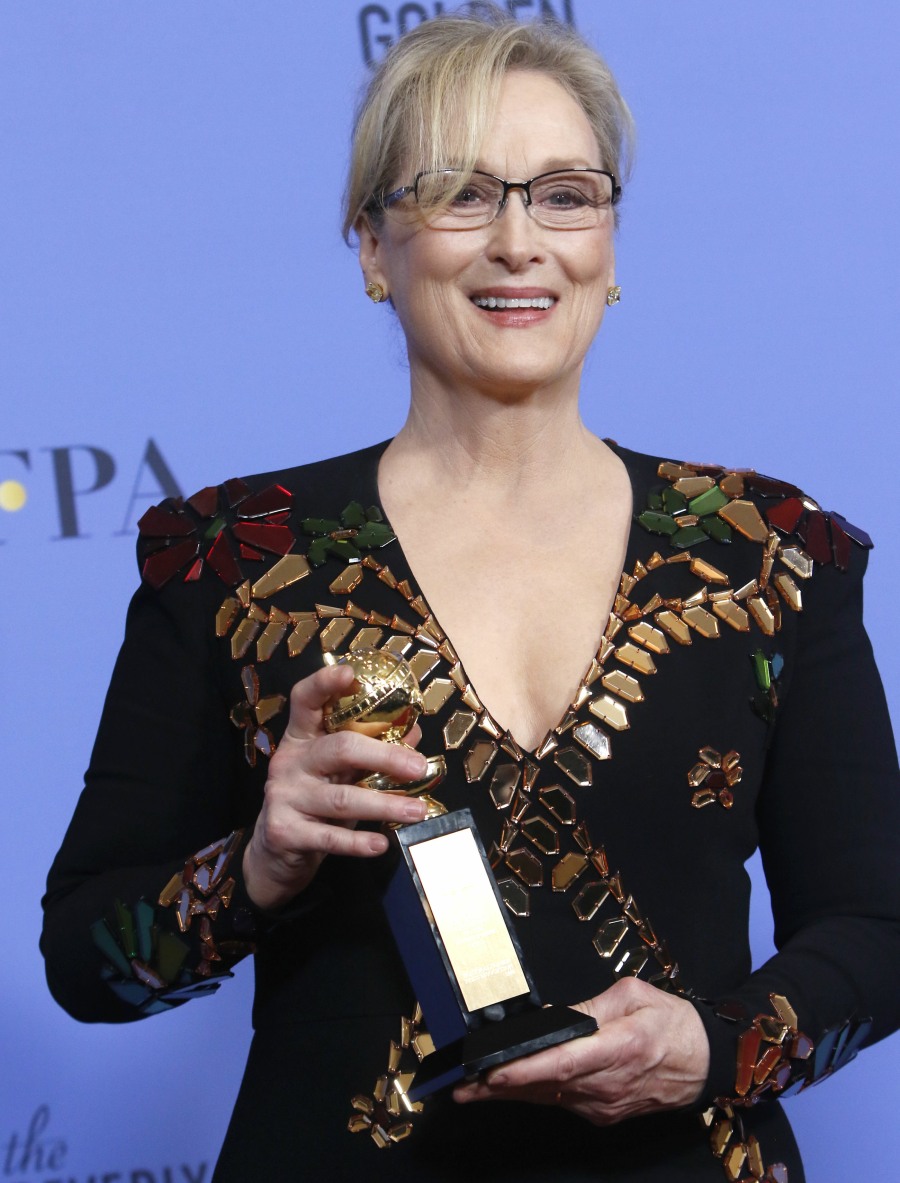 Meryl Streep was close friends with the late Carrie Fisher. Meryl starred in the "Carrie role" in the film adaptation of Carrie's wonderful faux-memoir, Postcards from the Edge. They knew each other for decades and Meryl attended Carrie's joint funeral with Debbie Reynolds. Meryl even spoke and sang at the funeral. And it seems like that was where Meryl said her goodbyes to her friend, and she doesn't want to continue mourning for Carrie in a public display at an awards show. This is according to Star Magazine – they claim the producers of the Emmys asked Meryl to do a special tribute to Carrie and Meryl has refused:
Meryl Streep is wishing the Emmys committee would let her rest in peace instead of badgering her to help with a tribute to Carrie Fisher.

"Meryl was asked to make a speech, but she doesn't want to go through the hassle of finding a dress, writing something and doing interviews for hours," revealed a friend close to Streep. "In fact, Meryl's annoyed they asked her – she feels like she's done enough."

Streep honored Carrie Fisher at the joint funeral when she sang "Happy Days Are Here Again" with Billie Lourd, Carrie's daughter. "Meryl had so much respect for Carrie, but privately she thinks all the memorials for her are going a little far."
[From Star Magazine, print edition]
I mean… I guess Star is trying to make Meryl sound like an a–hole, but I really believe that Carrie and Meryl were friends. Would you want to go on an awards show and have to "perform" your grief for your late friend in front of an audience of millions? Plus, Meryl literally has to attend about a dozen of these awards shows every single year, because she cannot even fart on camera without that fart being declared the fart of the year, and a special Fart Oscar being made up especially for Meryl. Meryl's 68 years old. Let her watch the Emmys from home in Connecticut.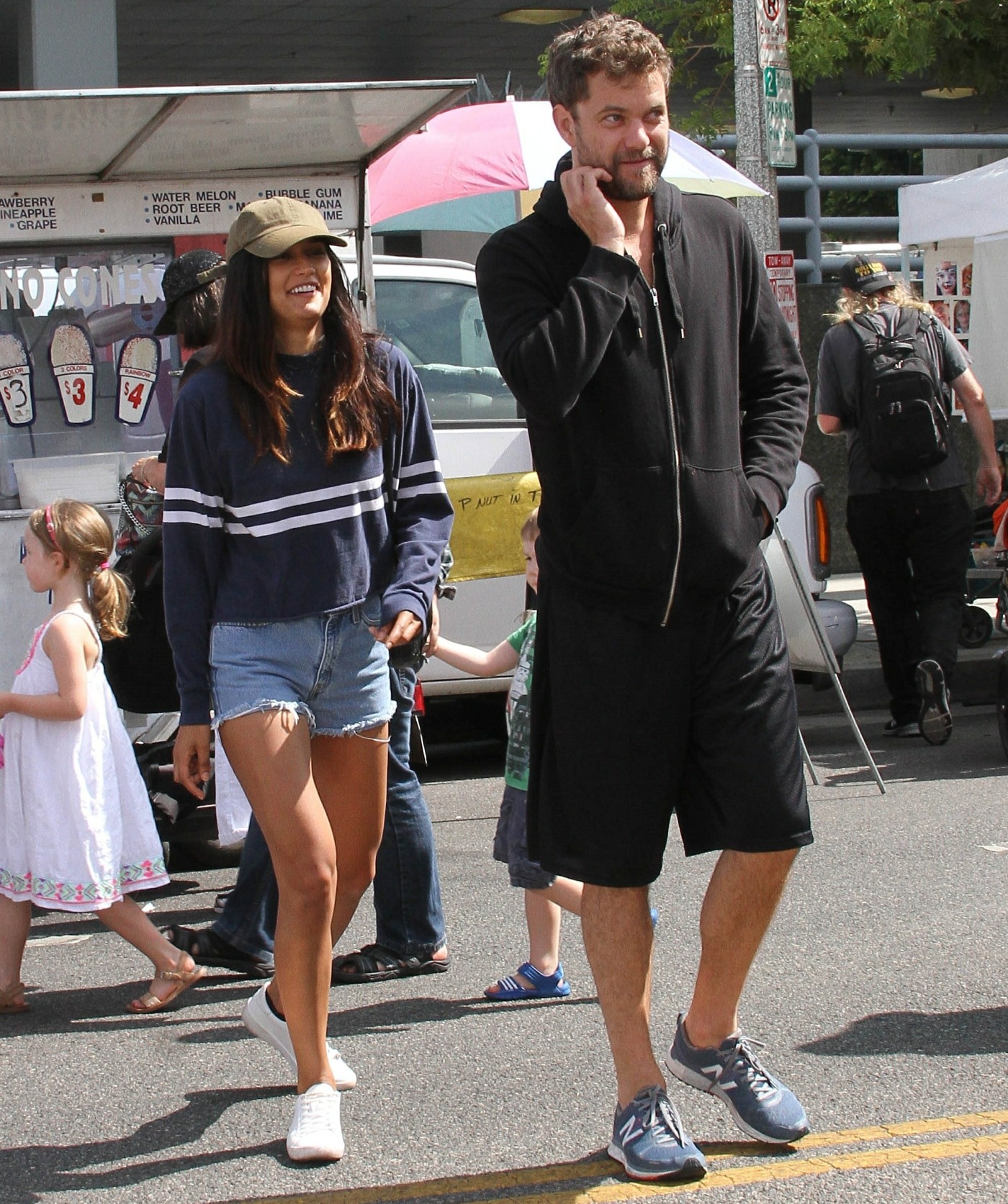 Of all the famous celebrity dudes we talk about on a regular basis, is it wrong to believe that Joshua Jackson is one of the "good ones"? That he really is a nice guy, that he really is a good boyfriend, that he really is an underrated actor? I love him. I would be obsessed with him if he got photographed with any regularity, but ever since his split with Diane Kruger last year, he doesn't get pap'd all that much. Of course, there was that time when he got wine-hammered with Ruth Wilson for hours, but beyond that… we really don't see him that much.
So it was always going to be notable that Joshua turned up at the famous and pap-friendly farmer's market in LA over the weekend. They were even walking arm-in-arm at various points of their trip. What makes it even more notable is that Joshua was with a lady! So far, no one has ID'd this woman. She looks, to me, like she's mid-20s and sort of rumpled, morning-after hookup, no makeup and low-key. She looks like pre-surgery Megan Fox a little bit, mixed with a pre-surgery Kylie Jenner. I wonder if this is his girlfriend or just a hookup – is there such a thing as Farmer's Market Official (like Instagram Official status, only with a pap stroll at the Farmer's Market)? I also wonder if this is the same "mystery brunette" he was making out with at Sundance earlier this year. Has Joshua been in an undercover relationship with Mystery Brunette this entire time? Honestly, that feels possible. He seems like a serial monogamist, or a guy who just feels more comfortable when he's in a relationship.
PS… you know what annoys me? He doesn't seem to be shopping for anything. She picked up one item in a bag and that's it. If you're going all the way to the Farmer's Market, pick up your weekly fruits & veggies, for the love of God.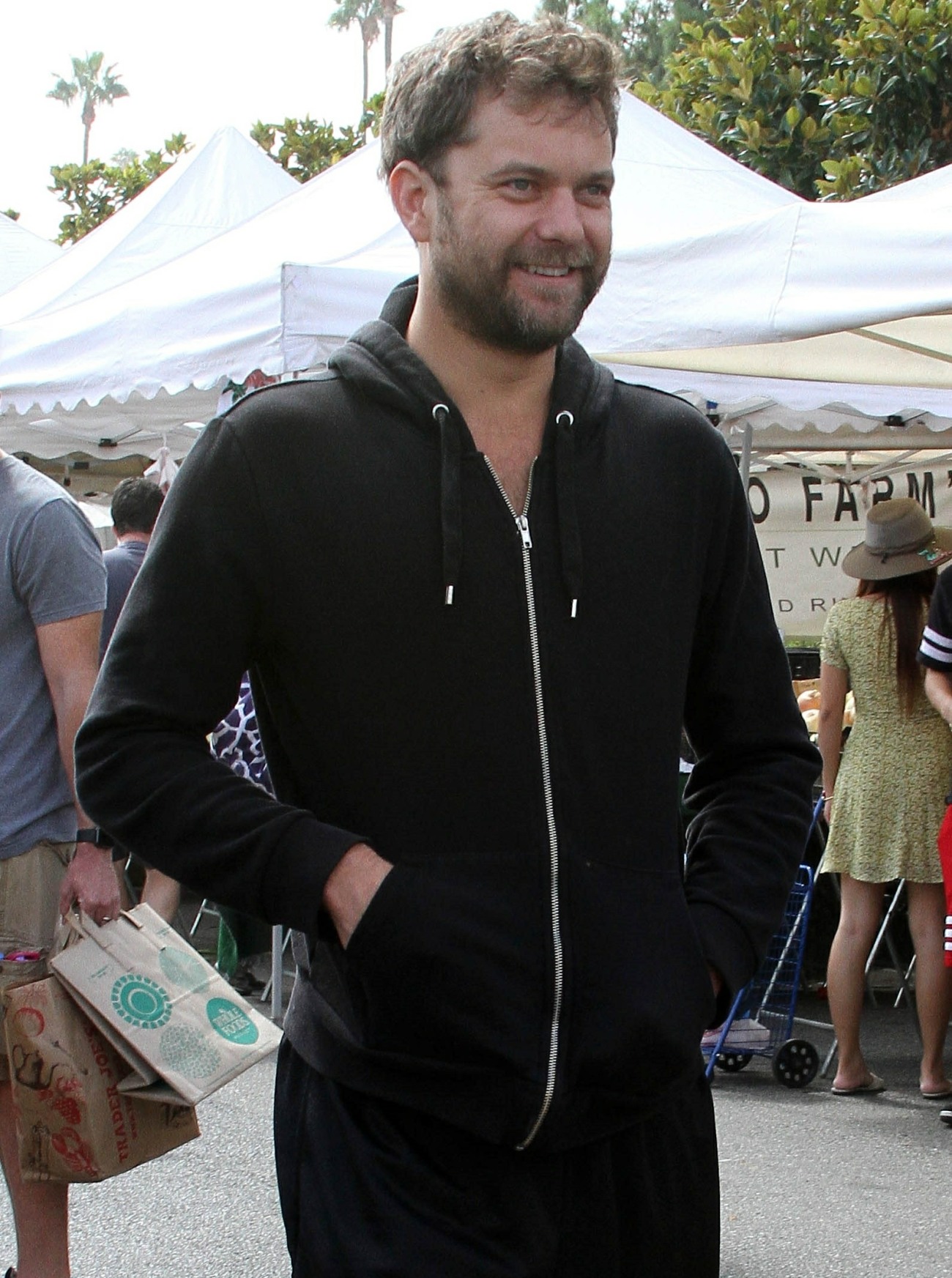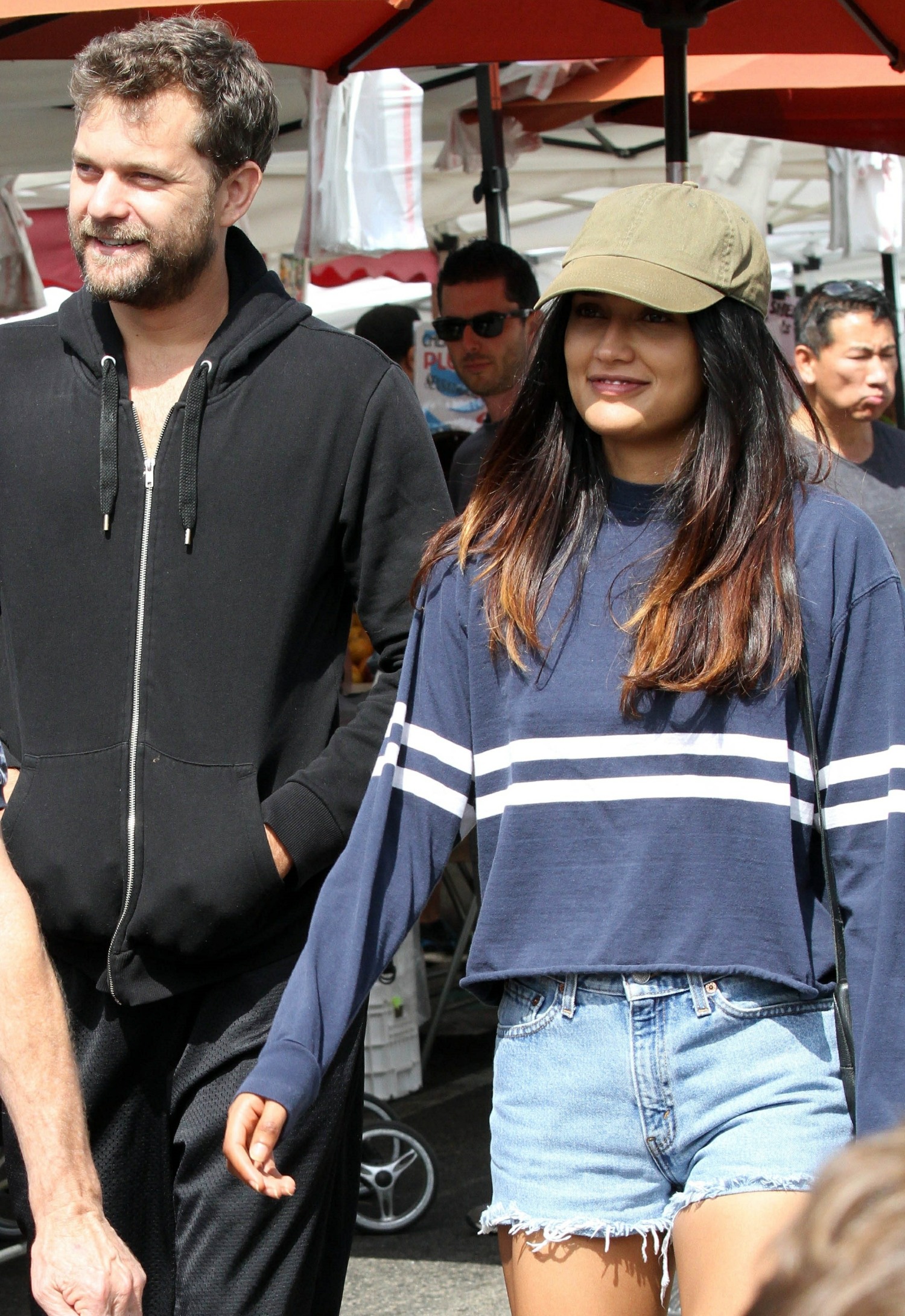 Kaiser's RSS Feed