Kaiser
This user hasn't shared any profile information
Home page: http://www.celebitchy.com
Posts by Kaiser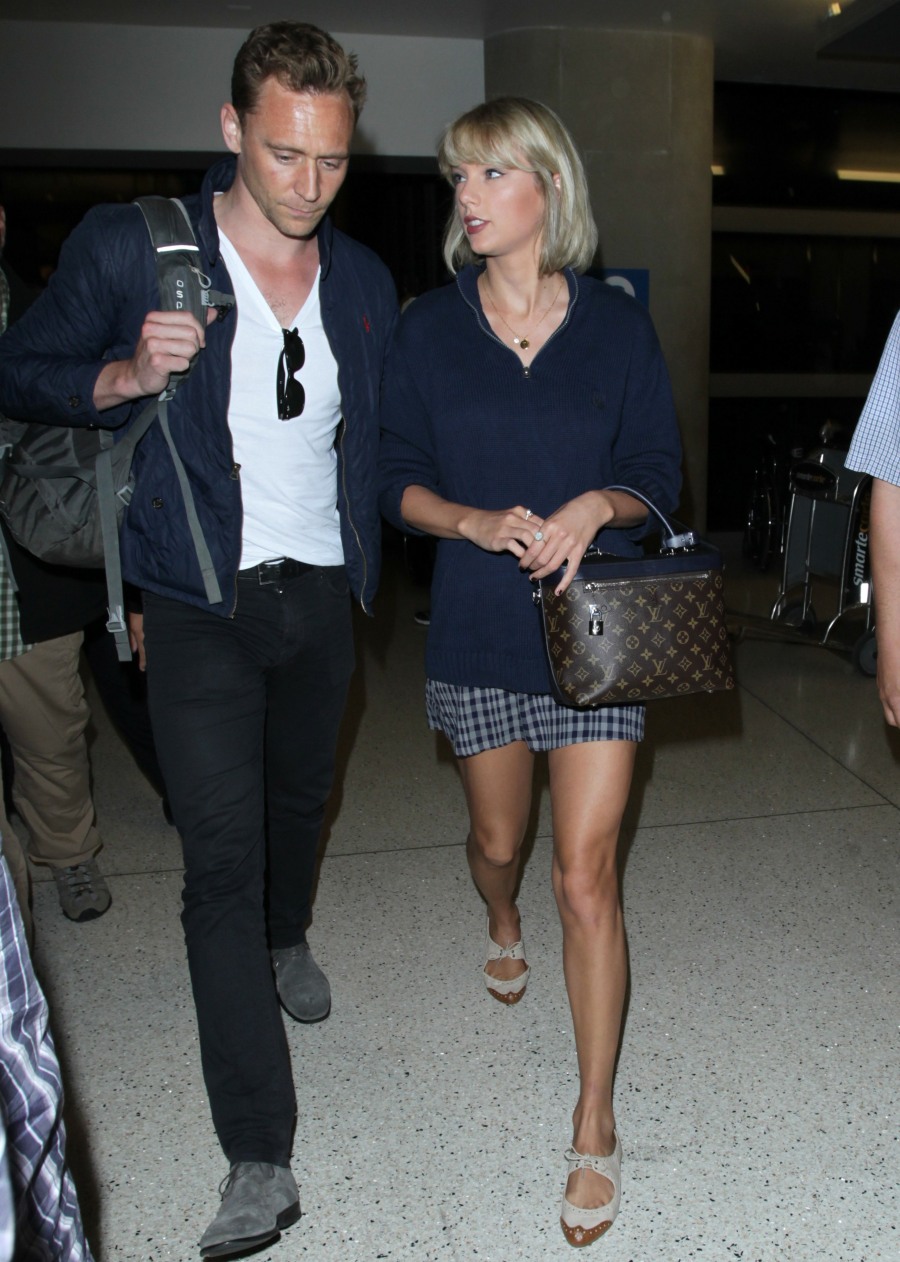 As we now know, Taylor Swift couldn't have asked for a better year. Her 2017 was great: her album sold well, she became a snake, she made sh-tty music videos that her fans defended incessantly, and she got a new boyfriend: Handsome Joe Alwyn, who looks very much like he could be her anemic brother. She and Handsome Joe are SO HAPPY (and so private) and this time it's for real, you guys. You don't even know how NOT FOR REAL it was with those other guys. What were their names? Adam ScottishFace Deejay? Tam Hiddleswarg? She can't even remember because they were so awful and SO 2016. Her friend Todrick Hall opened up about how Taylor was basically Quasimodo when she was with one of her boyfriends last year:
Taylor Swift is sitting on top of the world with a record-breaking album, an upcoming tour and a blissful relationship with boyfriend Joe Alwyn, but it took some stumbles for her to get there. The 28-year-old Grammy winner's close pal Todrick Hall opened up about their friendship — and Swift's tougher times — in a new interview with The Kidd Kraddick Morning Show on Thursday morning.

"I think she's the happiest I've ever seen her. I love it," he said. "There was a time last year … I don't know if I'm supposed to say anything, but she was dating someone — I never actually met this person — but I could just tell every time I would talk to her, she would hunch over."

The Broadway star, 32, ended up sending Swift a "picture of her as Quasimodo" and warned his friend not to let a guy turn her into the fictional character born with a hunched back.

"I was like, 'You cannot turn into Quasimodo for this guy. Every time you say his name, you hunch over,'" said Hall. "Now she's so happy, standing up completely straight and so tall and so confident … I'm so, so happy for her."

Hall also gushed about the "Gorgeous" singer, saying she "wears her heart on her sleeve."

"Every time I bring anyone around her to her house, she can't even have a good time because she's making sure everybody has water, 'Do you need anything?'" says Hall. "If I fall asleep, she's the first person to go get a blanket and put it over me and be like, 'Buddy, like are you okay?' I'm like, 'You're gonna be the best mom in the entire world.' She's just so thoughtful."
To be fair, it could be Calvin Harris. I don't think Taylor was happy with Calvin Harris in the last months of their relationship. She was actively looking for a jumpoff in those months, and she found her jumpoff at the Met Gala in the form of dragonfly. But for some reason, I do think Todrick is referring to the dragonfly, Tom Hiddleston. "There was a time last year… she was dating someone — I never actually met this person — but I could just tell every time I would talk to her, she would hunch over." Taylor dated Calvin Harris for more than a year – roughly February/March 2015 through May-ish 2016. I feel like Todrick was being very specific about it being last year, and The Glorious Tiddlebanging was so brief, really. It was just a few short months in the summer. It involved swan pastries and canoodling on the beach and a worldwide love tour, and yes, the bloom was off the rose for Taylor rather quickly. By September 2016, I could see how she would start "hunching over" when Tom's name came up.
I know we're supposed to be following the new Taylor Swift snake branding, which means that she's not giving interviews to drop her blind item clues about her songs. But I'm amazed by how she manages to keep putting it out there that she hated every part of the Tiddlebanging. I'm sure she is embarrassed about it now – but she should also acknowledge that she was super into it at the time. That "I Heart TS" tank didn't come out of nowhere.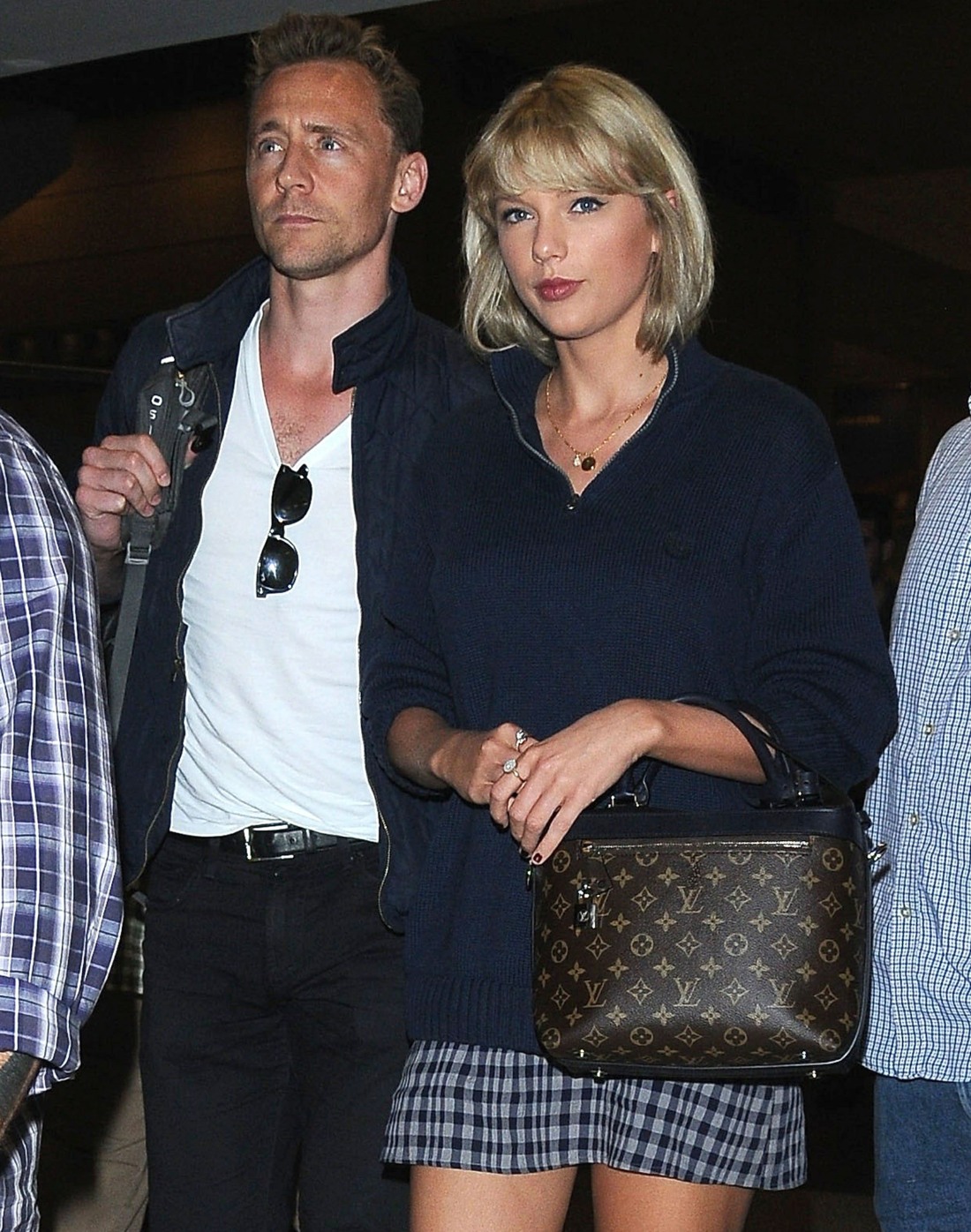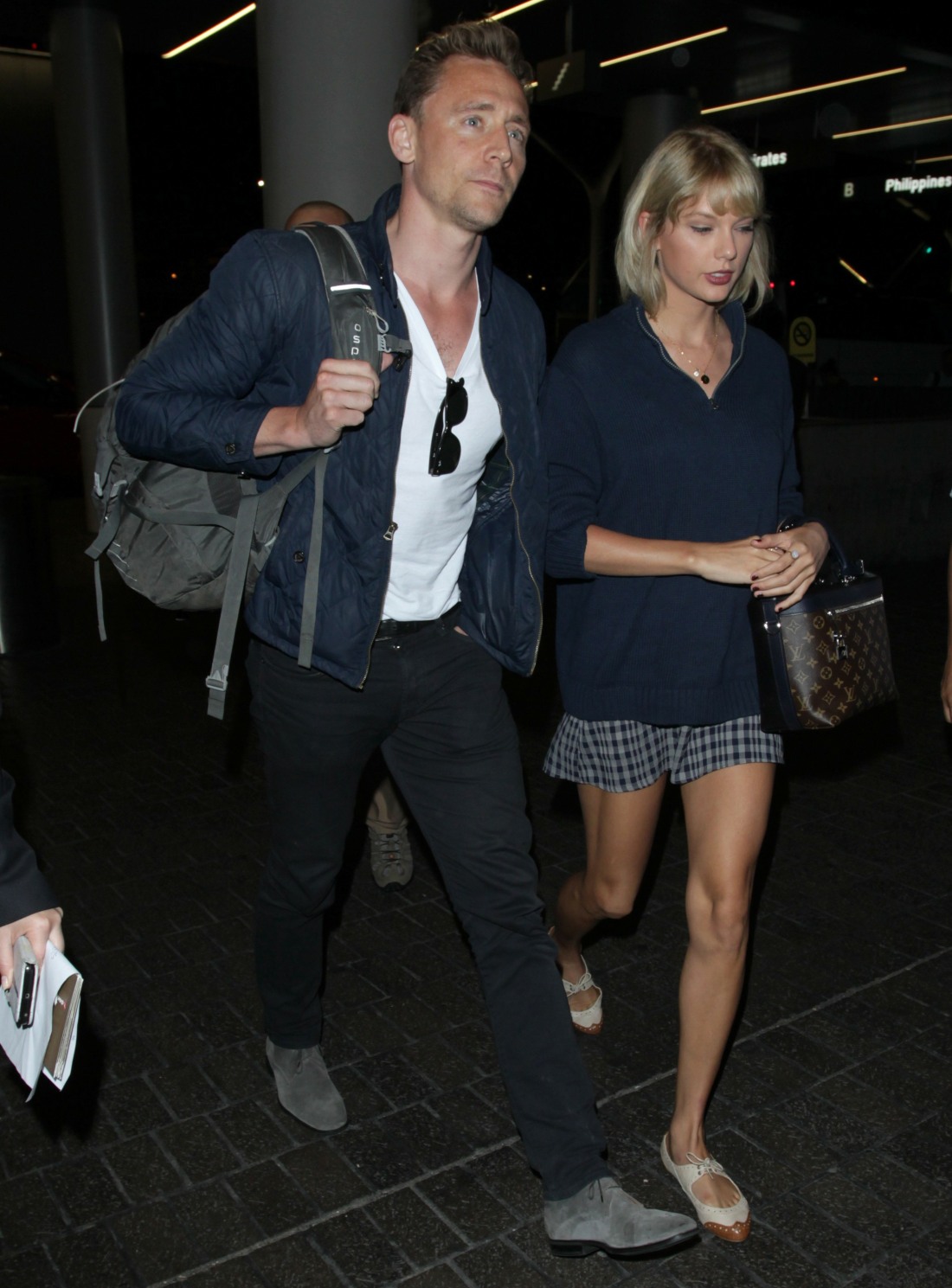 Idris Elba is quite friendly with the royal family. He's a long-time ambassador for The Prince's Trust, having received a scholarship from the foundation to go to acting school, and I believe he is quite friendly with Prince Charles on a personal level. Idris has also spent time with Prince William and Harry, and some of Idris's films have been screened to raise money for various royal foundations and royal-adjacent charities. He's down with the Windsors, basically. Idris was invited to the One Million Young Dinner at Buckingham Palace last night, and he brought his girlfriend Sabrina Dhowre as his date. He introduced Sabrina to Prince Charles, which you can see in these photos. Before the dinner, Idris chatted with Sky News about Meghan Markle, the first woman of color to marry into the royal family. Idris is beyond pleased about Meg!
"Meghan Markle, as a person, regardless of her color, is a role model," he told Sky News. "As a strong woman marrying into our royal family, she's going to be a role model for any woman. The point is that of course our society is one of mixed heritage and it's nice to see Meghan within the Royal Family," he continued. "It's great. And of course she's going to be a beacon and of course she's going to be someone that people look towards."
The idea that the royal family could be and should be racially representative of Britain's multiracial, multiethnic society is a somewhat modern idea. I get that there would be no way to force that conversation, nor would there be any way to force a prince or princess to marry a person of color. But look no further than the quiet freakout from the British Establishment over the idea that Princess Diana would end up getting remarried to a Pakistani doctor (Hasnat Khan) or an Egyptian playboy (Dodi al-Fayed) in the 1990s – there was a lot of racist drama that the heir to the throne could have a stepfather who was Egyptian or Pakistani. And now, twenty years later, one of Diana's sons is marrying a mixed race American woman and the British Establishment still doesn't know what to say or do about it. Idris is right though – Meghan will be a role model to so many girls around the world.
Photos courtesy of Getty.
Democrats keep winning big elections this year, from the Virginia governor's race to, just this week, the special election for the Senate seat in Alabama. The reason for so many of these Democratic victories is quite simple: black women. Black women have been coming out to vote like crazy. We could argue – and pollsters are arguing right now – about WHY African-American women are coming out to vote in droves for Democratic candidates, but I think that question sort of dismisses the historical reality: black women have always voted in really high percentages, even when their votes are being actively suppressed, even when they don't particularly like the candidates they're voting for.
Black women vote out of self-interest – the lesser of two evils is an okay choice to make, especially if the more evil choice is violent white supremacy and even more oppression and marginalization. It wouldn't be so notable if the majority of white women didn't consistently vote against their own interests all the damn time. A majority of white women voted for Donald Trump. A majority of white women voted for Roy Moore. A majority of white women will consistently vote against their own reproductive freedom, the health and safety of their children, equal pay, their own ability to work without being harassed, their own ability to exist without being abused and a lot more. And a minority of white women will make it all about being "pure" and having "ideals." Women like Susan Sarandon. This is what she posted yesterday, after Doug Jones won the Senate seat in Alabama.
Thank you African Americans in Alabama who organized and fought their way to the polls despite so much voter suppression. Thank you Selma once again. Respect. pic.twitter.com/aU3C1rG70A

— Susan Sarandon (@SusanSarandon) December 13, 2017
Says the woman who threw away her vote on a third party candidate, leaving African-Americans to pick up the slack in an attempt to keep a sexual predator and white supremacist the hell away from the White House. If you have a few minutes, read through the comments on that tweet – people were not having any of it. I wonder how she explained the African-American turnout for Hillary Clinton? Did she "thank" those millions of voters for turning out to stop an unhinged predator? Or nah?
Photos courtesy of Getty.
Russell Simmons has allegedly been a rapist for a very long time. I'm saying "allegedly" because Simmons, I feel, is lawyering up and preparing to sue all of the women he allegedly raped over the years, and he's probably going to sue all of the media outlets who gave his alleged victims platforms to tell their stories. For what it's worth, I believe all of the women. I believe Jenny Lumet. I believe Toni Sallie. I believe Tina Baker. I believe Drew Dixon. I believe Keri Claussen Khalighi. I do not believe Russell Simmons, especially when he's out here creating #NotMe hashtags:
In the wake of Simmons' bullsh-t #NotMe statement, the LA Times reports that the New York Police Department's special victims unit has now opened up an investigation into Simmons. TMZ magically got their hands on a photo of Simmons taking a polygraph test this week, like that proves something. In the wake of all that, Page Six spoke to Kelly Cutrone – the famous fashion publicist – who has her own Simmons #MeToo story. Cutrone says that Simmons tried to rape her in 1991, when she was 26. He manipulated her into his apartment, threw her on the floor and:
"And I started kicking him really, really hard, screaming, telling him to get the f–k off of me. And that I would have him killed if he ever f–king laid a hand on me. I actually think I told him I would call Page Six! I was a publicist! I think I told him I would call Page Six and have him murdered."

"Then what would happen afterward — and this would happen years afterward — I'd be at a table and Russell f–king Simmons would come up to the table and then people would be like, 'Kelly, do you know Russell?,' and I'd be like, 'Yes, I know Russell — he tried to rape me.'"

Cutrone says she's was horrified by Simmons' #NotMe idea, which he unveiled on Instagram on Thursday. Cutrone says: "It's a call to every man who wants the right to abuse women to continue. All these guys have been doing is, like, go, like, 'Hey, I'm really, really sorry and I'm going to step away from my business. But you know what, a lot of these women have to go to work everyday because they have to pay bills and they haven't made $100 million." Of Simmons — an avid yogi — she added, "I hope he chokes on his om pendant."
"I hope he chokes on his om pendant" is maybe the quote of 2017. It's a necessary thing to take a deep breath and listen to the #MeToo stories in all of their horror. But sometimes it's nice to hear from someone who is just really f–king angry, someone who wants rapists to choke on their bullsh-t.
Photos courtesy of Getty.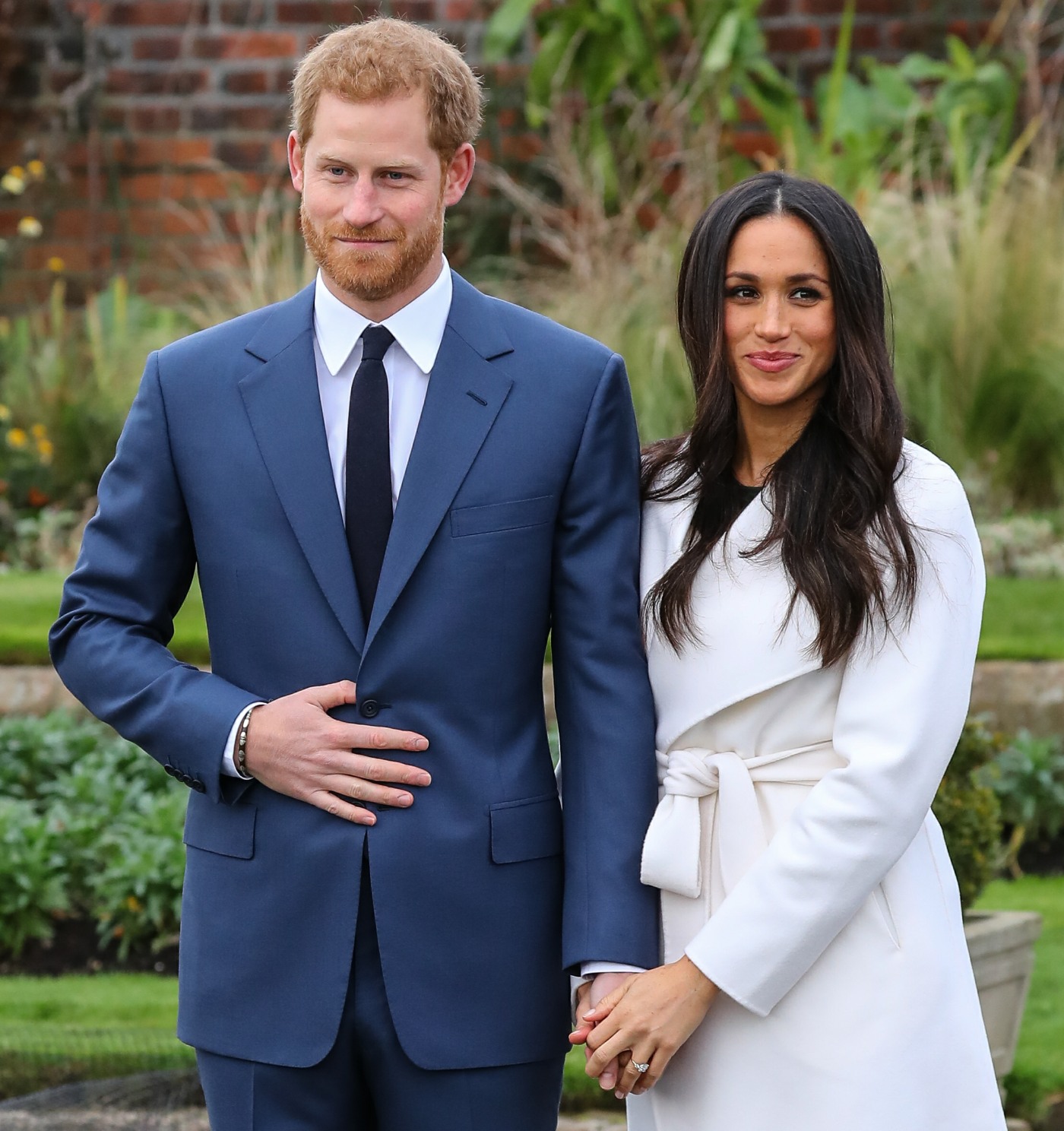 Breaking news! We finally have confirmation of Meghan Markle and Prince Harry's wedding date. From Kensington Palace:
His Royal Highness Prince Henry of Wales and Ms. Meghan Markle will marry on 19th May 2018. Today's announcement follows earlier confirmation of the month of the wedding and its location at St George's Chapel, Windsor Castle.
I like this? It's far enough away from the Met Gala (the first Monday in May) so as to not vye for coverage. We're still going to be knee-deep in royal sh-t during the Met Gala, of course, but it will be fun.
Meanwhile, I've seen some comments – here and other places – about Meghan Markle's faith. There was some gossip that Meghan's father is Jewish, just as there was some gossip that Meghan "converted" to Judaism when she married her first husband, Trevor Engleson (who is Jewish). Converting to Judaism is a formal process and it's not like the loosey-goosey conversion to Church of England, which is basically just being baptized/christened, right? To convert to Judaism, there's a whole long process. So there were questions about whether Meghan was Jewish to start with or whether she converted to marry Trevor. Well, as it turns out, all of that was just internet rumors. Immediately following the engagement announcement, her publicist told media outlets that, once and for all, Meghan is NOT Jewish. In any case, she's going to convert to the CoE to marry Prince Harry! And now the Archbishop of Canterbury won't shut up about how Harry and Meg are committing themselves to God and each other. Sure, Jan.
Prince Harry and Meghan Markle are showing a "profound sense of commitment" to each other and to marrying in the Church of England, the Archbishop of Canterbury said on Thursday. Most Revd and Rt Hon Justin Welby, who was named the Archbishop of Canterbury in 2013, has met Harry several times and says that the couple is not going through with a grand religious service out of a sense of tradition.

"I am very, very sure after conversations that this is no tick-box exercise of 'We ought to get married in church,' " he told BBC Radio Four's Today program. "There is a profound sense of commitment, of seriousness both about faith and about their lives together which is quite inspirational."

Meghan will be baptized and confirmed in the Church of England before her May wedding. The former Suits actress' father is Presbyterian and her mother is a Protestant. Harry — whose grandmother Queen Elizabeth II is the Supreme Governor of the Church of England — was baptized as an Anglican shortly after he was born.

Welby says he doesn't know if he will marry the couple at St. George's Chapel in May. "I think that's up to them," he told the BBC, but he adds the celebration will be a "beautiful moment" that will undoubtedly be watched by millions around the world.

"Of course it's important because people will look at it and they'll see a model of how two people commit their lives to one another before God, in the presence of millions of people," Welby said. "That's going to be wonderful, it's always a beautiful moment. Every wedding is profoundly beautiful."
Her father is Presbyterian?? Hm. Anyway, I think this is what the Archbishop of Canterbury needs to tell himself about Harry and Meg. I don't think either of them are godless heathens or whatever, but I'd be willing to bet that Meghan is merely converting to CoE because, oh right, she's marrying a prince in the immediate line of succession. She's not converting out of a sense of "wow, the Church of England is the only true religion!" at least that's what I think. In any case, mazel tov to them.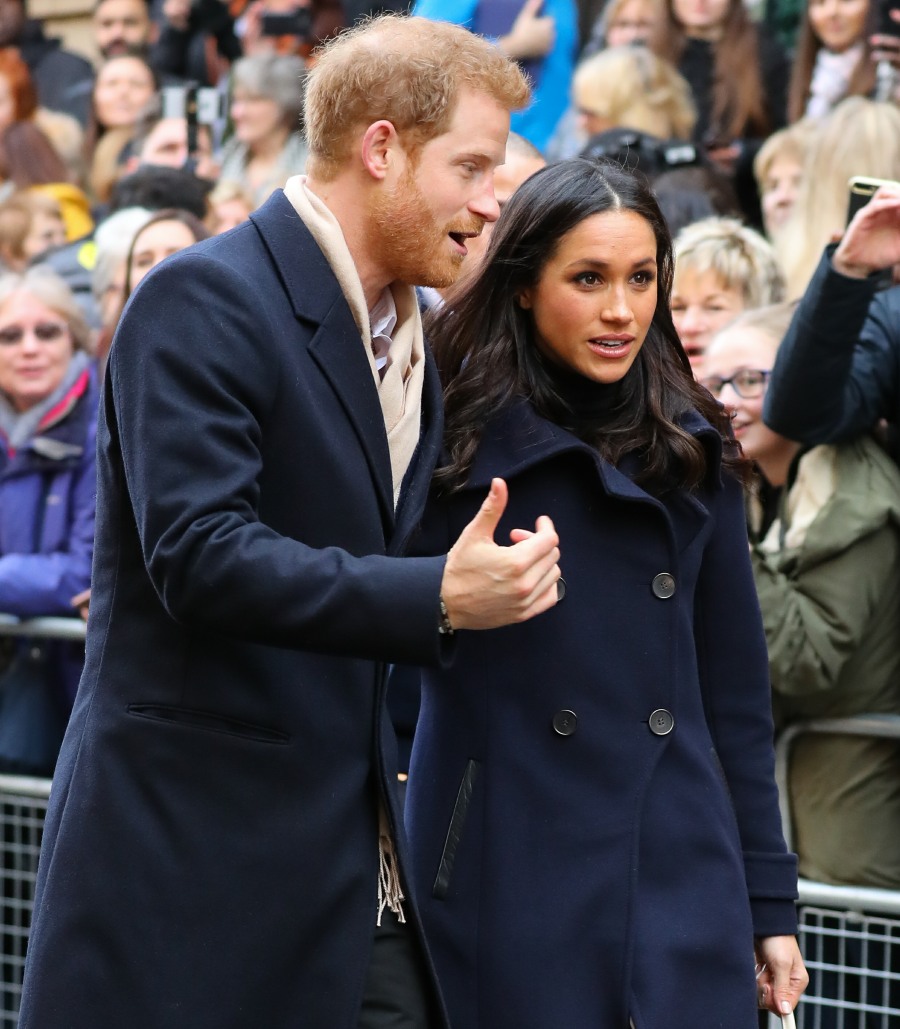 Matt Damon spent October in a haze of denial, his shifting stories coming across as less and less believable as he tried to explain what he knew and when he knew it about Harvey Weinstein. His first version was that he never knew anything about anything with Weinstein. Then he admitted that, oh right, Ben Affleck had told him that Weinstein had harassed Gwyneth Paltrow. Then Matt settled on a defense of "well I never saw Harvey Weinstein rape anyone right in front of me." To be clear, Matt Damon is not responsible for Harvey Weinstein. But it came across as really sh-tty for Matt to play dumb, like he had been consciously oblivious to everything bad about Weinstein.
Well, Matt Damon is currently promoting Downsizing. He's being very quiet about it, hoping that he doesn't get any questions about Weinstein. He sat down for an interview on Popcorn with Peter Travers, and it ended up being a rather in-depth conversation about Weinstein and the unfolding Sex Predator-gate 2017 bulls–t. You can see the interview here. There's a ton of really f–king problematic sh-t here, quite honestly. Okay, deep breath. Let's get started.
Matt thinks people need to moderate their reactions depending on the abuse: "I think it's wonderful that women are feeling empowered to tell their stories, and it's totally necessary … I do believe that there's a spectrum of behavior, right? And we're going to have to figure — you know, there's a difference between, you know, patting someone on the butt and rape or child molestation, right? Both of those behaviors need to be confronted and eradicated without question, but they shouldn't be conflated, right? You know, we see somebody like Al Franken, right? — I personally would have preferred if they had an Ethics Committee investigation, you know what I mean? It's like at what point — you know, we're so energized to kind of get retribution, I think. And we live in this culture of outrage and injury, and, you know, that we're going to have to correct enough to kind of go, "Wait a minute. None of us came here perfect."

On Louis CK: "The Louis C.K. thing, I don't know all the details. I don't do deep dives on this, but I did see his statement, which kind of, which [was] arresting to me. When he came out and said, "I did this. I did these things. These women are all telling the truth." And I just remember thinking, "Well, that's the sign of somebody who — well, we can work with that" … Like, when I'm raising my kids, this constant personal responsibility is as important as anything else they learn before they go off in the world.

The continuum of abuse: "I mean, look, as I said, all of that behavior needs to be confronted, but there is a continuum. And on this end of the continuum where you have rape and child molestation or whatever, you know, that's prison. Right? And that's what needs to happen. OK? And then we can talk about rehabilitation and everything else. That's criminal behavior, and it needs to be dealt with that way. The other stuff is just kind of shameful and gross, and I just think … I don't know Louis C.K.. I've never met him. I'm a fan of his, but I don't imagine he's going to do those things again. You know what I mean? I imagine the price that he's paid at this point is so beyond anything that he — I just think that we have to kind of start delineating between what these behaviors are.

Al Franken & Harvey Weinstein are different: "When you see Al Franken taking a picture putting his hands on that woman's flak jacket and mugging for the camera, going like that, you know, that is just like a terrible joke, and it's not funny. It's wrong, and he shouldn't have done that … But when you talk about Harvey and what he's accused of, there are no pictures of that. He knew he was up to no good. There's no witnesses. There's no pictures. There's no braggadocio … So they don't belong in the same category.

On the rape allegations against Harvey Weinstein: "Nobody who made movies for him knew … Any human being would have put a stop to that, no matter who he was. They would've said absolutely no. You know what I mean? … I knew I wouldn't want him married to anyone close to me. But that was the extent of what we knew, you know? And that wasn't a surprise to anybody. So when you hear Harvey this, Harvey that — I mean, look at the guy. Of course he's a womanizer … I mean, I don't hang out with him…. So the question is, at what point does somebody's behavior that you have a professional relationship with … away from the profession bother enough that you don't want to work with them? For me, I've always kind of, you know, as long as nobody's committing a crime — well, that's your life, and you go live it. I don't need to be spending time with you, away from my professional life, at least.

What he would do if a friend came to him with a #MeToo story: "It depends on what the accusation is. It depends what's going on. If it's a friend of mine, I'm always talking to them. I know the real story if it's my friend. If it's a colleague … I don't know … I guess it depends on the situation and the allegation and how believable I think it is.

On confidentiality agreements: "I also think the day of the confidentiality agreements is over. I think it's just completely over. Ten years ago, you made a claim against me and I had a big movie coming out, OK? I have $100 million or I have a movie that is personally important to me coming out, and close to the release of that film, you say, "Matt Damon grabbed my butt and stuck his tongue down my throat." We would then go to mediation and organize a settlement. I'd go, "I don't want this out there. Peter's going to go out and talk to the press and run his mouth, and it's going to be overshadowing the opening of this movie. How much money do you want?" The lawyers would get together, and they do this cost-benefit analysis, and they'd go, "Oh, this is what it's worth." And I look at the number and go, "OK, I'll pay it, but you can never talk about this again. You're f—— lying about this, but never talk about this again. Now … with social media, these stories get — it's like they get gasoline poured on them. So the moment a claim is made, if you make that same claim today to me, I would be scorched earth. I'd go, "I don't care if it costs $10 million to fight this in court with you for 10 years, you are not taking my name from me. You are not taking my name and my reputation from me. I've worked too hard for it. And I earned it. You can't just blow me up like that." So I think once a claim is made, there will no longer be settlements. That's just my prediction, I mean, just based on what I've seen.
I'm so f–king tired of all of this, this entitled white male privilege and bullsh-t and assholery. I was done with this as soon as he started defending Louis CK's character, but he just kept digging and digging. If you go to Matt Damon and tell him that one of his bros groped you, he would be like "well, I don't know you well enough to believe you, and anyway it's just a sexual assault, it's not like you were raped, so you need to shut up. And I hope he sues you for saying that." That's basically it. I am so tired of this. I'm so tired of him. He is the problem. Dear commenters: light him up. Scorched earth style.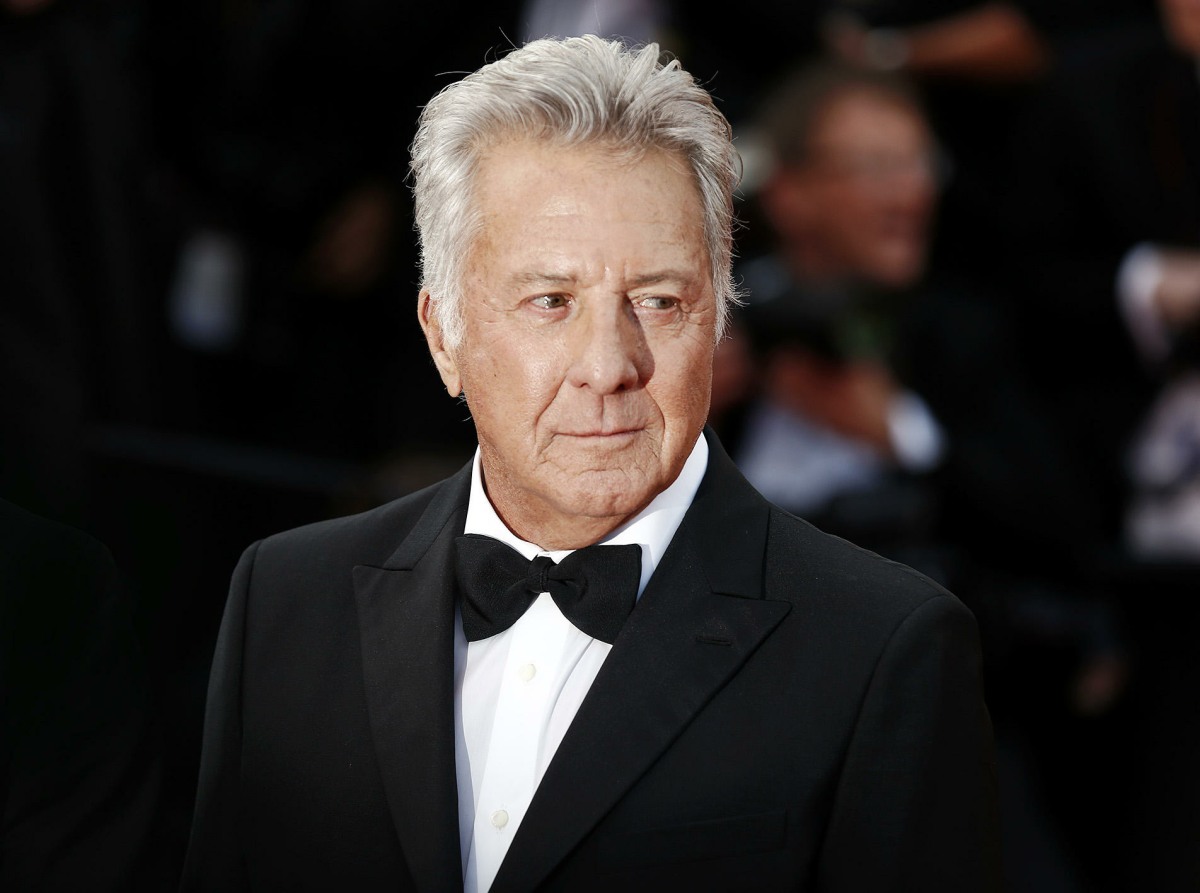 Dustin Hoffman is a garbage dump of a human being. I'm now convinced that he's basically Roy Moore, only with two Oscars. The same sense of unjustified indignation runs through both predators, a sense that HOW DARE YOU for questioning them and their methods. At least Roy Moore's community had the decency to ban him from the mall for preying on little girls. Dustin Hoffman got to keep on working for decades, using theaters and TV sets and film sets as his hunting ground. Variety published a new article in which they speak to three women who detail the ways in which Dustin Hoffman assaulted them. You can read the full Variety piece here. What I learned from the Variety article:
Cori Thomas was a 16-year-old friend of Hoffman's daughter, and Hoffman used his daughter as bait to abuse Cori. He took his daughter and Cori out for the day in New York, then manipulated Cori into being in a hotel room alone with him. She was waiting for her parents to come pick her up when Hoffman took a shower, then came into the room wearing nothing but a towel, which he then dropped. He paraded around her naked, then asked her to massage his feet. She did, and he kept trying to come on to her and abuse her further.
Melissa Kester was a recent college graduate living in LA when Hoffman was in post-production on Ishtar. Kester was dating a guy who was working on the music for Ishtar. Hoffman showed interest in her the first few times they met, but she thought his interest in her was genuine, that he wanted to know her as a person. One day, Hoffman was in the recording booth and he – seemingly jokingly – requested that Melissa come into the isolated booth with him. She did. Once he got her alone in the booth, he sexually assaulted her, sticking his hand down her pants. She says she felt like she had been raped. Hoffman kept calling her after the assault until she told him to stop.
A third woman asked to remain anonymous told Variety that she was 22 years old when she was working on Ishtar in New York. Hoffman started flirting with her on the set, he invited her to eat lunch in his dressing room. A week later, Hoffman invited her to the set, and he showed her around, trying to impress her. He invited her to the wrap party and kept his eye on her. At 1 am, he offered her a ride home. In the back of a station wagon (which was being chauffeured), he sexually assaulted her, once again sticking his hand where it didn't belong.
The Hollywood Reporter has a thorough recap of all of the allegations against Hoffman, which you can read here if you have the stomach for it. Included in the summary is one account I had not previously read – a woman named Pauline says that when she was 15 years old, Hoffman befriended her, spent time with her (grooming her), and then manipulated her into being alone with him in his apartment… where he then exposed himself to her and forced her to watch him masturbate. SHE WAS 15. THR has an additional account with another woman who wants to remain anonymous – she was 21 when Hoffman basically coerced her into oral sex.
God, I wish John Oliver had gone even harder on Hoffman now.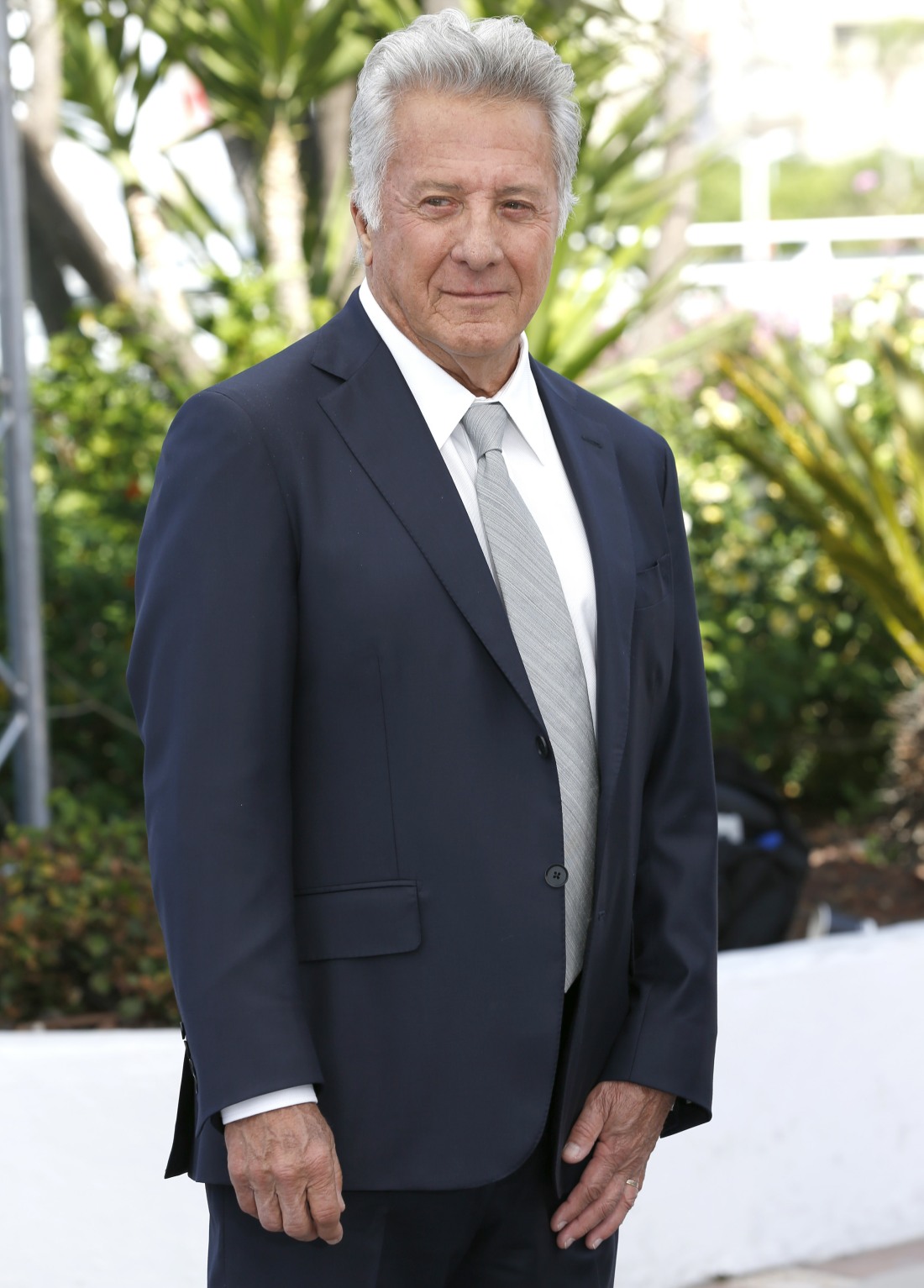 Paul Ryan is a weasel. He is a coward. He is a hypocrite. He doesn't give a sh-t about anybody other than his wealthiest donors. He actually makes me miss poor ol' weeping John Boehner (who was also good for nothing). Paul Ryan assumed the role of Speaker of the House after Boehner got the f–k out of Dodge in the fall of 2015. Ryan's tenure as Speaker has been unnotable. As in, the only thing Ryan has accomplished is "pandering to the worst elements of his own suicidal caucus so they don't kick him out of the Speakership." Ryan has no moral authority, no backbone, and there's no there there. He's like an overgrown frat boy hellbent on mansplaining how social programs actually go against the teachings of Jesus. Anyway, it seems like Paul Ryan doesn't want to stick around the Speaker's office much longer. From Politico:
Tinkering with the social safety net is a bold undertaking, particularly in an election year. But Ryan has good reason for throwing caution to the wind: His time in Congress is running short.

Despite several landmark legislative wins this year, and a better-than-expected relationship with President Donald Trump, Ryan has made it known to some of his closest confidants that this will be his final term as speaker. He consults a small crew of family, friends and staff for career advice, and is always cautious not to telegraph his political maneuvers. But the expectation of his impending departure has escaped the hushed confines of Ryan's inner circle and permeated the upper-most echelons of the GOP. In recent interviews with three dozen people who know the speaker—fellow lawmakers, congressional and administration aides, conservative intellectuals and Republican lobbyists—not a single person believed Ryan will stay in Congress past 2018.

Ryan was tiring of D.C. even before reluctantly accepting the speakership. He told his predecessor, John Boehner, that it would be his last job in politics—and that it wasn't a long-term proposition. In the months following Trump's victory, he began contemplating the scenarios of his departure. More recently, over closely held conversations with his kitchen cabinet, Ryan's preference has become clear: He would like to serve through Election Day 2018 and retire ahead of the next Congress. This would give Ryan a final legislative year to chase his second white whale, entitlement reform, while using his unrivaled fundraising prowess to help protect the House majority—all with the benefit of averting an ugly internecine power struggle during election season.
First of all, WTF is this? "Despite several landmark legislative wins this year…" Like what? I'm really asking. The multiple attempts to kneecap Obamacare made the ACA more popular than ever. The disgusting tax bill is falling apart in committee. Speaker Ryan can't even lead his caucus to an agreement that, like, neo-Nazism is bad. And because every white bro is bound and determined to go out in a destructive blaze of glory, Ryan wants his coup de grace to be "dismantling entitlement programs." Because why not? Ugh. Speaking of Medicare and Social Security, Ryan said this in a press conference on Thursday:
"This is going to be the new economic challenge for America: people. Baby boomers are retiring — I did my part, but we need to have higher birth rates in this country," Ryan, a father of three, told reporters as he riffed on how Republicans will tackle entitlement and welfare reform in 2018. "Baby boomers are retiring and we have fewer people following them in the workforce. We have something like a 90-percent increase in the retirement population of America but only a 19-percent increase in the working population in American. So what do we have to do? Be smarter, more efficient, more technology … still gonna need more people."
That's the kind of speech men make right before they declare uteruses to be property of the government, outlaw abortion and birth control and just start to Handmaid's Tale this entire country. The answer to "how do we get more people/taxpayers/citizens/workers into the country?" is also pretty simple: we need to let in more immigrants. We need to have a more robust immigration system. But I guess Paul Ryan has never thought of that. Also: what self-respecting, birth-control-hating Catholic – who has been married for 17 years – only has THREE kids to show for it?
Photos courtesy of Getty.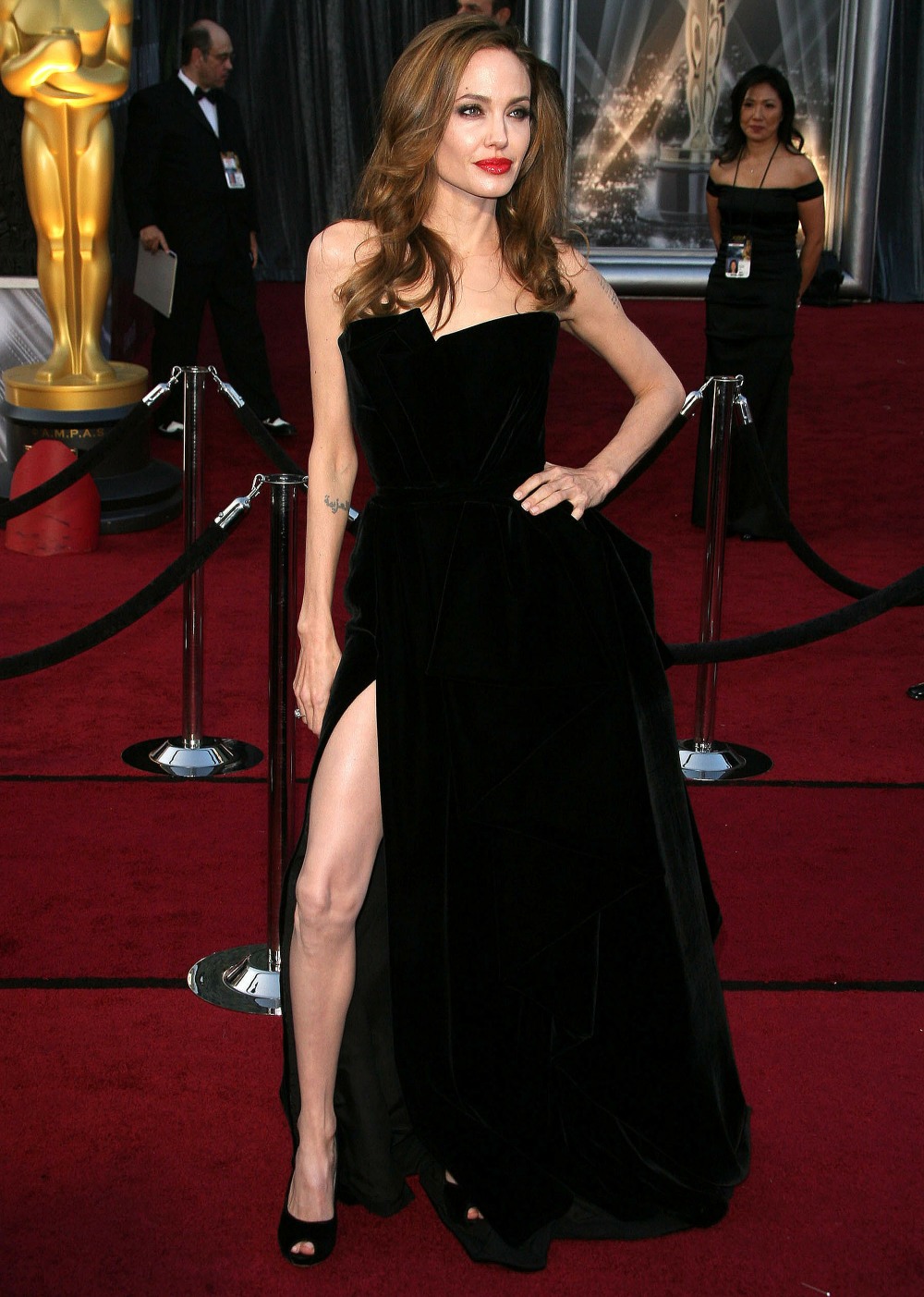 There were several stark and conversation-altering moments in the 2017 Oscar season. Meryl Streep using her Cecil B. DeMille Award speech to trash Donald Trump was pretty great. Mahershala Ali standing up at the SAG Awards to talk about diversity and inclusion as Trump's "Muslim Ban" went into effect was also an interesting moment. While the 2017 Oscar season was in the shadow of Trump, the 2018 Oscar season is in the shadow of Sex-Predatorgate. Women in Hollywood are standing up for themselves and for each other more than ever before. So how will that translate at various awards shows? Well, here's one thing: at the Golden Globes, women are going to wear black for solidarity.
Women in Hollywood are making a statement. Amid sexual misconduct allegations in Hollywood, a source tells E! News that more than thirty female actresses who are attending and or presenting at the 2018 Golden Globes have vowed to wear all black to this year's ceremony. The insider shares that it started as a small group but has grown and the women see it as a sign of solidarity. This news was also confirmed on The Morning Breath show by hosts Jackie Oshry and Claudia Oshry on Thursday.

"So all of the female actresses and attendees, or most of them at least, are standing in solidarity together in a form of protest. There all going to be wearing black, obviously to protest the injustices that have been taking place in Hollywood since forever," the hosts shared.

Nominations for the 2018 Golden Globes were announced on Dec. 11. Jessica Chastain, Sally Hawkins, Frances McDormand, Meryl Streep, Michelle Williams, Judi Dench, Helen Mirren, Margot Robbie, Saoirse Ronan and Emma Stone are just some of the actresses nominated for their work this year.
Eh, it's a start. I don't hate it, honestly. If there's a sea of black gowns and black suits at the Golden Globes, why not? What's the harm? Plus, it will cut down on the frivolous chitter-chatter. Suddenly, #AskHerMore is a real thing – when actresses are asked about why they're wearing black, they'll have a chance to talk about solidarity and standing shoulder-to-shoulder with other women and maybe it will all be real. Was anyone paying attention to the last Paris shows? Which designer did a lot of black in their Resort collections?
Also: Angelina Jolie has been waiting for this act of fashion solidarity all of her life. Now all we need to do is convince people to wear sack dresses in solidarity at the SAGs.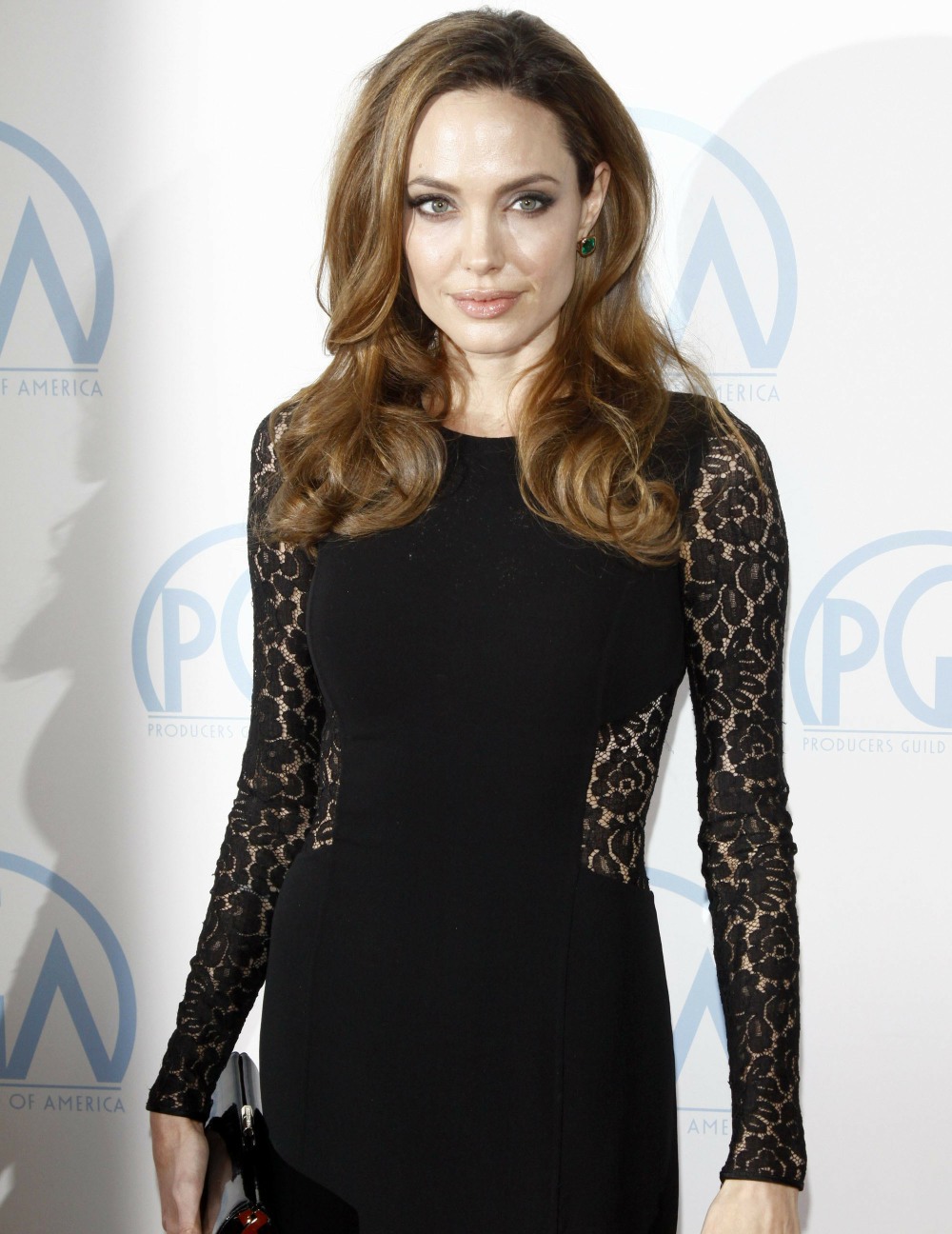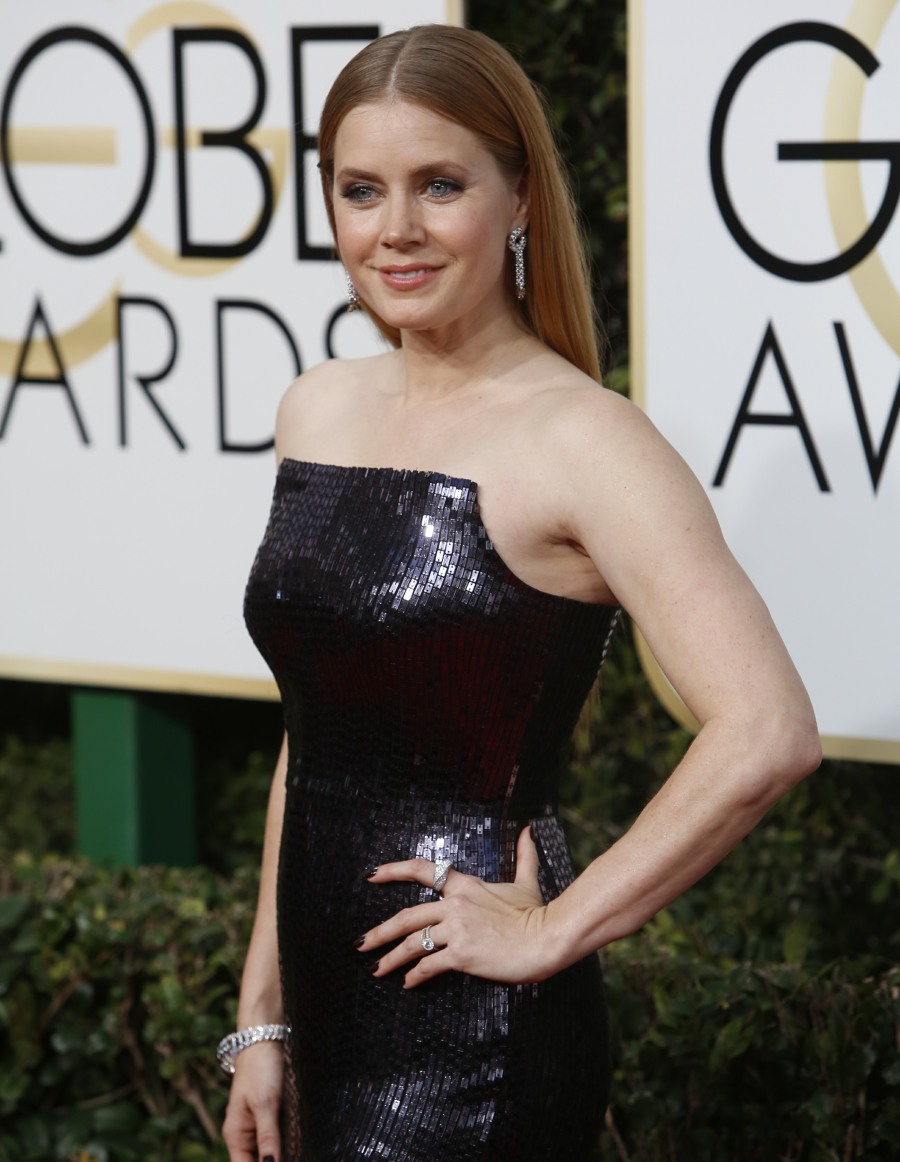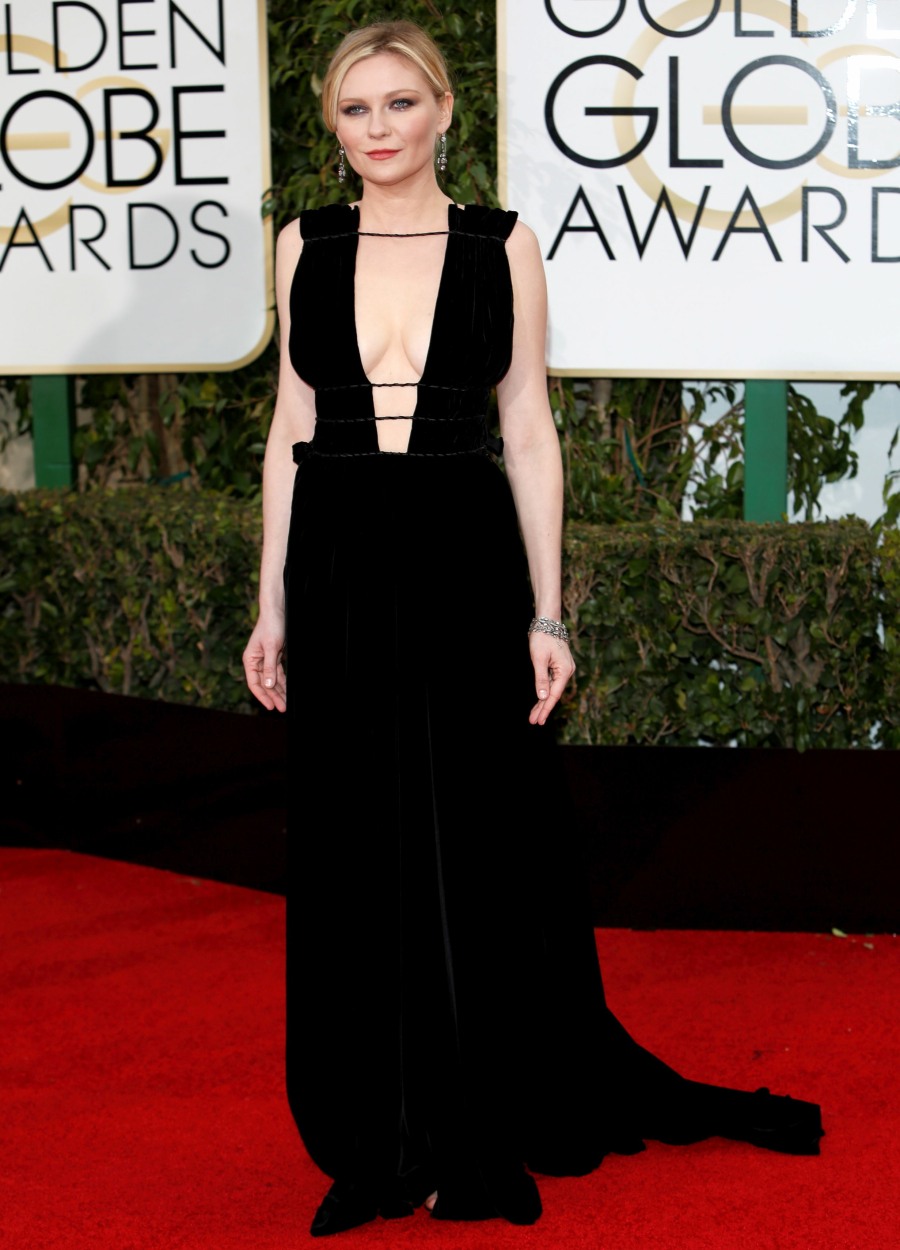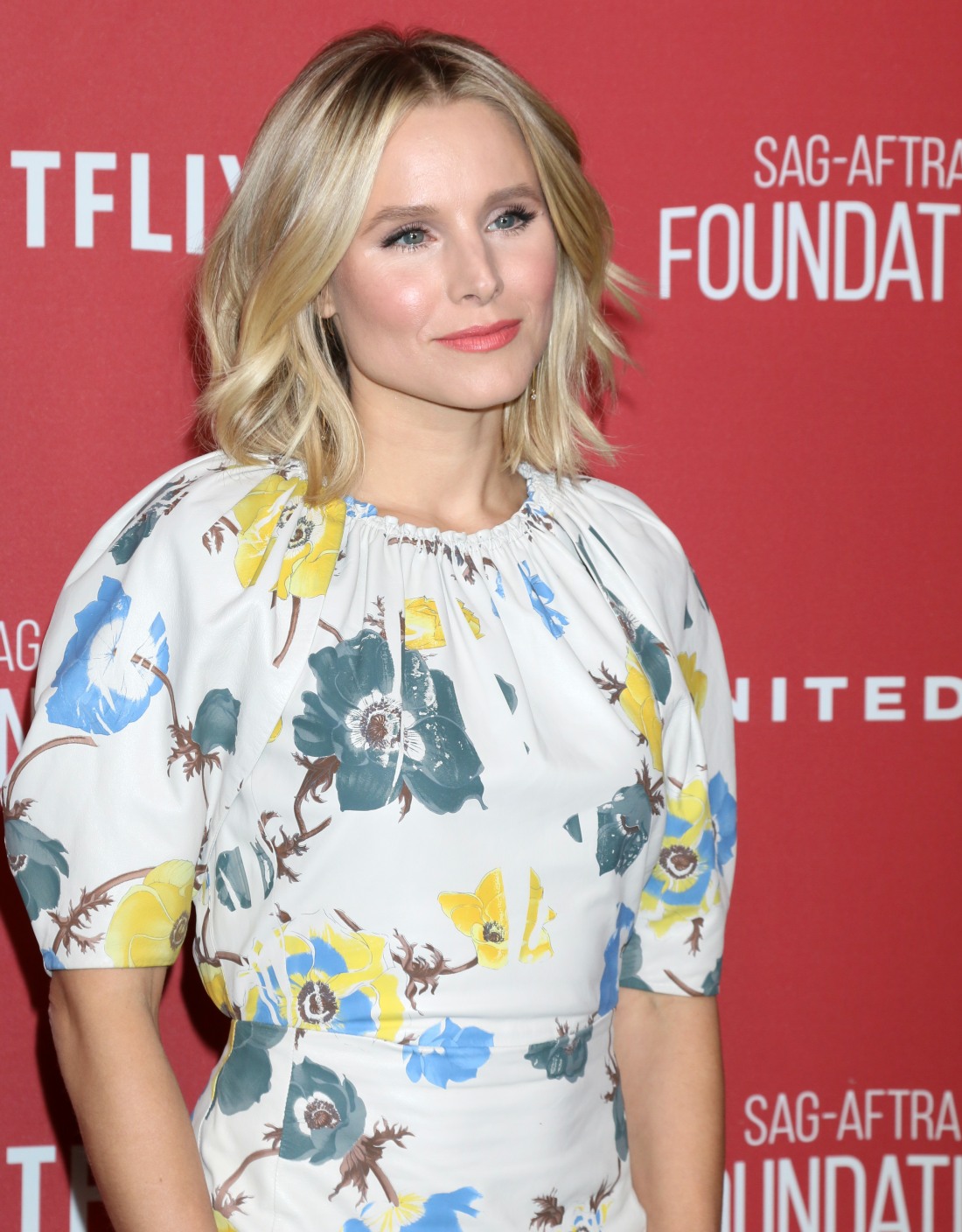 When the SAG Award nominations came out on Wednesday, they definitely felt more "woke" than the Golden Globe nominations. Like, the Best Ensemble nominees feature ensemble casts from two films directed by women (Lady Bird and Mudbound) and one film directed by an African-American man (Jordan Peele's Get Out). The film nominees also feature two black men nominated for Best Actor, and an African American actress (Mary J. Blige) and a Vietnamese-American actress (Hong Chau) nominated in the supporting category. The Globe nominations definitely felt more like a sausage party, is what I'm saying, and not just a sausage party – a party for almost all-white sausages exclusively.
So here's something interesting: the SAG Awards are actually leaning into this appearance of wokeness a little bit. Kristen Bell was announced as the host of the 2018 SAGs, and this will be the first-ever host of the SAGs. Not only that, but the SAGs are now going to do ONLY female presenters and only actresses doing the "Actor Stories" in the opening. Huh.
The SAG Awards are set to feature only female presenters at the 2018 ceremony. Nominations for the 24th annual ceremony were announced on Wednesday, along with the news that the ceremony's 13 acting awards will all be presented by women, EW can confirm. The two stunt categories will also be presented by women prior to the televised ceremony during a live red carpet pre-show webcast. Additionally, the signature Actors Stories that open the SAG Awards will exclusively feature female actors.

Traditionally, a male and female pair hand out each award. The names of the presenters have yet to be announced. Executive producer of the SAG Awards Kathy Connell told EW the idea to feature all-female presenters arose from a conversation with her daughter after attending the Women's March in January.

"We're an awards show. We're not trying to proselytize to anyone — the idea was to salute our women," explains Connell. "So many of our women have been very, very brave, as have other women in other industries this year and we thought it was an opportunity to salute our women because it's not just about one issue. Our women are very famous and yet they face the issues that women across this country do, which is they don't have equality in income. They don't have creative equality. And they have the same kind of safety issues that other women have been facing. We just thought we wanted to acknowledge as many wonderful women on our stage this year as we could, while we're celebrating the best performances by women and men of the year."

Men will still participate in the ceremony, introducing clips for the nominees in the film ensemble category as is tradition, and obviously male winners will take the stage. Rounding out the bevy of female talent on tap for the Jan. 21 awards, Kristen Bell will serve as the first-ever host of the ceremony as previously announced. The ceremony takes place on Jan. 21 and will air on TBS and TNT. Morgan Freeman will receive the Lifetime Achievement Award.
I kind of don't hate this? I mean, having all-female presenters won't change anything structurally in Hollywood, but it's legitimately a cool little gimmick. It's like that time that President Obama only called on female reporters in a press conference – it didn't change journalism or the nature of the media, it was just a cool thing to do. My guess is that the Hollywood bros will probably be fine with it too, don't you think? I mean, what are they going to say? I would love it if one of the bros tried to claim that the SAG Awards are oppressing them. Please let that happen.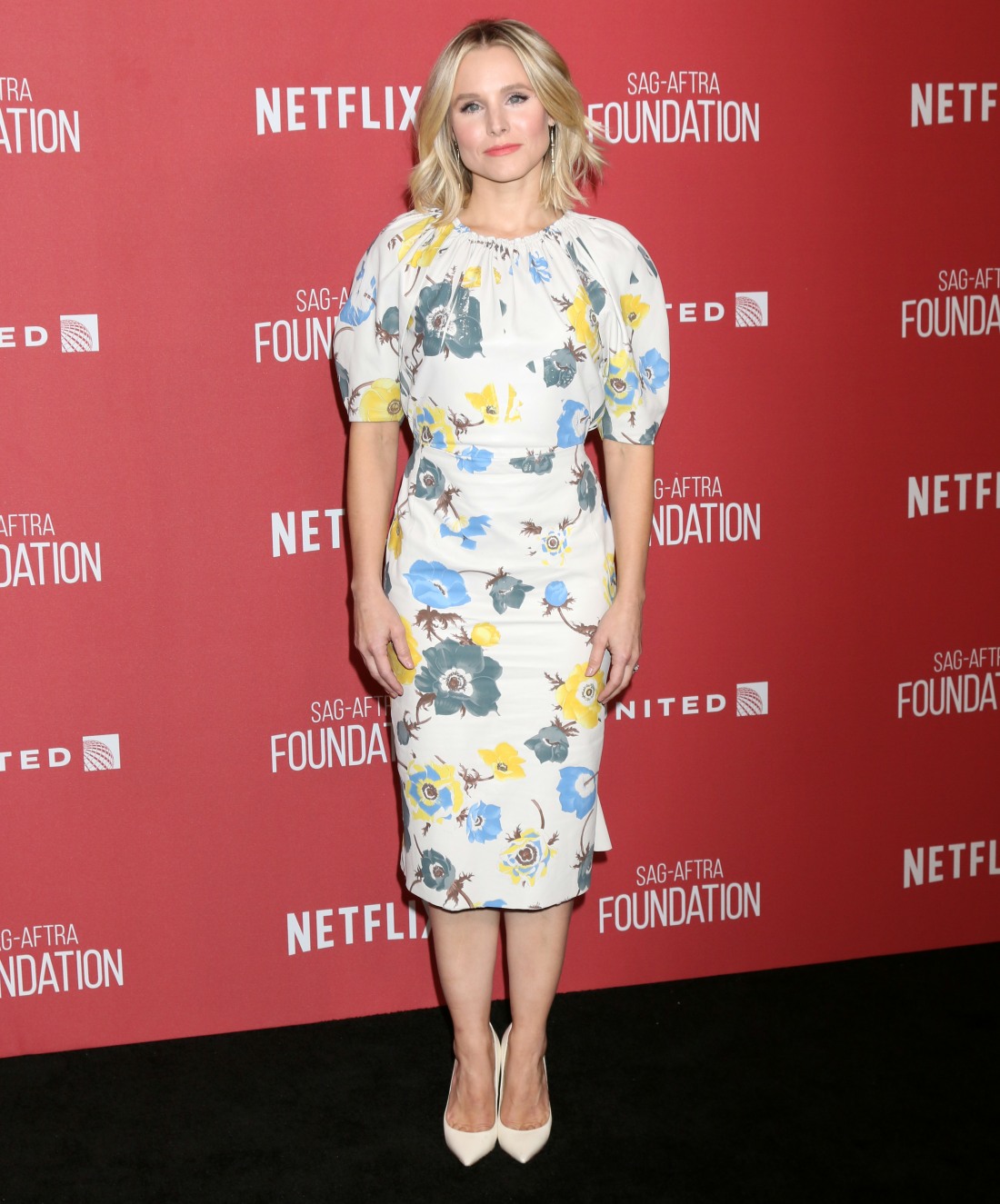 Kaiser's RSS Feed