Kaiser
This user hasn't shared any profile information
Home page: http://www.celebitchy.com
Posts by Kaiser
In case you were wondering why "John Wayne" was trending on Twitter for like 24 hours, it's because someone unearthed a terrible, racist, homophobic interview he did with Playboy in 1971. The quotes are terrible, but also… they're not new? [Pajiba]
Here's the trailer for the Leaving Neverland documentary. [Dlisted]
Armie Hammer is not going to be the next Batman… yet. [LaineyGossip]
Everyone looked kind of awful at the Hollywood Beauty Awards. [Go Fug Yourself]
Martina Navratilova is getting slammed for her comments on trans athletes. [Towleroad]
STFU Kellyanne Conway. [Jezebel]
Lisa Vanderpump is calling out bad dog parents. [Reality Tea]
Here's the trailer for Benjamin. [OMG Blog]
A happy story from My 600 Lb Life. [Starcasm]
Hearing reports that John Wayne, who has been dead for 40 years, is cancelled

— Patrick Monahan (@pattymo) February 19, 2019
*quietly removes John Wayne/Ocasio-Cortez 2020 bumper sticker*

— Louis Karmstrong (@IanKarmel) February 19, 2019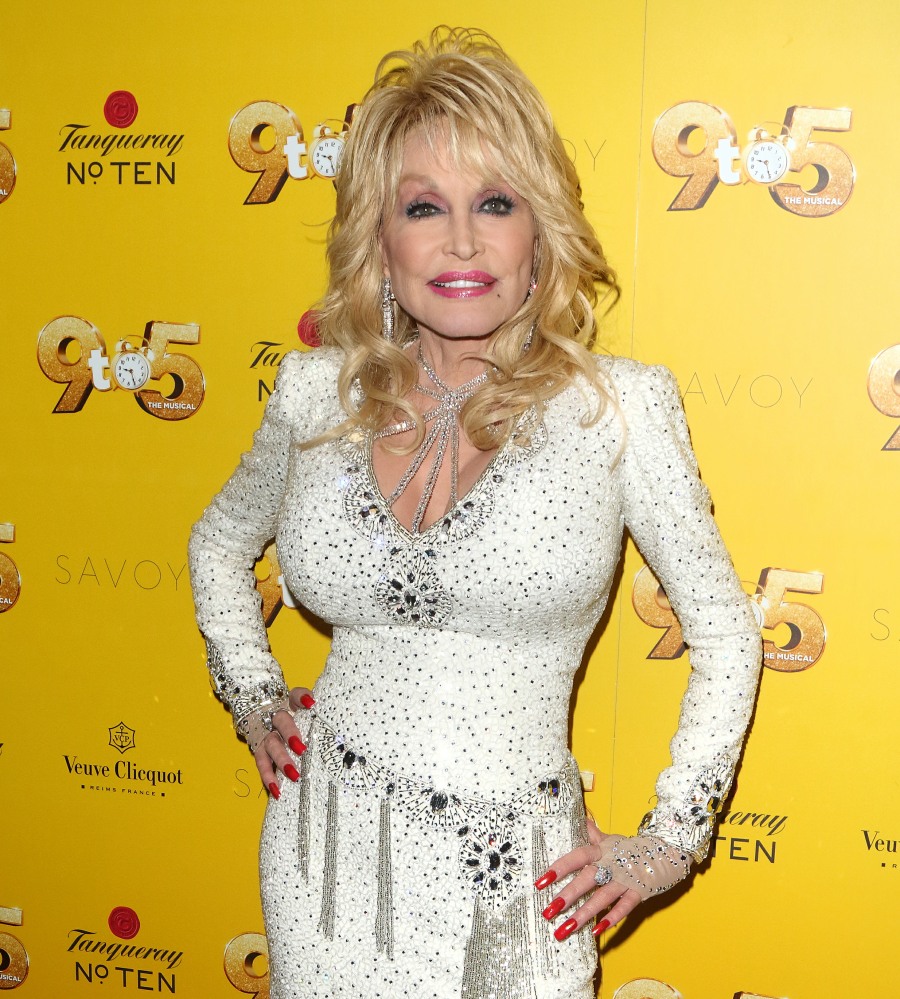 I can't think of one person, group or demographic who has an issue with Dolly Parton. She's the closest thing to "universally beloved" as anyone can get. The LGBTQ community in particular has always been ride-or-die for Dolly, probably because she's always been a supportive ally to them, even before it was the chic thing to do. But here's the question: was Dolly always a supportive ally because she's been undercover gay this whole time? Well, I doubt it, but who knows. When Dolly chatted with The Sun recently, she was asked about those rumors and she answered the questions pretty directly. Some highlights from The Sun's interview:
On the idea that her 53-marriage is a sham & she's secretly with her BFF Judy: "So ­people say that — because you can't really have a great relationship with a woman. I'm not gay but I have so many gay friends and I accept everybody for who they are." It's clear her feelings for Judy, who she regularly describes as her "girlfriend", are strong, even though they are purely platonic. "Well, people love to talk, people love to gossip. They've said that about Oprah but it's not true. Judy and I have been best friends for 64 years, since we were little kids. Our ­parents knew each other, we grew up together, we were like ­sisters, became best friends. She was very quiet, I was very outgoing. So we made perfect friends. We went all through school together. She went to the army when we graduated because she needed the insurance and she needed to help her family and I was trying to make it. As soon as she got out, she came to Nashville and we've been together ever since."

On being a gay icon: Dolly is now a gay icon ("I love that," she shrieks in her southern twang) who, if she had been born a boy, would have "been a drag queen because I love all the ­flamboyant stuff".

On people who define themselves as gender fluid, pansexual or bisexual. "For me, I'm still an old timer. Sometimes I think it's just become kind of fashionable to speak out like that. I think some of them even say more than who they really are. I think they just want to be part of that whole movement to make people think that they're so free and all that. But I don't really know how they feel inside. I know how I feel inside. Miley, she does a lot of stuff for effect, and I think a lot of them do."

On her husband: "He's a good man. It is a true love story and he's my best buddy — he's crazy, he's funny. So I think laughter has been a big part of our relationship. We both have a lot of fun. And we're not in the same business — he doesn't care about that. He's pretty much a homebody, loves staying around home. We live out on a farm. He likes to mow the fields and work on his tractors."

Being childfree: A hysterectomy when Dolly was 36 took away the couple's chance to start a family of their own, ­something she believes "wasn't meant to be". Would her stratospheric career have been as successful if she'd had children? "Chances are, not," she admits. "I look at everything like it happened the way that it was supposed to. I'm pretty sure if I'd had kids I would not have done as much. I always think, 'Well, maybe God didn't mean for me to have ­children, so everybody's children could be mine.' My husband feels the same way. Now that we are older, we're almost kind of glad that we don't have a bunch of grandkids driving us crazy that we have to babysit if we don't want to."
I actually forget all the time that Dolly never had kids. She always handled that with such a shrug too, it feels like she never put pressure on herself to have kids just because of societal norms or whatever. And she's an outlier for her generation too – women her age just believed that was expected of them, to get married and become mothers and that's it. As for what she says about pansexuality and such… her sentiments might be controversial, but I like the way she prefaced it, basically saying that perhaps she's too old to really understand those labels and conversations. As for whether she's on the downlow with Judy… LET DOLLY LIVE. I mean, maybe. But it's her business!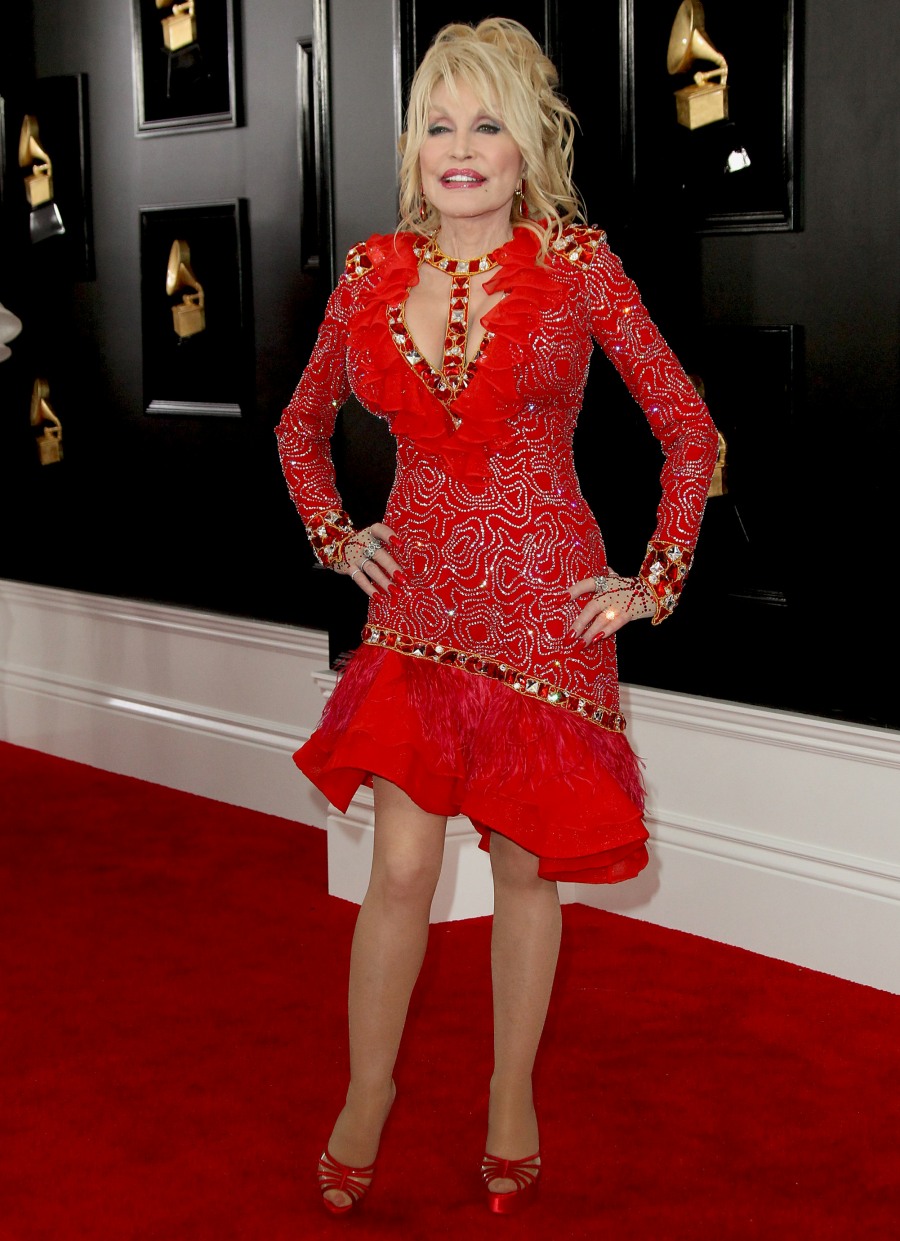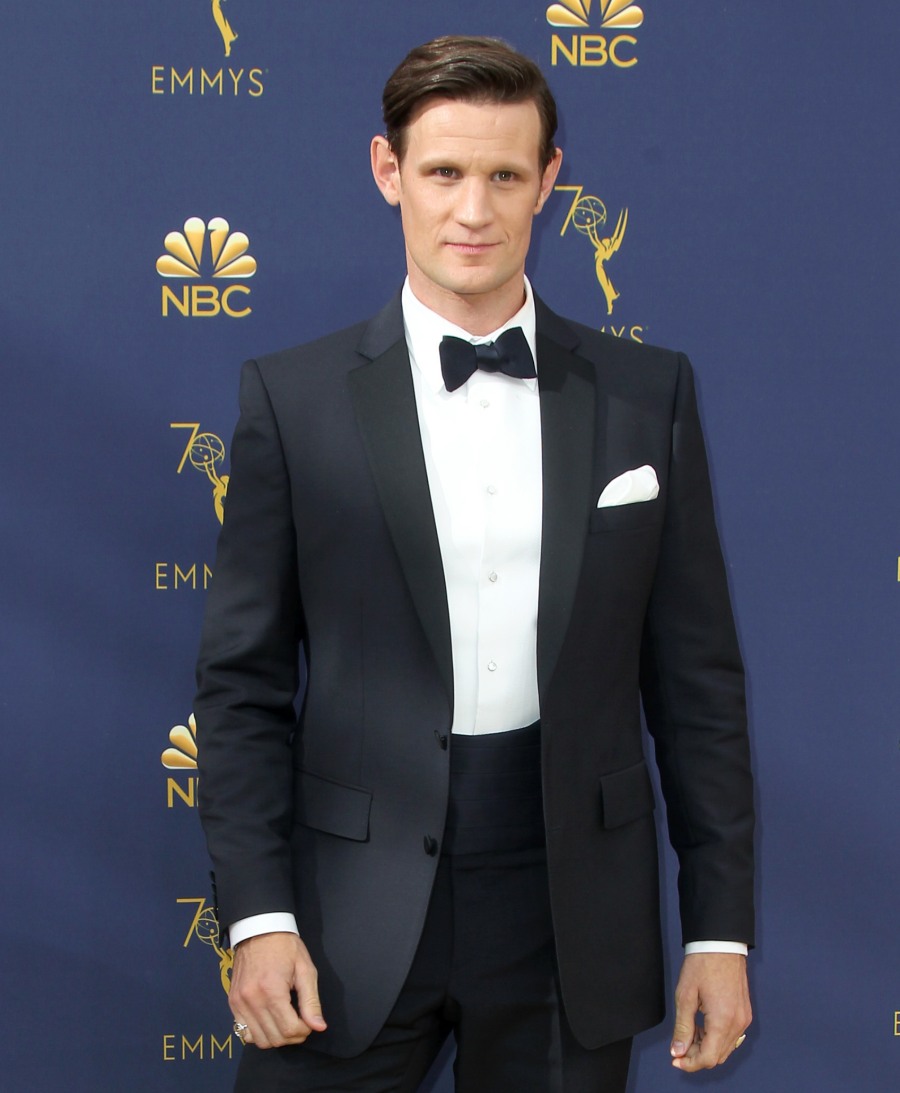 I feel like the average American probably knows Matt Smith from The Crown, or possibly his turn on Doctor Who. He's made some attempts, here and there, to become a bigger thing in America, but I do think he's happy mostly working on British film and TV projects. He did score one lead role as a famous American though: he plays Robert Mapplethorpe in the Mapplethorpe bio-pic. Mapplethorpe was a famous American photographer known for imagery that was both mundane (flowers, portrait work) and controversial (BDSM imagery, sexually provocative imagery). Here's the trailer for the film:
I think this looks interesting, but I do wonder why filmmakers insist on outsourcing these great American roles to British actors? Why couldn't an American actor play Mapplethorpe again? But that's not the controversy. The controversy – albeit, a minor one at this moment – is that Matt Smith is a heterosexual man playing a gay man, an LGBTQ+ icon, who died of AIDS. Matt Smith was taking part in a Q&A session about the film and he was asked about that issue:
Eliza Dushku and Matt Smith spent their Valentine's Day evening at the 92nd Street Y in New York discussing their new biopic Mapplethorpe, which tells the life story of photographer Robert Mapplethorpe (played by Smith), in front of a room full of fans. Asked by Dushku, a producer on the film, whether Mapplethorpe, who was gay, should have been played by a gay actor, Smith said, "I think your sexual orientation, or your sex and your choices outside of work, shouldn't influence — in either way, positive or negative — what happens. So, to me, it doesn't matter if you're gay or straight. That has no bearing on whether you should get the part."

Smith is not the first straight actor to portray a gay historical figure in film. Just last year, we had Rami Malek's Frankie Mercury in Bohemian Rhapsody, Keira Knightley's Gabrielle Colette in Colette, and Olivia Colman's Queen Anne in The Favourite. Darren Criss made headlines recently after announcing that he would no longer play gay characters, sparking a conversation about the ethics of such portrayals.

But, as Smith pointed out to Dushku, acting is meant to be a transformation into someone different. "Where does it stop?" he said. "Like, do we then say, do we apply that logic to going, "Okay, I've got a part, and it's playing a brother, and he's addicted to heroin." Do we then go to people that have only taken heroin?"

"It's an important discussion," Dushku responded. Smith agreed, saying "It's good that it's being had."
My thought on straight actors playing gay characters is that… it's tricky at this point, and I think it's good that we're having those conversations, because they're part of larger conversations about LGBTQ visibility and representation on camera and off-camera. Of course it's not the case that "straight actors should never play gay" or that "gay actors should never play straight." That being said, I'm unsettled by Matt's answer a bit. The comparison of being LGBTQ to being a heroin addict is… not great. But where do we draw these lines? Should a British actor never play an American? Should a straight guy never play a gay man? Should a sober actor never play a drunk? At what point is it just ACTING? But then again, at what point are straight cisgendered white dudes just taking all the roles because they're always going to be "the default"?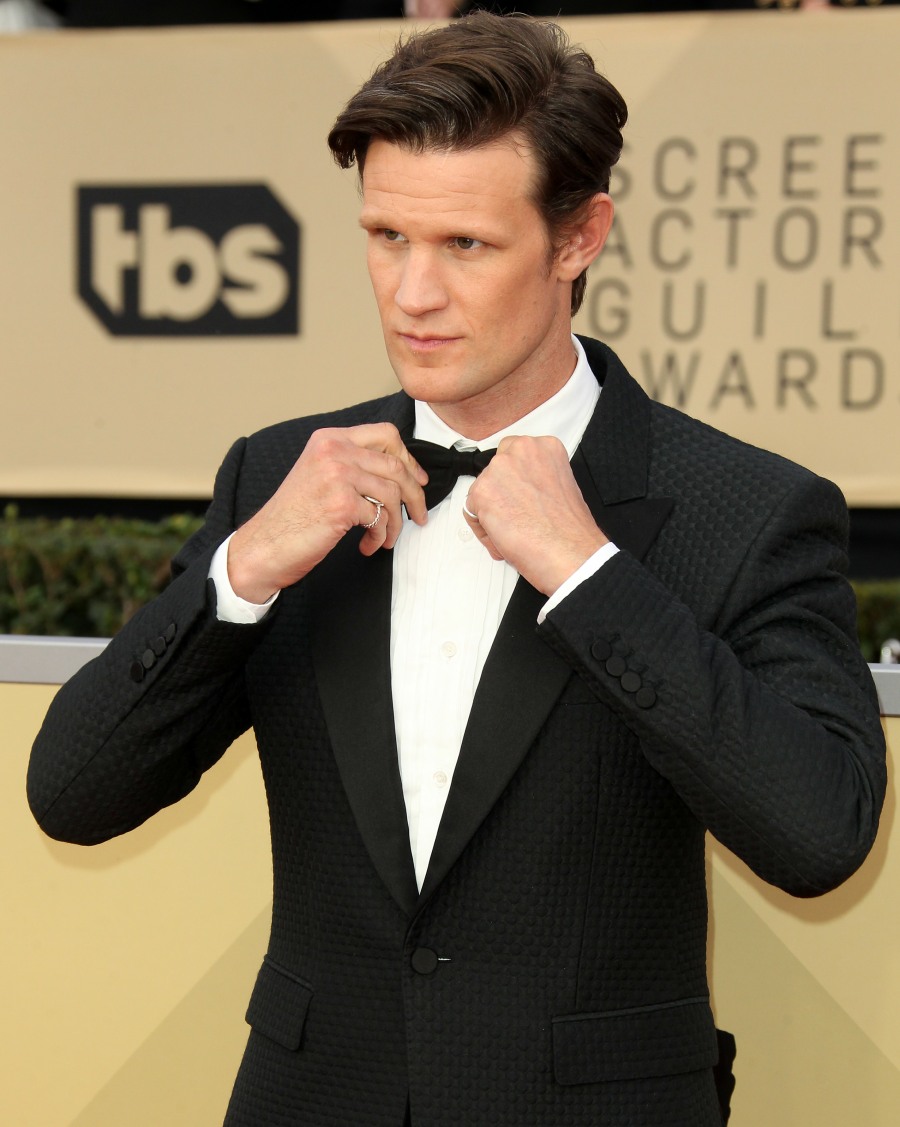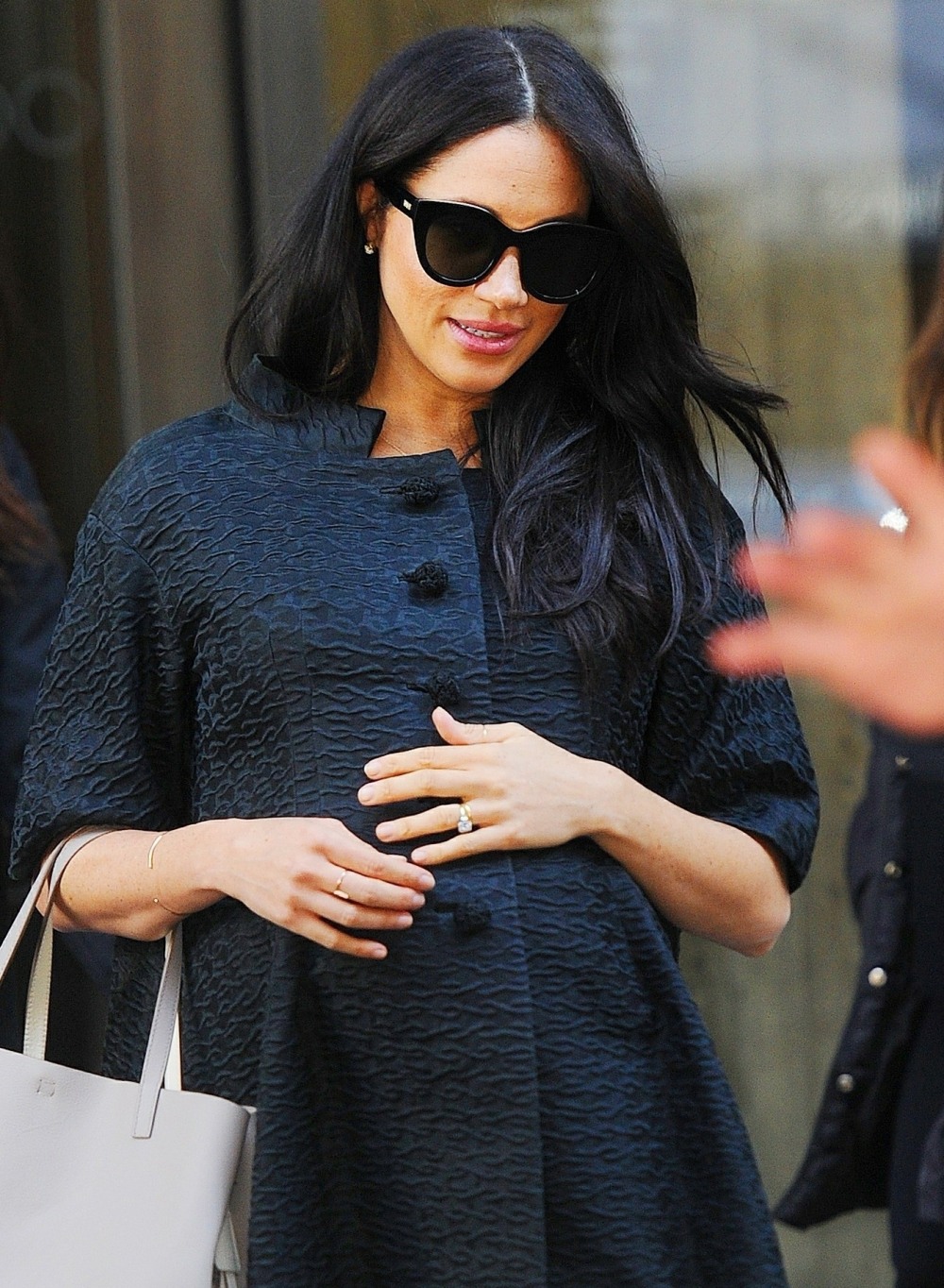 Judging from all of the batpoop insane comments, I take it that a lot of "people" have a lot of "issues" with… a pregnant woman spending time with her friends in New York, and attending a baby shower thrown by those same friends. It's actually gotten to the point where the British media – and the British Meg-haters – are screeching so steadily about every little thing and the constant stream of vitriol is just out there for all the world to see it for what it is. These people are going to climb up Meghan's ass about every single thing she does and does not do. It's that simple. She breathes and two thousand people will jump on her for breathing the wrong way and breaking royal protocol.
One of the dumbest suggestions is that Meghan's New York baby shower "proves" that she, like, doesn't have any friends in the UK. LOL. She has friends in Canada, America AND the UK. The New York baby shower probably won't even be the only one – Omid Scobie claims that there's a second baby shower planned in London for next week or the week after. Doria is supposedly going to host that one.
Another suggestion? That Meghan is "pap strolling" or that she organized this whole thing to draw attention to herself. I think Meghan figured out months ago that everyone would climb up her ass over everything, so she's just living her life. Why can't she make a private trip to New York? Why would she be required to stay in England just so she can be abused and vilified on an hourly basis? So, she's just living her life and of course the paparazzi tracked her movements on Tuesday. None of her plans yesterday were a secret. As for the cries of "but it's so Hollywood/celebrity!" – duh. That's what happens when an actress becomes a duchess. As we've seen many times, Meghan embraces the glitz and glamour. The royal family likes it too – Meghan makes them seem cooler and more relevant by extension.
And finally, all the comments about whether a royal figure can accept gifts. Of course, when they're personal gifts from personal friends. It happens all the time. Besides, the "no gift" rule is bent all the time with royals, as they receive severely discounted cars, jewelry, services and clothes, and as we've seen with the Middleton family, they can accept gifts when those gifts go through a third party. Meaning, a designer wants to give Kate some free baby clothes or some jewelry, so the designer gives it to Pippa to hand off to her sister. Speaking of, didn't Pippa host Kate's baby shower in 2013? But sure, tell me again how NO ONE in the UK ever has a baby shower and how dare Meghan be so gauche and American? Aren't the haters tired of this sh-t yet?
PS… Vanity Fair has an interesting breakdown of who paid for what with this trip. Apparently, Jessica Mulroney paid for Meghan's private plane flight to New York, and Serena Williams picked up the tab for Meghan's hotel-baby shower in the penthouse suite. The only thing the British taxpayers are footing the bill for is Meghan's security, and even then, American State Department security personnel are part of Meg's entourage while she's in America. So there.
Astonishing that the Duchess of Sussex seems to be organising her own PR in New York with a fixed point for media and nobody from the palace there. This is how Charles and others used to organise things on ski trips in the dim and distant past before armies of press officers.

— Richard Palmer (@RoyalReporter) February 19, 2019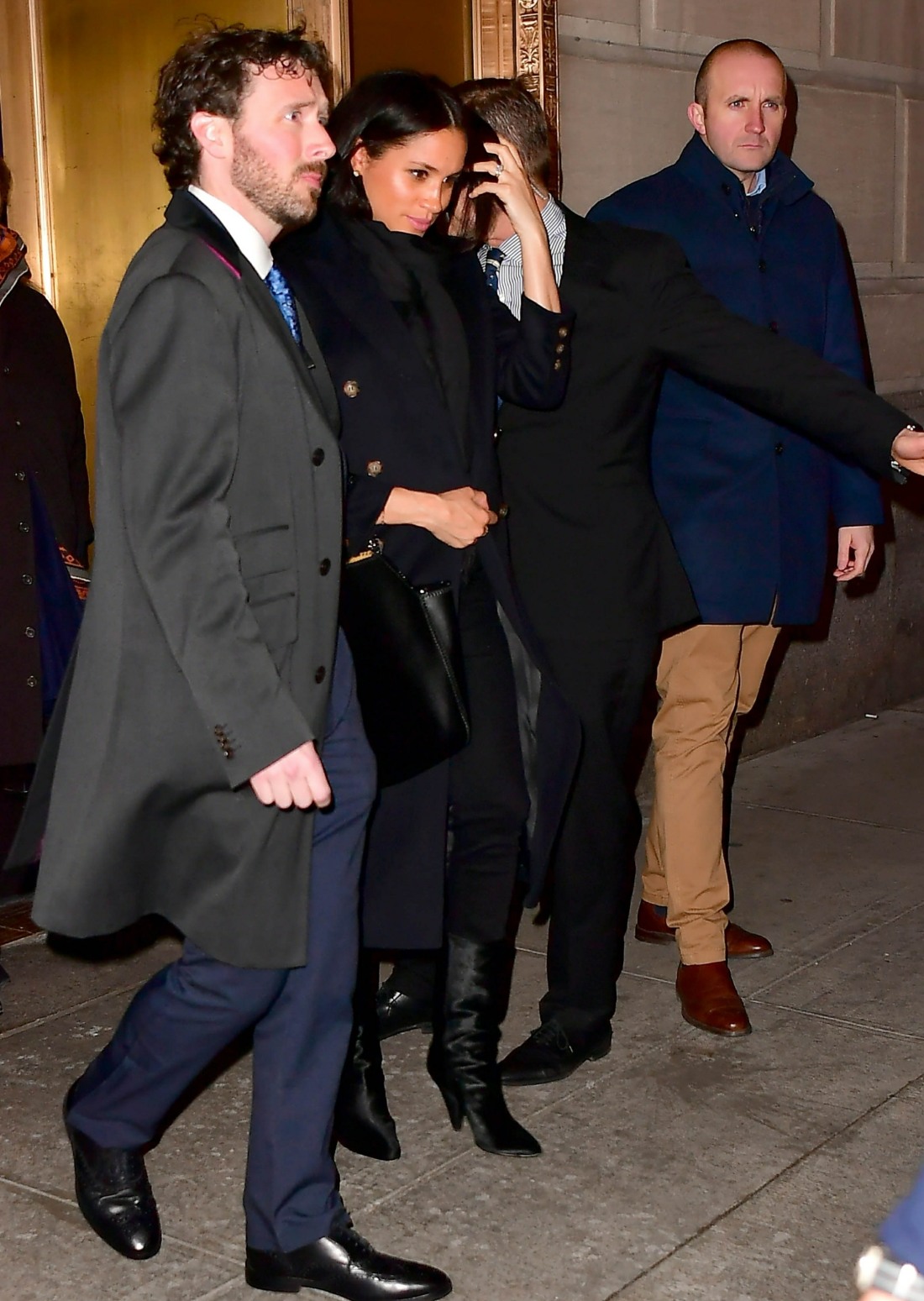 I don't understand why so many fashion houses are making so many terrible decisions all at the same time. Was there some sort of Fashion Council meeting where they all decided to provoke stupid controversies to get attention? Is this the plot of Zoolander 3? Well, the latest is from Burberry. Burberry had their big London Fashion Week show this week, and one item stood out in the sea of dull browns: a gold "noose" necklace. Gross. Everybody's apologizing:
Burberry has issued an apology after one of their models walked the runway wearing a sweatshirt with strings tied in the shape of a noose around the neck. The designer brand received a lot of backlash following their decision to showcase the controversial design during their Autumn/Winter 2019 fashion week show in London earlier this week. In the apology issued to CNN, Burberry's Chief Executive Officer Marco Gobbetti said the company regretted the design and would be removing the item from their collection.

"We are deeply sorry for the distress caused by one of the products that featured in our A/W 2019 runway collection," Gobbetti said. "Though the design was inspired by the marine theme that ran throughout the collection, it was insensitive and we made a mistake."

In addition, Burberry's Chief Creative Officer Riccardo Tisci, who also served as the designer of the show, issued an apology on behalf of the fashion brand.

"I am so deeply sorry for the distress that has been caused as a result of one of the pieces in my show on Sunday," he said, according to CNN. "It was never my intention to upset anyone," Tisci continued. "It does not reflect my values nor Burberry's and we have removed it from the collection. I will make sure that this does not happen again."
To give you some idea of how idiotic these people are, model Liz Kennedy – who walked in the Burberry show but did not wear the noose necklace – posted this on Instagram, where she talks about how she saw the problem immediately during the Burberry fittings and tried to speak out but was shut down (she tags both Burberry and Tisci in her post):
Suicide is not fashion. It is not glamorous nor edgy and since this show is dedicated to the youth expressing their voice, here I go. Riccardo Tisci and everyone at Burberry it is beyond me how you could let a look resembling a noose hanging from a neck out on the runway. How could anyone overlook this and think it would be okay to do this especially in a line dedicated to young girls and youth. The impressionable youth. Not to mention the rising suicide rates world wide.

Let's not forget about the horrifying history of lynching either. There are hundreds of ways to tie a rope and they chose to tie it like a noose completely ignoring the fact that it was hanging around a neck. A massive brand like Burberry who is typically considered commercial and classy should not have overlooked such an obvious resemblance.

I left my fitting extremely triggered after seeing this look (even though I did not wear it myself). Feeling as though I was right back where I was when I was going through an experience with suicide in my family. Also to add in they briefly hung one from the ceiling (trying to figure out the knot) and were laughing about it in the dressing room.

I had asked to speak to someone about it but the only thing I was told to do was to write a letter. I had a brief conversation with someone but all that it entailed was "it's fashion. Nobody cares about what's going on in your personal life so just keep it to yourself"

well I'm sorry but this is an issue bigger than myself. The issue is not about me being upset, there is a bigger picture here of what fashion turns a blind eye to or does to gain publicity. A look so ignorantly put together and a situation so poorly handled. I am ashamed to have been apart of the show. #burberry. I did not post this to disrespect the designer or the brand but to simply express an issue I feel very passionate about.
I'm glad she's calling them out so publicly and correctly identifying it for the kind of dumb stunt-queenery it is. I think that's what most of the recent racist fashion scandals have been too: of course there were people who spoke up and said "wait a second, this isn't right," but all of those people were told to STFU because the labels wanted the attention and controversy.
Photos courtesy of Instagram, Getty.
Yesterday was just bizarre and sad with the news of Karl Lagerfeld's sudden departure from this world. Like many of you, one of my first thoughts was for Karl's beloved cat Choupette Lagerfeld. Choupette came into Karl's life seven years ago, when she was just a three-month-old kitten. Karl's muse Baptiste Giabiconi asked Karl to look after his kitten while he was traveling. When Baptiste came back to claim his kitten, Karl told him that Choupette no longer belonged to him. Choupette was Karl's love ever since. I think his love for this beautiful cat surprised even him – he treated her like a princess and doted on her completely. Choupette has assistants dedicated to her comfort and everything, but even then, she adored Karl. Anyway, I expressed my condolences to Choupette yesterday and I've never had a tweet blow up like that. Choupette even thanked me:
Merci for your condolences 😿

— Choupette Lagerfeld (@ChoupettesDiary) February 19, 2019
Obviously, Choupette wasn't online in the hours after Karl passed. Ashley Tschudin is the woman who runs Choupette's social media, and Ashley was the one thanking people for their condolences, and issuing statements about how Choupette is coping with her loss:
"During this time, Choupette is coping with the loss the best she knows how to, but at such a young age (and being a cat), that is challenging. Karl Lagerfeld is and will always be her 'Daddy.' She is choosing to put her best paw forward and hopes that her loyal fans and followers will continue with their outpouring of love to help ease the pain."
As a cat mom, I find it sweet. When you love cats, you do worry about them and worry about what will happen to them if something happens to you. Well, we still don't know what exact arrangements have been made for Choupette, but most people believe that Karl made certain arrangements for Choupette's care and well-being. Reportedly, Karl knew he was sick for several months at least, so I imagine he had the time to review and possibly change his will. The Daily Mail suggested that Choupette – and the people who care for her – will get a large chunk of his $100 million-plus fortune. Choupette has earned her own money too – she's her own valuable brand.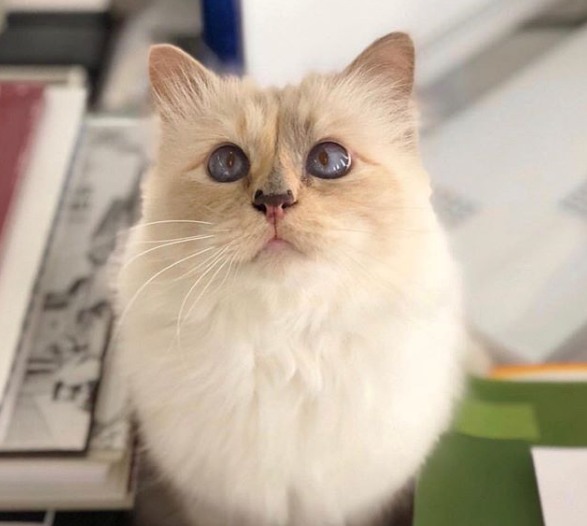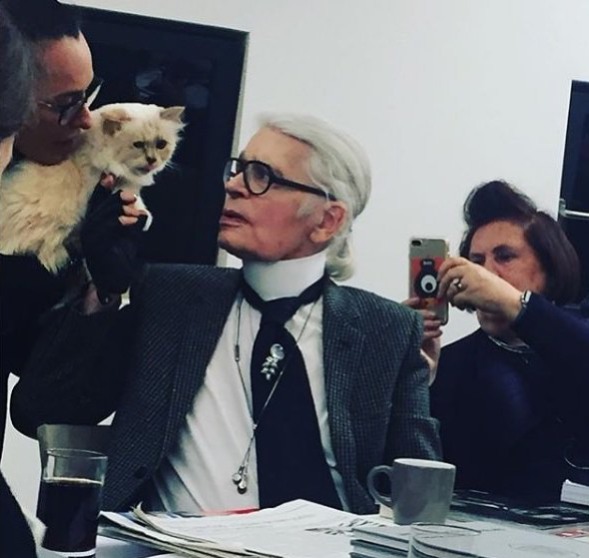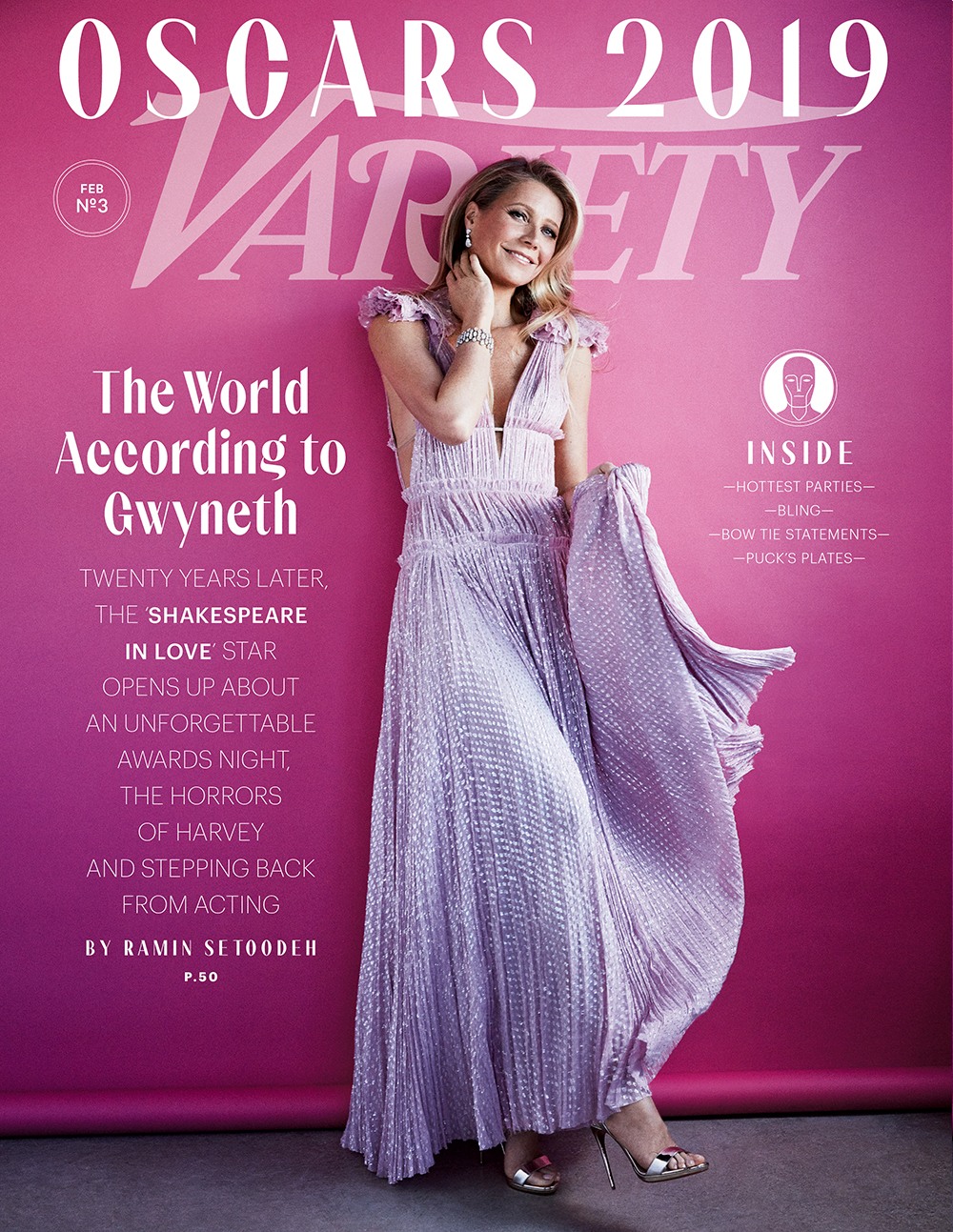 I walked into this Gwyneth Paltrow-Variety cover story thinking it was just going to be Gwyneth reminiscing about her experience at the Oscars the year she won for Shakespeare in Love. The film was released in 1998, so it's the 20-year anniversary of when she won her Oscar. Anyway, I walked into this piece thinking it was just going to be a breezy "remember when that happened," but it's actually a long-read about how Shakespeare in Love came together, how Harvey Weinstein pulled a coup with the Oscar campaign, and how Gwyneth is totally over the actress life. It's a lot! It's a good read too, very interesting if you like insidery stories about how classic or iconic films came together. You can read the full piece here. Some highlights – there are so many good/funny/ridiculous pieces of gossip in here.
How Harvey Weinstein ran SIL's Oscar campaign: Weinstein introduced guerrilla tactics to push "Shakespeare" past the finish line with a campaign war chest of $15 million (unheard of for Oscars races back then). He proved that with enough spending and smearing, you could go up against Hollywood's most successful filmmaker and win. Paltrow is honest about her own struggles with the volcanic producer. "He was a bully. I never had a problem standing up to him. I wasn't scared of him. I also felt for a period of time, I was the consumer face of Miramax, and I felt it was my duty to push back against him. We had a lot of fights." She doesn't believe that Weinstein's involvement with "Shakespeare in Love" tarnishes the picture's legacy. "It's a beautiful film. A movie is not going to be successful if it's not a good movie, not like that."

Brad Falchuk referenced SIL at their wedding. "I hope this isn't too personal. But in my husband's wedding vows, he actually said it's no coincidence that I played this muse, because that's who I am to him, and his perception is that's who I am in real life. It was really sweet."

She thinks Hollywood has changed: "I think the movies and the business around them have changed so much in the last 20 years. I don't think any of the movies that I'm known for would get made today. Would they make 'The Royal Tenenbaums'? Would they make 'The Talented Mr. Ripley'? Would they make 'Shakespeare in Love'?"

She's retiring Pepper Potts after Avengers: Endgame: "I mean, I'm a bit old to be in a suit and all that at this point. I feel very lucky that I did it, because I actually got talked into it. I was friends with ['Iron Man' director] Jon Favreau. It was such a wonderful experience making the first 'Iron Man' and then to watch how important it has become to the fans."

She's fine with a superhero movie winning Oscars: "So if the vernacular in film is superhero movies and they're great movies, then I guess why not, right? I loved 'Black Panther.' I thought it was a really powerful movie and culturally very important. So that's great that it was nominated. I mean that's so cool."

She has seen very few of this year's Oscar contenders: Of all the best picture nominees, the only other ones she's seen are "A Star Is Born" and "Bohemian Rhapsody," both with her two kids (from her first marriage to Chris Martin). She admits that she still needs to catch "Roma" in a theater. "Oh, my gosh," she says. "That seems like a commitment. What else is really good?" There's "The Favourite," of course. "What's that?" she asks.

She turned down the Shakespeare in Love script initially: "I was in the middle of a terrible breakup" — with Brad Pitt — "and the idea of going to England and being far from home just seemed …I didn't even read it. I was just like, 'I can't read anything right now. I'm having a really hard time.'"

When she won the Oscar: "Jack Nicholson gave it to me. There's a funny story where he'd been trying to ask me out before, and I was like, 'I have a boyfriend!'" It wasn't awkward that she'd turned him down. When she forgot to take the envelope from him, he sent it to her with a tender note. "I have it framed."
So much shady sh-t, humble-bragging and Classic Goopiness, you don't even know. I edited like half of all that sh-t out, like when she took credit for making sure Joseph Fiennes was cast (he was still in the dark about that when he spoke to Variety). But there's so much – Jack Nicholson asking her out, being too devastated about Brad Pitt to read one script, not knowing about The Favourite, it's all so… Gwyneth. Also: one of the biggest pieces of Hollywood lore – possibly apocryphal lore – is that Gwyneth stole the SIL script from Winona Ryder and that's what ended their friendship. That's not addressed here at all. Gwyneth makes it sound like she was only the second choice after Julia Roberts backed out. Hmm…
Also: Brad Falchuk called her his muse in their wedding vows, OMFG. Reader, I laughed.
Cover and photo courtesy of Variety.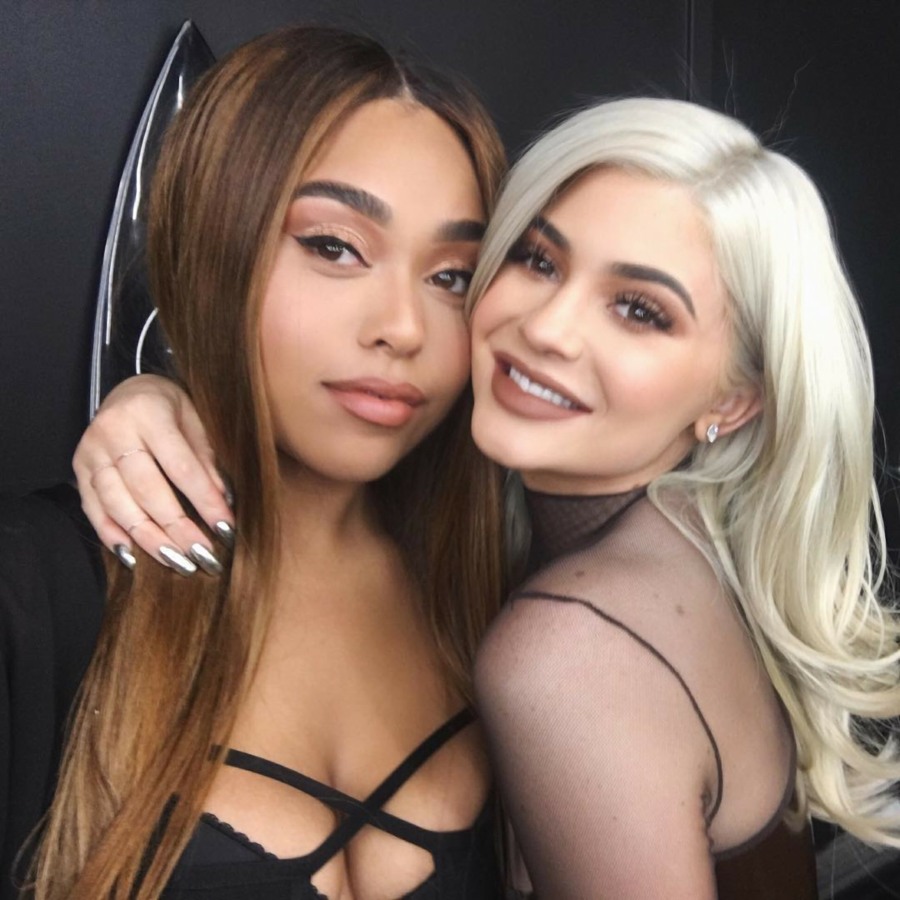 As we discussed earlier, Khloe Kardashian finally did the thing. She finally dumped Tristan Thompson, who repeatedly cheated on her with multiple women. You would have thought that "cheating on Khloe during her pregnancy" would have been the dealbreaker, but no. They stayed together through that. The dealbreaker was Tristan fooling around with Jordyn Woods, who is Kylie Jenner's longtime best friend. Jordyn has known the Kardashian-Jenners for years and years. Jordyn is involved with all of Kylie's stuff, from her business to her social media to just being a general sounding board. So have all the Kardashian-Jenners canceled Jordyn? I don't know. But E! News says that the family is really torn up about how everything went down.
Kylie Jenner is reeling over the realization that best friend Jordyn Woods betrayed her friendship by hooking up with Khloe Kardashian's former beau, Tristan Thompson. This is perhaps most surprising to the Kardashian family, who have been close friends with the aspiring model for much of her life. However, this scandal marks the end of a friendship that spans well over a decade. A source tells E! News, "The whole family is writing Jordyn off."

Cutting ties with the 21-year-old is going to be hardest for Kylie, who, according to a source, "was in denial for days." The makeup mogul "is very torn on how to handle the situation," and for good reason. Kylie fondly refers to Woods as Auntie Jordyn and reportedly lets her friend live in in her guest house.

Similarly, Khloe is in utter "disbelief" over the sordid situation. "Khloe is more disappointed that someone so close to their family would betray her," the source explains. "She can't believe it." According to the insider, Khloe learned about Tristan's tryst with the 21-year-old through a mutual friend on Monday. She then confronted the athlete about the rumors, which a second source says Tristan "tried to deny." Khloe wasn't hearing it though. "She heard it from multiple people and doesn't believe him for a second," the second source adds.

"She is angry more than she is sad. And she's shocked Jordyn would do this. Of all the guys in the world, she can't fathom why Jordyn would make a decision like this," the second source explains. "Khloe is reliving the worst kind of betrayal and pain all over again."

As for the night of the betrayal, the first source shares that Tristan and Jordyn were spotted looking too close for comfort when they went with a "group with mutual friends" to see rapper Drake and his crew. While mingling with their friends, the source says, "Tristan and Jordyn were definitely hanging close to one another and were being very flirty. Tristan had his arms around her at one point," the insider adds. As the night went on, the source says, "Jordyn stood by him the entire time they were out and he was laughing and smiling at her."

Things quickly escalated between the two A-listers when Tristan invited their friends and Jordyn back to his place for a "secretive" after party. "Jordyn stayed at Tristan's house partying with him and his friends until the early hours of the morning, and they were very touchy," the source shares. "They sat together on the couch and were talking and cuddling for hours. They had chemistry the entire night and everyone could see it… You could tell they were into each other," the insider describes.
Jordyn was living in Kylie's guest house?!?! OH NO. What was Jordyn thinking? Honestly… I sort of understand what Jordyn was thinking. She's had a front-row seat to witness Khloe and Tristan's dysfunctional relationship. Jordyn probably thought "what will it hurt, they're barely even together at this point." The false note here is the timeline, and Khloe suddenly being all enraged that her known-cheater boyfriend cheated again after they were halfway broken up anyway. This is something I've been debating with some people: I understand why Khloe and the rest of the family have canceled Jordyn, but do you think Kylie has an obligation to completely cancel her BFF too? I'm torn. But apparently it did happen and Kylie is no longer friends with her.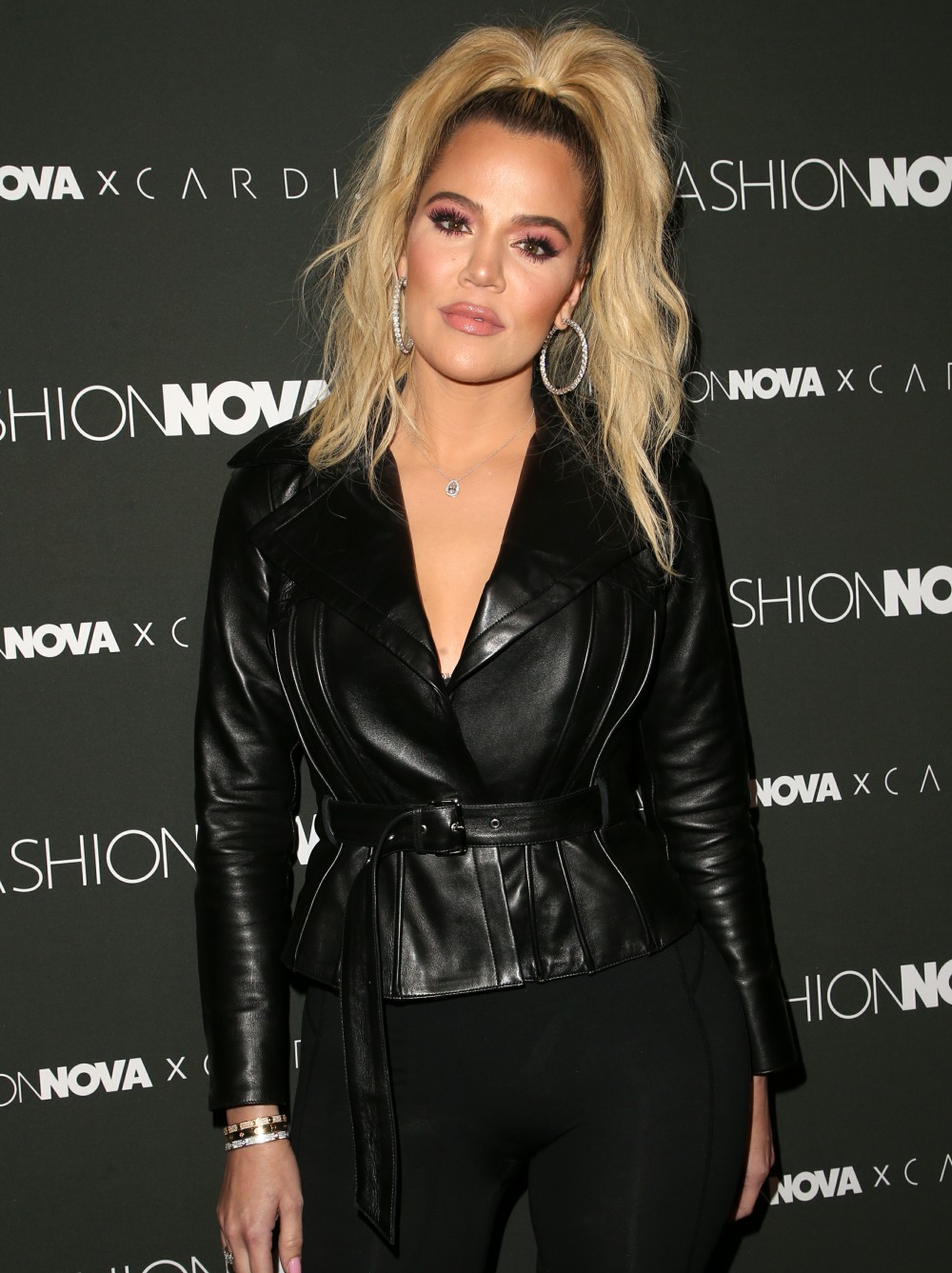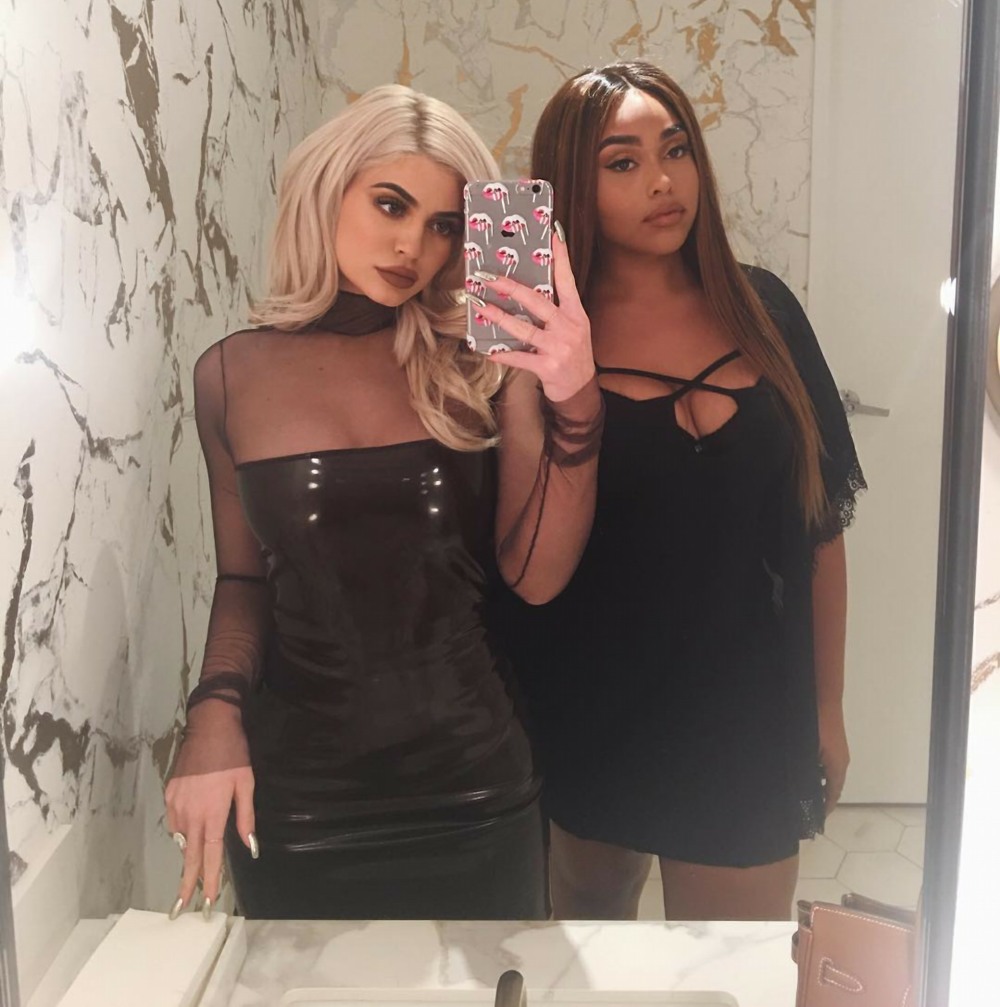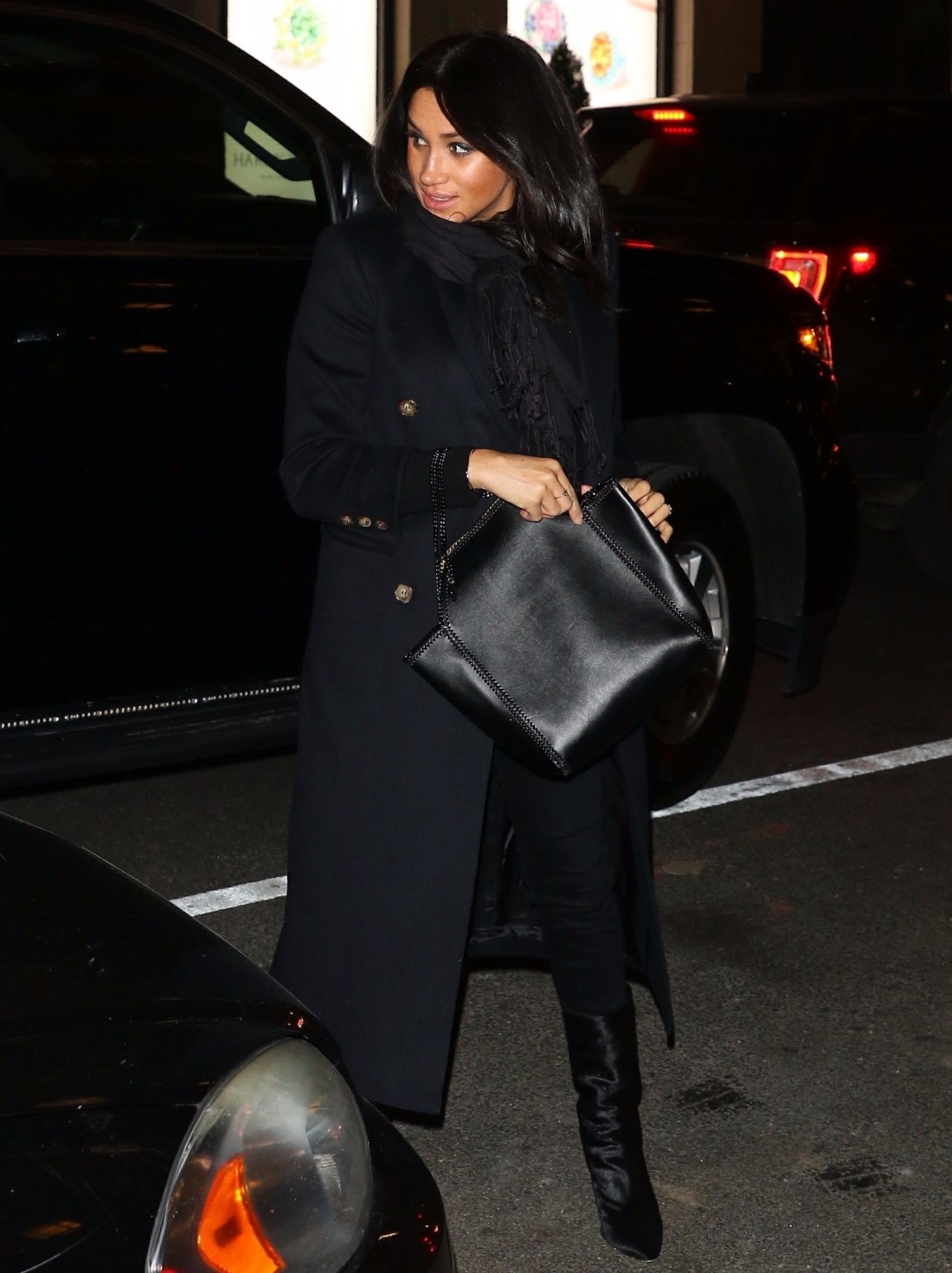 The way I figure it, the Duchess of Sussex got three solid days of low-key time with her girlfriends in New York. No one snitched on her location, people respected her privacy. Then people started leaking. To be fair, much of it was to be expected – Meghan can't and wouldn't ask her friends to basically go into hiding when they're in New York. She and her friends are just living their lives, and of course people eventually found out. So by Monday, we knew she was in New York. Tuesday was the baby shower, which was full of Meghan's friends, many of whom flew into New York just for this. Then a few hours later, Meghan and some of her peeps hit up The Polo Bar.
First of all, I'm sure Ralph Lauren is beyond thrilled that Meghan and her peeps hit up his branded restaurant. RL loves royalty, and he was disappointed in the past by how little face-time he got with the Duchess of Cambridge. If this was a low-key spon-con, then it was a smart move. As for her peeps, Meghan was seen with her dear friend Markus Anderson, Jessica Mulroney and Serena Williams.
For this outing, Meghan wore a pair of Hatch Maternity jeans which are possibly the same pair from earlier in the day. She paired them with a black blouse (ID unknown), her navy Victoria Beckham coat (which she wore for Christmas at Sandringham) and shiny black Tamara Mellon boots. Her black bag is Stella McCartney. Good blend of designers.
Meanwhile, details about Meghan and Harry's itinerary for their Morocco trip were released – they arrive in-country on Saturday, and they have a jam-packed scheduled through Monday. You can read more here.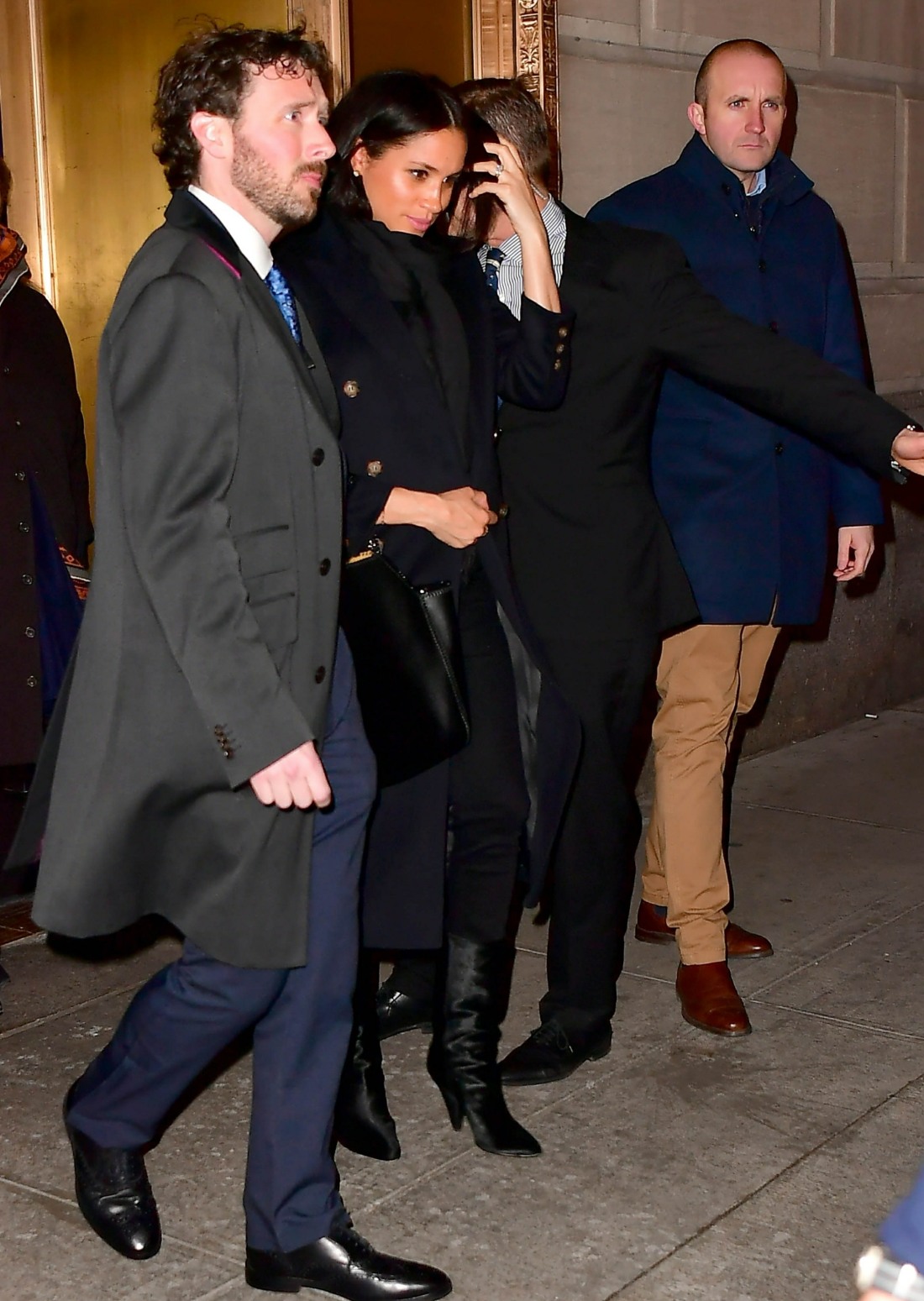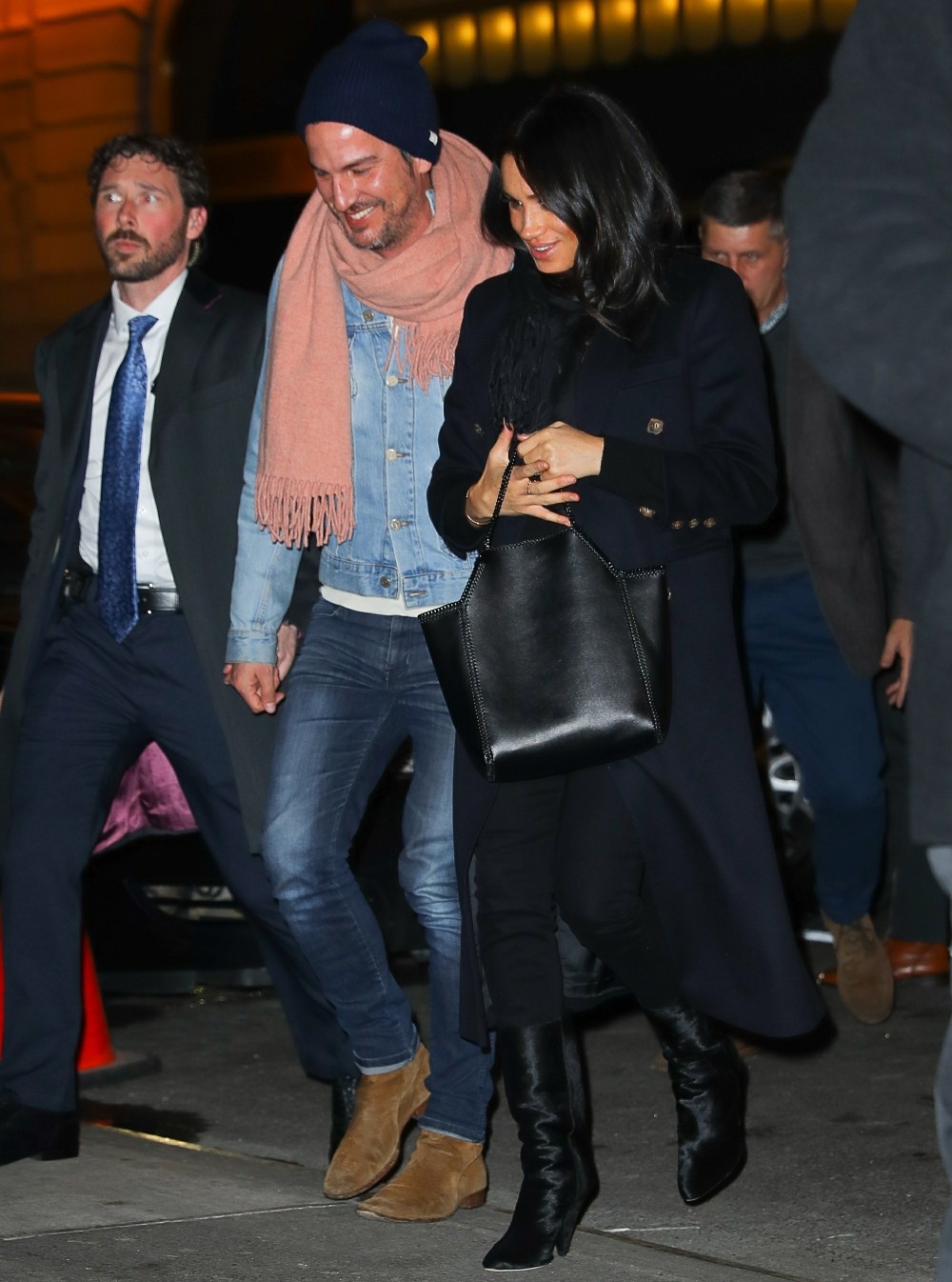 Do you think Miranda Lambert is mad about Khloe Kardashian stealing her "messy" thunder? There were some sympathetic "takes" on Miranda's situation, like "poor Miranda is getting the brunt of the criticism even though it's her new husband who is a dumpster fire," but let's be real: Miranda LOVES this. She loves that people are talking about her. She loves the drama. So, let's go through some of the stories which broke just in the past 24 hours.
First of all, as I suggested on Monday, once Miranda announced her marriage to Brendan McLoughlin, I figured that Brendan was the guy with Miranda during the Nashville steakhouse beef. Turns out, I was right – People Magazine did an analysis of all the 911 calls, and it seems like Miranda's "male friend" identified himself as a cop at some point in the salad-tossing melee. The male friend was also described as being "very young" (LOL) and none of the 911 callers knew if he was her security, but they figured out that "they're with each other."
Next up, Brendan's love life was extremely messy before he even met Miranda, as we learned this week. He was engaged to Jackie Bruno when he got Kaihla Rettinger pregnant, and he still begged Jackie to stay with him. Kaihla gave birth to their son the same week he met Miranda. People Magazine is even reporting on his backstory now – they have a story about how Brendan was still engaged to Bruno "just months before marrying Lambert" and he gave Jackie a $15,000 diamond engagement ring. One of the craziest details from People? "McLoughlin and Bruno's relationship ended when Kaihla Rettinger, the mother of McLoughlin's son, messaged his former fiancée to let Bruno know Rettinger was seven months pregnant with the police officer's child and had been living with him and his family, the source reveals." OMG. This sh-t is so crazy.
People Mag also says that Brendan spent Thanksgiving with Kaihla and their newborn son, and that there was an overlap between his relationship with Kaihla and his thing with Miranda, and their source also insists that Brendan has a "history of cheating." Which makes it sound like Miranda found her match. So let's bring more babies into it:
Miranda Lambert and her brand new husband, Brendan McLoughlin, are already talking about having children together! A source close to the "Tin Man" singer tells ET that, just days after announcing their secret wedding, she is more than ready to take the next step with McLoughlin.

"We've never, ever seen her so happy and think she's finally found her one and only," the source says. "Miranda and Brendan both want kids. [She] never felt ready to have children until she met Brendan and now she's excited to be a stepmom. She even says it's great practice for when she has a baby."

McLoughlin is already father to a few-months-old baby from a previous relationship. The source notes that he has provided the songstress with a sense of normalcy that she desperately needed.

"Brendan makes Miranda feel grounded, centered and very safe. He's a police officer and everyone has been loving that she fell for a man in uniform," the source adds. "Miranda is relieved to have found someone who isn't in the music industry. Brendan is perfect for her."

The 35-year-old country music star's father, Rick Lambert, is a former Dallas police officer, so perhaps settling down with a lawman is just what she needed amid a career in the spotlight.
Miranda "never felt ready to have children until she met Brendan and now she's excited to be a stepmom. She even says it's great practice for when she has a baby." OMFG. If I was Kaihla… I would be calling every lawyer possible to ensure that Miranda kept her hands off my baby. That's really gross. As for whether Miranda would have a baby with this messy AF individual… your guess is as good as mine.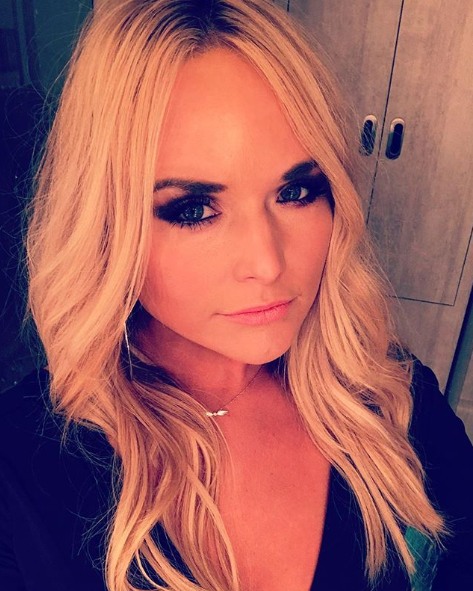 Photos courtesy of Miranda's Instagram.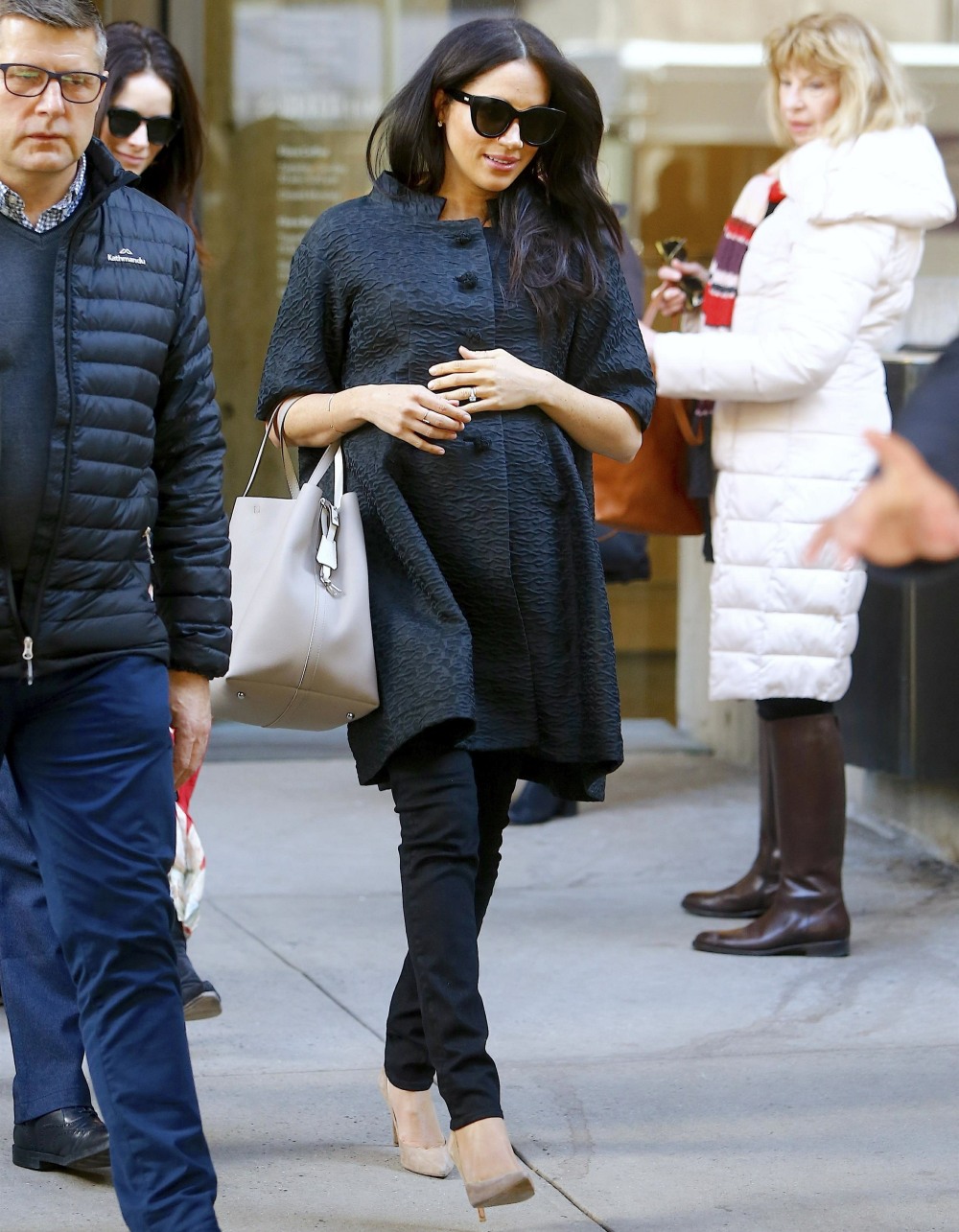 Since I'm making the effort to ignore the British tabloids now that our "American princess" is on American soil, I really don't know how the British media are handling the Duchess of Sussex's trip to New York. My guess is "not well." Meghan reportedly flew out of London last Friday, and she's been spending all weekend and into this week with her girlfriends. On Tuesday, her friends threw her a big baby shower at The Mark.
Meghan got pap'd like crazy going into the baby shower and coming out. It wasn't the first time she was photographed on this trip, but these were the clearest photos and she wasn't hiding. I feel like the paparazzi really did just know where to go and where to position themselves. And that's fine? She's not hiding. She's not doing anything shameful. Guests at the baby shower reportedly included Abigail Spencer (from Suits), Jessica Mulroney, maybe Mischa Nonoo. There were reports that Serena Williams would attend, and I doubted those reports, but Meghan stepped out with Serena later on Tuesday, so probably.
For this photographer-friendly outing, Meghan looked super-cute in a business-casual sort of way. She wore Hatch Maternity jeans, a vintage coat by Courrèges, and Carolina Herrera heels and tote. I actually love the vintage coat, it looks very "Meghan" and classic. Meghan looked great, and the time in America seems to have really agreed with her. Just wait until she pops that baby out and takes on ten new international charities and she travels to New York with regularity.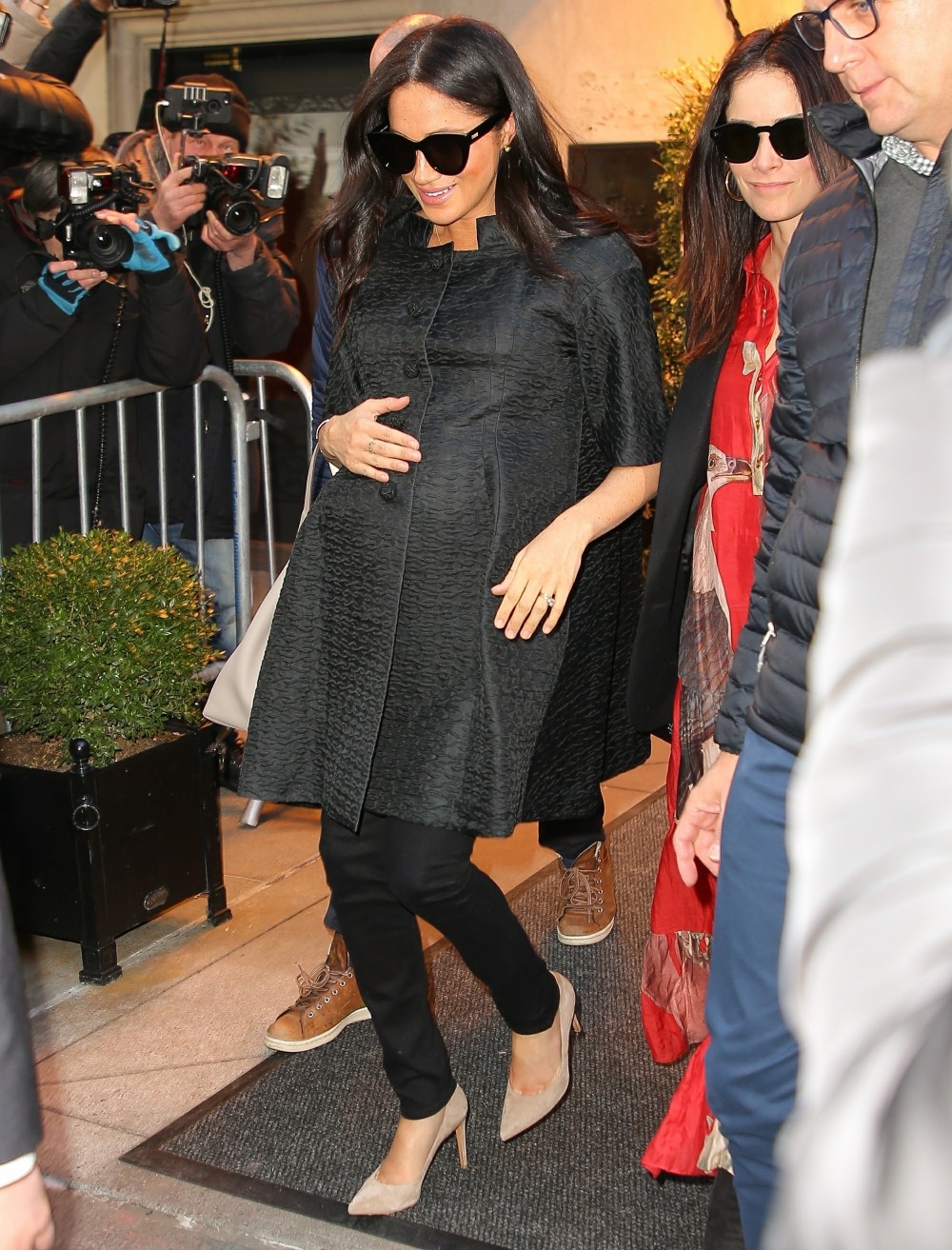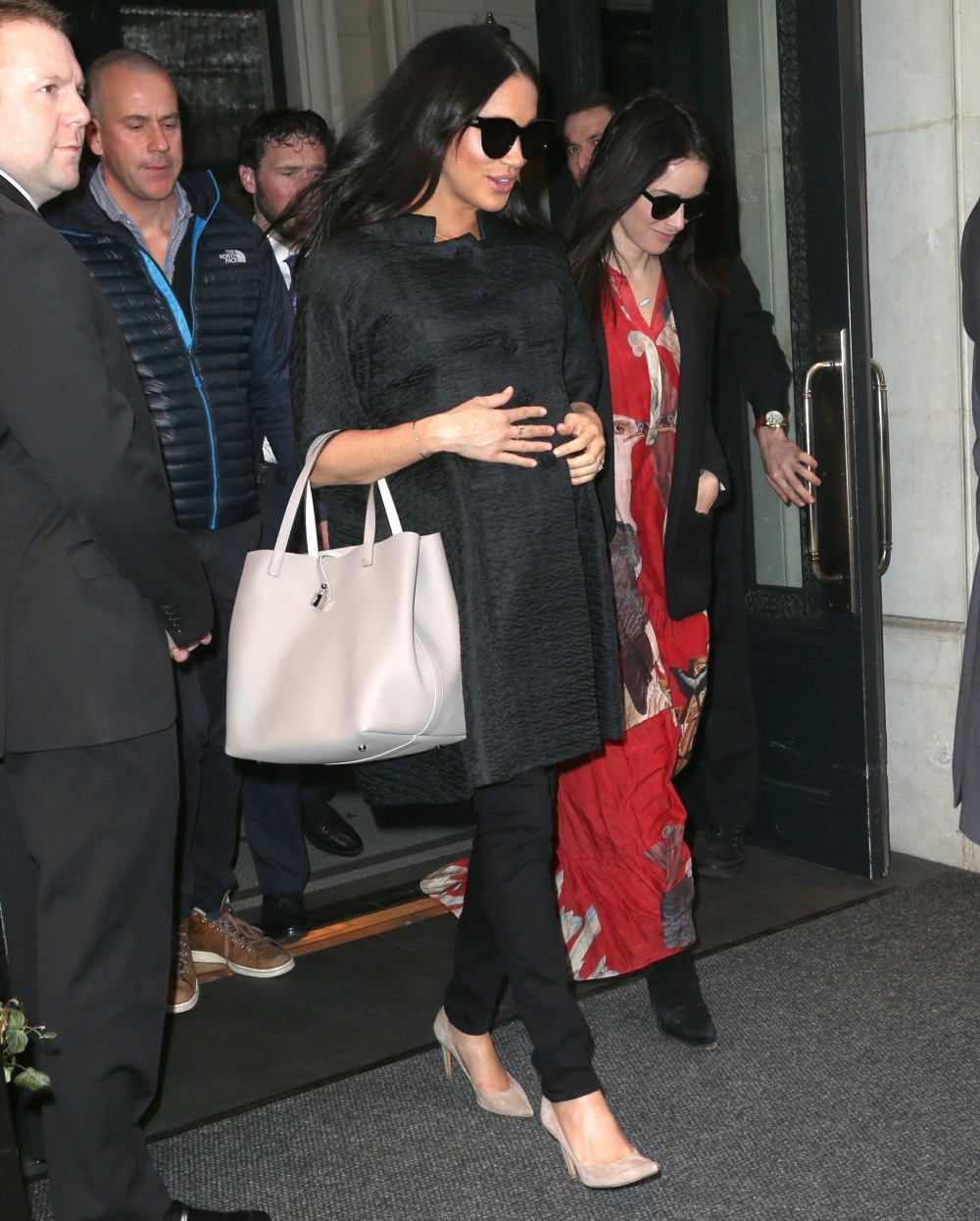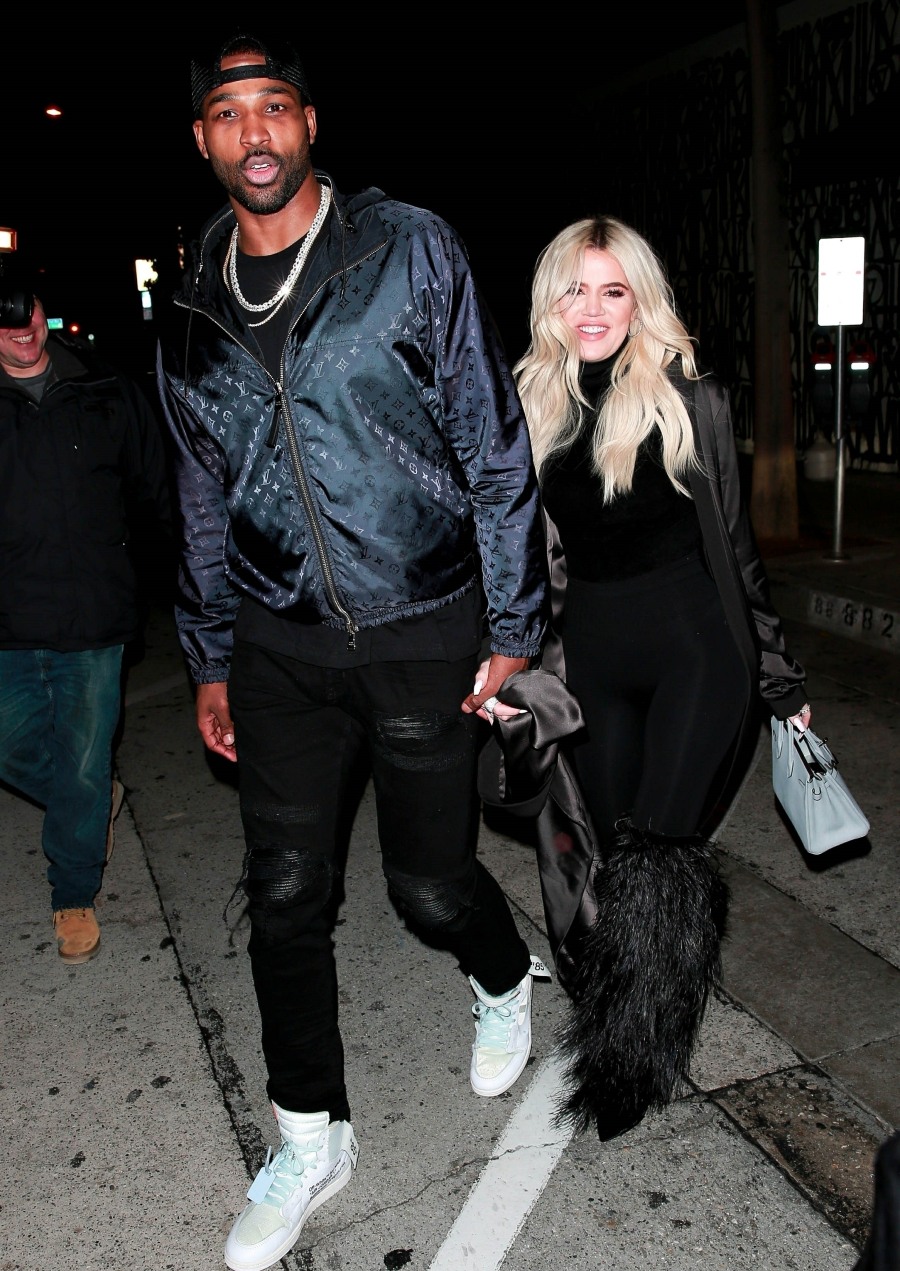 For a few weeks now, there's been a steady drumbeat of escalating exclusives in People Mag and Us Weekly, all about Khloe Kardashian and Tristan Thompson. It seems like Khloe and Tristan really did have some kind of falling out at some point recently, and Khloe's been "acting like a single mom" and Tristan didn't even spend time with Khloe when he flew to LA on Valentine's Day. And now we finally know what went down: Tristan cheated. Again. With Kylie Jenner's BFF Jordyn Woods. Oooohhh.
Khloe Kardashian has thrown in the towel, breaking up with Tristan Thompson after she found out her baby daddy allegedly cheated on her with Kylie Jenner's best friend … TMZ has learned. We're told Tristan flew into Los Angeles to spend Valentine's Day Thursday with Khloe and their daughter, True. On Sunday night he was at a house party, where we're told he snuggled up with Kylie's BFF, Jordyn Woods.

Witnesses tell us Tristan and Jordyn were all over each other … making out. We're told Khloe found out and immediately broke things off with the NBA player … a source tells us "she has had enough."

We're told there's little chance for reconciliation … Khloe and Tristan are done. We don't know Kylie's reaction to the latest development, but she and Jordyn have been inseparable.
Well… on one hand, I'm mad that Khloe insisted on extending this sh-t for so long when we all f–king knew that she needed to dump him LAST YEAR. On the other hand, Tristan is an utter coward in relationships. He couldn't just sit down and tell Khloe that he didn't want her or any of this. He could have just broken up with her after she gave birth to True. Sure, he would have looked like "the bad guy," but he's looked like the bad guy this entire time? Bad guys cheat on their pregnant girlfriends. Bad guys keep cheating on their recently postpartum girlfriends. Bad guys screw around with someone close to home – their girlfriend's sister's BFF – and expect their girlfriend to find out about it. Tristan is a Ben Affleck-level self-saboteur.
As for Jordyn Woods… apparently, none of the Kardashian-Jennerss follow her on social media anymore (according to internet sleuths).
Kylie unfollowed Jordyn! Yes, I was curious and bored enough to check 😩 pic.twitter.com/gMribqJ5pR

— ᴅᴀᴛᴀ ᴘᴇᴘᴘʟᴇ 🏳️‍🌈 (@DataPepple) February 19, 2019
Oh bitch it's true??? Wow! Jordyn Woods about to be homeless and Tristan still ain't shit! pic.twitter.com/uOtb7HBH1P

— TiTi🖤 (@ElegantFenty) February 19, 2019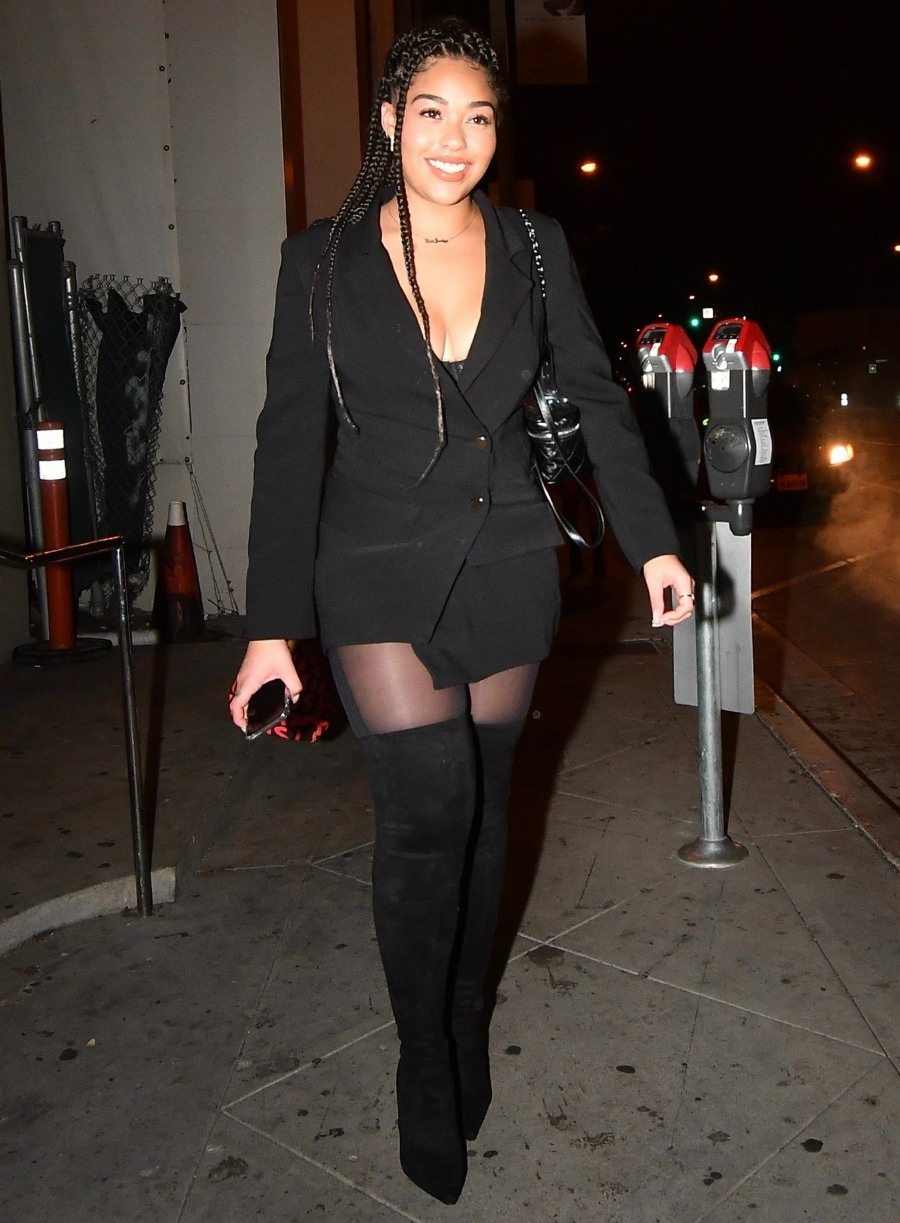 Last week, E! News had an interesting rumor about Lady Gaga and her fiance, Christian Carino. They theorized that Christian's absence from the Grammys meant something, and that something was that Christian and Gaga had ended their engagement. I theorized that NO ONE has a break up or ends an engagement in the final weeks of an Oscar campaign. It just isn't done – people dump their spouses/partners just after the Oscars, not before. But I wa wrong. Gaga did just that: she dumped her fiance in the middle of Oscar season. Drama!
Lady Gaga and her fiancé Christian Carino have split, her rep confirms to PEOPLE exclusively.

"It just didn't work out. Relationships sometimes end," a source tells PEOPLE. "There's no long dramatic story."

Speculation began that the couple was taking time apart when eagle-eyed fans noticed that Gaga, 32, was not wearing her engagement ring at the Grammy Awards on Feb. 10. Gaga also did not thank Carino in her acceptance speech after her song "Shallow" won the best pop duo or group performance prize. Carino did not attend the Grammys, even though Gaga has brought her former fiancé as her date to other events this awards season, including the Screen Actors Guild Awards and the Golden Globes, as she's made the rounds accepting trophies for A Star Is Born.
Christian is part of her management team, correct? Gaga has lots of people, so it's not like he was her one Svengali or whatever, but it's still going to be sort of messy when it comes to her career. As for the reasons for the breakup… I mean, I think at the start of this, she was just in the mood to settle down and be in a more stable, structured relationship. She got that and maybe she was sort of bored. I agree that there was probably no big issue, no big fight, no big scandal. I really do believe that she outgrew him or just realized she wanted something else.
I'm sure there will be people who want to believe that this means Gaga and Bradley Cooper are having a secret affair. LOL, no. They're not. I don't think B-Coop is a stranger to secret affairs, but Gaga ain't it.
Photos courtesy of Getty.
Kaiser's RSS Feed