Kaiser
This user hasn't shared any profile information
Home page: http://www.celebitchy.com
Posts by Kaiser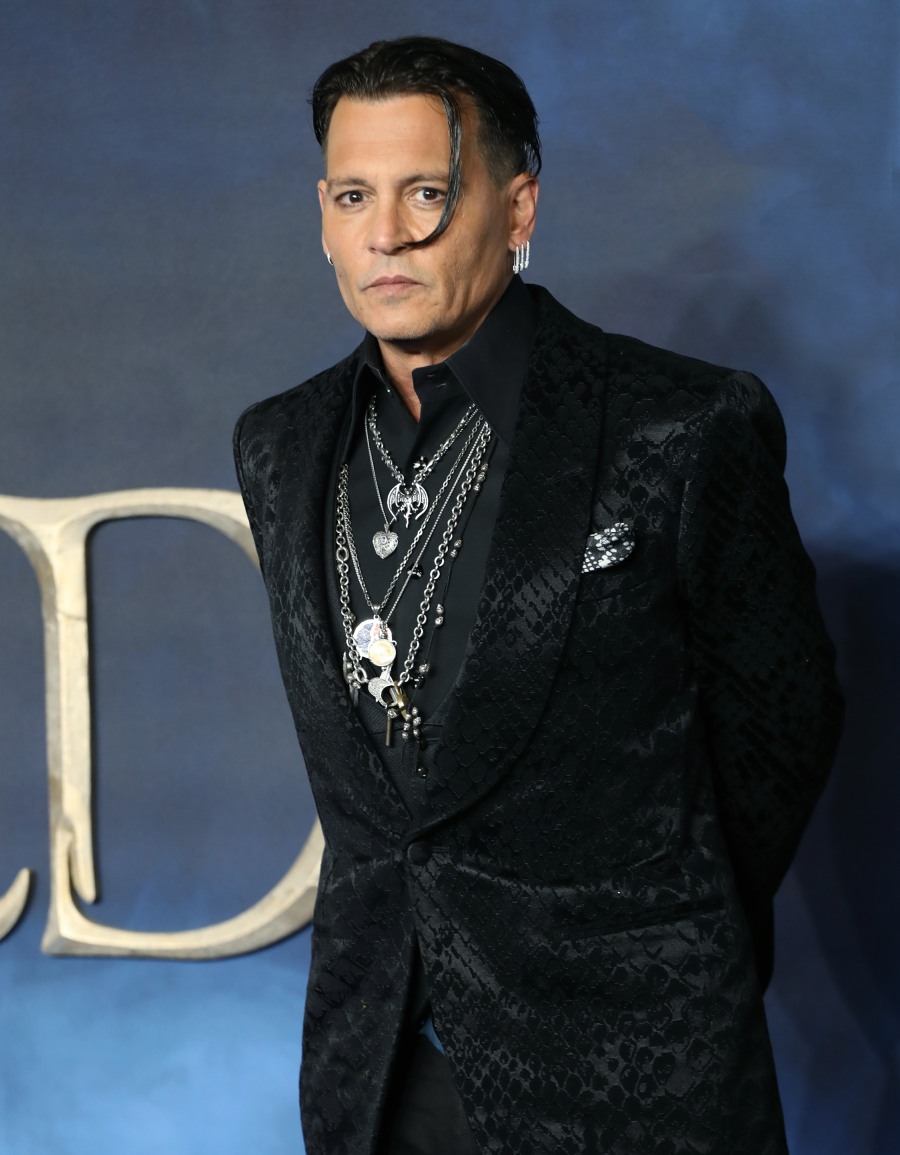 Did Johnny Depp get Amber Heard blacklisted from Warner Bros films, and did he try to get her fired from Aquaman? [Pajiba]
Chris Brown & Nicki Minaj are touring together this summer. [Dlisted]
Lizzo apparently killed it at Coachella. [Jezebel]
Julia Louis Dreyfus looks great on the cover of Porter Edit. [Go Fug Yourself]
John Oliver gives his take on the Mueller Report. [Towleroad]
Recap of the RHOA Reunion show. [Reality Tea]
Janelle Monae talks about being a black queer woman. [OMG Blog]
The livestream of Kanye West's Coachella performance was… weird. [The Blemish]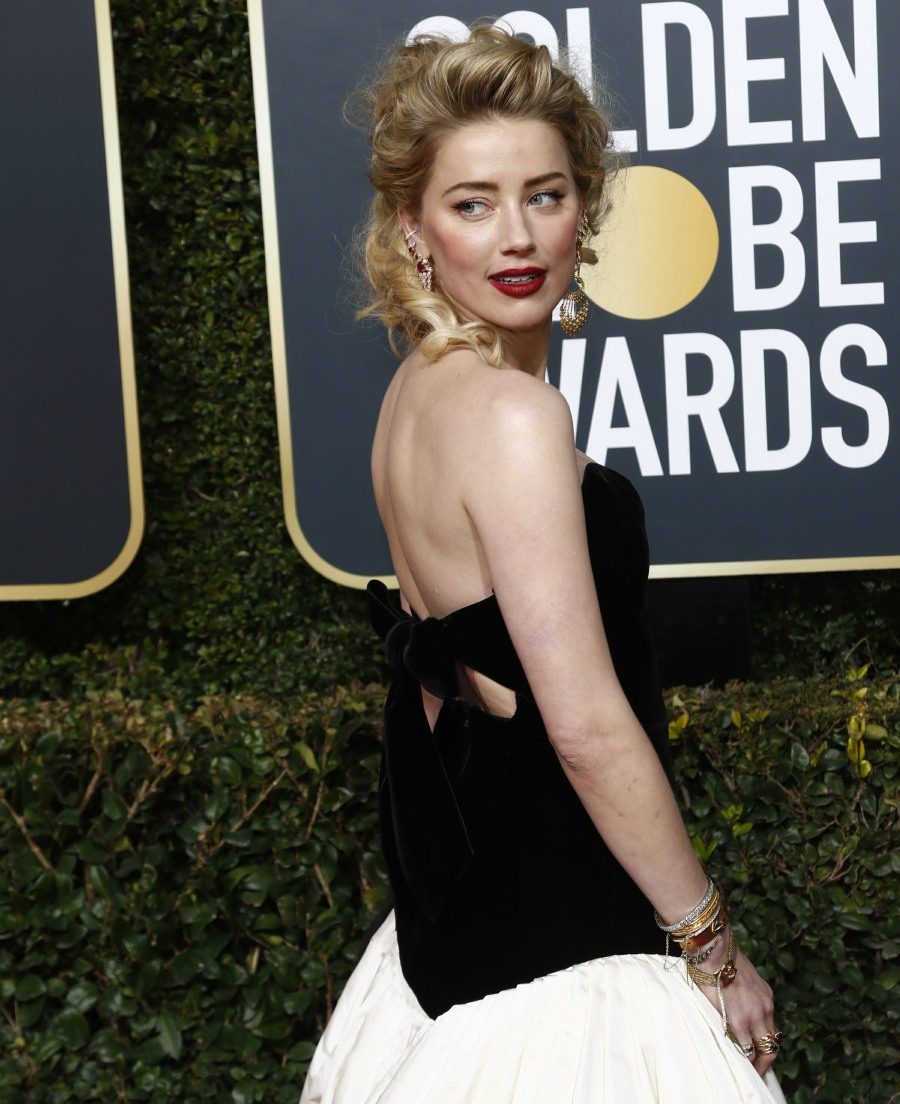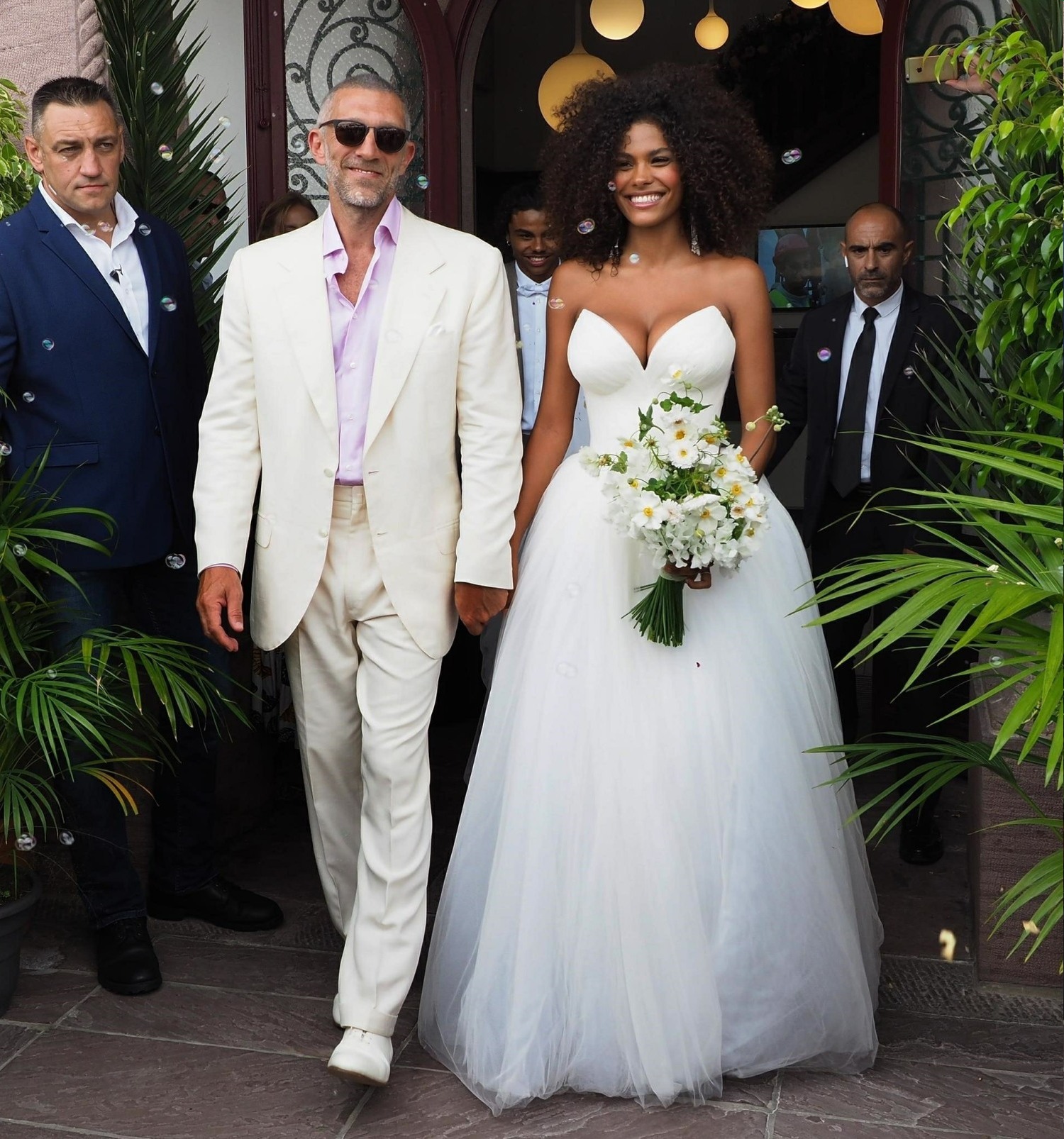 Last year, Vincent Cassel married a young model named Tina Kunakey. He was 51 at the time, and Tina was 21. They had been dating since she was 19 or 20. As it turns out, Tina probably got pregnant on their honeymoon. They announced the pregnancy at the end of 2018, and now they've welcomed a baby. Congrats to them – and Vincent ended up with another daughter! He's already dad to two daughters from his marriage to Monica Bellucci. And now he has his third girl: Amazonie. Amazonie Cassel.
Vincent Cassel is a father for third time. The French Black Swan actor, 52, and his wife, 22-year-old French model Tina Kunakey, are the proud parents of a new baby girl, he announced Friday. Sharing the news on Instagram, Cassel posted a photo of a rainforest waterfall alongside the phrase, "Amazonie est née ❤️ (Amazonie is born)."

The child's name is seemingly a tribute to Brazil, where the spouses reside part of the year.

The couple, who have been together since 2016, were married in an intimate ceremony in Bidart, France, last August. Kunakey's pregnancy was confirmed on Jan. 1, by the couple on social media.
I mean… I like the idea of making a reference to Brazil, rather than just having the name be something impossibly French. But Amazonie? I'm sure it sounds different when Vincent is saying it with a French accent, because it sounds terrible with my American accent. I'm pronouncing it as Ama-ZONE-y. It's probably softer though? Ama-zahn-nee maybe? His other daughters are named Deva and Léonie. Does Amazonie fit with those names? Ah, well. Congrats to the happy family and I hope Tina isn't like "why did I settle down with this old guy" in two years' time.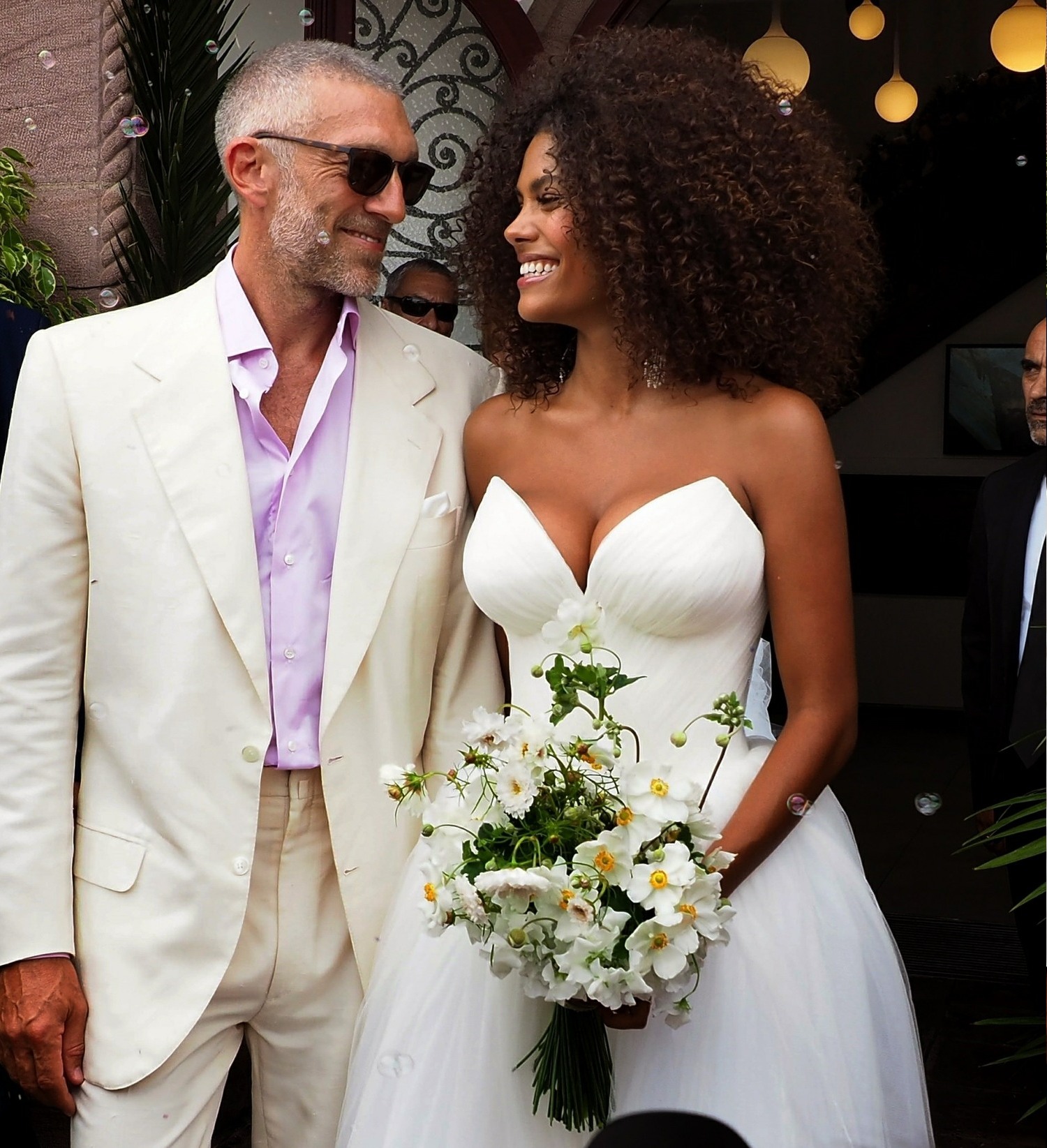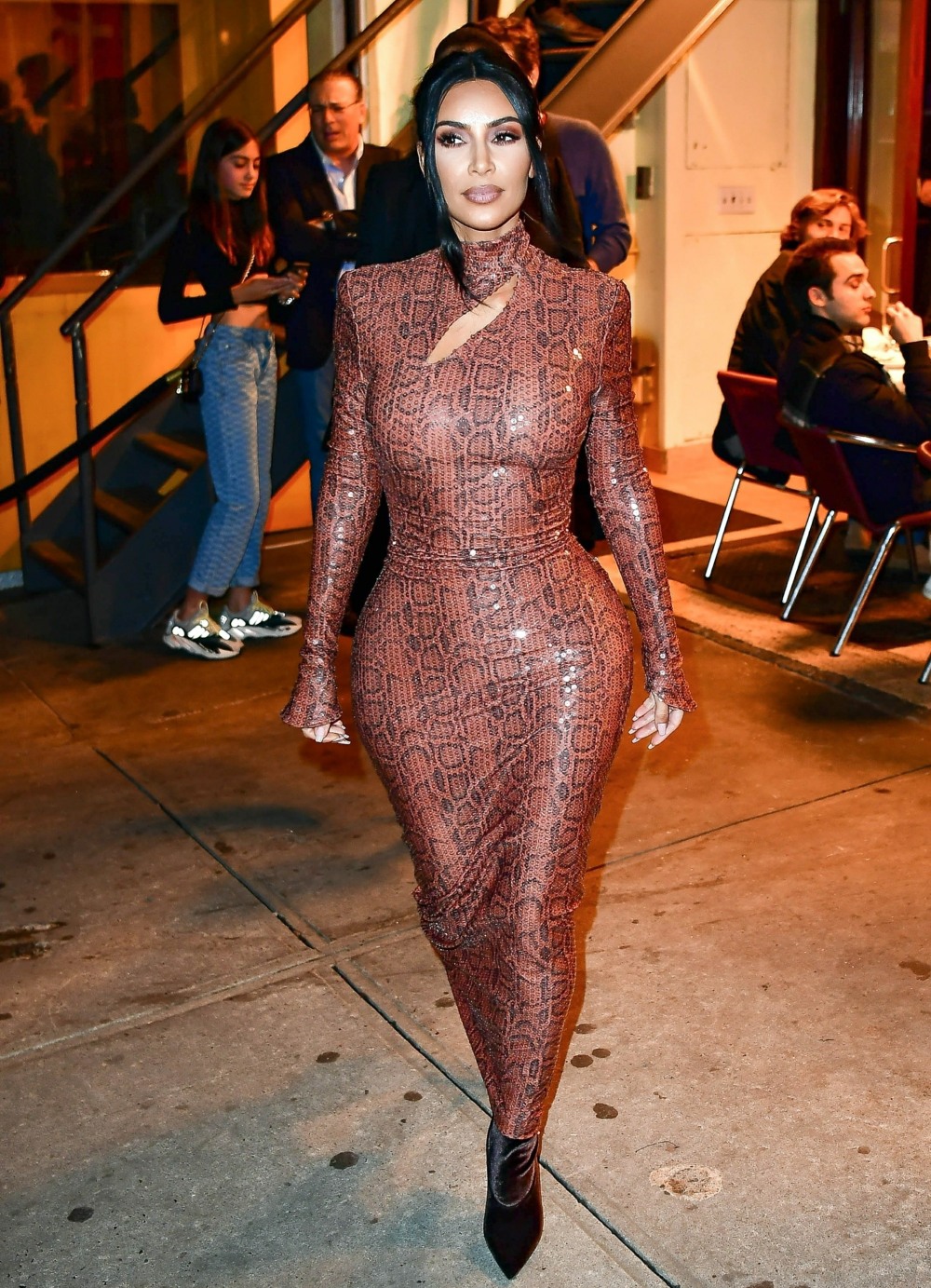 Kim Kardashian is not really a moral authority on anything, especially education. I mean, I'm happy for her that she's reading the law, but she's not really in a position to recommend anyone to seek higher education. I hate to think about what will happen when the Kardashian-West kids get older – will Kanye and Kim prioritize their education at all, or will they shrug and say "well our kids are going to be famous anyway"? That's what I thought about when I read these quotes from Kim, as she discussed the Operation Varsity Blues issue, where parents were scamming their kids' way into college. Kim wants us to know that she would never do that.
Kim Kardashian is speaking out on the college admissions scandal which has landed fellow celebrities Felicity Huffman and Lori Loughlin in hot water. As one of the most influential women in Hollywood, Kardashian, 38, says she would never abuse her fame to get her children into school.

"If they couldn't get into a school, I would never want to use privilege to try to force them into a situation that they wouldn't thrive in any way," Kardashian tells CNN's Van Jones in a yet-to-air interview obtained by E! News. "That's what I see is not appropriate."

Kardashian went on to explain, that like most parents, she just wants her children to be "kind."

"I want my kids to be as grounded as possible. To buy your way into something just wouldn't benefit anybody," Kardashian says. In addition to being a reality star and a makeup mogul, Kardashian hopes that her latest venture to become a lawyer sets a good example for her kids.

"Having my kids see me studying, leaving and going into an office a few days a week, studying all the time coming home — I have my backpack they have their backpack. Them seeing that I have this filming career and having makeup samples tested all on my arm while I'm trying to read my flashcards. I hope they get inspired to know that they can put in the hard work and even though I'm in my late 30s and just finishing college — it's never too late and there really is no easy way out."
"I would never want to use privilege to try to force them into a situation that they wouldn't thrive in any way." That's an interesting point – for all of the scamming those parents did, it's like it never occurred to any of them that their kids would be ill-suited to a college experience they didn't earn themselves, and their kids wouldn't thrive intellectually in a situation where they were in over their heads. That being said, it's good for kids to learn how to be in environments where they don't "thrive" – that's how you learn about yourself, and how you figure out what you want to do and don't want to do. Now, do I believe that Kim would never use her privilege to further her kids' education? Eh. I think she would use her privilege, but I just don't think she would scam, you know? She would go the more traditional routes for wealthy parents: she would donate money or have Kanye promise to do something, etc.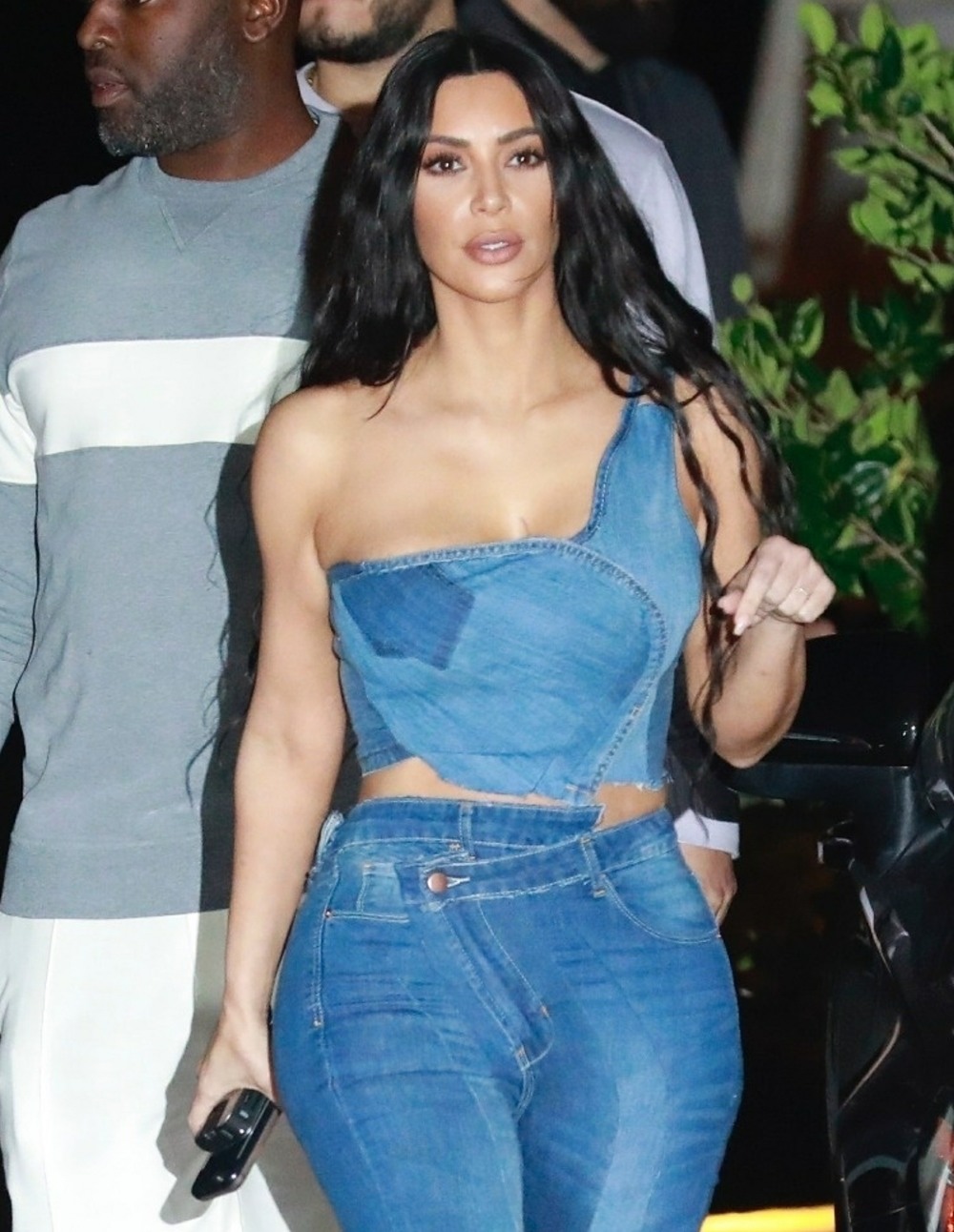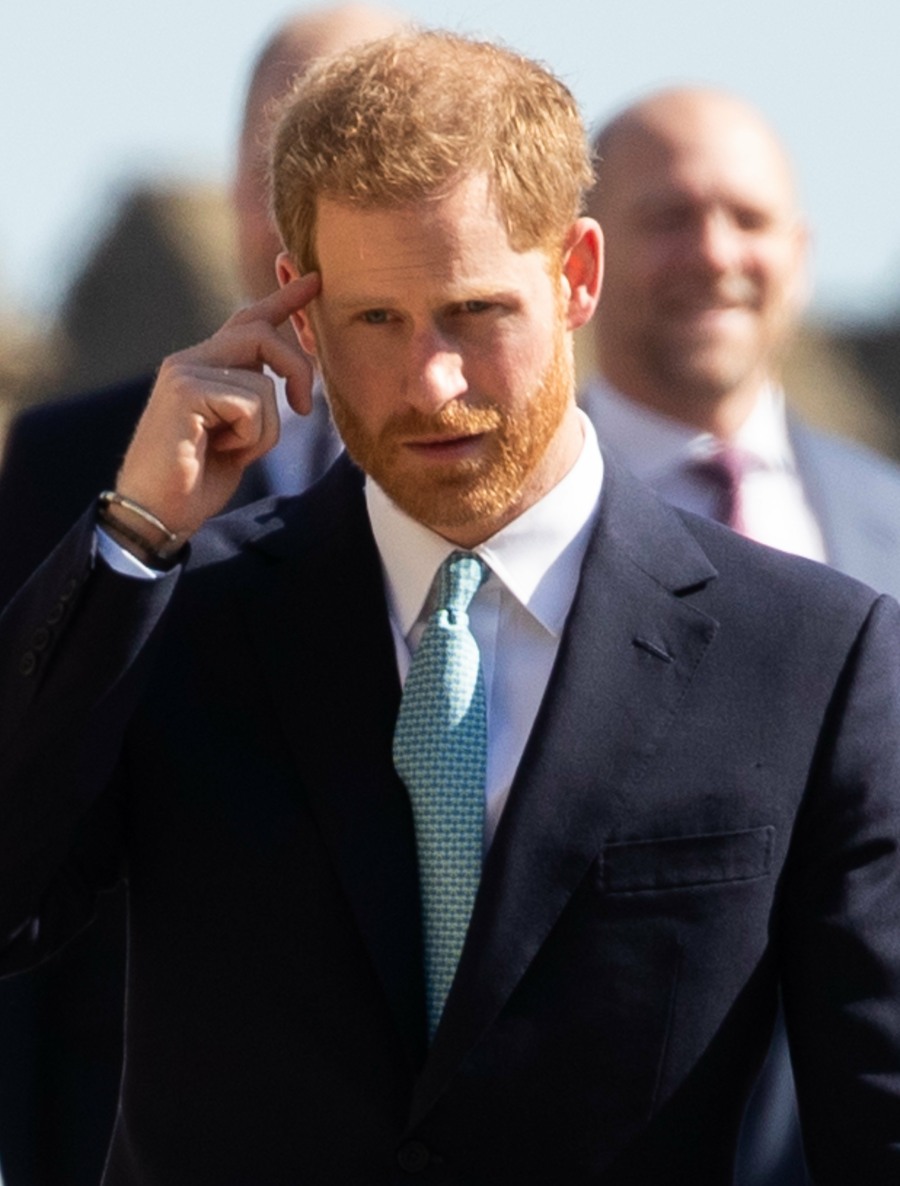 As we discussed earlier, there was a huge story in the Sunday Times of London about how "palace officials" and Prince William are increasingly concerned about the Duke and Duchess of Sussex's popularity. They're concerned Meghan and Harry will overshadow the other royals (mainly William and Kate) and they're concerned because Brand Sussex is global. Meaning, Harry and Meghan are interesting to people around the world. So those palace officials have been considering sending Meghan and Harry away, out of the country. Australia and Canada were nixxed because, the palace courtiers reasoned, it would be too much like giving Harry and Meghan their country to "rule." So the idea is that the Sussexes might be forcibly exiled to Africa. Only now the British tabloids are trying to make it sound like Harry and Meghan want this (they do not) and that it will cost a ton of money anyway:
Fears have been raised over the cost to the taxpayer of keeping Prince Harry and his wife Meghan safe during any 'secondment' to Africa. The Duke and Duchess of Sussex are reportedly considering a 'sabbatical' overseas, possibly in Botswana or South Africa, to work on behalf of the Commonwealth and charity engagements.

The Government and the Palace will open talks about the scope of any role Harry takes up and who will pay for the costs of the trip. But concerns have already been raised that keeping the royal couple and their new baby safe in Africa will put a strain on the royal protection budget of the Metropolitan Police.

The cost of the SO14 unit who protect the Royal Family has been estimated at around £130million, although experts say looking after the Sussexes in Africa could cost an extra £1million. That would include any extra pay for the officers sent to Africa with the couple, as well as their medical, insurance, travel and accommodation costs. The secondment could take the form of a six-month trip, or four months a year for two years.

Botswana, where the couple spent Meghan's 36th birthday in 2017, and Malawi have been put forward as possible temporary homes, as well as South Africa, with each country having its own security issues.
Just to be 100% clear, the story on Sunday was that Will & Kate were so distraught at the Sussexes' popularity that they were working with palace officials on some kind of scheme to exile the Sussexes. 24 hours later, the story has been twisted to "Harry and Meghan want a sabbatical in Africa." Bitches, we see you. We see ALL of your racist AF shenanigans. How did this sh-t change over the course of like 10 hours? Was it because William's fingerprints were all over the original story and it made William look petty AF? Probably. But now all of the reporters are acting like Harry is the one who wants to live in Africa, and they're bashing him for wanting to spend that kind of money. Riiight.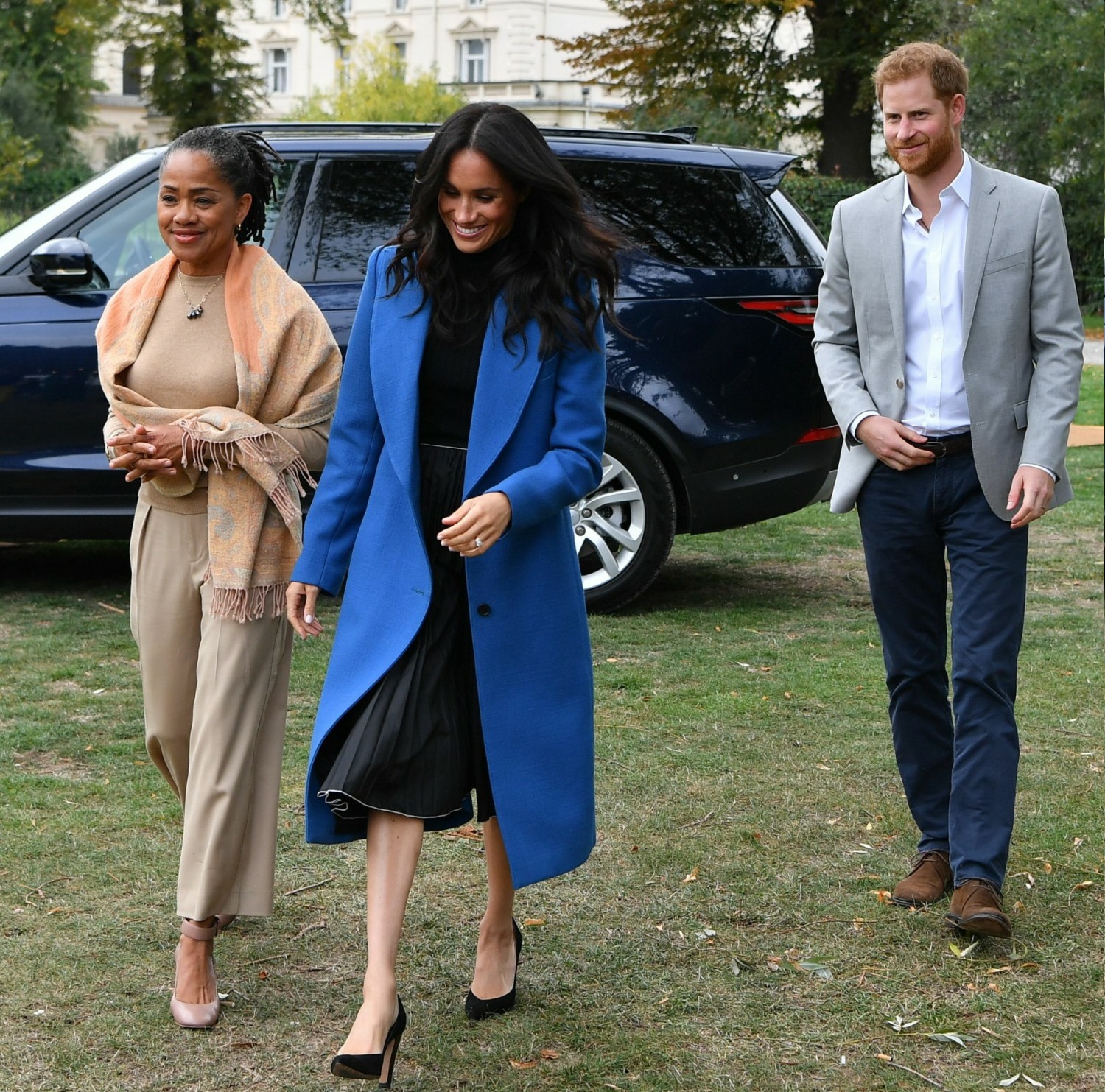 Two Sundays ago, I was vibing on the idea that the Duchess of Sussex would give birth any day now. My prediction was any time last week. Obviously, that didn't happen. So I guess it will happen in the next week? Meghan made it through all of the most notable possible shared birthdays – Hitler's on the 20th, the Queen's on the 21st – and now some are wondering if she'll give birth on Prince Louis's birthday, the 23rd (tomorrow). I don't know. I don't have any vibe anymore. But I do think it will happen soonish, because Doria in England now:
Meghan Markle and Prince Harry's royal baby is almost here! The Duchess of Sussex's mom, Doria Ragland, has arrived in the U.K. from Los Angeles ahead of the birth of her first grandchild, Entertainment Tonight reports.
I'm so glad Doria is there now, especially given all the shenanigans that happened over the weekend with the story about William and Buckingham Palace looking for ways to send the Sussexes out of the country. Meghan doesn't even need to focus on that right now – she just needs to focus on the last days of her pregnancy and the baby.
People Magazine also did a story about the royal nanny hunt and they managed not to fear-monger or outrage-monger about the possibility of a "manny" or an American nanny.
"The Duchess of Sussex is up to date on all the different options, she knows what she's doing, she's done her research and she knows exactly what she is looking for," Sarajane Ambrose, founder of Imperial Nannies, a leading childcare agency in London who has experience of placing nannies with royal families, tells PEOPLE.

With just weeks to go until Meghan and Prince Harry welcome their new baby, the royal couple who have recently moved into Frogmore Cottage in Windsor, will already have hired a maternity nurse, says Ambrose, who has in the past worked with members of the British royal family as well as European royals. "They are specialists at looking after newborns and will teach the mother all about the care of her individual baby – they will then hand over to a nanny at a certain point, usually around the 3-month point."

As for what sort of nanny the couple will hire, Ambrose won't comment on whether they are using an agency such as hers, but she says the sort of childcare needed will be of the highest calibre.

"He or she has to be professional, discreet, do a very good job and be prepared to not speak to anybody about her experiences there, they will be on their toes the whole time and it can be isolating too," she says. "There was a trend for male nannies a few years ago, but it's really the personality match that's important," says Ambrose, who says male nannies or "mannies" as they are known, count for only 10 percent of the candidates on her books.

Whether or not Meghan chooses an American nanny or "manny," Ambrose, who founded her agency 24 years ago, says British nannies are hugely popular in both her London (Kensington) and Bath offices. "Lots of Americans want a British nanny, maybe it's the manners or just to offer them something different."
Yeah. All of these nanny stories are really jumping the gun, especially since she's probably just going to have a baby nurse for the first few months and then she'll make a choice about a nanny.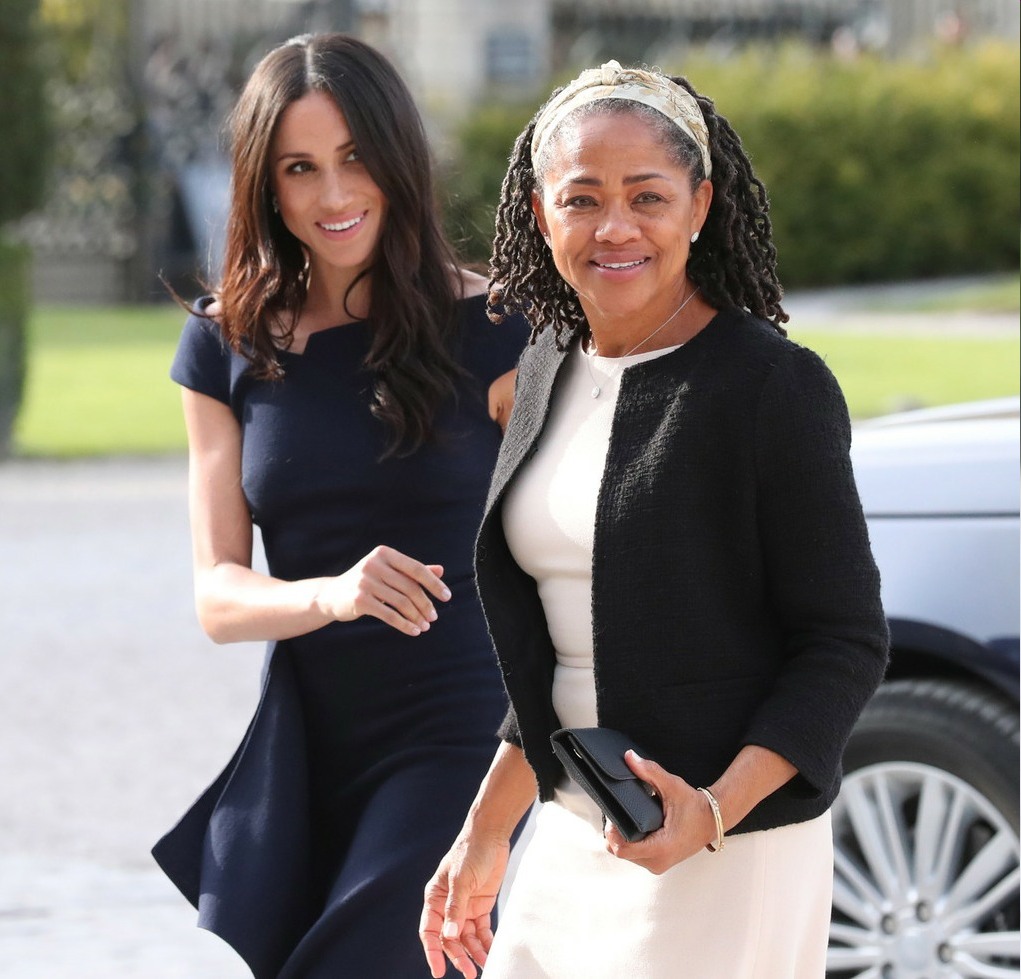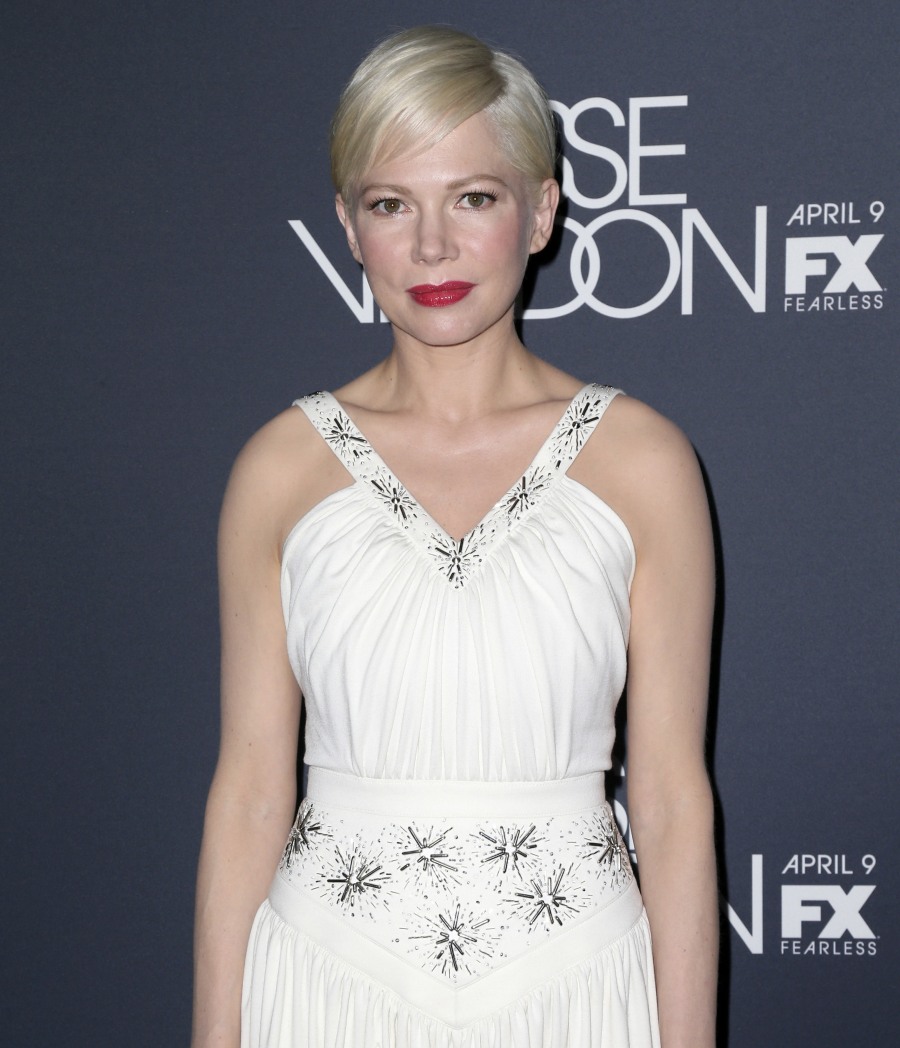 Last summer, Michelle Williams covered an issue of Vanity Fair and she revealed a stunning piece of information: unbeknownst to everyone, she had quietly been in a serious relationship with Phil Elverum and they had low-key eloped a few months earlier in 2018. Elverum is an indie rocker and widower who lost his first wife in 2016. Elverum has a very young daughter, and Michelle and Heath Ledger's daughter Matilda is 13 years old. Since we only knew about the elopement through Michelle's interview, most of us were like "wow, way to keep it quiet, good for you!" It felt like it meant something very special that Michelle was able to keep it so private and she spoke about their love in a very moving way. Well, it's over. It's over in less than a year of marriage.
It's over. Michelle Williams and husband Phil Elverum have called it quits after less than one year of marriage, Us Weekly can confirm.

The Dawson's Creek alum, 38, shocked fans in July 2018 when she told Vanity Fair that she had secretly tied the knot in the Adirondacks in front of a small group of friends and their respective children. Williams is the mother of 13-year-old daughter Matilda, whom she shared with the late Heath Ledger. Elverum, for his part, has a daughter with his late wife, Geneviéve Castrée, who passed away in July 2016 from pancreatic cancer.

"Obviously I've never once in my life talked about a relationship, but Phil isn't anyone else. And that's worth something," Williams told Vanity Fair at the time. "Ultimately the way he loves me is the way I want to live my life on the whole. I work to be free inside of the moment. I parent to let Matilda feel free to be herself, and I am finally loved by someone who makes me feel free."
People Magazine later confirmed the separation, with a "source close to the situation" saying: "Michelle and Phil separated at the beginning of the year. It was an amicable split and they remain friends." So… the beginning of the year. They were married for like six months before they separated? That's rough. And it seems uncharacteristic of Michelle too – while she's had short relationships in the past decade, she's never been the type to go all-in with someone she's isn't sure about. She just seems extremely cautious about who she opens up to, which is why we thought this guy must be the real deal. And to have it end after less than a year of marriage… it feels like something happened.
I mean, I have some theories. I've been watching Fosse/Verdon and my lord, Michelle and Sam Rockwell have some extreme chemistry with each other. I know Sam is with Leslie Bibb and everything but…I've got some theories.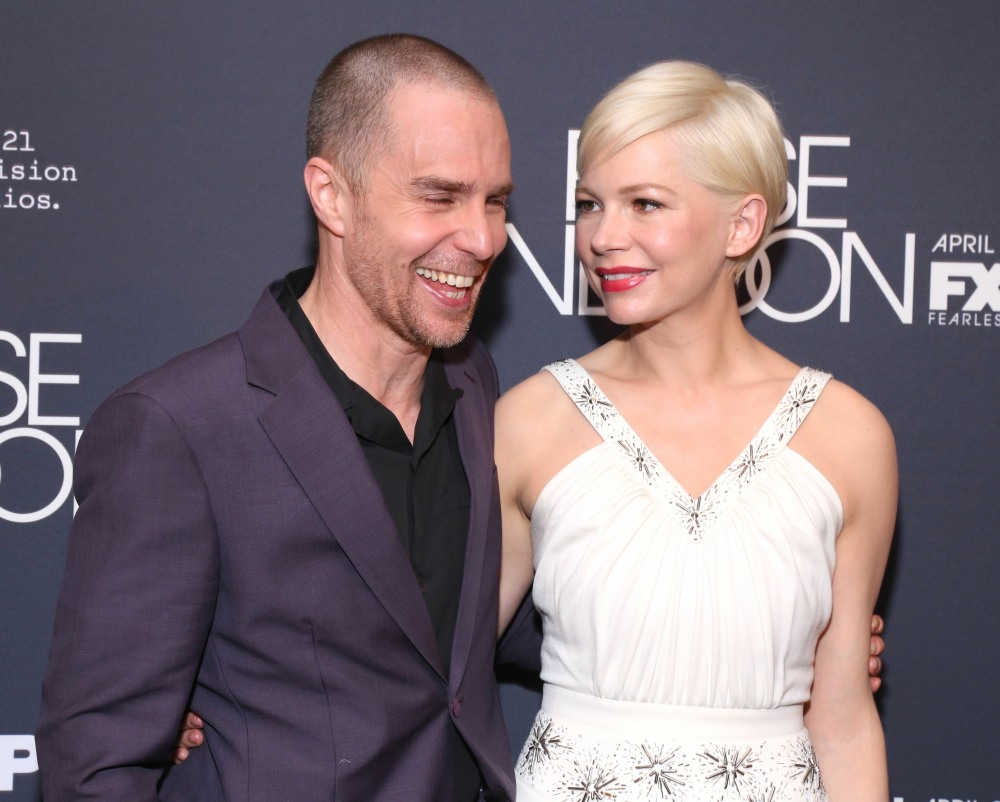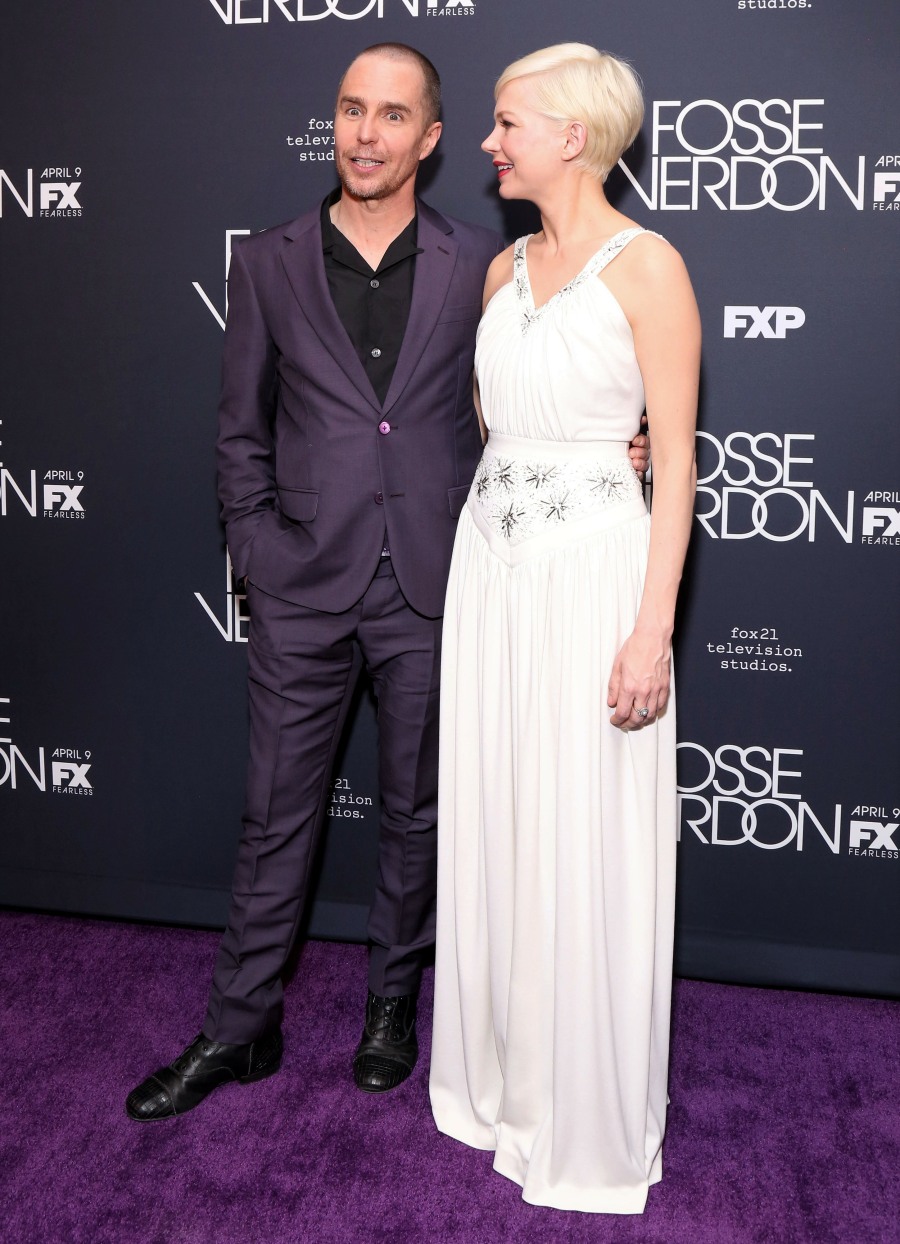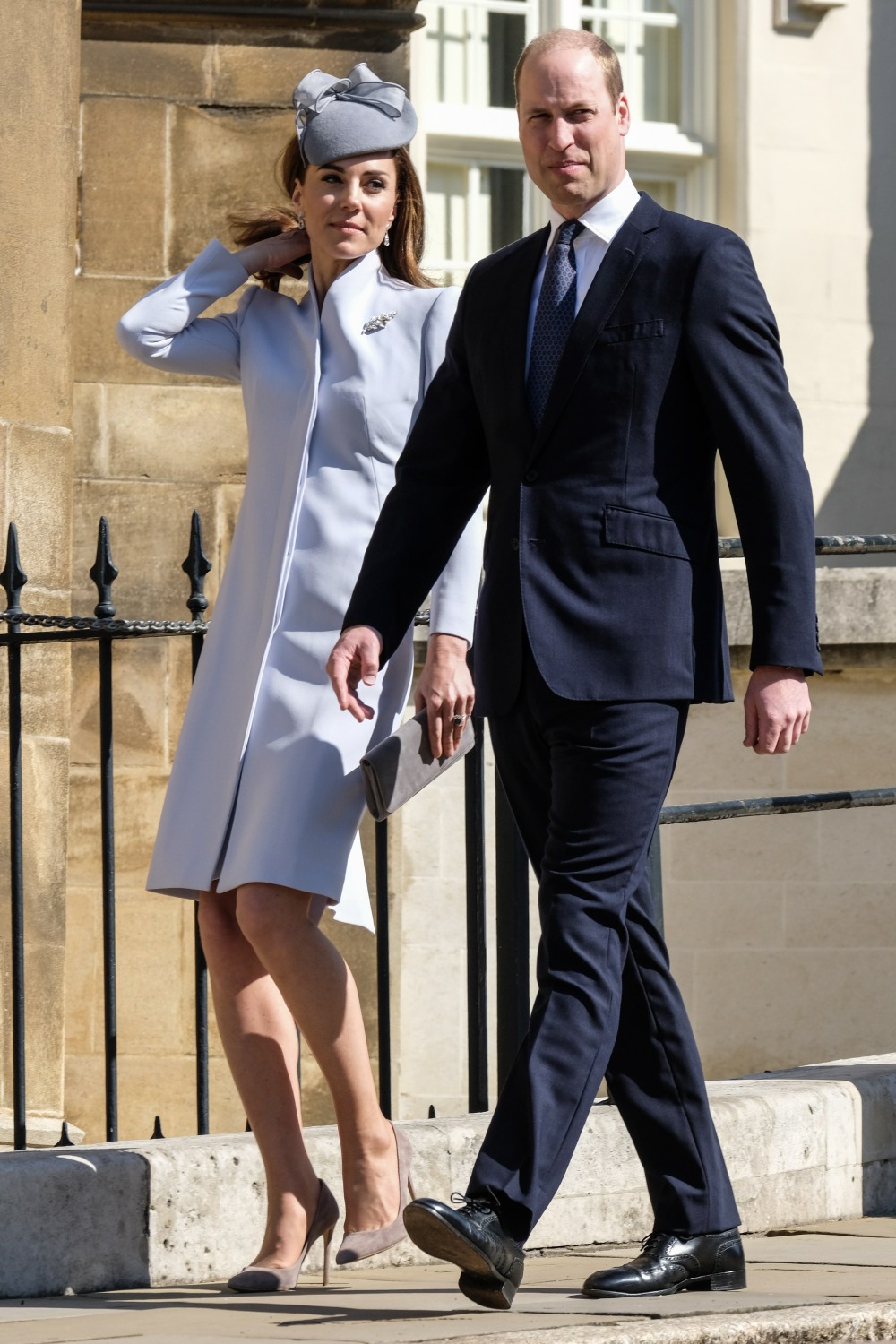 Well, well. Many members of the royal family came out for the Easter Sunday church service at St. George's Chapel at Windsor Castle. It was not just an Easter celebration, it was also Queen Elizabeth's 93rd birthday. I don't imagine attendance was mandatory, but there were certain expectations that people needed to show up. The Duchess of Sussex is quietly awaiting the birth of her first child – any day now, we can assume – so she was excused. Prince Harry turned up solo to represent the Sussexes. He walked into the church with his cousin Peter Phillips and Peter's wife Autumn. Harry did not leave the chapel with the Cambridges either. Cough.
Yes, the Cambridges were there. It was Kate's first public appearance since March 28 – she made it almost a whole month without working. She's also expected to make an appearance for Anzac Day on Thursday. Kate repeated one of my favorites of her blue coat collection – we first saw this Alexander McQueen coat during the Cambridges' tour of New Zealand and Australia. She paired the repeat McQueen with her wedding earrings and a diamond brooch. She looked good. But there was apparently little to no interaction between William, Kate and Harry. Which drives home the point I've been making for months: the issue is between Harry and William and that issue is not going away any time soon.
All of which brings me to this: the Sunday Times of London (not a tabloid) did a lengthy story this weekend about how the royal family is trying to figure out how to "contain" Meghan and Harry's popularity, and how William especially is keen to drive them out of England altogether. Some highlights:
The scramble: With Meghan Markle due to give birth any day, a new report says the British royal family is scrambling to try to contain her popularity amid worries she could become "bigger than [Princess] Diana."

The idea of sending the Sussexes away: "There have been various ideas floated for them to take on a job abroad, such as governor-general of Australia or Canada, wherever," a palace source told The Sunday Times of London. But sending the couple to Canada was "mooted, then booted" given that Meghan spent seven years there and would be close to the US and tabloid coverage, according to the story. Shipping Harry to Australia was also nixed, it said. "The trouble is that you effectively set them up as king and queen of a whole separate country," according to one source. "And 24-hour media means that Australia is not as far away as it used to be."

Possibly sending the Sussexes to Africa: Also under consideration is Africa, where Harry set up a charity in 2006 in Botswana — where he and Meghan fell in love on a trip — and which he refers to as his "second home." Either way, the palace braintrust prefers for the couple to move abroad. "In some ways it would suit William to get his brother out of the country for a few years and Meghan as far away as possible," said one friend of the brothers.

The Sussexes feel exiled: The Sussexes feel their move from Kensington Palace to Frogmore Cottage on the Windsor estate is as much an exile as an escape, the paper reported. "Meghan and Harry feel they have been cut adrift," one ally said. "They sent them down to Frogmore to try to keep them out of the limelight for a bit. This is doomed to fail. They are worried that Harry and Meghan are going to establish a totally separate enterprise that nobody can get under control. There are discussions in palace circles about how do we harness Harry and Meghan and this tremendous global attention they get. How do we draw them back, because laying down the law and ticking them off doesn't work at all," the ally said.

William is suddenly keen to be king: Meanwhile, William — who has warmed up to taking over as king — has been told by his private secretary, Simon Case, that a period of separation between the two brothers would help them to define themselves better and also improve relations between them, said the report. "It's a bit sad really," said someone who knows both princes. "The wives don't get on. The brothers have fallen out." Whatever public support there might be for Harry and Meghan, "People are telling William, 'Don't worry. Your influence will grow and Harry's will fade,' " a source said. "This is peak Harry."
[From The Times of London via Page Six]
Yep. I believe all of this. I believe the move to Frogmore feels like an exile for the Sussexes, which is why I questioned it last year, and why I still doubt that Harry and Meghan will stay there permanently, without a place in the center of London. I believe Frogmore was likely chosen for them or pushed on them as a way to banish them and "embiggen" Will and Kate. And of course Will and Kate are keen to exile Meghan and Harry to another country (the "send them to Africa" thing is particularly terrible/racist optics). The Cambridges have never done so many events as they have in the past year. The poor sausages are exhausted by trying to keep up with the Sussexes' pace and popularity. Better to send them off! That's what the media campaign has been about too: the British tabloids, working alongside the stuffy, racist palace courtiers and Camp Cambridge have all been waging a particularly nasty campaign against Meghan, trying to bully her out of the country. And yes, motherf–kers, WE SEE YOU. We see what you're doing.
Also: the Palace isn't denying it.
Buckingham Palace: "Any future plans for The Duke and Duchess are speculative at this stage. No decisions have been taken about future roles.
"The Duke will continue to fulfil his role as Commonwealth Youth Ambassador."

— Richard Palmer (@RoyalReporter) April 21, 2019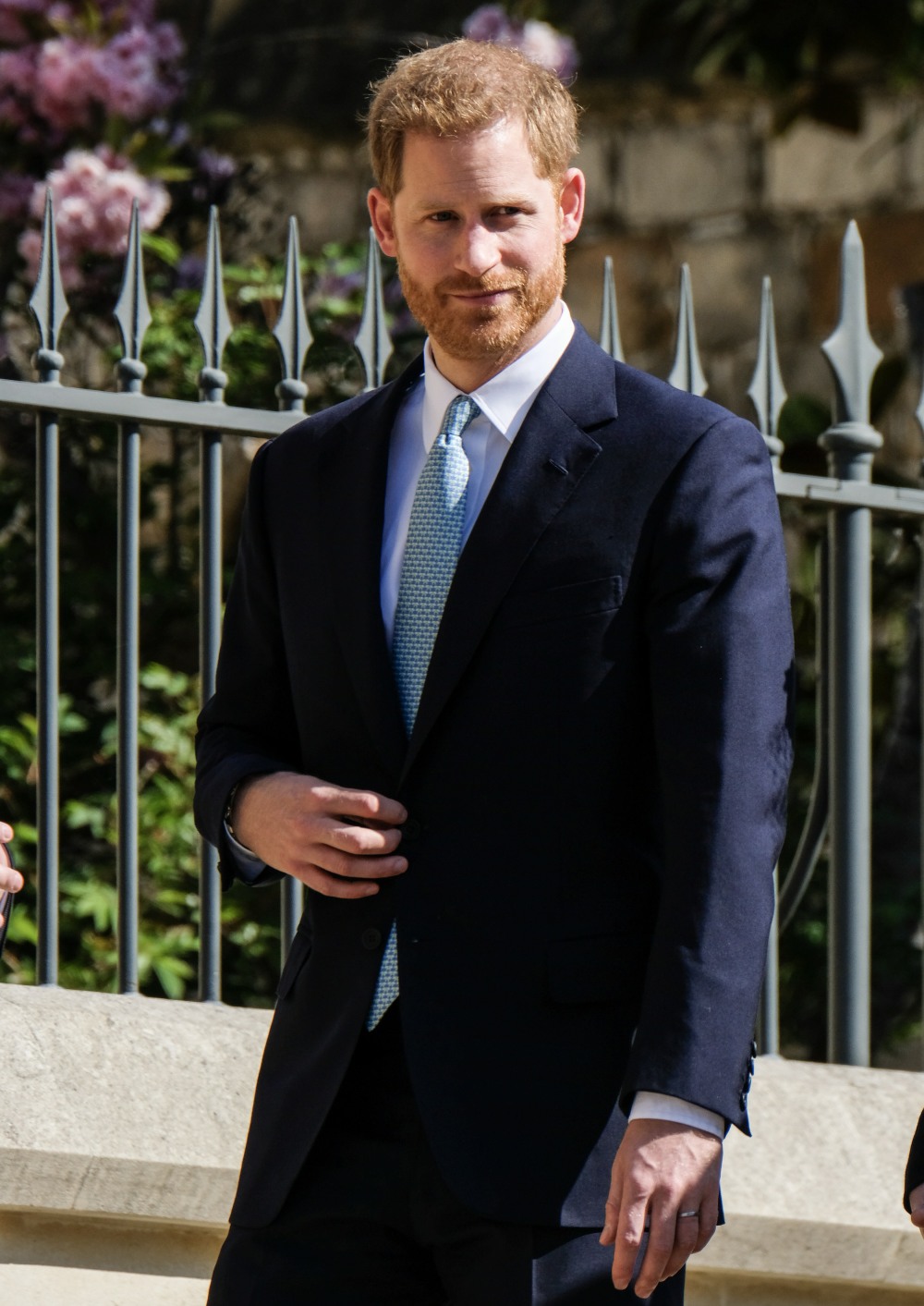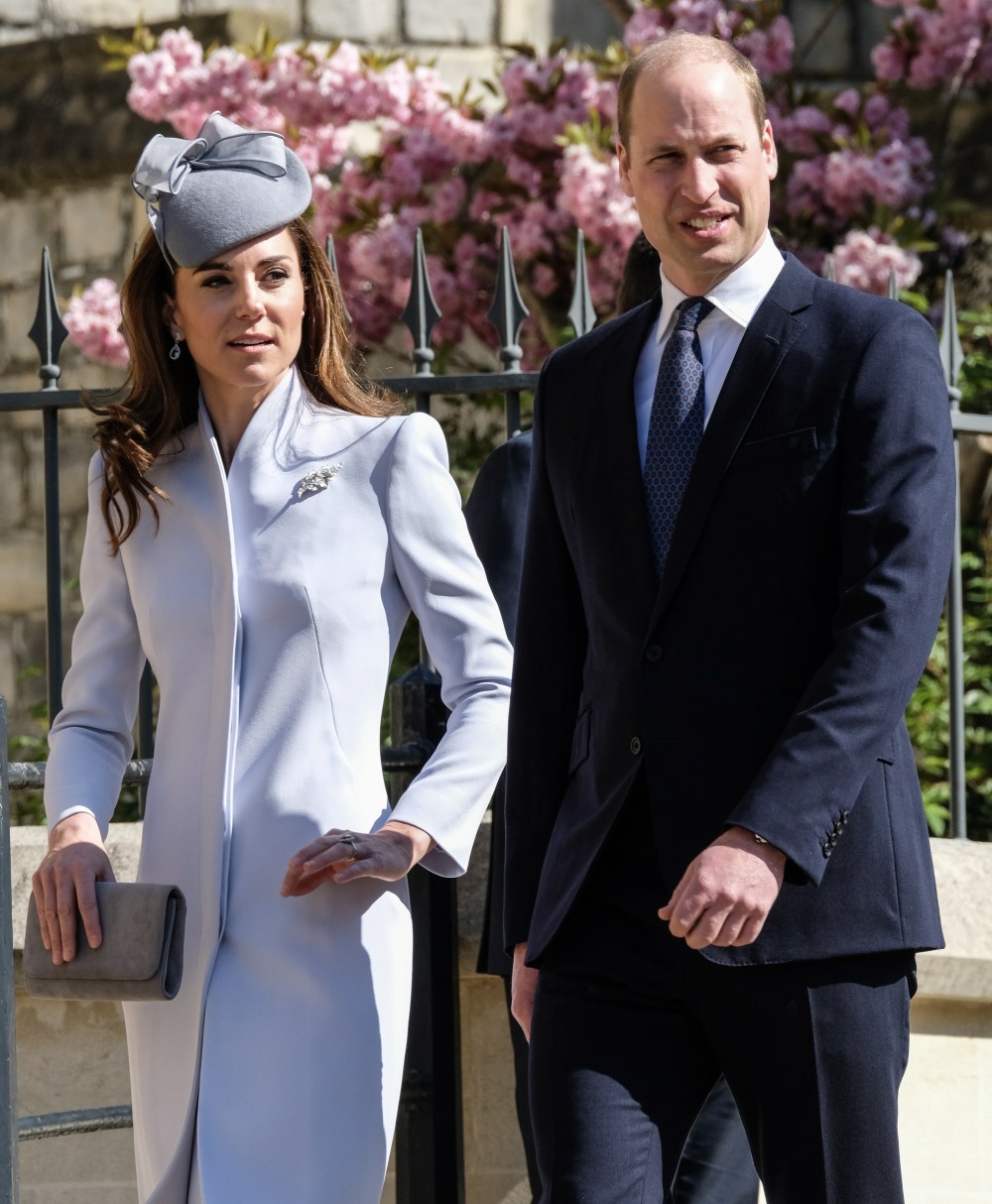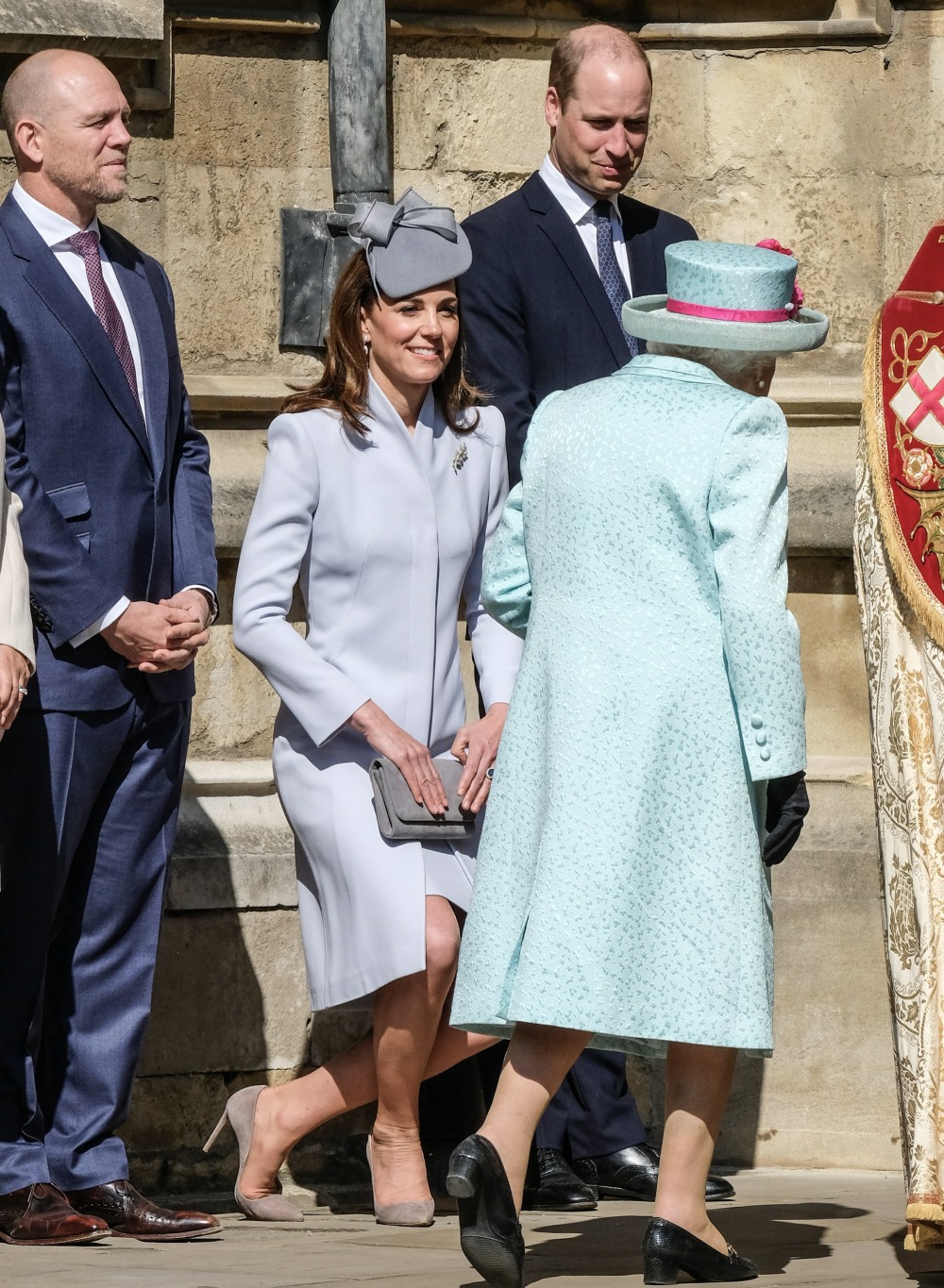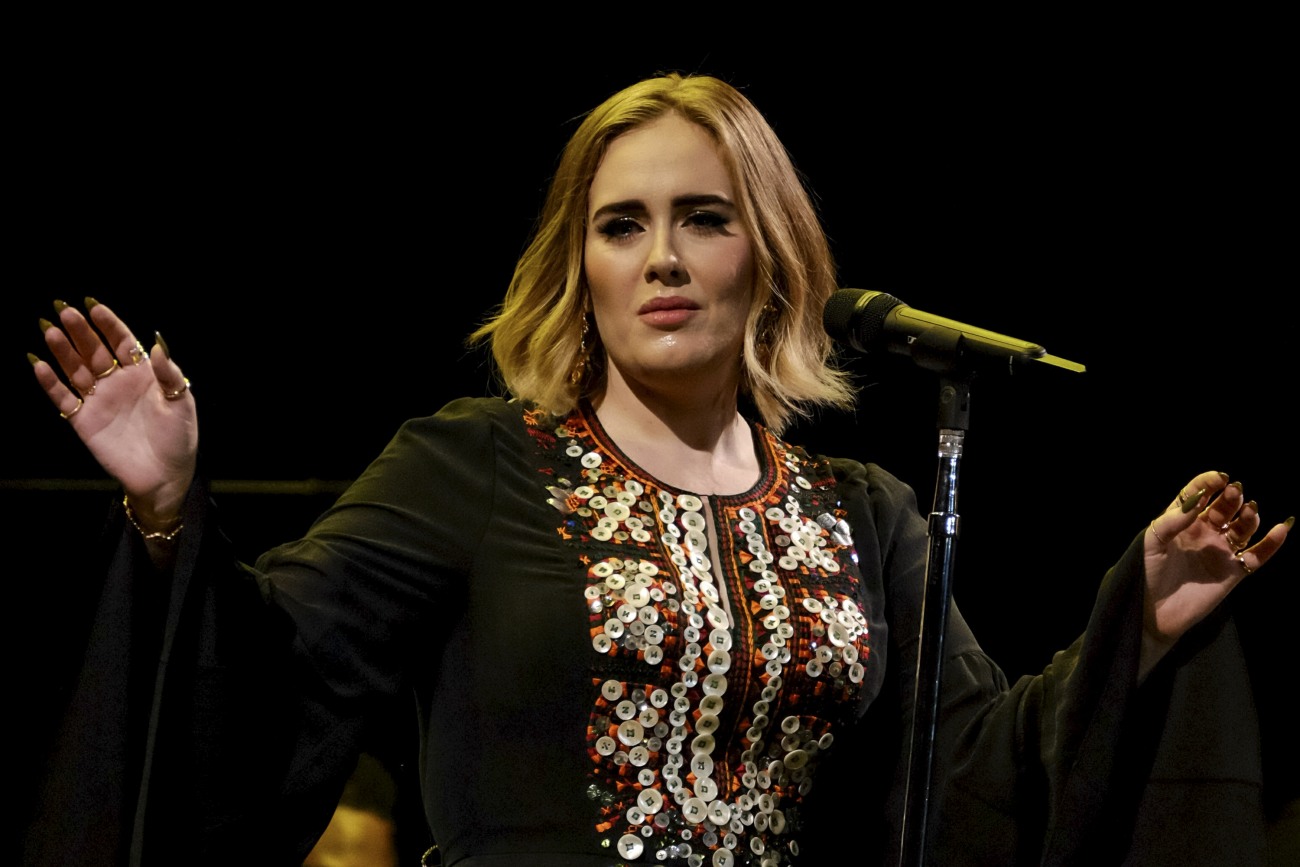 Three celebrity breakups/divorces were announced on Good Friday, in the afternoon/evening, after most professional gossips had packed it in for a nice weekend off. This one shocked me to my core: Adele and Simon Konecki have separated. Simon was never in our faces and he wasn't trying to get famous off of his association with Adele, so we really never knew much about him. We knew that they met and fell for each other very quickly in the fall of 2011, and that the first photos and confirmation of their couple status came in January 2012. Adele was pregnant by June 2012, and they welcomed their only child together, Angelo, in October 2012. It moved fast at first, but that's the way Adele is – she jumps head first into love. We assumed Simon was the One and that they would live happily ever after. Well, they made it nearly eight years, so that's something.
Adele and her husband, Simon Konecki, have split after more than seven years together.

"Adele and her partner have separated," the singer's representative Benny Tarantini and Carl Fysh said in a statement to the Associated Press. "They are committed to raising their son together lovingly. As always they ask for privacy. There will be no further comment."

The 30-year-old singer (born Adele Adkins) and entrepreneur-philanthropist Konecki, 44, have long kept the details of their romance under wraps. The small family has lived a quiet life, spending time between her native London and Beverly Hills, where they bought a home in 2016.

"The reason her relationship works with Simon is because they are on the same page," a source told PEOPLE at the time. "Their priority is their son, and Adele loves being a mother. Angelo is a very happy little boy."
I hope she's okay. We actually don't know too many details about when, where and how they actually got married, and I think it's interesting that the statement from Adele's people refer to Simon as her "partner" and not her husband. Were they legally married? Or did they have some kind of Justin Theroux-Jennifer Aniston-esque loosey-goosey commitment ceremony which was never a legal marriage? I don't know.
And yes, one of my first thoughts was "her next album is gonna be LIT with breakup songs" but let's not jump the gun! Adele is a good person and I am sending her positive vibes.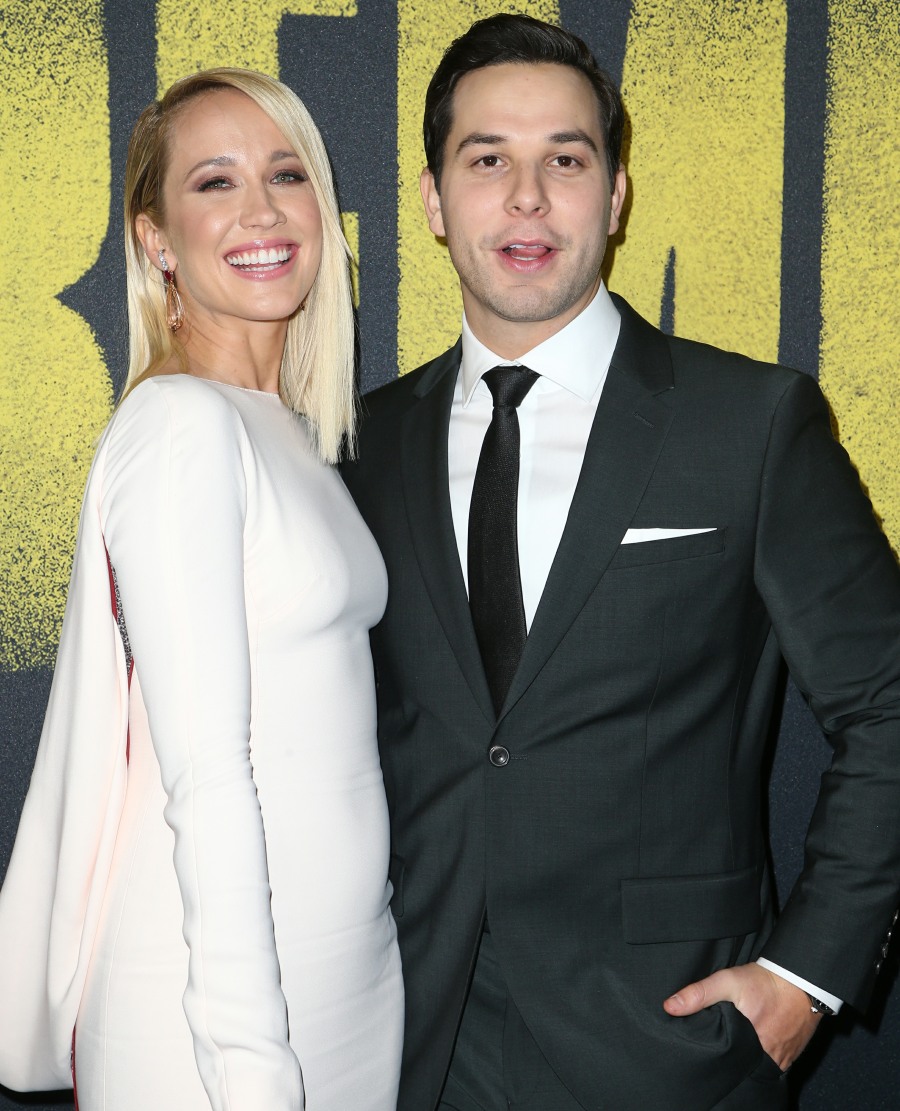 I didn't fall for Anna Camp during the Pitch Perfect franchise. She was perfectly fine in that, but I didn't really start adoring her until her great supporting/guest arc on The Good Wife, where she played a brilliant young lawyer who used to her baby-voiced aw-shucks routine to her advantage. I've loved Anna ever since. But most people probably know her from the Pitch Perfect films, and those are the films which introduced her to her husband, Skylar Astin. Astin played Jesse (Anna Kendrick's love interest) in those movies. Anna and Skylar were together for years – since 2012/13 at least. They were married in 2016. And now they're over.
Anna Camp and Skylar Astin have called it quits after over two-and-a-half years of marriage, PEOPLE exclusively confirms. In a joint statement to PEOPLE, the former couple says: "We can confirm that we have decided to separate, and this decision was made mutually and amicably. We kindly ask for privacy as we navigate this transition."

Camp, 36, and Astin, 31, were last spotted together attending the Mickey's 90th Spectacular in October. Astin has "stopped wearing his ring and has started talking about the split with friends," a source told PEOPLE

Both have have since unfollowed each other on social media. Astin last posted a photo with Camp in January, showing them cuddled up as they celebrated the New Year. Camp posted a series of photos dancing with Astin just a few weeks later. The Pitch Perfect costars began dating in June 2013 following Camp's divorce from Michael Mosley. They tied the knot in an outdoor ceremony on the central California coast in October 2016.
This was the "Easter split" that least affected me – as I said, I like Anna Camp a lot and I think she's super-talented, but I was not invested in her marriage at all, nor did I have any particular feelings about Anna and Skylar as a couple. It feels like they just sort of outgrew each other, but maybe it was something shadier or something pretty sudden. Will this be the divorce that has the most interesting gossip? I don't know. I kind of doubt it.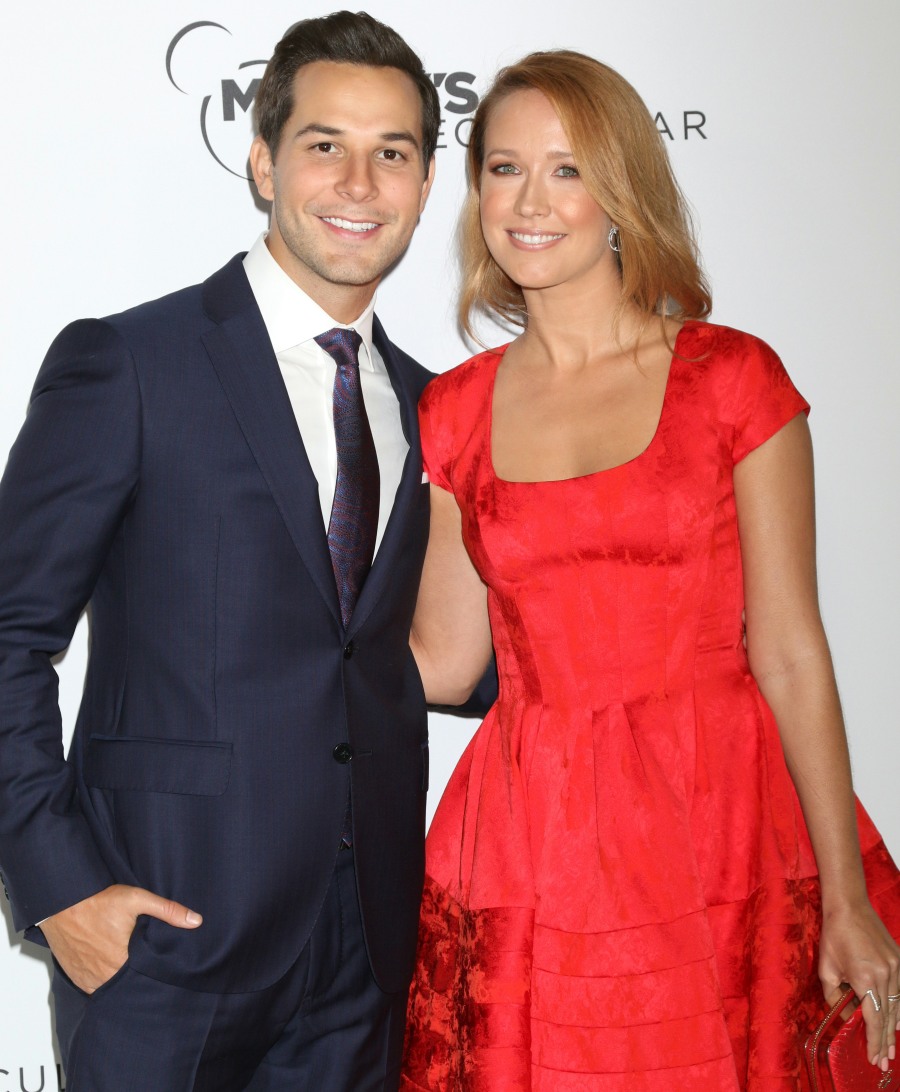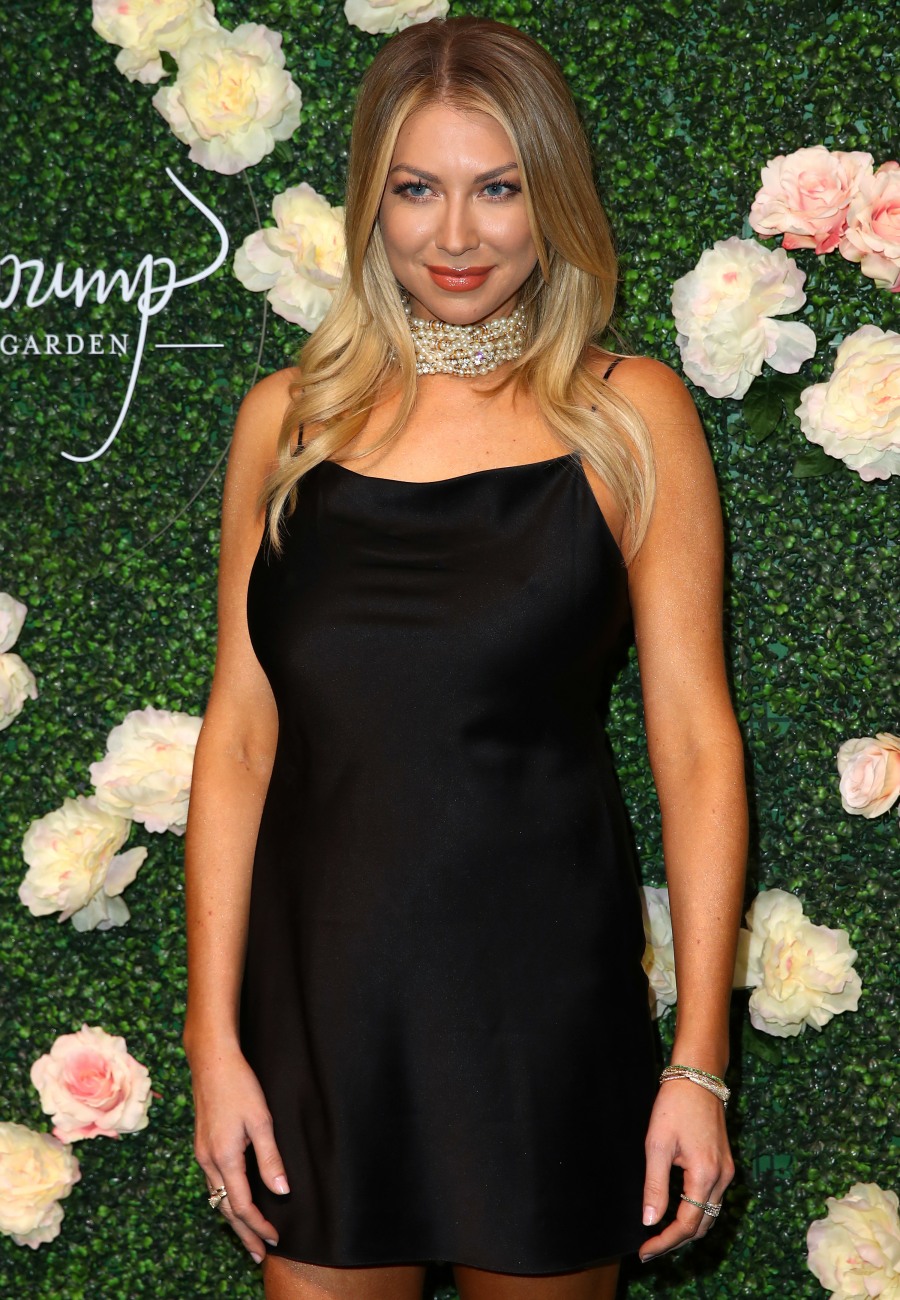 Stassi Schroeder is on Vanderpump Rules. The reason why I know her name is because she's an idiot who does and says idiotic things. In 2017, she mocked #MeToo victims on her podcast. Last year, there was an online campaign to have her fired from Pump Rules because she jokingly tagged her look as "Nazi Chic." I don't watch Vanderpump Rules but from what I gather, it's a show where young, pretty people drink and fight a lot. Stassi recently appeared on a SiriusXM show where she was asked about all of the boozing that happens on the show and how she recovers.
Stassi Schroeder can't drink the way she used to. The "Vanderpump Rules" star told Michelle Collins on her SiriusXM show, "The Michelle Collins Show," that she regularly uses IVs to keep up with her costars after a night of drinking.

"You drink so much," Collins began.

"I do," Schroeder, 30, agreed.

"And not just you, you guys are basically functioning alchies," Collins continued, later adding, "You are all very slim, for the most part, how do you guys do so many shots … where they are pounding the liquor … I know youth has something to do with it … How do you do that and not just want to die the next day?"

"Oh, ever since I turned 30 things have changed," Schroeder answered. "I turned 30 and I can't hang as much as I can. Like, I definitely get IVs on the reg. I get them to come to my house. You just go on on a website called The IV Doc and people will actually travel to your home or hotel and you can get an IV. I do it for anything. Like, if I'm getting sick, if I'm about to go on a plane. I got one before I came here because they have a jet lag one so you can get B12, vitamins all that stuff, but for a hangover it really does help."

"Do you truly think that works, or is it some new wave GOOP-y thing where they are just tricking next level basic girls into spending their money?" Collins asked, playing around with Schroeder's book title, "Next Level Basic: The Definitive Basic Bitch Handbook."

"If it's a placebo effect, I'm totally ok with it!" Schroeder affirmed.
People who are so casual about getting IV drips are insane to me. But that's probably because I hate needles and I hate the feel of something (like an IV) in my arm. I donate blood but that's different – I can stand it as long as I don't look at the needle in my arm, basically, and I do it because I know it's a good thing to do. But to drink and drink and drink to the point where you're a regular user of IV-vitamins as a hangover cure? It feels like the wrong thing is being treated. That being said, hangovers are mostly about dehydration, so I can see (medically) an IV drip would help with a hangover. It's the same reason why after a night of drinking, you should just drink a sh-t ton of water or Gatorade: to rehydrate. It's as simple as that. No needles necessary, just DRINK WATER good lord.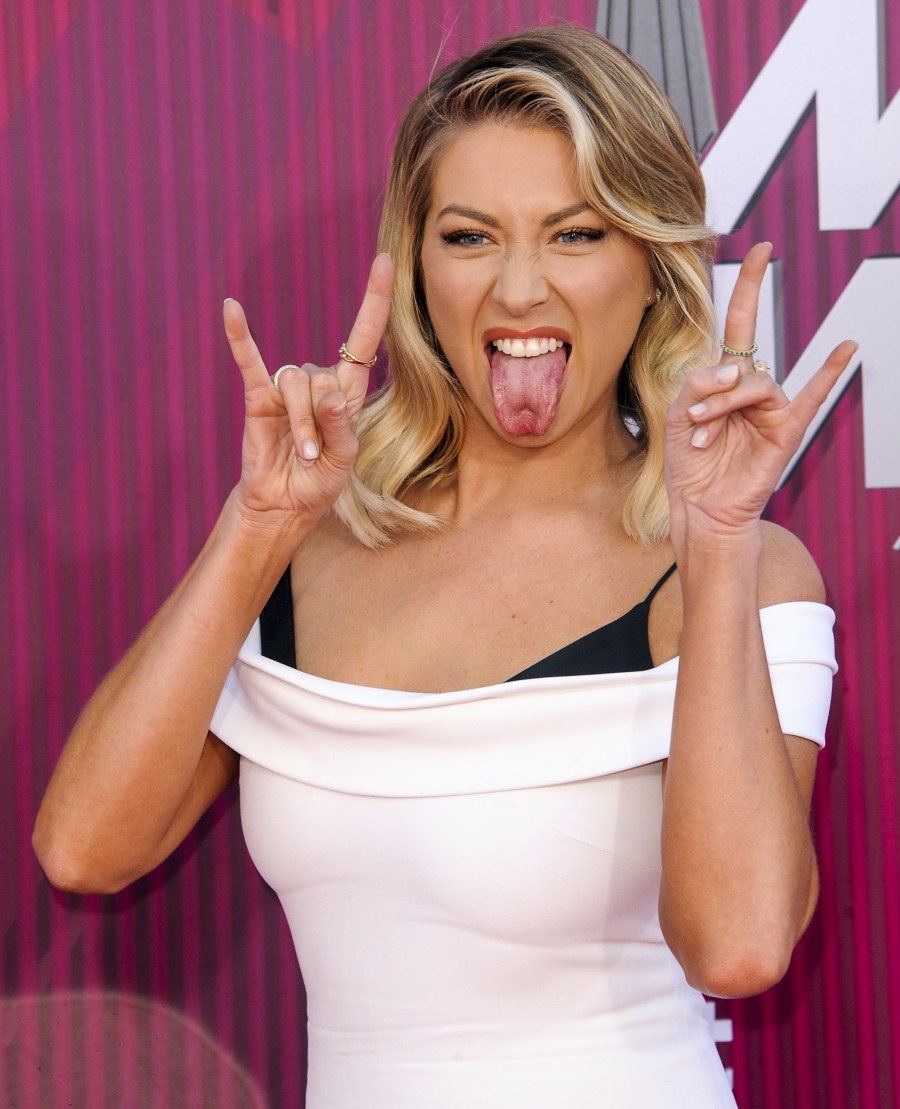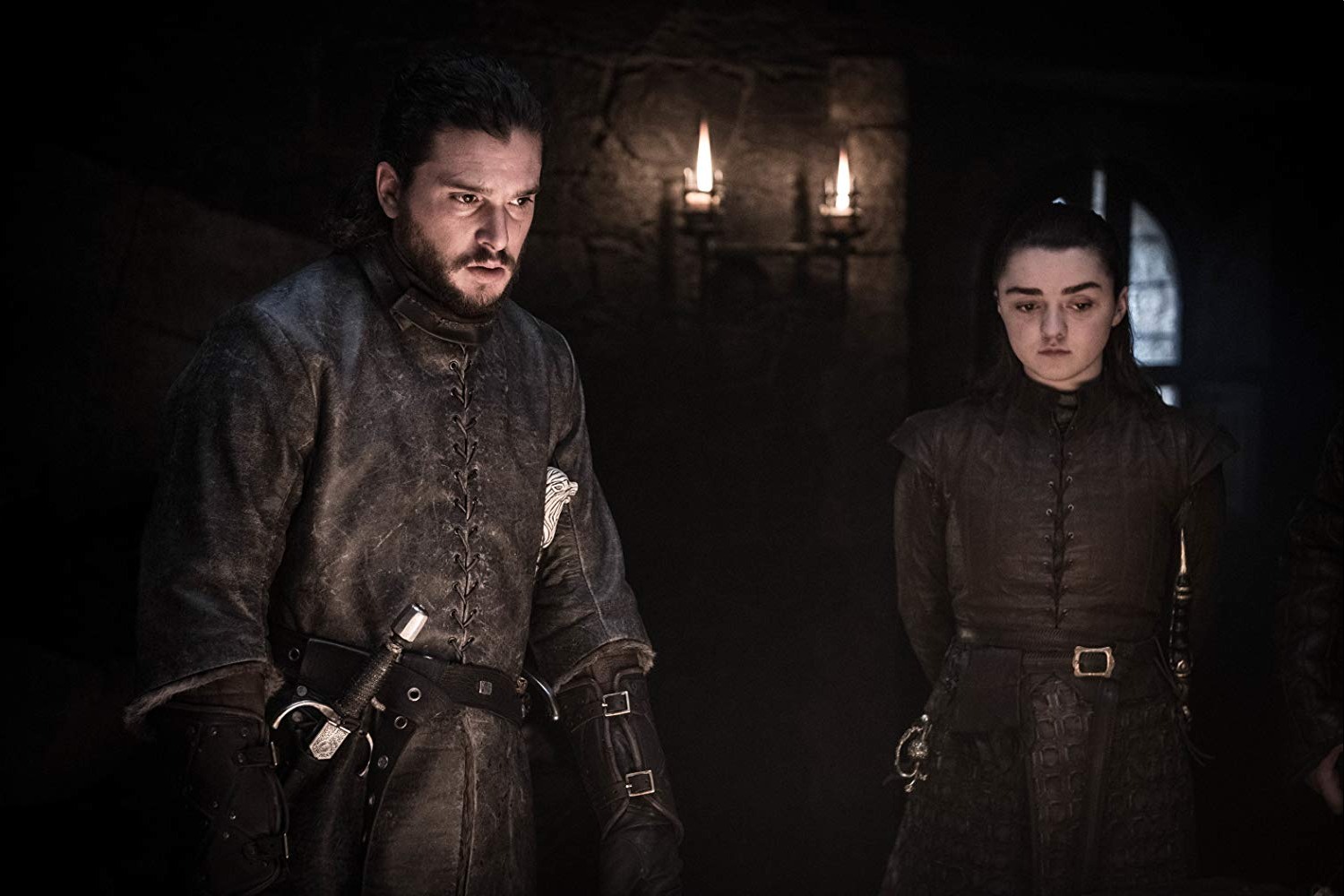 SPOILERS for last night's episode of Game of Thrones.
Episode 8.2 was called "Knight of the Seven Kingdoms" for good reason, but there were a million great lines which could have been the episode name, like The Things We Do For Love, or Is The Big Woman Still Here? Game of Thrones is well known for being a show about "t-ts and dragons," but obviously fans of the show know it's about a lot more than that: honor, trauma, power, family, survival, grief, feminism, misogyny, torture, ethics, all with loads of t-ts, dragons, epic battle scenes and violence. But the writers decided to give us an episode with little special effects – it was an episode of quiet intimacy ahead of the battle against the undead. Once again, these are just my highlights in no particular order:
The Trial of Jaime Lannister. It wasn't really a trial – that's how the show opened, with Jaime standing before Jon Snow, Daenerys, Sansa Stark and Bran (who has some kind of special high perch in the great hall?). Dany is all "you killed my dad" and what went unsaid was amazing – it felt like everybody was biting their tongue, like yo, your dad was CRAY and the fact that Jaime killed him is the only thing we like about him. Tyrion tried to speak up for Jaime and it went over like a lead balloon. Then Brienne stood up for him and that moved Sansa. Jon was basically like "meh, we need the men" and Dany would have looked like an a–hole if she hadn't gone along. And Jaime was like "oh by the way Cersei's not sending sh-t and she's bought a big army too."
Jorah, Ser Friendzone. Jorah tells Dany that Tyrion is a good Hand to the Queen and she's like "IS HE THO?" and I kind of agree with her. Tyrion has made some huge mistakes. Jorah also convinces Dany to just talk it out with Sansa.
The Lady of Winterfell. Sansa's militaristic outfit this episode was THE BEST. She was sitting there with Ser whatshisface from the Vale, strategizing, when Dany came in and asked to speak to her. Dany was like seriously, what's your problem? It's actually sort of infrequent for Sansa to be asked a direct question about why she's acting like such a snot, so Sansa and Dany generally worked it out, but Sansa was still like "The North must be independent even if you are Queen." Then they get interrupted.
Theon arrives. Again, by the eighth season, I don't mind the Greyjoys or their storylines. Theon came to "fight for Winterfell" and Sansa was moved to tears. Two survivors of torture and horrific abuse by the same man. And they spent the last part of the episode eating soup together.
Tormund & the Night's Watch arrive. They must have booked it on those horses to outrun the army of the undead. Jon Snow went to hug Edd when Tormund basically tackled Jon. I was already laughing so hard at that, and then Tormund said "Is the Big Woman still here?" Like, they could have talked about the army or the Night King or what they'd seen with the Night King's wall art, but no. Tormund only wanted to see Brienne.
Arya & the Hound. I felt like Arya & the Hound had a lot more to say to each other but then Beric Dondarrion and his hot AF voice came over and she was like NAH. But I loved that the Hound looked at her and asked her if Beric was ever on her list. She must have taken him off her list when she saw that Gendry had lived.
The Three-Eyed Raven Remembers. Like, Bran knows what the f–k is going to happen so you would think he would be like "heads up, I'm going to need someone other than Theon protecting me, guys." I mean, really? And Bran was trying to explain his 3ER status to the group and Sam interrupted him to Samsplain the 3ER's whole deal. Like, Bran could have done that himself. But at least we got it confirmed: the Night King is targeting Bran. And Bran is going to need more than Theon protecting him. But I like that Bran was like "use me as bait."
Arya & Gendry. I mean… it was HOT. Arya was in the mood when she watched Sweaty Gendry doing his iron/dragonstone work. Gendry finally made her double-sided dragonglass stick/weapon and she flirted with him – and found out that he's a Baratheon – and she jumped his bones. I'm glad that Arya and Gendry both got some. Finally, a Stark-Baratheon baby??

Jorah Mormont & Lyanna Mormont. Finally, the cousins come face to face and it's almost like they were aware of each other the entire time. Jorah is trying to convince Lyanna to stay safe and in the crypt during the battle and Lyanna is like "bitch I've been a warrior this whole time and I'm going to fight with my men, same as you." Lyanna = a leader.
Knight of the Seven Kingdoms. It started out with Jaime and Tyrion by the fire, then the others came in to sit for a spell: Ser Davos, Pod, Brienne, and of course Tormund. They sat by the fire and Tormund tried to flirt with Brienne (amazing) and Jaime was trying to get her attention too and it was just the best. Finally, Jaime convinces her that all she needs to do to become a knight is be knighted by another knight. So that's what Ser Jaime does. "Kneel," he told her, in what was the hottest moment of the entire show. And Brienne's happiness… Tormund clapping for her… I'm in tears just thinking about it. And then Pod sings a lovely song, because Pod can do everything.
Jon Snow picked the wrong moment. After avoiding Dany for the entire episode, Jon Snow is spending his last pre-battle moments in the crypt, looking at the statue of Lyanna Stark, his mother. Dany comes in and she's like "I can't believe my brother raped your sister," and Jon's like… yeah, he didn't. They were in love. They got married. I'm their son. Dany FREAKS. Like, she looked like she instantly shut down. She doesn't even want to believe what he's saying. And yeah, now the battle is about to start.
Yeah, and I didn't even get to Ser Davos and the brave little girl (sob) or Jaime telling Brienne he wanted to fight by her side or how the crypt probably isn't the best place for all the women or how Sam is really not the fighter he thinks he is. Also: Northerners are racist to Missandei and Grey Worm and he's like "we're gonna bounce from this racist AF place after the war." Here's the preview of the third episode, they're all gonna DIE.
Florence + the Machine are GoT fans: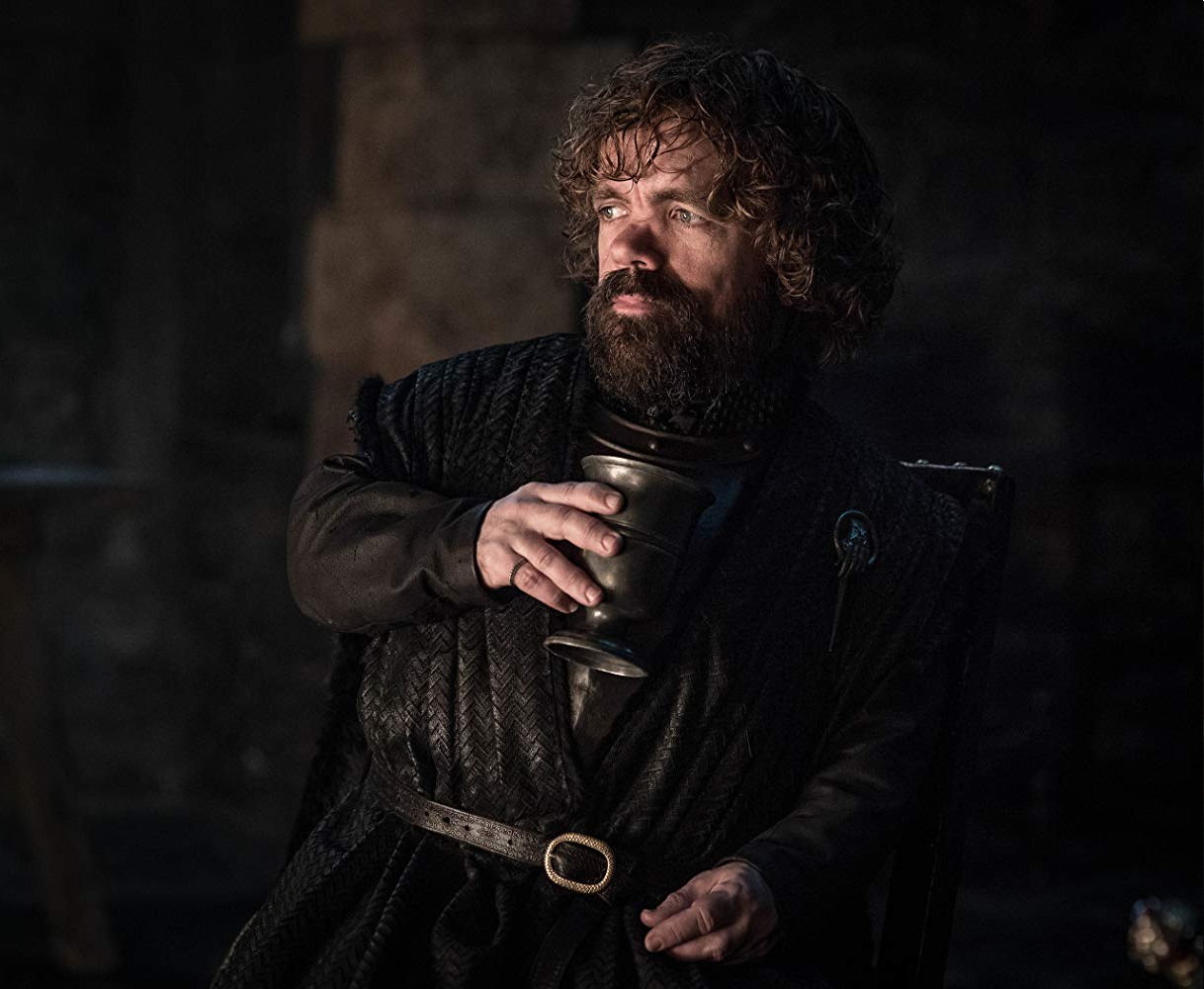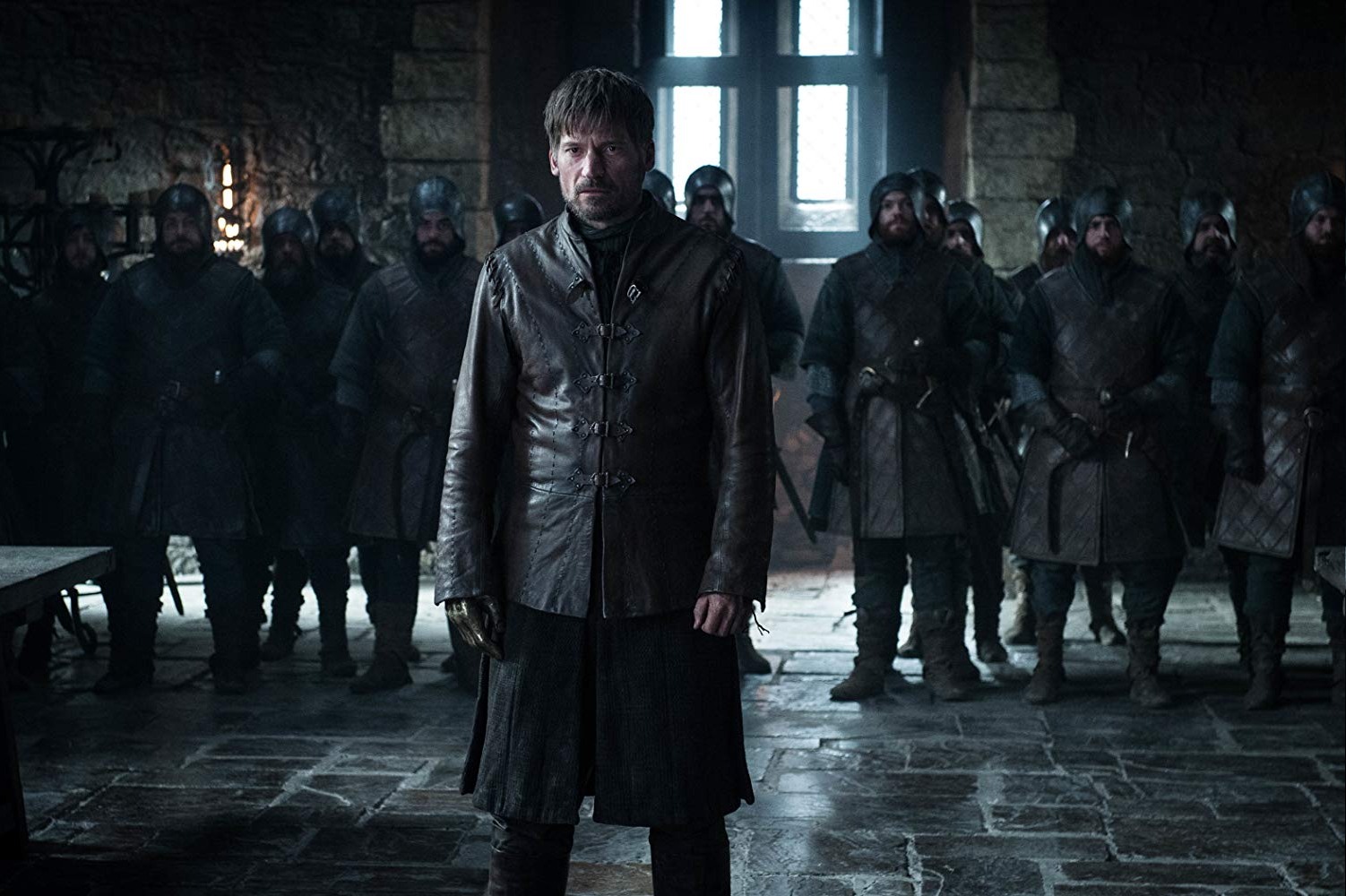 Kaiser's RSS Feed